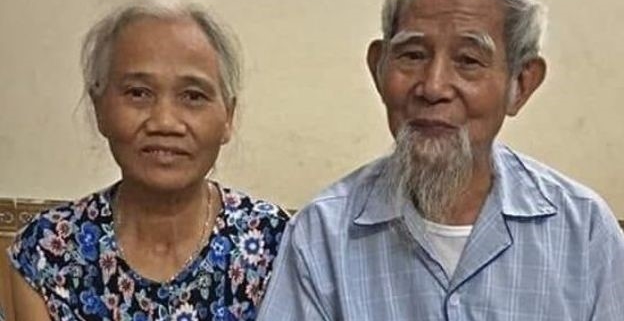 Lê Đình Kình's Wife – Dư Thị Thành's Testimony of the Police Attack in Dong Tam on January 9, 2020
Featured Image: Du Thi Thanh and Le Dinh Kinh, Source: BBC Vietnamese
Dong Tam is a rural commune area that belongs to My Duc District, Ha Noi City, known for the long-standing land conflict between the residents of Hoanh village and the government concerning the legal status of the traditionally agriculture land called Dong Senh. The conflict started in 2014, as the government tried to ban residents from entering and cultivating Dong Senh. The hostility continued for several years and quickly grabbed national attention in 2017 when the leader of the village, Mr. Le Dinh Kinh, was kidnapped and assaulted by the public security forces, which led to his serious leg injury. As revenge, the villagers took hostage dozens of public security who were surveilling Hoanh village.
The village made headlines in international news again in early January 2020, when a powerful government armed force abruptly raided Le Dinh Kinh's house at 3:00 am on January 9, 2020, killed him, assaulted his family members– including his wife, and arrested several family members, along with more than 20 other villagers. The BBC chronicled the deadly incident here.
While the story from the government's side has been widely circulated and propagated in state-owned media, portraying Le Dinh Kinh and his family as terrorists who attacked the police officers with military and paramilitary weapons, through social media, we have the opportunity to listen to Le Dinh Kinh family's take on what happened. In a series of video interviews posted to Facebook by activist Trinh Ba Tu, Ms, Du Thi Thanh, wife of the slain land activist Le Dinh Kinh, described the raid at her house.
She confirmed that there was no attack against the outposts of the public security forces. She was asleep when there was severe noise outside, and she woke up only to find out that her house had been surrounded by a large number of public security officers. The public security force then shot tear gas into the house and started to fire real ammunition without warning or warrant. She informed Le Dinh Kinh, but with a small house and too much tear gas, they were unable to do anything. The force successfully took over the house and forcefully escorted Ms. Thanh, the women, and the children to a nearby police station. She also stressed that at that time, Mr. Kinh was still alive. At the station, Ms. Thanh and many others were beaten and subjected to many types of torture.
The public security released Ms. Thanh at 2:00 am, January 10, after threatening her to not say anything to the public. They also said that the family was lucky that they were merciful in this operation and that the family could have all be gunned down. Mr. Kinh was also confirmed dead by these officers.
Below is our translation of the transcript of the video testimony by Ms. Du Thi Thanh. Read and watch the testimony in Vietnamese on activist Trinh Ba Tu's Facebook page, here.
—
My name is Dư Thị Thành, the wife of Mr. Lê Đình Kình. As I'm recording this video, my mind is very clear, and I feel fine. I'd like to recount the police attack on our home on January 9, 2020.
It was about 3:00 am in the morning when I heard loud rumbling in the streets. I opened the door to look outside. There were security officers and police everywhere, so I ran inside. They started shooting guns and tear gas into our house. They shot a lot of tear gas that night. The house was filled with smoke. My husband and I we were both stung by smoke and gas in our eyes, through our noses and mouths. I thought about getting some water for him, but I was choking so bad I couldn't do it. I could hear him gurgling in his room, calling for help. I got him a wet towel and told him to wrap it around his head. They were still shooting. I went back out to the front door to look. They kept shooting into our house– smoke was everywhere– so I went back into my husband's room. But the shooting didn't cease, so I went back out. I saw police breaking down the door, climbing over walls. They grabbed me and pulled me out.
Since the time the police broke my husband's leg, our kids and their kids have been staying with us because they're afraid security officers might kidnap him. When they saw the shooting, they began running up and down checking on things. They went to the altar room, but the smoke forced them back. As they tried closing the door, the police charged in and took them all.
They shot a lot into our house that night, as you can obviously see. There were many of them. Then they pulled me out and covered my mouth so I couldn't talk. Before they could put me in the van, my kids ran out after them. The police took them too.
My husband was still alive when I was taken. I saw police beating my children violently in the house before taking them to Miếu Môn police station. At the station, I saw them beating my children some more. I thought my son Công was going to die; I didn't think he'd survive.
They kept slapping me. I couldn't see where my son Chức was. I saw police hitting and torturing people, using pens to clamp their fingers, telling them not to scream, etc. When the beating stopped, the police forced them to sign a form stating that they were not tortured or coerced. Afterwards, they were put on an ice cream truck and taken away somewhere; I have no idea.
My grandchildren and I were sent home at 2:00 am the following day (Jan. 10). They said I was released so that I could take care of the funerals for my husband and sons. They said if they hadn't been humane, they would have shot us all already.
Since the time my husband had his leg broken by them, my children and grandchildren came to help us out. But the police say that we were housing drug addicts. We were all just sleeping when the police came and took us all away. I don't know if it was a kidnapping or what, because they never showed any papers.
These are the things I can remember from that night. If it turns out later I have some facts mixed up, that may be because of the stress and confusion I was in at the time. I hope you understand.
Dư Thị Thành
January 29, 2020
Translation © 2020 The 88 Project
https://the88project.org/wp-content/uploads/2020/02/Du-Thi-Thanh-and-Le-Dinh-Kinh.-Source-BBC-Vietnamese_rectangle.jpg
445
624
kayleedolen
https://the88project.org/wp-content/uploads/2019/01/88project.png
kayleedolen
2020-02-05 05:45:05
2020-02-05 05:45:05
Lê Đình Kình's Wife – Dư Thị Thành's Testimony of the Police Attack in Dong Tam on January 9, 2020