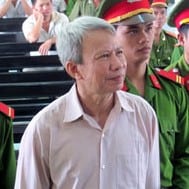 Vietnam Free Expression Newsletter No. 5/2020 – Week of January 27-February 2
Featured Image: Political prisoner Ngo Hao, who was temporarily released from prison for medical reasons
Greetings from The 88 Project! We are bringing you news, analysis, and actions regarding human rights and civil society in Vietnam during the week of January 27-February 2. Political prisoner Ngo Hao will be on temporary suspension of his 15-year prison sentence for the next year as he receives medical treatment; the authorities' decision to grant the medical suspension comes after Hao previously suffered from two strokes in prison and after two political prisoners died in prison in late 2019. Phan Kim Khanh and Nguyen Viet Dung are both in solitary confinement in Ba Sao prison camp and Vuong Van Tha is being denied food in prison because of his refusal to wear a prison uniform and sign a confession of guilt. In international advocacy, read Amnesty International's 2019 report on human rights in the Asia-Pacific region, and read about Tran Thi Nga, who received an international human rights award this week. In the news, read about Vietnam's foreign policy. Take action for Khanh, Dung, and Tha by sharing updates on their situations and calling for improvements in their prison conditions.
HUMAN RIGHTS & CIVIL SOCIETY
Political Prisoners
Authorities have
 temporarily suspended the prison sentence
 of political prisoner 
Ngo Hao
 so that he can receive medical treatment. The sentence is suspended for one year. Hao is suffering from uncontrolled high blood pressure and eye ailments. Hoa is seven years into his 15-year prison sentence. This is not the first time his family has petitioned for medical assistance. In January 2019, Hao 
had a stroke in prison
, and the authorities failed to notify his family. His wife's request to take him for treatment was denied. Hao also had a 
stroke three years 
prior to that. Also in January 2019, he was unable to see out of one of his eyes, while the other's vision was reduced by 40%. In late 2019, two political prisoners died while in prison due to apparent health issues– 
Dao Quang Thuc
 from an alleged brain hemorrhage and lung infection and 
Doan Dinh Nam
 from kidney failure. Lack of access to medical treatment is often a significant factor in political prisoners' lives and can prolong suffering, resulting in cruel and inhumane treatment, and even death.
Phan Kim Khanh and Nguyen Viet Dung
As we reported last week, 
Phan Kim Khanh
 is in solitary confinement for allegedly "rebelling" against the prison administration. There is a noticeable deterioration in his health, possibly due to malnutrition. The family has called for the help of civil society organizations. Now, it is also reported that 
Nguyen Viet Dung
 is 
also in solitary confinement
 for the same reason, as well as for "refusing to work." On January 7, 2020, Dung's family went to 
visit him, 
and compared to the previous visit in June, he seemed to be in better spirits, yet there are still concerns about his health. According to the family, at that time, he had been barred from buying food at the prison canteen and was only allowed to access the meals provided by the prison, resulting in a lack of nutritional variety. Dung and Khanh are both currently in solitary confinement at Ba Sao prison camp in Ha Nam prison and both are in the process of trying to appeal their sentences, but at different levels of the appellate process. Khanh, a student blogger, is serving a six-year sentence, and Dung is the founder of the unsanctioned Republican Party of Vietnam and is also serving a six-year sentence.
Political prisoner 
Vuong Van Tha
 is in a precarious situation in prison. His family shared with us a report from a recently-released fellow inmate that prison officials are not giving Tha food because he has refused to wear a prison uniform and to sign a confession of guilt. Other inmates share what food they can, but Tha is greatly suffering from a lack of adequate nutrition. In November, his family had been cut off from any communication with him and had not been allowed to send supplies. We spoke to his family to gain insight into the situation. 
Watch the interview, here.
 Vuong Van Tha is a Hoa Hao Buddhist and religious activist serving a 12-year prison sentence.
This week, we remember the arrest and trial anniversaries of the following political prisoners:

Tran Hoang Phuc, Nguyen Van Dien, and Vu Quang Thuan 

Phan Van Thu, leader of the An Dan Dai Dao sect, sentenced to life in prison
International Advocacy
Tran Thi Nga and family's arrival to Atlanta, Georgia. Source: BPSOS
Action by Christians for the Abolition of Torture will 
present the Engel Prize for Human Rights
 to 
Tran Thi Nga
 on February 1. Tran Thi Nga is a labor and land rights activist who was released early from her nine-year prison sentence in January. She is unable to receive the award in person due to being in poor health after her release from prison, where she was beaten and detained with an abusive cellmate. Nga now lives in exile with her family in the US.
Read Amnesty International's new report, 
"Human Rights in Asia-Pacific: Review of 2019
." For the section on Vietnam, the report reviews topics like "Legal Developments," "Deaths in Custody," "Enforced Disappearance," and more. The report notes that conditions for political prisoners were dismal in 2019: "Prisoners of conscience were denied access to lawyers and family members, lacked proper health care, and in some cases were subjected to torture."
NEWS & ANALYSIS
EU-Vietnam Economic Ties: Toward Win-Win?
, Thoi Nguyen, The Diplomat, January 31, 2020: "Strategically, Vietnam is the second country after Singapore to sign trade and investment agreements with the EU. Signing these agreements with the EU is a big stepping stone for Vietnam to integrate into the international community this year. These are the most comprehensive partnership and agreements between the EU and Vietnam with a wide range of commitments from economic, trade, investment, to sustainable development issues. Meanwhile, the EU achieve a long-term goal to widen its influence and expansion in the ASEAN markets by targeting Vietnam. Vietnam's economy is one of the fastest growing in Asia, 
enjoying growth rate of between 5 and 7 percent for nearly 20 years
. […] But the agreement is not without its challenges. Most notably, Vietnam needs to abide with the EU on climate, labor, and human rights issues amid a worsening human rights situation in Vietnam."
Will Vietnam's anti-corruption campaign endure beyond Trong?
, Le Hong Hiep, East Asia Forum, January 29, 2020: "The unprecedented campaign has improved Vietnamese public confidence in CPV leadership and cemented Trong's 
political position
. Unlike the previous term of office when his authority was challenged by former prime minister Nguyen Tan Dung, Trong's power and control over the political system have been strengthened. This enables him to single-handedly shape the Party's agenda, including making personnel arrangements for the upcoming Party Congress."
What's Next for Vietnam's Maritime Militia?, Prashanth Parameswaran, The Diplomat, January 28, 2020: "The focus on the development of Vietnamese maritime capabilities has continued over the past few years as well. Vietnam has considered or passed a series of resolutions and laws that further clarify the role of various forces including its coast guard, and has also been managing some of the maritime challenges with its neighbors such as illegal fishing. More broadly, the country has also framed the development of its maritime capabilities in terms of broader goals such as developing its economy and protecting its sovereignty, as evidenced in the release of the country's first defense white paper in a decade in November."
Vietnam's Foreign Policy, Carl Thayer, in The Sage Handbook of Asian Foreign Policy: "This chapter is divided into four sections. Section one examines Vietnam's adoption and implementation of the foreign policy of 'multilateralizing and diversifying' its external relations up to 2005. The year 1995 was pivotal, Vietnam normalized its relations with the United States and became a member of the Association of Southeast Asian Nations. Section two explores Vietnam's pursuit of strategic and comprehensive partnerships with Russia, Japan, India, China, European states and Australia, as well as Vietnam's engagement with multilateral institutions in the period from 2006 to 2010. Section three assesses Vietnam's consolidation of relations with the major powers, new strategic partnerships, and the South China Sea issue in the period from 2011 to 2016. Section four, concludes that Vietnam's policy of 'multilateralizing and diversifying' its external relations was largely successful but the maritime dispute with China over the South China Sea poses major challenges to Vietnam's attempt to maintain its autonomy and independent foreign policy."
TAKE ACTION
Please take action by sharing messages of support for 
Phan Kim Khanh
, 
Nguyen Viet Dung
, and 
Vuong Van Tha
, as Khanh and Dung struggle with solitary confinement and Tha is denied food in prison. You can share the updates on your social media and encourage your lawmakers to press for an investigation into the prison conditions. Read about their cases in the "Political Prisoner" section of the newsletter.
© 2020 The 88 Project
https://the88project.org/wp-content/uploads/2019/02/ngo-hao.jpg
189
189
kayleedolen
https://the88project.org/wp-content/uploads/2019/01/88project.png
kayleedolen
2020-02-03 14:30:32
2020-02-03 14:30:32
Vietnam Free Expression Newsletter No. 5/2020 – Week of January 27-February 2