Ngo Hao
Current Status: Sentenced to prison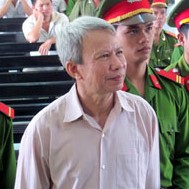 Other Names: Ngô Hào
Date of Birth: 1943
Gender: M
Ethnicity: Kinh
Occupation: Veteran
Current Prison: Tuy Hoa prison, Phu Yen province
Areas of Activism:
Known Afilliations:
January 2019:
Imprisoned activist Ngo Hao, 75, had a stroke in prison, and the authorities failed to notify his family. His wife's request to take him for treatment was denied. The news actually came from fellow political prisoner Hoang Duc Binh. Hoa also had a stroke three years ago, and his health is worsening. He is unable to see out of one of his eyes, while the other's vision is reduced by 40%.
Details - Background, History of Activism.
Ngo Hao is a former military officer.
Ngo Hao is a pro-democracy activist. He was known to support other activists in Vietnam through his writings, such as members of the Buddhist Hoa Hao minority and the Bia Son environmental group. Some had asked him to appeal for help from international organizations on their behalf.
Arrested February, 2013. Sentenced to 15 years in prison and 5 years probation under Art. 79 (1999 Code). Expected Release is February, 2028.
September, 2013
15 years in prison and 5 years probation
February, 2028
He was arrested on February 8, 2013, for online content accused of being critical of the government and for supporting Bloc 8406, a pro-democracy group. He had also been accused of receiving money from foreign groups that was intended to be distributed to activsits inside Vietnam. He was tried in Phu Yen province on September 11, 2013, and was sentenced under Article 79 of the 1999 Criminal Code, for subversion, to fifteen years in prison and five years of house arrest.
Profile last updated: 2019-11-25 02:35:55