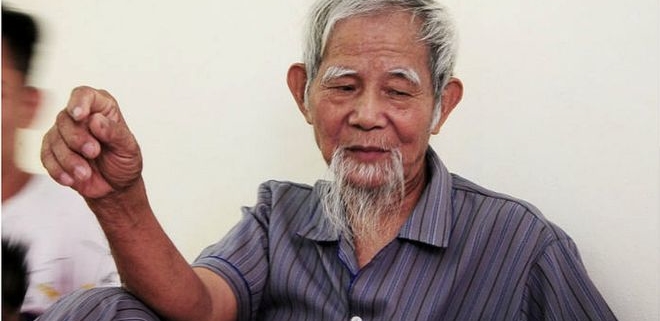 Trinh Ba Phuong's Statement and Du Thi Thanh's Letter on the Events at Dong Tam on January 9, 2020
Featured Image: Local leader, Le Dinh Kinh, who was killed in the raid. Source: BBC News Vietnamese
On January 9, 2020, security officers entered the area of Dong Tam commune while its residents were still asleep and began a widespread and violent attack against the community.  The raid resulted injury, death, and the detention of over 20 people. Local leader Le Dinh Kinh was killed in the raid; he had long organized to protect the land rights of the community. The Dong Tam commune area is the site of a long-running land conflict, as farmers there claim that the government is seizing the traditional agricultural land for the development of a military airport without providing proper compensation.
In a report published by local activists (read the full report, here), "Fighting Over Senh Field: A Report on the Dong Tam Village Attack," eyewitnesses reported that police instigated the conflict on January 9, descending on the area with large numbers of officers and trapping residents inside as they began to use force against them. This claim is in stark contrast to state media reports that the villagers started the conflict. Many have called for independent inquiries into the incident. Information about the events has been restricted and censored, and authorities also froze bank accounts of local activists involved in protests over the incident and fundraising for those affected. Land rights activists Trinh Ba Tu and Trinh Ba Phuong, as well as others who have helped share information and assist the villagers, are facing threat of severe harassment and even arrest.
Trinh Ba Phuong was invited to meet with the US Embassy on February 6, 2020 to discuss the raid and the community's suggested actions in response to it. Below, we share a translation of Trinh Ba Phuong's Facebook post after his meeting. At the meeting, Phuong also presented to embassy officials a letter from Du Thi Thanh, the wife of the slain Le Dinh Kinh, with her testimony about the events and a call for action. Read the translation of that letter below, as well.
You can read Du Thi Thanh's original handwritten letter in Vietnamese, here: Page 1, Page 2, Page 3, and Page 4.
Also available is our translation of the transcript of a recent video testimony by Du Thi Thanh. Read and watch the testimony in Vietnamese on Trinh Ba Tu's Facebook page, here.
_____________________________________________________________________________________________________________________________
Trịnh Bá Phương
On February 6, 2020, I received an invitation from the U.S. Embassy for a meeting. I met with three officials there, led by Mme Michelle Roulbet, head of the internal affairs of the political bureau of the U.S. Embassy.
The meeting lasted about two hours and was related to the entire incident at Đồng Tâm on January 9, 2020.
I passed to the officials Mrs. Dư thị Thành's letter calling for help. At the end of the meeting, they asked me what I and the families at Đồng Tâm would like the U.S. and international governments to do. My answers:
The families at Đồng Tâm would like the international community, especially the U.S. government, to call for an independent investigation into the events on January 9, 2020 so that justice can be carried out and the 27 people who were wrongly arrested don't suffer from further abuse and/or imprisonment.
People would like to see the Magnitsky Act applied in this case against government officials who ordered and led the attacks on citizens of Đồng Tâm.
We hope the U.S. will monitor the situation and do what it can to ascertain whether anyone else besides Mr. Kinh died from the attacks.
Embassy officials promised they would seriously consider our request.
Also, when I told the officials that the Security Ministry, police newspaper, VTV… have threatened to have me arrested, Mme Roulbet said: "We hope they don't arrest you. If they do, we cannot promise we can get you out, but we'll do all we can to help."
It was a very important meeting, as I was able to present all we knew about the Đồng Tâm incident. Many thanks to the U.S. Embassy for their concerns for democracy and human rights. Below is the appeal for help from Mrs Dư Thị Thành:
"To the U.S. Embassy,
My name is Dư Thị Thành, the wife of Mr. Lê Đình Kình. I represent the villagers at Đồng Tâm who were assaulted by Hanoi government at 3am on January 9, 2020. We are very moved to learn from Mr. Trịnh Bá Phương that he will be meeting with you tomorrow to discuss this case. We hope that through him, you will hear our plea for help.
Below are some of the things I saw that night:
1/ Around 3am, I heard a lot of noises like motors revving up, loud footsteps, clothes brushing against each other.
2/ Through the window, I could see many riot police, fully armed, pointing their weapons at our house.
3/ They began hollering and then attacked by firing explosion grenades, smoke grenades and tear gas. We could not breathe – me, my husband, our children and their children. They even fired bullets into our house and repeatedly launched smoke bombs and tear gas.
4/ I only was able to get my husband a wet towel and stayed beside him throughout the hours-long ordeal. My children and grandchildren were constantly running up and down the stairs, gasping for air because the house was by then filled with smoke and gas.
5/ When the riot police came in to drag me from the house, my husband was still alive, but I never saw them take him outside. After that, they pulled my children out too and beat them up.
6/ They threw us all into a van and took us to Miếu Môn station:
At the station they began to torture and force confessions from us. They made us kneel and answer their questions. Anyone who refused to say what they wanted to hear would be beaten; some had blood running from their mouths and noses.
I saw police savagely assaulting my son Lê Đình Công. He couldn't even walk, but had to crawl on the floor. I thought he was going to die.
I saw police beating Mr. Lê Đình Hiểu until he passed out. Then they poured water on him to wake him up, but he started choking because they poured too much water. So they put him on a gurney and took him outside right away.
I saw many Đồng Tâm villagers with severe injuries on their body, writhing in pain; some had broken ribs, broken jaws…
I myself, Dư Thị Thành, was repeatedly slapped and was forced to see them hold a live grenade to my face. I was hit in the head, and both my ears were buzzing. They hit me in my lower legs too; it hurt a lot.
My grandson Lê Đình Uy was hit with a bullet in his right arm at our house. Yet at the station, they beat him up some more and also tortured him.
My daughter-in-law Trần Thị Hương, my grandchild and two great-grandchildren, who were sleeping at their own home, were also taken to the station. They were coughing heavily from severe smoke inhalation. My great-grandchildren, one two-and-a-half years old and the other three months old, are suffering from lung infections.
7/ At 2am the following day, January 10, I was released, along with my granddaughter and her two children. A policeman said to me: "We're only letting you go home to take care of your husband's funeral."
8/ But it took three days before we could go back inside our house because they had it completely blocked off and searched. They took away all the paperwork my husband had been keeping for decades, his proof that the Đồng Sênh field is agricultural land. They even took 5M VND of cash from a shirt pocket, the only money we had in the house.
My daughter-in-law's car, for which she still owes payments to the bank, was towed away. They also took all her jewelries, rings, necklaces, money from her business… Nothing was left.
A safe at my son Lê Đình Chức's house was taken. In it, he kept 13M VND for his pregnant wife to help with the cost of childbirth, along with insurance papers for his children so they can go to school. The next day, they called him to return the items but not the money.
9/ I have not seen my second son Lê Đình Chức since the night of January 9, when they took him away. I did not see him at the police station, and up until now, the police have not told me anything about him. Some people said he'd been shot dead.
It has been almost a month since the attack, yet my family and other families still have not heard any news about our family members who were abducted that night. We have no idea if they're dead or alive. We ask for your assistance, as well as the assistance of other embassies, to help us find our loved ones. Their names are listed below:
Bùi Thị Nối; Bùi Viết Hiểu; Bùi Thị Đục ; Lê Đình Công; Nguyễn Thị Dung; Lê Đình Chức; Nguyễn Thị Bét; Lê Đình Doanh; Trần Thị Phượng; Lê Đình Uy; Trần Thị La ; Lê Đình Quang; Lê Đình Quân; Bùi Duy Tiến; Nguyễn Văn Tuyển; Nguyễn Quốc Tiến; Nguyễn Văn Quân; Bùi Văn Tiến; Nguyễn Văn Điều; Bùi Văn Nhiên; Lê Hiển; Bùi Viết Tiến; Đào Thị Thanh Kim; Nguyễn Thị Lụa; Mai Thị Phần; Trịnh Văn Hải; Nguyễn Văn Duệ.
Our family sincerely asks that the U.S. and the international community call for an independent investigation into the Đồng Tâm attack on January 9. And we would like to see the Magnitsky Act be applied to this case, as it was a clear and violent violation of our human rights.
Sincerely,
Dư Thị Thành, victim
Everything I wrote above is the truth, based on my own personal account.
Translation © 2020 The 88 Project
https://the88project.org/wp-content/uploads/2020/02/Le-Dinh-Kinh_BBC-News-Vietnamese.jpg
371
660
kayleedolen
https://the88project.org/wp-content/uploads/2019/01/88project.png
kayleedolen
2020-02-08 16:35:02
2020-02-16 15:20:02
Trinh Ba Phuong's Statement and Du Thi Thanh's Letter on the Events at Dong Tam on January 9, 2020