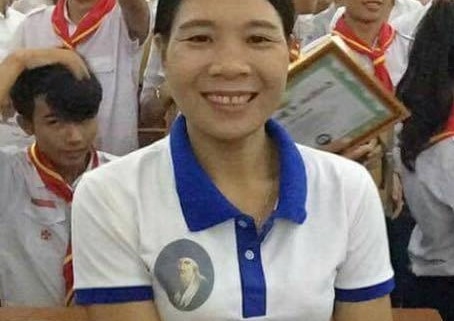 Vietnam Free Expression Newsletter No. 6/2020 – Week of February 3-9
Featured Image: Political prisoner Tran Thi Xuan
Greetings from The 88 Project! We are bringing you news, analysis, and actions regarding human rights and civil society in Vietnam during the week of February 3-9. We have updates this week on several political prisoners. After suffering from health issues without proper treatment throughout 2019, prison officials have now allowed Tran Thi Xuan to access care for her coronary occlusion in a specialized hospital. Journalist Le Anh Hung's mother, Tran Thi Niem, spoke to us recently about the mistreatment he has endured in prison, including forced mental treatment — he has been detained without trial for 19 months. Hoang Duc Binh's brother recently visited him in prison and reported that he is doing well. One month since the Dong Tam raid that left many injured and arrested and four dead, Du Thi Thanh, the wife of slain land rights activist Le Dinh Kinh, continues to speak out about the events of that morning and call for an investigation into the attack on the area, the site of a longstanding land conflict. Trinh Ba Phuong, a vocal supporter of the Dong Tam community, met with US Embassy officials this week to discuss requested international actions as well. The 88 Project and 27 other organizations sent a letter this week to the European Parliament asking for more concrete human rights protections before the final ratification of the pending trade agreements with Vietnam. In news and analysis, read about Vietnam's role in international relations with Britain post-Brexit. And please take action by sharing one of our recent "From the Ground" translations or interviews that share experiences of activists and political prisoners in their own words.
HUMAN RIGHTS & CIVIL SOCIETY
Prisoners of Conscience
We have updates from 
Tran Thi Xuan
's family. In 2019, her health was in critical condition. She fainted often and had to be taken to the emergency room every month. Her family requested that she be treated at a hospital, but prison authorities initially denied the request. However, with the frequency of her health incidents and the pressure from the family, the prison management finally permitted her to be treated in a specialized hospital at the beginning of 2020. Xuan is said to have suffered coronary occlusion and has been treated accordingly. Her health is now improving. Xuan was arrested under Article 79 ("attempting to overthrow the people's government") by the police of Ha Tinh province on October 17, 2017, when she was on the way from her home to the local church. Xuan was active in her Catholic community, raising money for charitable causes. She also spoke out against pollution in the wake of the 2016 Formosa environmental disaster and participated in protests in Loc Ha district to demand compensation for the fishermen for the pollution caused by the toxic spill.

Blogger and reporter Le Anh Hung is being subjected to psychological abuse in Vietnamese prison. We recently interviewed Ms. Tran Thi Niem, Hung's mother, about his current condition. Watch the full interview here. Hung has been forced to receive mental health treatment against his will, despite having no history of mental health issues. Due to this and other mistreatment, Hung's physical health has severely deteriorated. His mother petitioned the government in 2019 to release Hung so that he can receive treatment at home, but Hung remains in prison awaiting trial.

This week marks two years since Hoang Duc Binh was tried and sentenced to 14 years in prison. Binh is well-known as a labor rights activist and reported news about the Formosa environmental disaster. Binh's brother visited him during Tet, the Lunar New Year, and reported that he is doing well. But, in the past, he has endured treatment amounting to torture, including being housed in a cell with death row prisoners who assaulted and threatened him. The Vietnamese government has agreed to allow the EU Delegation to Vietnam to visit Binh and others in prison, but it is unknown at this time if those visits have occurred.
This week, we remember the arrest and trial anniversaries of the following political prisoners:

Blogger and doctor Ho Van Hai, tried February 1, 2018 and sentenced to four years in prison
Anti-corruption activist Nguyen Van Truong, arrested February 9, 2018 and still awaiting trial in pre-trial detention
Top row: Bui Van Trung, Bui Van Tham, Le Thi Hong Thanh
Bottom row: Bui Thi Bich Tuyen, Le Thi Hen, and Nguyen Hoang Nam
Community at Risk
Featured Image: Du Thi Thanh and Le Dinh Kinh, Source: BBC Vietnamese
February 9 marks one month since the brutality in Dong Tam. On that day, the Liberal Publishing House and the Dong Tam Task Force 
released
 an updated version of the report "Fighting Over Senh Field: A Report on the Dong Tam Village Attack," confirming that, apart from the killing of local leader Le Dinh Kinh's, at least 26 residents have been arrested, and the number of arrests might still increase. "This report reaches the conclusion that this event is the largest peacetime land dispute in Vietnam in terms of troops deployed, as well as one of the deadliest; it also highlights concerns about police brutality, abuse of power, and the contradictory concept of the 'people's ownership of land' in Vietnam." Read the report, 
here
, and please share it widely as a way to call for an independent investigation into this attack.
This week, activist Trinh Ba Phuong met with US Embassy officials to discuss the events that took place during the Dong Tam raid on January 9, 2020. Phuong himself is the son of prominent land rights activist and former political prisoner Can Thi Theu and activist Trinh Ba Khiem and has been facing the risk of arrest for reporting on the Dong Tam incident. While meeting with the embassy officials, he also shared a handwritten letter from Le Dinh Kinh's wife, Du Thi Thanh, with personal testimony. Phuong and Thanh both called for an independent investigation into the raid and the application of Magnitsky Act sanctions by the US on Vietnamese government officials involved in the planning of the attack. Read the translation of Phuong's statement and Thanh's letter, here.
You can also read our translation of the transcript of recent video testimony by Du Thi Thanh. "It was about 3:00 am in the morning when I heard loud rumbling in the streets. I opened the door to look outside," she says. "There were security officers and police everywhere, so I ran inside. They started shooting guns and tear gas into our house. They shot a lot of tear gas that night." Read and watch the testimony in Vietnamese on activist Trinh Ba Tu's Facebook page, here.
International Advocacy
On February 4, The 88 Project joined 
Human Rights Watch
 and 26 other civil society organizations to urge the European Parliament to postpone its consent to the EU-Vietnam Free Trade Agreement and Investment Protection Agreement until the Vietnamese government agrees to meet concrete and verifiable benchmarks to protect labor rights and human rights. Read our letter to the European Parliament, 
here
.
NEWS & ANALYSIS
Vietnam poised to be post-Brexit Britain's Asia ally
, David Hutt, Asia Times, February 4, 2020: "Hanoi, too, is desperate to secure trade conditions with the UK for its export-driven economy, especially as Britain at the end of the year will no longer be part of the EU's preferential trade schemes that Vietnam enjoys. It would also be in Vietnam's interest geopolitically if Britain plays a more active security role in the region. Next to France, it is the European country with the most engaged defense operations in the Asia-Pacific."
EU Confronts Make or Break Decisions for Vietnam and Cambodia, David Hutt, The Diplomat, February 6, 2020: "For Hanoi, if the European Parliament finally okays the EVFTA this month – which is most probable, despite concerns by some MEPs about Vietnam's human rights record – it could boost GDP by 3.2 percent by 2023 and possibly as much as 7 percent by 2030, according to the Ministry of Planning and Investment. The separate investment treaty is likely to take much longer to be implemented than the free-trade deal, however, as it must be ratified by all EU member states. To some – probably including the Cambodian Prime Minister – all this reeks of hypocrisy. Many in Brussels say Cambodia needs to be stripped of its EBA status because of its authoritarian turn since 2017, when the ruling party forcibly dissolved the only viable opposition party and then went on to win all 125 seats at a rigged general election, and labor rights violations. Yet, at the same time, there's a great deal of energy in Brussels to push through the EVFTA, which would basically be rewarding Vietnam, a far worse human rights offenders in the region, with spanking new trade bonuses."
Jail in Vietnam a 'hell' for Fr Paul, Marilyn Rodrigues, The Catholic Weekly, February 7, 2020: "'The moment the cell door slammed behind him, Vietnamese priest Fr Paul Van Chi believed he had entered hell on earth. The Sydney chaplain to the Vietnamese Catholic community says there's no other way to describe the four years he spent imprisoned in his homeland during the 1980s. His crime? Composing and promoting Catholic hymns and being loyal to his bishop made him an enemy of the communist regime. 'I could not understand why I was there, it was really like a hell,' he said. That's why he understands the agony of the family and friends of Chau Van Kham, a 70-year-old retired baker from Sydney who supporters say has been falsely convicted of terrorism and imprisoned by the Vietnamese government."
© 2020 The 88 Project
https://the88project.org/wp-content/uploads/2018/03/tran-thi-xuan.jpg
454
454
kayleedolen
https://the88project.org/wp-content/uploads/2019/01/88project.png
kayleedolen
2020-02-10 14:11:03
2020-02-10 14:11:03
Vietnam Free Expression Newsletter No. 6/2020 – Week of February 3-9