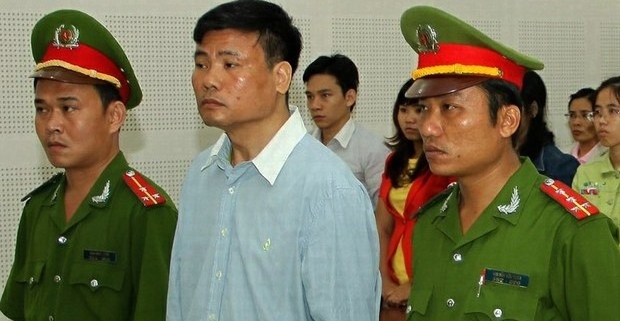 Vietnam's Extreme Censorship Highlighted in New International Report
Vietnam ranks sixth on the Committee to Protect Journalist's (CPJ) newly-released report, the 10 Most Censored Countries, only behind Eritrea, North Korea, Turkmenistan, Saudi Arabia, and China. "A raft of repressive laws and decrees sharply curtails any media criticism of the one-party government, its policies, and its performance," CPJ states. The report cites Vietnam's jailing of journalists and limited non-state media actors as contributing factors to the repression. It also cites the new Law on Cybersecurity, which took effect this year and includes provisions requiring internet service providers to store user data in-country and remove certain types of content deemed to be at odds with the state.  That often means removing content of dissidents who express their criticism of the regime, as evidenced by at least 10 arrests of online commentators so far in 2019, and at least 19 activists in total. 
Above: Facebookers and siblings Huynh Thi To Nga and Huynh Minh Tam. Huynh Thi To Nga was kidnapped from her workplace and detained in January. Huynh Minh Tam had been arrested just days prior. 
In addition to jailing traditional journalists, Vietnam is targeting those who use online platforms to create and share news in informal ways. Our Database of Persecuted Activists in Vietnam records eight journalists/bloggers/freelancers currently behind bars in Vietnam. When we include both political prisoners and activists at risk, that number rises to 24. Many other political prisoners and activists also freelance or blog as their secondary occupation or hobby. And many also use Facebook as a means to post breaking news, as well as to share their opinions on current events. By our research, of the 19 activists arrested so far in 2019, ten have been arrested, at least in part, for their activities posting opinions on online platforms (mainly Facebook). They are: Huynh Minh Tam, Huynh Thi To Nga, Nguyen Chi Vung, Nguyen Dinh Khue, Nguyen Van Cong Em, Nguyen Thi Hue, Huynh Dac Tuy, Pham Van Diep, Nguyen Nang Tinh,  and Duong Thi Lanh. In addition, of the 19 arrested, 12 are known activists for freedom of expression, ten for democracy, and eight for anti-corruption efforts. Dozens more have also been harassed for their online activities but not formally charged, including blogger Pham Thanh Nghien, whose home was destroyed in a forced eviction in January, and Truong Chau Huu Danh, a journalist who was unlawfully detained overnight while protesting a Build-Operate-Transfer toll booth earlier this year. 
Above: Criminal provisions used against activists in 2018. Article 117 (2015 Code) is shown in green and is 4.2%.
Above: Criminal Code provisions used against activists in 2019. Article 117 (2015 Code) is shown in green and is 43.8%.
Forty-four percent of those charged this year have been charged under Article 117 of the 2015 Criminal Code for "making, storing, spreading, or propagating information, materials, items for the purpose of opposing the State."  This is by far the leading provision used to charge activists in 2019. By comparison, in 2018, that same article was only the 4th most-used charge at 4.2%. Even accounting for the fact that many of those arrested in 2018 were charged in relation to their roles in national protests, and thus usually charged for "causing public disorder" under Article 318, the difference in the use of provisions remains stark and supports the apparent trend of authorities specifically targeting vocal online activists in 2019. 
Above (left to right): Political prisoners Truong Minh Duc, Le Anh Hung, and Truong Duy Nhat
Behind bars, journalists continue to face difficult conditions. Journalist and member of the Brotherhood for Democracy Truong Minh Duc was one of several political prisoners who went on hunger strike for 41 days this summer to protest prison conditions, stemming from the authorities' refusal to provide fans for prisoners during a heat wave. Even after the strike ended, Duc continued to face difficulties, including a shortened and tightly-surveilled meeting with his wife just days after he ended his hunger strike and after his wife was attacked while trying to visit him and other prisoners during the hunger strike. Journalist Le Anh Hung, who has been detained without trial for over a year, has undergone forced mental health treatment at the hands of prison authorities. He was also force-fed while on hunger strike. There is also the case of Truong Duy Nhat, a journalist who was kidnapped and forcibly returned to Vietnam while attempting to seek asylum in Thailand in January. He was missing for several weeks and later confirmed to be in prison in Vietnam, where he remains ahead of a trial.  
CPJ's report complements the data we've collected this year that shows a troubling continuation of a crackdown on dissent. The issue of censorship reflects a larger societal issue with a lack of freedom of expression for Vietnamese citizens in all parts of life. Whether it's in the newspapers or television broadcasts shown, the things children are allowed to study in school, the events people are permitted to attend, or the commentary Facebookers can post online, it is evident that freedom of expression in Vietnam is being curtailed from multiple angles. And in 2019, that threat continues to target those who dare to criticize the government in highly-visible online spaces. Four journalists and freelancers still await trial in pre-trial, incommunicado detention at the time of this writing. Countless others remain at risk of arrest for trying to share news and viewpoints in an  intensively-monitored media environment, whether as a formal journalist or as a concerned citizen writing a blog post or sharing a link on their social media profile. 
Yet, hope lives on in the numerous activists who continue to fight state censorship. Dissident writer and journalist Pham Doan Trang has released a new book called "Politics of a Police State." Trang has long advocated for press freedom and multi-party democracy in Vietnam and has written extensively on the subjects despite state censorship and threats to her personal safety. She is also one of Reporters Without Borders's nominees for its 2019 Press Freedom Awards. We also spoke with her and several other female writers, translators, and publishers as part of our interview series with female activists. While repression abounds, so does Vietnamese activists' perseverance. 
© 2019 The 88 Project
https://the88project.org/wp-content/uploads/2019/02/truong-duy-nhat-trial-2017_source-afp-vietnam-news-agency_cropped.jpeg
349
620
Huong Nguyen
https://the88project.org/wp-content/uploads/2019/01/88project.png
Huong Nguyen
2019-09-12 16:12:32
2019-09-12 16:12:32
Vietnam's Extreme Censorship Highlighted in New International Report