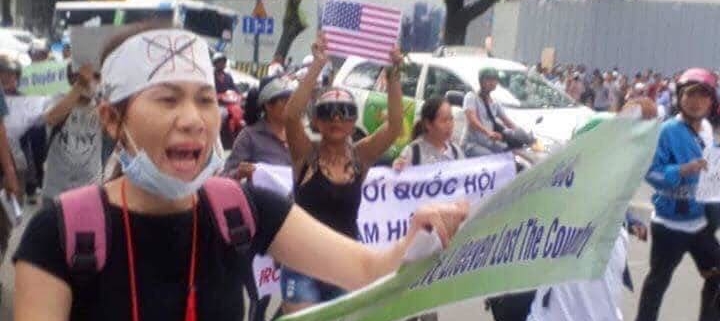 Vietnam Free Expression Newsletter No. 36/2019 – Week of September 2-8
Featured Image: Political prisoner Doan Thi Hong at a demonstration. Photo source: Facebook Nguyen Thuy Hanh
Greetings from The 88 Project! We are bringing you news, analysis, and actions regarding human rights and civil society in Vietnam during the week of September 2-8. Political prisoner Ngo Van Dung was able to meet with his daughter for the first time since his arrest, and political prisoner Doan Thi Hong was able to meet with her young daughter for the first time since her arrest as well. Hong is suffering from several health issues behind bars. Nguyen Ngoc Anh's wife also visited him in prison this week and reported that he's being intentionally mistreated by cellmates. In the news, read about the precarious journey of Montagnard refugees from Vietnam to Thailand. In case you missed it, read our report on the anti-China protests and government crackdowns in Vietnam last month. And please take action with Amnesty International for Doan Thi Hong, who has been detained without trial for over a year.
HUMAN RIGHTS & CIVIL SOCIETY
Prisoners of Conscience
On September 4, 2019, the daughter of political prisoner Ngo Van Dung met with him for the first time since his arrest. Dung told her that he is innocent and that she should follow his case closely. Ngo Van Dung, a member of the Hien Phap constitutional rights group, was taken into custody on September 4, 2018 in Ho Chi Minh City, during a Facebook livestream. In early October, Ngo Van Dung's family finally received an announcement about his temporary detention and prosecution. He was prosecuted by Ho Chi Minh City's Police under Article 118 of the 2015 Criminal Code for "disrupting security" and is now detained at the Ho Chi Minh City police's temporary detention center, where he will await trial. We remember him this week on the first anniversary of his arrest.
On September 4, 2019, Doan Kim Khanh, sister of political prisoner Doan Thi Hong, posted on Facebook about the health of her sister. According to her post, Hong is very weak and needs medical care. She is suffering from several medical issues, including digestive disorders and vestibular problems. This week, Hong, a single mother, was able to meet with her toddler daughter for the first time since her arrest. On September 2, 2018, Hong was arrested by police of Dong Hung Thuan Sub-District, District 12, Ho Chi Minh City without neither an announcement of formal charges nor an arrest order. She is a member of the Hien Phap constitutional rights group, which was subject to a crackdown by authorities ahead of planned demonstrations in early September 2018. This week marks one year since Hong's arrest; she remains in pre-trial detention.
On September 3, 2019, political prisoner Hoang Duc Binh sent a letter to his younger brother, Hoang Nguyen. In the letter, Binh told his brother to ask for instructions from lawyers on how to send petition letters to different bodies of the government, such as the President's Office, the Supreme Court of Vietnam, and the Law Committee of the Assembly. Binh plans to write about his trial, which he believes was fundamentally wrong. Hoang Duc Binh is an environmental and labor rights activist who is serving 14 years in prison for his peaceful activities.
On September 6, 2019, Nguyen Thi Chau, wife of political prisoner Nguyen Ngoc Anh, went to visit him in prison. He told his wife that he has had difficulties with his cellmates, who are believed to be encouraged to mistreat him in order for reduced sentences and other lenience. His belongings also haven't been returned to him after being taken away by the police. His wife reported, though, that Anh was strong and determined in prison and hasn't lost his spirit. On June 6, Nguyen Ngoc Anh was sentenced to six years in prison under Article 117 of the 2015 Penal Code for "making, storing, spreading information, materials, items for the purpose of opposing the State of Socialist Republic of Vietnam" for expressing his views on national issues on Facebook, protesting the Formosa environmental disaster, supporting political prisoners, and calling for protests.
This week, we remember the birthdays and trial/arrest anniversaries of the following political prisoners:

NEWS & ANALYSIS
Montagnards: Persecuted in Vietnam, Living in Limbo in Thailand
, Tran Duy, The Vietnamese, September 1, 2019: "To escape the threat of Vietnamese police, children like Jen's sisters had to go with strangers and travel in dangerous cars with the hope that they would later be able to reunite with their parents. The children faced the danger of being kidnapped, sold to brothels, or forced to work as slaves. For the past two decades, only international organizations abroad have been monitoring the situation in the Central Highlands, but they are struggling to get accurate information due to government restrictions in the area. Many NGOs remain silent when asked about the situation in the Central Highlands for fear of government retaliation."
Why China is picking a fight with Vietnam, David Hutt, Asia Times, September 5, 2019: "Reports from earlier this year suggest that Vietnam has been quietly expanding its maritime militia and arming more of its coast guard in preparation of even more aggressive tactics by China's equivalents. Given the military mismatch, Vietnam's greatest deterrence would likely come through international partnerships. And Hanoi has been busy making new friends. For instance, Vietnam agreed last month to expand defense ties with South Africa, while Australian Prime Minister Scott Morrison reaffirmed their military cooperation during an anticipated visit to Hanoi. Vietnam has also signed new defense agreements with the European Union and Japan this year. Most important, however, would be if Hanoi could win more strategic assurances from its former battlefield foe the US."
IN CASE YOU MISSED IT
Four activists protesting outside of a coffee shop in Khanh Hoa province on August 18, 2019. Source: RFA
Some observers believe that the anti-China protests in Vietnam only manifest a Sinophobia syndrome. We think, however, that the protests show the public's aspiration for freedom of expression and freedom of information. While history makes the Vietnamese constantly worried about China's expansionism, most of the anti-China protests in 2007, 2014, 2016, 2018, and 2019 have not tried to convey the message of violence against anything Chinese. They have been mobilized due to the fact that the Vietnamese government excludes the public from knowing, understanding, and discussing the relationship with China. With the general public's dissatisfaction regarding Chinese contractors, Chinese illegal migrant workers, and most importantly, China's provoking actions in Vietnam's East Sea, the suppression of information and discussion only intensifies the public's discontent. The protests, therefore, also aspire for freedom of information and expression. And that is also the very reason that the Vietnamese regime sees the threats in them. Read our full report on the situation and recent protests, 
here
.
TAKE ACTION
Take action with Amnesty International in calling for the release of political prisoner Doan Thi Hong. She has been detained for over a year without trial, and when her family was finally able to visit her on September 4, 2019, they reported that her health had notably declined.
© 2019 The 88 Project
https://the88project.org/wp-content/uploads/2018/11/doan-thi-hong-at-a-protest_source-facebook-nguyen-thuy-hanh.jpg
540
720
kayleedolen
https://the88project.org/wp-content/uploads/2019/01/88project.png
kayleedolen
2019-09-09 13:47:24
2019-09-09 13:47:24
Vietnam Free Expression Newsletter No. 36/2019 – Week of September 2-8