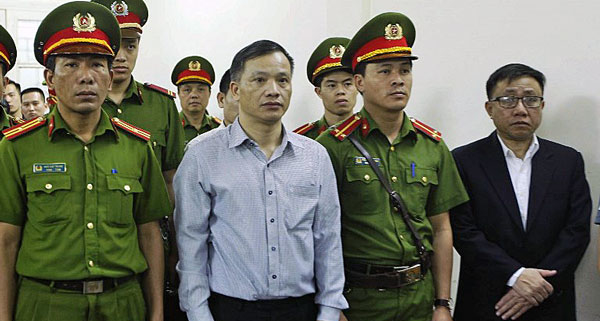 Vietnam Free Expression Newsletter No. 14/2020 – Week of March 30-April 5
Featured Image: Nguyen Van Dai and Nguyen Bac Truyen (R) at trial on April 5, 2018, Source: AFP via Radio Free Asia
Greetings from The 88 Project! We are bringing you news, analysis, and actions regarding human rights and civil society in Vietnam during the week of March 30-April 5. Political prisoner Luu Van Vinh has been sick in prison and isolated from other prisoners. Female activist Truong Thi Ha is being quarantined upon her return to Vietnam, her important papers confiscated. Vietnamese authorities continue to target Falun Gong practitioners with arrest and questioning. In international advocacy, several groups, including the Committee to Protect Journalists and the UN High Commissioner for Human Rights, have called for the release of political prisoners during the COVID-19 pandemic. The US Commission on International Religious Freedom has asked for the release of Hoa Hao Buddhist Nguyen Bac Truyen on the anniversary of his 2018 trial. In the news, read about the EU-Vietnam free trade agreement, COVID-19 effects on garment industry workers, and maritime conflict in the South China Sea. Take action this week for imprisoned journalists with the Committee to Protect Journalists and their #FreeThePress campaign.
HUMAN RIGHTS & CIVIL SOCIETY
Political Prisoners
Luu Van Vinh
's wife said her husband 
called her
 with an update this week. He said that due to the impact of COVID-19, families are not allowed to visit, so in the prison camp, many people are in need of everything. He told his wife he is still in isolation. A few days ago, he had a sore throat with a high fever and numbness all over his body, but he has since improved. Luu Van Vinh is a pro-democracy activist who is serving a 15-year prison sentence for founding a civil society group.
On April 2, 
Nguyen Thi Kim Phuong was arrested by Public Security of An Giang
 for subversion under Article 109 of the 2015 Criminal Code.  According to the authorities, in 2018, Phuong participated in the Interim Government of the State of Vietnam, an overseas organization led by Dao Minh Quan. The organization has been listed as a terrorist entity by Vietnamese government. Phuong has allegedly invited many other people to join the organization, but there is no evidence of a violent action or plan in these activities.
This week, we remember the trials of the following political prisoners:
The four were tried in a one-day trial alongside human rights lawyer Nguyen Van Dai and Le Thu Ha, who were released early from prison in June 2018.
Activists at Risk
Activist 
Truong Thi Ha
 returned to Vietnam a week ago via the Laos border and was immediately put in quarantine. Earlier, she posted that upon her return to Vietnam, her important papers and money were confiscated. She is being held in in Dong Hoi's quarantine area for 14 days, and is uncertain about will happen to her after the 14 days are up. It is unclear why Ha returned to Vietnam. Ha's posts about this on her Facebook account are currently inaccessible. 
Here is a repost of one of Ha's posts
 on Nguyen Van Hai's Facebook. Ha is known for her active participation in the 2018 series of demonstrations against two draft bills: the Law on Cybersecurity and Law on Special Economics Zones. Ha is also an outspoken supporter of the democratization movement in Vietnam.
On March 30, 2020, two members of Falun Gong in Ha Tinh province were 
arrested by the public security of Ha Tinh City
. The two had intended to disseminate free face masks with introductory documents on Falun Gong. Over 6,000 masks and 1,000 printed documents were confiscated. The crackdown on Falun Gong in Vietnam has been going on for years without any legal justification. In Vietnam, Falun Gong is yet to be banned as in China, but its practitioners are generally not welcomed, and the local authorities consider them suspicious. On February 24, 2020, Nguyen Thi Phuong, a resident of Van Ninh, Khanh Hoa province, was "
invited
" to have a chat with local public security for simply practicing Falun Gong, and in December 2019, Dang Thi Hau, a textile worker working in Hai Duong province, was 
harassed
 by the police in Quang Ninh province, her hometown, for "unauthorized propagating of Falun Gong materials," as she brought with her Falun Gong materials to share in a home visit.
International Advocacy
Several international governments and human rights organizations have called for the release of political prisoners during the COVID-19 pandemic, as they are particularly vulnerable to contracting the disease and often unable to protect themselves in the ways that other members of the public can. One such organization is the Committee to Protect Journalists, which has 
urged governments to release imprisoned journalists
 specifically with their #FreeThePress campaign. Defend the Defenders 
released a statement
 also demanding the release of Vietnamese political prisoners.
The UN High Commissioner for Human Rights, Michelle Bachelet, has also requested that world governments protect those in prisons and close-contact quarters during this outbreak. "People are often held in unhygienic conditions and health services are inadequate or even non-existent," she said. "Physical distancing and self-isolation in such conditions are practically impossible." She specifically called for the release of political prisoners, non-violent offenders, and older persons with critical health issues.

Nguyen Van Dai and Nguyen Bac Truyen (R) at trial on April 5, 2018, Source: AFP via Radio Free Asia
The US Commission on International Religious Freedom has called for the release of political prisoner Nguyen Bac Truyen on the second anniversary of his trial. Truyen is a Hoa Hao Buddhist and religious activist who was sentenced to 11 years in prison on April 5, 2018, along with several other well-known activists. USCIRF Commissioner Anurima Bhargava said of Truyen that: "He should be home with his family, especially now that the coronavirus pandemic has increased the public health risk to prisoners and his health problems have escalated since his imprisonment."

Dinh Thi Phuong Thao
As we reported last week in the newsletter, several UN Special Rapporteurs and the Working Group on Arbitrary Detention released a report calling for information in the cases of jailed journalist Pham Chi Dung and activist Dinh Thi Phuong Thao. Thao was detained for questioning and her passport confiscated when she returned to Vietnam in November 2019. She has responded to the release of the report and the Vietnamese government's response. You can read her remarks, here.
NEWS & ANALYSIS
For Autocrats, and Others, Coronavirus Is a Chance to Grab Even More Power
, Selam Gebrekidan, The New York Times, March 30, 2020: "As the new laws broaden state surveillance, allow governments to detain people indefinitely and infringe on freedoms of assembly and expression, they could also shape civic life, politics and economies for decades to come. The pandemic is already redefining norms. Invasive surveillance systems in South Korea and Singapore, which would have invited censure under normal circumstances, 
have been praised 
for slowing infections. Governments that initially criticized China for putting millions of its citizens under lockdown have since followed suit."
EU-Vietnam: Council gives final green light to free trade agreement, Council of the EU, March 30, 2020: "The Council today adopted a decision on the conclusion of a free trade agreement (FTA) between the EU and Vietnam. This decision clears the path, on the EU side, for the entry into force of the agreement. Once the Vietnamese National Assembly also ratifies the FTA, the agreement can enter into force, most likely in early summer 2020."
Vietnam Orders National Isolation After Initial Containment of Coronavirus
, Voice of America, March 31, 2020: "The government announcement blared through speakers on the streets of Hanoi, the capital, as residents bought last minute items before hunkering down on Tuesday. Prior to the announcement the Southeast Asian nation had won international praise for its response to the coronavirus, with officials acting quickly to quarantine patients and trace contacts. Despite having fewer resources as a developing nation, Vietnam limited the first wave of infections that began in January, though a second wave has now brought the number of cases to 204 as of Monday, with no reported deaths."
Coronavirus pandemic tears holes in Asia's garment industry, Shaun Turton and Phorn Bopha, Nikkei Asian Review, April 3, 2020: "Human Rights Watch urged brands not to 'forsake the factory workers'. Clean Clothes Campaign outreach coordinator Christie Miedema said brands had a responsibility to those working in the sector. 'They've profited from this cheap labor for decades without paying for any social security,' she told Nikkei. 'That profit needs to be paid back now, because there is no social security in place for many of these countries and there's nothing that workers can fall back on.'"
Vietnam protests Beijing's sinking of South China Sea boat
, Khanh Vu, Reuters, April 4, 2020: "The incident marks the second time in less than a year a Vietnamese fishing vessel has been reportedly sunk by a Chinese vessel near the China-controlled Paracels. A Chinese oil survey vessel conducted operations in Vietnamese-controlled waters for more than three months last year, causing a tense standoff between vessels from the two countries."
TAKE ACTION

Jailed Vietnamese journalists Le Anh Hung and Ngo Van Dung
Take action for imprisoned journalists this week with the Committee to Protect Journalists and their #FreeThePress campaign, which urges global governments to immediately release jailed journalists in light of the COVID-19 crisis. Use the #FreeThePress hashtag on social media, share their open letter, and sign the change.org petition. Take action, 
here
. There are at least six jailed Vietnamese journalists (and several more bloggers); these journalists are 
Le Anh Hung
, 
Pham Chi Dung
, 
Ngo Van Dung
, 
Truong Duy Nhat
, 
Ho Duc Hoa,
 and 
Truong Minh Duc
.
© 2020 The 88 Project
https://the88project.org/wp-content/uploads/2020/04/Nguyen-Van-Dai-and-Nguyen-Bac-Truyen-at-trial_RFA.jpeg
337
600
kayleedolen
https://the88project.org/wp-content/uploads/2019/01/88project.png
kayleedolen
2020-04-06 13:41:48
2020-04-06 13:41:48
Vietnam Free Expression Newsletter No. 14/2020 – Week of March 30-April 5