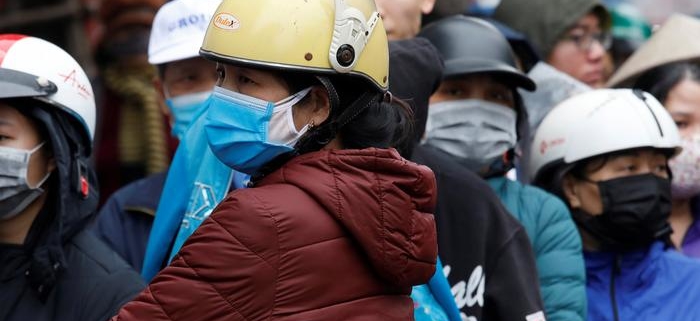 Reuters
Vietnam Free Expression Newsletter No. 13/2020 – Week of March 23-29
Featured Image: Vietnamese residents in Hanoi (featured in News & Analysis)
Greetings from The 88 Project! We are bringing you news, analysis, and actions regarding human rights and civil society in Vietnam during the week of March 23-29. Local authorities are harassing land rights activists Trinh Ba Phuong and Trinh Ba Tu; they have supported the Dong Tam community in the aftermath of the violent raid there in January and are also victims of land grabs in their own community. And in the latest in a string of incidents between police and BOT protesters, local police in Khanh Hoa province have issued a warrant for a man who allegedly threw a bowl of rice at a tollbooth. In international advocacy this week, read the letter of several UN Special Rapporteurs to the Vietnamese government on journalist Pham Chi Dung and activist Dinh Thi Phuong Thao, and check out Frontline Defender's guide for the well-being of human rights defenders during COVID-19 and the UN's website on COVID-19 and human rights resources. In the news, read about the Vietnamese government's response to COVID-19 and relations with China and the US. In case you missed it, check out our update on jailed An Dan Dai Dao Buddhist leader Phan Van Thu, who is struggling with several health ailments during his life imprisonment sentence. And please take action for the Dong Tam commune community — it has been almost three months since the raid there, and still, there has been no independent investigation into the events of that day.
HUMAN RIGHTS & CIVIL SOCIETY
Political Prisoners
This week, we remember political prisoner 
Do Cong Duong
 on his birthday, March 24. He is a citizen journalist who was arrested in January 2018 and sentenced to eight years in prison on two separate charges for his activism, including filming a forced eviction.
Activists at Risk
Trinh Ba Phuong and Trinh Ba Tu]
During the Dong Tam incident, land right activists, including brothers 
Trinh Ba Phuong
 and 
Trinh Ba Tu
, were some of the most 
outspoken critics
 against the brutality of the police and the censorship of information concerning villagers involved and information behind the deadly clash. This has led to the 
current systematic harassment
 by the local authorities against their families. Phuong and Tu are sons of 
Can Thi Th
eu, a well-known land rights activist who has been imprisoned twice. They live in Duong Noi, and they themselves are the victims of the forced evictions and widespread land confiscations in Vietnam. Theu is a leading figure in the fight against land seizures and inadequate compensation of the farmers of Duong Noi. She was sentenced to 20 months of imprisonment in September 2016 for "disturbing public order."
Since March 5, 2020, the public security of Ngoc Luong commune, Yen Thuy district, Hoa Binh province has continuously surrounded the family's home and 
forced the family to work with them on the issue of their "residency status and household registration."
 Each of the meetings was comprised of at least 10 public security forces, and some even were in plain clothes. This is highly unusual and highlights the harassment of these procedures. In Vietnam, the household registration and residency status processes rarely attract this many resources.
The document issued by the Khanh Hoa Province police, Source: Facebook Bao Sach
The public security forces of Ninh Xuan commune, Ninh Hoa district, Khanh Hoa province, 
conveniently issued a document, looking like a warrant
, to find a man just because he threw a bowl of rice at the entrance of Ninh Xuan BOT tollbooth. The authorities also published his information, including his name and his address. They accused him of disrupting public security, and for that, he is subject to administrative punishment. This incident adds to the continuing hostility between the local authorities and the residents and road users, where the authorities use their power to address the civil disputes between the Build-Operate-Transfer companies and their users. 
Dozens
 of activists and citizens have been jailed and harassed for opposing the installation and operation of these tollbooth across the country.
International Advocacy
CIVICUS released a statement this week urging leaders to respect human rights during the current COVID-19 outbreak. They asked governments not to use emergency powers to restrict rights expression. "While the focus and attention of the global community over the coming months will be directed towards the virus, states may increase attacks on civil society and impose restrictions. States should take pro-active measures to ensure that civil society organisations and vulnerable groups are adequately protected." They also urged for the release of political prisoners, who are at high risk of contracting the disease in crowded prisons, and for governments to respect independent journalism and allow access to information.
Frontline Defenders released a guide of helpful tips for human rights defenders to stay physically healthy and safe online during the COVID-19 pandemic. The document reviews ideas about how to safely work from home, as well as how to take care of emotional needs during periods of crisis.
The UN Office of the High Commissioner for Human Rights has compiled a website with useful information about human rights in the time of COVID-19. It includes guidance for protecting human rights during the virus response, press releases, and links to social media channels that you can follow for updates.
The UN Special Rapporteur on the promotion and protection of the right to freedom of opinion and expression, the Special Rapporteur on the rights to freedom of peaceful assembly and of association, the Special Rapporteur on the situation of human rights defenders, and the Working Group on Arbitrary Detention 
released a report calling for information
 in the cases of jailed journalist 
Pham Chi Dung
 and activist 
Dinh Thi Phuong Thao
. Thao was detained for questioning and her passport confiscated when she returned to Vietnam in November 2019; Dung was arrested in November 2019 and still awaits trial. In the statement, the Rapporteurs call for answers from the Vietnamese government about these incidents, the treatment of the people involved, and the legal assurances that they should have been granted. The government now has 60 days to respond.
Internet Freedom
The 
authorities are questioning a prominent Facebooker
, known as D.N.Q, for allegedly posting false content about the COVID-19 pandemic. The Ministry of Public Security announced that the Facebooker would be interrogated and claim that the posts are causing "social disorder." Defend the Defenders reports that the posts often contain some of the same information published by official government websites, as well as personal commentary. The Facebooker may face charges of "conducting propaganda against the state" or "abusing democratic freedoms," both of which carry potentially heavy jail terms.
Last week, we reported that Vietnamese authorities have 
reportedly summoned over 600 Facebookers
 for questioning relating to online posts about the current coronavirus outbreak. Many of these people were also fined. While The 88 Project recognizes the need to share correct medical information in times like these, we also acknowledge that the Vietnamese authorities often target online users for their posts arbitrarily and also go to great lengths to censor criticism of the regime's decisions or to silence dissenting voices generally.
NEWS & ANALYSIS
Vietnam's Communist Party Finds a Silver Lining in COVID-19, Mai Truong, The Diplomat, March 28, 2020: "More importantly, the CPV is successful in equating support for the Party and its efforts to quell the coronavirus outbreak with nationalism. Anyone who criticizes the conditions people in quarantine face or the Party's policies risks provoking anger among netizens and being labeled as pro-Western and unpatriotic."
Chinese Maritime Militia on the Move in Disputed Spratly Islands, Drake Long, Radio Free Asia, March 24, 2020: "The five ships whose movements could be tracked by RFA are now at Johnson Reef, in the southwest corner of Union Banks. It may not be a coincidence that their presence at that location comes within days of the 32nd anniversary of the Battle of Johnson Reef, a March 14, 1988, naval skirmish between Vietnam and China in which dozens of Vietnamese troops died and China seized control of the reef."
How Vietnam is winning its 'war' on coronavirus, Rodion Ebbighausen, DW, March 26, 2020: "There are few people who are bothered by the fact that this success gives a political advantage to Vietnam's one-party Communist government, which is accused of violating civil rights. People are also accepting stricter control of the media. The projected economic costs, which will hit Vietnam hard despite the low case numbers, have also been widely accepted by the population."
Beyond Port Visits, US-Vietnam Relations Can Go Further, Matthew Dalton, The Diplomat, March 27, 2020: "Improving relations with Vietnam is not all or nothing, as the late Senator John McCain recognized. For years in the U.S. Senate, the former prisoner of war in Vietnam was a leading advocate for improving U.S. ties with Hanoi. As McCain explained, he believed that a Vietnam strong enough to resist Chinese aggression was in the national security interest of the United States. He also believed that military engagement went hand in hand with political and economic engagement. Demonstrating that there are benefits to working with the U.S. makes it harder for anti-Western, anti-reform elements in Vietnam's government to gain ground. Critically, McCain also believed that improving relations does not void Washington's ability to press Hanoi on issues ranging from human rights to political liberalization, which the late senator often did."
IN CASE YOU MISSED IT
Phan Van Thu and his followers in the closed trial in 2013. Source.
Phan Van Thu
 continues to suffer from multiple health ailments and a restrictive visit and supply policy; these situations are made even worse by the current COVID-19 situation, as family visits and the receipt of supplies from families at his prison have been suspended for the month of March. Read the full update from his family, 
here
. Phan Van Thu is one of 22 members of the An Dan Dai Dao Buddhist sect who were arrested in February 2012 under Article 258 and tried under Article 79 of the 1999 Penal Code by Phú Yên People's Court in January 2013, in what is called the "Council for the Laws and Public Affairs of Bia Son" affair. As the religious leader of the group, he was sentenced to life in prison.
TAKE ACTION
It has been almost three months since Vietnamese security forces raided Dong Tam commune, killing local land rights activist Le Dinh Kinh, arresting community members, and attacking many homes. Many questions still surround the events of January 9, and family members of those affected and local activists are calling for an independent investigation into the events of that day. Call for an independent investigation into the events at Dong Tam commune. Share your support on social media. You can link to one of the translated testimonies from Le Dinh Kinh's wife, Du Thi Thanh, (
video script testimony
 and 
letter testimony
) or to the 
updated report from the Dong Tam Task Force
.
© 2020 The 88 Project
https://the88project.org/wp-content/uploads/2020/03/52368236_303.jpg
394
700
kayleedolen
https://the88project.org/wp-content/uploads/2019/01/88project.png
kayleedolen
2020-03-30 12:59:46
2020-04-02 16:08:54
Vietnam Free Expression Newsletter No. 13/2020 – Week of March 23-29