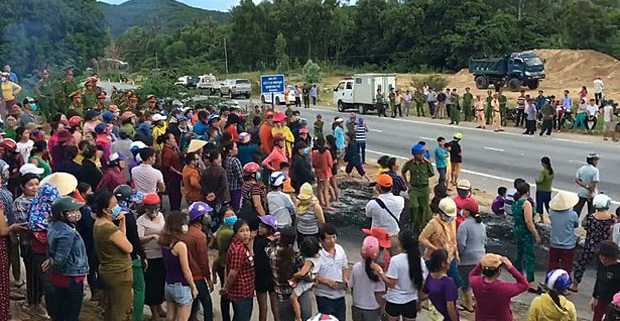 Vietnam Free Expression Newsletter No. 12/2020 – Week of March 16-22
Featured Image: Local residents in Quang Ngai province (In Community at Risk). Source: RFA
Greetings from The 88 Project! We are bringing you news, analysis, and actions regarding human rights and civil society in Vietnam during the week of March 16-22. Imprisoned An Dan Dai Dao Buddhist Phan Van Thu is still being denied adequate healthcare in prison and is suffering from even more prison restrictions due to the current coronavirus situation. On March 18, the People's Court of Dien Bien sentenced two Hmong ethnic minority activists to life in prison and other twelve others to between two and 20 years. Police in Ha Noi summoned activist Nguyen Tuong Thuy for questioning, and police in Quang Ngai violently assaulted protesters gathered at a waste processing site. In the news, read about US criticism of Truong Duy Nhat's trial and the ways that the Vietnamese government is handling COVID-19. In case you missed it, you can read the U.S. State Department's most recent country report on Vietnam. And please consider taking action this week to donate to families of political prisoners.
HUMAN RIGHTS & CIVIL SOCIETY
Political Prisoners
This week, we have an update from 
Phan Van Thu
's family about his current situation in prison. He continues to suffer from multiple health ailments and a restrictive visit and supply policy; these situations are made even worse by the current coronavirus situation, as family visits and the receipt of supplies from families at his prison have been suspended for the month of March. Read the full update, 
here
. Phan Van Thu is one of 22 members of the An Dan Dai Dao Buddhist sect who were arrested in February 2012 under Article 258 and tried under Article 79 of the 1999 Penal Code by Phú Yên People's Court in January 2013, in what is called the "Council for the Laws and Public Affairs of Bia Son" affair. As the religious leader of the group, he was sentenced to life in prison.
Hmong defendants at trial on March 18, 2020. Source: Defend the Defenders
On March 18, 
the People's Court of Dien Bien announced that
 Hmong ethnic minority activists Sung A Sinh (Sùng A Sính) and Lau A Denh (Lầu A Dềnh) will have to serve life in prison for "carrying out activities in order to overthrow the people's regime" and "propagandizing against the socialist state." According to the official statement, Sinh and Denh were accused of trying to establish a "Hmong kingdom" in the northwest highlands of Vietnam. In 2010, the authorities discovered that Lenh was trying to set up an independent Hmong state within Vietnam and that he had been convicted before. From 2018 onward, Lenh again discussed the idea with Sinh and many other members of his tribe. 
Twelve others were considered accomplices
 and sentenced to between two and 20 years in prison for the same alleged crimes. The Vietnamese government has long targeted members of religious and ethnic minority groups whose viewpoints differ from those of the ruling regime.
This week, we remember the arrest and trial anniversaries, as well as the birthdays, of the following political prisoners:

Blogger Bui Hieu Vo, arrested March 17, 2017, and sentenced to 4 1/2 years in prison
Facebooker and driver Le Minh The, tried March 20, 2019, and sentenced to two years in prison
Blogger Phan Kim Khanh, arrested March 21, 2017, and sentenced to six years in prison
June 2018 protester Pham Van Man, birthday March 22, serving three years in prison
Activists at Risk

Nguyen Tuong Thuy was summoned by the security investigating agency of Ha Noi's public security force on March 13, 2020. The reason, as written in the document, is related to the high-profile case of Pham Chi Dung, a prominent dissident journalist and writer who was arrested on November 21, 2019, by the public security forces of Ho Chi Minh City and charged under Article 117 of Vietnam 2015 Criminal Code for "producing, storing, and disseminating" documents opposing the Socialist Republic of Vietnam. Thuy is another high-profile activist with a long history of activism. He has been harassed and targeted for his activism on multiple occasions over many years, from his 2013 arrest to his 2018 assault. He declined to meet with the agency, citing the current virus outbreak and his health condition.
Community at Risk/Environmental Activism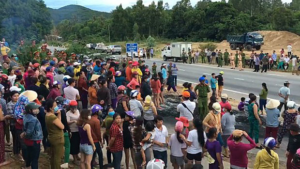 Police in Quang Ngai province this week assaulted protesters
 who were gathered at a waste processing site there and arrested 20 people. A large force of officers with police dogs and batons beat protesters as they broke up a group of people who had gathered at a roadblock that has been in front of the site. Some participants may still remain detained after the incident. Local residents have long protested the site, which they say caused pollution in their community, and have been locked in a dispute with authorities in recent years about the starting and stopping of operations there.
Internet Freedom
Vietnamese authorities have 
reportedly summoned over 600 Facebookers
 for questioning relating to online posts about the current coronavirus outbreak. Many of these people were also fined. While The 88 Project recognizes the need to share correct medical information in times like these, we also acknowledge that the Vietnamese authorities often target online users for their posts arbitrarily and also go to great lengths to censor criticism of the regime's decisions or to silence dissenting voices generally.
NEWS & ANALYSIS
US demands Vietnam free blogger handed 10-year term, AFP, Yahoo News, March 16, 2020: "The State Department said it was 'troubled' by the circumstances around [Truong Duy] Nhat's 'sudden disappearance' from Bangkok. The statement marks unusually forthright criticism of Vietnam by the United States, which despite wartime memories has aligned itself closely with the Southeast Asian nation in recent years in the face of a rising China."
Vietnam spins virus crisis to win hearts and minds, David Hutt, Asia Times, March 19, 2020: "Keen to avoid a repeat of the Formosa crisis, Prime Minister Phuc 'has been proactive in taking action,' said Carl Thayer, a Vietnam expert and emeritus professor at the University of New South Wales in Australia. 'He has established a task force to oversee national, provincial and local levels. The government has gone into overdrive with an information campaign to advise citizens what actions they should take to retard the spread of the virus.'"
China Remains Unfazed by Warming US-Vietnam Security Ties, Derek Grossman, The Diplomat, March 19, 2020: "China is well aware of U.S.-Vietnam moves, and yet its public reaction to the USS Theodore Roosevelt—as was the case during the visit of the USS Carl Vinson in 2018—can be summed up in one word: unfazed. Chinese commentaries since the visit have projected supreme confidence that U.S.-Vietnam security ties, no matter how close they get, will never rival the China-Vietnam partnership."
IN CASE YOU MISSED IT
The US State Department released its annual report on the human rights condition in Vietnam, which covers a wide variety of topics. The executive summary states that, "Significant human rights issues included: unlawful or arbitrary killings by the government; forced disappearance; torture by government agents; arbitrary arrests and detentions by the government; political prisoners; significant problems with the independence of the judiciary; arbitrary or unlawful interference with privacy; the worst forms of restrictions on free expression, the press, and the internet, including arbitrary arrest and prosecution of government critics, censorship, site blocking, and criminal libel laws; substantial interference with the rights of peaceful assembly and freedom of association; significant restrictions on freedom of movement including exit bans on activists; restrictions on political participation; significant acts of corruption; outlawing of independent trade unions; trafficking in persons; and use of compulsory child labor." 
Read the full report, here
.
TAKE ACTION
Families of political prisoners often face a myriad of obstacles in visiting, sending supplies to, and otherwise maintaining contact with their loved ones while they are in prison. They also often struggle to provide for dependent adults and children once the main earner in the household is arrested. These situations are undoubtedly made even more difficult by the current COVID-19 outbreak. Please consider donating to support political prisoners and their families in these difficult times. 
Read about a few options to donate, here
.
© 2020 The 88 Project
https://the88project.org/wp-content/uploads/2020/03/Community-at-risk.png
349
620
kayleedolen
https://the88project.org/wp-content/uploads/2019/01/88project.png
kayleedolen
2020-03-23 13:12:35
2020-03-27 15:49:04
Vietnam Free Expression Newsletter No. 12/2020 – Week of March 16-22