Le Minh The
Current Status: Released - at risk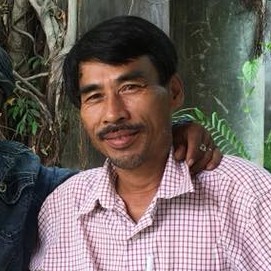 Other Names: Lê Minh Thể
Date of Birth: July 5, 1963
Gender: M
Ethnicity: Kinh
Occupation: Driver, Veteran
Areas of Activism:
Environment
Freedom of expression
Sovereignty
Highlighted Human Rights Concerns:
Former Political Prisoner
Details - Background, History of Activism, Family Situation.
Le Minh The was born in Thanh Hoa province and is a veteran.
Le Minh The usually live streamed on Facebook to talk about national issues such as the aggression of China on South China Sea or environment pollution. In addition, he also usually voiced his disagreement with government's policies.
Arrested October 10, 2018. Sentenced to 2 years in prison under Art. 331 (2015 Code). Released July 10, 2020.
October 10, 2018
Binh Thuy district public security, Can Tho city
No. 367 Tran Quang Dieu street, Binh Thuy Ward, Can Tho city (
map
)
March 20, 2019
2 years in prison
October 10, 2020
July 10, 2020
freedom from arbitrary arrest or detention
liberty and security of the person
freedom of expression
Human Rights Watch
On October 10, police of Binh Thuy district, Can Tho city, arrested Le Minh The when he was in his private house, located in No. 367/21 Tran Quang Dieu street, Binh Thuy Ward, Can Tho city. He was prosecuted for "abusing democratic freedom rights to infringe upon the interests of the state and on the legitimate rights and interests or organisations and citizens" under the Article 331 of the 2015 Penal Code.
Thanh Niên Newspaper reported that investigation agency also accused him of creating many Facebook accounts to post, share, and comment on articles, which distorted the guidelines and policies of the party and the state since early 2017 until now. Police reportedly confiscated many documents with those contents after searching his house.
Since June 2018, The was said to often use social media to connect with reactionaries, both inside the country and overseas, as well as livestream to incite people to participate in demonstrations against two bills on Special Economic Zones and cybersecurity.
He will be under pre-trial investigation for 2 months. His sister, Facebooker Mai Bui revealed that on the first day of his arrest, his wife brought the food for him but police refused and said that he would have to eat instant noodle with cold water. After 15 days, he would be able to receive the food but his family would not be allowed to meet him.
January 2019:
Le Minh The had been detained for over three months without being permitted a visit from his family. His family complied with requirements to obtain a letter of verification from commune officials, but they were still barred from meeting with him.
March 2019:
On March 20, Le Minh The was sentenced to two years in prison under Article 331 of the 2015 Penal Code for "abusing democratic freedoms" by the People's Court of Binh Thuy Ward, Can Tho Province. The trial lasted only three hours, and all of his family, except for his wife, was barred from entering the courtroom.
The People's court of Binh Thuy Ward, Can Tho Province had originally postponed Le Minh The's first instance trial, which was previously scheduled March 6, 2019. The's lawyer asked for an extension to prepare for the trial.
March 2019:
Human Rights Watch called for the release of Le Minh The and five political prisoners facing appeal trials the same week as The's first-instance hearing, saying that "[i]nternational donors and trade partners should tell Vietnam that continuing this crackdown will cause problems for the aid and trade deals that Hanoi wants to conclude with North America and the European Union."
Profile last updated: 2020-10-06 23:43:09