Vietnam Free Expression Newsletter No. 15/2020 – Week of April 6-12
Featured Image: security officers in Dong Tam, Source: CIVICUS
Greetings from The 88 Project! We bring you news, analysis, and actions regarding human rights and civil society in Vietnam during the week of April 6-12. Land rights activist Le Thi Loan was arrested this week; she is an active member of the Dong Tam community, where local authorities violently arrested 20 people on January 9, 2020, and killed local leader Le Dinh Kinh. Activist Truong Thi Ha was released from mandatory quarantine this week but remains at risk. Vietnamese authorities continue to target Facebookers and other online commentators as they increase their monitoring of posts about the COVID-19 outbreak. This week, authorities arrested a woman in Can Tho City on charges of "abusing democratic freedoms." In the international advocacy section, read a letter from the International Commission of Jurists (ICJ) urging Vietnam to uphold its international obligations to provide adequate access to healthcare to 21 An Dan Dai Dao (ADDD) political prisoners during the current pandemic. Also see CIVICUS's recap of human rights news in Vietnam from January 2020 up to now. In the news, read about Vietnam's relations with the EU and the US response to a recent development in the South China Sea. Please take action for the imprisoned ADDD members this week by sharing the ICJ letter.
HUMAN RIGHTS & CIVIL SOCIETY
Political Prisoners
According to activist Trinh Ba Phuong, Le Thi Loan was arrested by the public security on March 30, 2020, when she returned to her house in Hoanh Village, Dong Tam. Loan is one of the leading figures of the land rights community in Dong Tam, which suffered from a violent raid on January 9, 2020, and which led to the death of community leader Le Dinh Kinh. However, Loan was reportedly not in Dong Tam on January 9, and therefore she was not involved in the alleged violence against the public security officers by local residents. Many observers say that her arrest shows that the authorities will do anything to suppress the land rights movement in Dong Tam and that the brutality in Dong Tam on January 9 was intentional.
This week, we remember the arrest and trial anniversaries of the following political prisoners:

Activists at Risk
After completing her mandatory quarantine period, activist 
Truong Thi Ha
 was released. 
Ha reportedly bought a new cell phone
, but the police confiscated it, and her Facebook accounts are under the control of the police. Ha returned to Vietnam in late March via the Laos border and was immediately put in quarantine. She posted that upon her return to Vietnam, her important papers and money were confiscated and she was held in Dong Hoi's quarantine area. It is unclear why Ha returned to Vietnam. Ha's posts about this on her Facebook account are currently inaccessible (h
ere is a repost of one of Ha's posts
 on Nguyen Van Hai's Facebook about her return to Vietnam). Ha is known for her active participation in the 2018 series of demonstrations against two draft bills: the Law on Cybersecurity and Law on Special Economics Zones. Ha is also an outspoken supporter of the democratization movement in Vietnam.
Internet Freedom
On April 10, authorities in Can Tho City arrested female Facebooker Ma Phung Ngoc Phu. She was arrested on charges of "abusing democratic freedoms" under Article 331 of the 2015 Criminal Code for allegedly posting false content on Facebook about COVID-19. She faces up to seven years in prison if convicted. Vietnamese authorities have reportedly summoned over 600 Facebookers for questioning relating to online posts about the current Coronavirus outbreak. Many of these people were also fined.
These actions are part of a cohesive strategy by the Vietnamese government to control the flow of information surrounding the COVID-19 outbreak. Defend the Defenders reported that "the Supreme People's Procuracy is requesting its agencies in provinces and districts nationwide to cooperate with local authorities to 'select' some cases to prosecute in order to ensure the government's order is being implemented strictly." While The 88 Project recognizes the need to share correct medical information in times like these, we also acknowledge that the Vietnamese authorities often arbitrarily target online users for their posts and also go to great lengths to censor criticism of the regime's decisions or to silence dissenting voices.
International Advocacy
Security officers in Dong Tam, Source: CIVICUS
Read CIVICUS's report on human rights developments in Vietnam so far in 2020. It covers topics ranging from the Dong Tam raid and suppression of information in its aftermath to the EU-Vietnam Free Trade Agreement and to the trial of journalist Truong Duy Nhat.
The International Commission of Jurists issued an open letter this week asking Vietnam to provide adequate medical care to political prisoners who are at risk during the COVID19 pandemic. They specifically called for medical attention for the 21 members of the An Dan Dai Dao Buddhist sect who are currently imprisoned. They note that at least eight of the ADDD members have "serious" existing health conditions. Read the full letter here.

Phan Van Thu and Doan Dinh Nam
Phan Van Thu, leader of the ADDD, continues to suffer from multiple health ailments and a restrictive visit and supply policy. Read our recent update from his family here. In October 2019, ADDD member Doan Dinh Nam died in prison from kidney failure after multiple requests from the family for health treatment outside of prison were denied. The ADDD members were arrested in February 2012 under Article 258. They were later tried under Article 79 of the 1999 Penal Code by the Phú Yên People's Court in January 2013, in what is referred to as the "Council for the Laws and Public Affairs of the Bia Son" affair. ADDD is a religious sect of Buddhism founded in 1969 that operated legally in the Republic of Vietnam but quickly was outlawed and persecuted after the Communist takeover in 1975. Most of the properties have now been expropriated, while followers were forced into hiding. The leaders of ADDD have long been treated as criminals.
NEWS & ANALYSIS
US accuses Beijing of using coronavirus as cover for South China Sea activity, Kristin Huang, South China Morning Post, April 7, 2020: "The United States has accused China of using the global coronavirus pandemic to further expand its 'unlawful claims' in the South China Sea. In a strongly worded statement, the US State Department gave Washington's view of last week's collision of a Chinese coastguard ship and a Vietnamese fishing vessel near the disputed Paracel Islands. State Department spokesman Morgan Ortagus said the US was 'seriously concerned' by reports of the incident, at around midnight on Thursday, in which eight Vietnamese crew were plunged overboard as their vessel sank. All were later rescued by the Chinese ship and handed over to the Vietnam authorities."
New Coronavirus Assistance Highlights Vietnam-EU Relations Amid COVID-19, Prashanth Parameswaran, The Diplomat, April 8, 2020: "Vietnam's relations with European countries have not been untouched by COVID-19. On the one hand, ties have been negatively affected by the evolution of the global pandemic, with restrictions on exports and visa regulations affecting economic ties, which remain an important area for both sides. The virus also put on hold several of Vietnam's diplomatic plans for 2020 as ASEAN chair and a nonpermanent member of the UN Security Council. But on the other hand, both sides have also been working to manage some of the fallout from COVID-19 as well, including sharing information where needed on the security of their citizens and continuing on with some key developments such as the final steps in ratifying the EU-Vietnam FTA, which, when approved by Vietnam's legislature expected sometime next month, would go into effect over the summer."
The Coronavirus Could Be Vietnam's Biggest Stress Test in Its ASEAN Chairmanship, Hoang Thi Ha, The Diplomat, April 9, 2020: "It is noteworthy that Vietnam, and ASEAN as a whole, has tried to stay above the fray of U.S.-China rivalry as well as Beijing and Washington's competing narratives on COVID-19. It focused instead on the overriding imperative to secure both major powers' cooperation to fight the disease. ASEAN foreign ministers met with their Chinese counterpart on February 20, committing to joint emergency responses to COVID-19. U.S.-ASEAN strengthened cooperation on the pandemic was also the take-away from an ASEAN-U.S. high-level interagency video conference on 31 March."
UN Official Says Coronavirus is Worsening Repression and Inequality, Lisa Schlein, Voice of America, April 10, 2020: "UN High Commissioner for Human Rights Michele Bachelet said civil and political rights are being threatened by governments that are abusing the emergency measures they are taking to respond to this public health crisis. She said an emergency situation is not a blank check to disregard human rights obligations. 'I am profoundly concerned by certain countries' adoption of emergency powers that are unlimited and not subject to review,' Bachelet said."
TAKE ACTION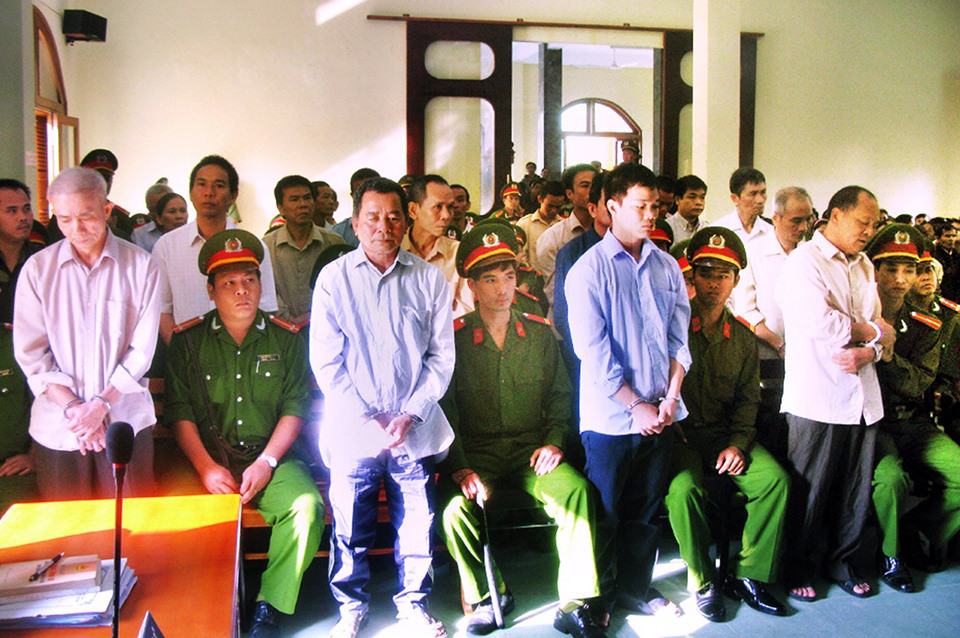 ADDD leader Phan Van Thu and his followers in the closed trial in 2013. Source.
Take action for the 21 imprisoned members of the An Dan Dai Dao Buddhist sect by sharing the International Commission of Jurists's open letter calling for improved access to healthcare for the group during the COVID19 outbreak and the release of high risk prisoners. The ICJ states that, "The failure to provide necessary treatment to the detainees leaves them vulnerable to deterioration of serious pre-existing medical conditions – in violation of the State's obligations to protect their rights to health, humane treatment, dignity, life and freedom from torture and cruel, inhuman or degrading treatment."
© 2020 The 88 Project
https://the88project.org/wp-content/uploads/2020/04/Security-forces-in-Dong-Tam-village_Source-CIVICUS.jpg
532
900
kayleedolen
https://the88project.org/wp-content/uploads/2019/01/88project.png
kayleedolen
2020-04-13 13:39:17
2020-04-16 14:46:34
Vietnam Free Expression Newsletter No. 15/2020 – Week of April 6-12