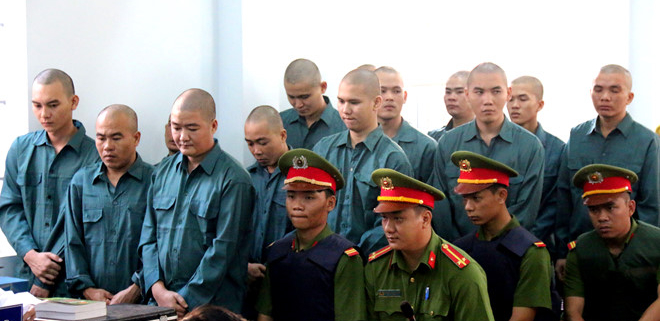 Vietnam Free Expression Newsletter No. 24/2019 – Week of June 10-16
Featured Image: Protesters on October 31, 2018 in The People's Court of Phan Thiet City, Binh Thuan province, Source: Zing.vn
Greetings from The 88 Project! We are bringing you news, analysis, and actions regarding human rights and civil society in Vietnam during the week of June 10-16. Political prisoner Le Anh Hung's family has asked the prison to release him into his family's care following his forced mental health treatment. And Tran Hoang Phuc's family has sent a petition to prison authorities regarding his treatment in detention. Also, two imprisoned members of the Council for the Laws and Public Affairs of Bia Son are in poor health. And authorities are now investigating kidnapped and detained blogger Truong Duy Nhat for a "fraudulent" land case. This week, we remember the dozens arrested on and around June 10, 2018 for their involvement in national protests. We also remember Facebookers Nguyen Van Quang and Nguyen Hong Nguyen, who were arrested a year ago for posting content deemed to be "anti-state." Read testimony from Truong Thi Ha, an activist who was detained, beaten, and faced imminent risk of sexual assault during the June 2018 protests. And read about the lawsuit filed on behalf of over 7,000 people affected by the Formosa environmental disaster. In the news, read about Vietnam on the UN Security Council and US citizen Michael Nguyen's upcoming trial. In case you missed it, we are hiring a part-time, remote-based human rights research officer. And please take action for political prisoner Tran Hoang Phuc by sharing his family's petition.
Please subscribe to the newsletter!
HUMAN RIGHTS & CIVIL SOCIETY
Prisoners of Conscience
We have an 
update on the status
 of political prisoner 
Le Anh Hung
. Hung's mother sent an application to authorities asking to release Hung to be able to care for him at the family's home, as he is in poor health and spirits after being subjected to forced mental health treatment while detained. Prior to his detention, she confirmed that Hung was healthy physically and mentally. She is calling on the international community to advocate for Hung's release. Hung was sent twice to a mental health facility for evaluation. While on a hunger strike recently, the authorities fed him via a naso-gastric tube and forced food into his mouth so violently that his nose and mouth bled.  Authorities also forcibly injected him with medication. Le Anh Hung, a journalist and contributor to Voice of America, was arrested on July 5, 2018 and is still awaiting trial.
Read a petition
 from political prisoner 
Tran Hoang Phuc
's family. Phuc has been subjected to mistreatment, and his family is campaigning to hold prison authorities accountable. In recent months, Phuc's family has been sending out appeals with concerns for his health and safety. The petition demonstrates how political activists like Phuc still work tirelessly to uphold the rights of detainees with peaceful means and legal arguments, even under difficult conditions. Phuc is a student activist who was arrested in 2017 and sentenced to six years in prison for helping pro-democracy bloggers store and post video clips.
Phan Van Thu (L) and Doan Dinh Nam (R)
Political prisoner 
Phan Van Thu
's wife has reported that 
several members of the jailed group the Council for the Laws and Public Affairs of Bia Son are in very poor health
. Thu's family has filed to suspend his sentence on medical grounds, but authorities denied their petition. In addition, fellow member 
Doan Dinh Nam
 is in ill health and receiving prison-supervised dialysis. Members of the group are now appealing to the international community for support in their cases. Phan Van Thu is serving a life sentence, and Doan Dinh Nam is serving 16 years. Twenty-two members of the group were convicted of subversion and sentenced to prison in 2013. However, those affiliated with the group maintained that the activities of the group were purely religious and that the authorities interpreted their religious teaching in political terms.
The Ministry of Public Security has
 opened up a case against
 detained blogger 
Truong Duy Nhat
 for an alleged "fraudulent purchase of land." Police also searched Nhat's house. The search warrant was reported to be dated from January 16. Nhat was arrested on January 28 while attempting to seek asylum in Thailand. He was forcibly returned to Vietnam, where he has been in police custody, though his whereabouts were unknown for several weeks after the kidnapping.
On June 7, the People's Court of Hung Nguyen district, Nghe An province sentenced BOT (Build-Operate-Transfer) activist Nguyen Quang Tuy to two years in prison. He was convicted under Article 330 of the 2015 Criminal Code for "obstructing public officers from carrying out their public duties" for refusing to pay a toll at a station he believed was incorrectly placed. He is part of a larger movement of BOT protesters standing up to what they believe is widespread toll booth corruption (see the case of Ha Van Nam); supporters were barred from attending the trial.
Political prisoner 
Nguyen Nam Phong
's daughter continues to 
struggle with health issues
 while her father is in prison and is now at risk of having her leg amputated. Phong was the main financial supporter of a family with three children. He was the driver for environmental activist 
Hoang Duc Binh
 when Hoang Duc Binh was arrested on May 15, 2017 in Nghe An province. Phong was arrested in November 2017 and later sentenced to two years in prison.
Protesters on October 31, 2018 in The People's Court of Phan Thiet City, Binh Thuan province, Source: Zing.vn
June 10 marked one year since massive protests over two draft laws on cybersecurity and Special Economic Zones swept through Vietnam. A crackdown on the protesters left at least 
127 people behind bars or at risk
 after their participation in the demonstrations. 
In this article
, we reflect on the protests, their aftermath, and the conditions of the people and communities affected one year later.
Nguyen Van Quang (L) and Nguyen Hong Nguyen (R)
This week, we also remember the arrest anniversaries of the following political prisoners:
Nguyen Van Quang, arrested June 12, 2018 and in pre-trial detention, accused of using his Facebook account to post and distribute anti-state content and distort the state's policy, especially the two bills on Special Economic Zone and Cybersecurity, to incite the people to protest
Nguyen Hong Nguyen, arrested June 16, 2018, sentenced to two years in prison for using Facebook to allegedly read articles, and watch, post, and share items with anti-state content.
Activists at Risk
Truong Thi Ha at the protest, Source: Facebook Truong Thi Ha
Read this 
testimony by Truong Thi Ha
, an activist who participated in the protests against draft Cybersecurity and Special Economic Zones laws in June 2018. She was detained, beaten, and faced imminent risk of sexual assault while in police custody. Similar stories have been documented in the 
Black Sunday report
 by Vietnamese civil society organizations, and in our Database of Activists at Risk, for instance, the stories of 
Nguyen Thi Loan
 and her husband 
Trinh Van Toan
.
On June 11, authorities took BOT (Build-Operate-Transfer) activist Dang Thi Hue and driver Bui Tien into custody at the Bac Thang Long-Noi Bai BOT toll booth and interrogated them for 4.5 hours. On May 20, authorities had attacked Hue and detained six other people who were protesting. It is believed she suffered a miscarriage due to the attack. Authorities have cracked down on BOT protests recently. Protesters claim the toll stations are incorrectly placed and/or charge fees past their contract collection times.


Environmental activist Cao Vinh Thinh was barred from travelling to Thailand on June 13. Security officers questioned for several hours and confiscated her passport. Thinh owns an eco-friendly store and is also a member of the Green Trees group. She was kidnapped and interrogated in March 2019 over the content of a documentary film on the civil society movement in Vietnam, which was produced by the Green Trees group.
Environmental Activism/Community at Risk
Tran Thi Xuan (L) was jailed for nine years in part for her efforts to assist communities affected by the Formosa environmental disaster; Nguyen Ngoc Anh (R) was jailed in part for protesting the disaster as well.
Taiwanese lawyers have 
filed a lawsuit
 against the Taiwanese company Formosa. The suit was filed on behalf over 7,000 Vietnamese plaintiffs demanding U.S. $4.46 million in compensation. The plaintiffs claim that their livelihoods and communities' physical environment were affected by a massive toxic waste spill from the Formosa company, which started in April 2016. While Formosa was fined U.S. $500 million by the Vietnamese government, clean-up efforts remain lackluster, and many affected fishermen are still without promised compensation. Those affected 
tried to seek legal recourse
 in Vietnam, but their case was rejected. Dozens have been jailed for protesting against the Formosa disaster and lack of accountability from involved actors, including 
Tran Thi Xuan
, 
Nguyen Ngoc Anh
 (sentenced to six years in prison last week), and many others.
NEWS & ANALYSIS
The Diplomat, June 11, 2019, 
Vietnam Foreign Policy in the UN Security Council Spotlight
: "In terms of Vietnam's own priorities, during its campaign for the seat and in comments thereafter, officials have indicated that they would generally include areas such as promoting sustainable development and advancing preventive diplomacy, drawing on Vietnam's own historical experience with war and peace as well as 
contemporary events such as its hosting of the second Trump-Kim summit
. And in terms of the challenges therein, Vietnam's own issues with respect to human rights as well as the divisions that have characterized the UNSC more generally mean that Hanoi's stint will not be short of hiccups."
A U.S. Citizen Detained in Vietnam Could Face the Death Penalty for Subversion, Time Magazine, June 11, 2019: "His family, who live in the U.S., say Nguyen is innocent and not involved with any dissident groups. The father of four daughters left Vietnam in 1975 during the communist takeover and fled to the U.S. 'He is severely disadvantaged and unable to properly defend against any accusations against him,' said a family statement cited by AFP. The family added that he has been denied access to lawyers."
Vietnam ramps up pressure on Google's YouTube advertisers, Reuters, June 12, 2019: "Vietnam has asked companies not to advertise on videos hosted by Google's YouTube that contain 'anti-state propaganda,' state media said on Wednesday, as the Southeast Asian country ramps up pressure on global tech giants. Despite economic reforms and increasing openness to social change, the ruling Communist Party retains tight media censorship in Vietnam and does not tolerate dissent."
"Fake News": A New Weapon against Dissidents in Southeast Asia, International Center on Nonviolent Conflict, June 13, 2019: "In Vietnam, in January 2019, authorities arrested Nguyen Van Vein using Article 109 of the 2015 Criminal Code for the attempt to 'overthrow the people's administration.' Nguyen, an environmental activist, is a member of the Brotherhood of Democracy, which has been a target of government crackdown in recent years. The organization saw most of their key members sentenced to prison for human rights and pro-democracy activism. Article 117 of the 2015 Criminal Code and the 2019 Cybersecurity Law also provide a basis for authorities to press charges and punish those accused of spreading online 'propaganda against the state.' Since January 2019, at least four people were either investigated or charged under Article 117 for their comments on Facebook."
IN CASE YOU MISSED IT
Are you passionate about human rights in Vietnam? Are you bilingual, and do you have a background in research, writing, or editing? Join our team as a remote-based, part-time Human Rights Research Officer! Read more about the position, 
here
, and apply before June 24.
TAKE ACTION
Tran Hoang Phuc. Artwork by Dinh Truong Chinh for The 88 Project
Please share the 
family's petition
 regarding 
Tran Hoang Phuc
 and his treatment in prison, asking that prison authorities take steps to ensure that Phuc's health and safety.
© 2019 The 88 Project
https://the88project.org/wp-content/uploads/2019/06/Trial_of_Protesters_in_Binh_Thuan_Province_10.31.18_1_Source_Zing.vn_.jpg
403
660
kayleedolen
https://the88project.org/wp-content/uploads/2019/01/88project.png
kayleedolen
2019-06-17 08:28:25
2019-06-17 03:33:33
Vietnam Free Expression Newsletter No. 24/2019 – Week of June 10-16