Vietnam Free Expression Newsletter No. 31/2022 – Week of August 15-21
Greetings from The 88 Project. We bring you news, analysis, and actions regarding human rights and civil society in Vietnam during the week of August 15-21. Several high-profile convicted political prisoners had their appeal hearings last week and, as expected, all sentences were upheld. The wife of one defendant reported being assaulted by security police outside the courthouse. A final-stage cancer patient remains a target of investigation in the Bong Lai Temple saga. Pham Doan Trang's appeal hearing is up next; the Committee to Protect Journalists (CPJ) is calling for her release. An artist is shocked to learn he might have to destroy his paintings because of a permit violation. Journalists who record court proceedings without permission will be fined, according to a new law. Hanoians express dismay as old-school propaganda loudspeakers are re-installed throughout the city. Vietnam tightens its cybersecurity rules, requiring foreign tech firms to store users' data locally. Vietnam gears up to buy more weapons and high-tech products from Israel, including cell phone hacking tools known to have been used against dissidents. Finally, read about how Vietnam and other countries in the region respond to the US-China conflict in the Taiwan Strait.
HUMAN RIGHTS & CIVIL SOCIETY
Political Prisoners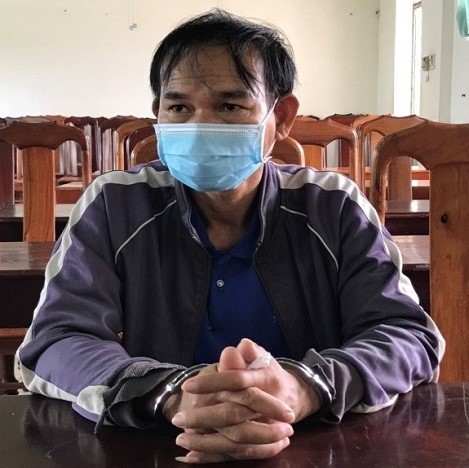 Y Wo Nie
On Tuesday, Pastor Y Wo Nie had his four-year prison sentence upheld by an appeals court in Dak Lak Province. No government judicial expert or witnesses were present for the hearing. Nie's family members were not allowed in the courtroom, so they and about a hundred Ede supporters stood in the courtyard. The Protestant leader was convicted of "abusing democratic freedoms" for reporting human rights abuses to international organizations and attempting to meet with a U.S. delegation. According to his lawyer, Nie originally considered asking the court for a reduced sentence, but ultimately decided against it.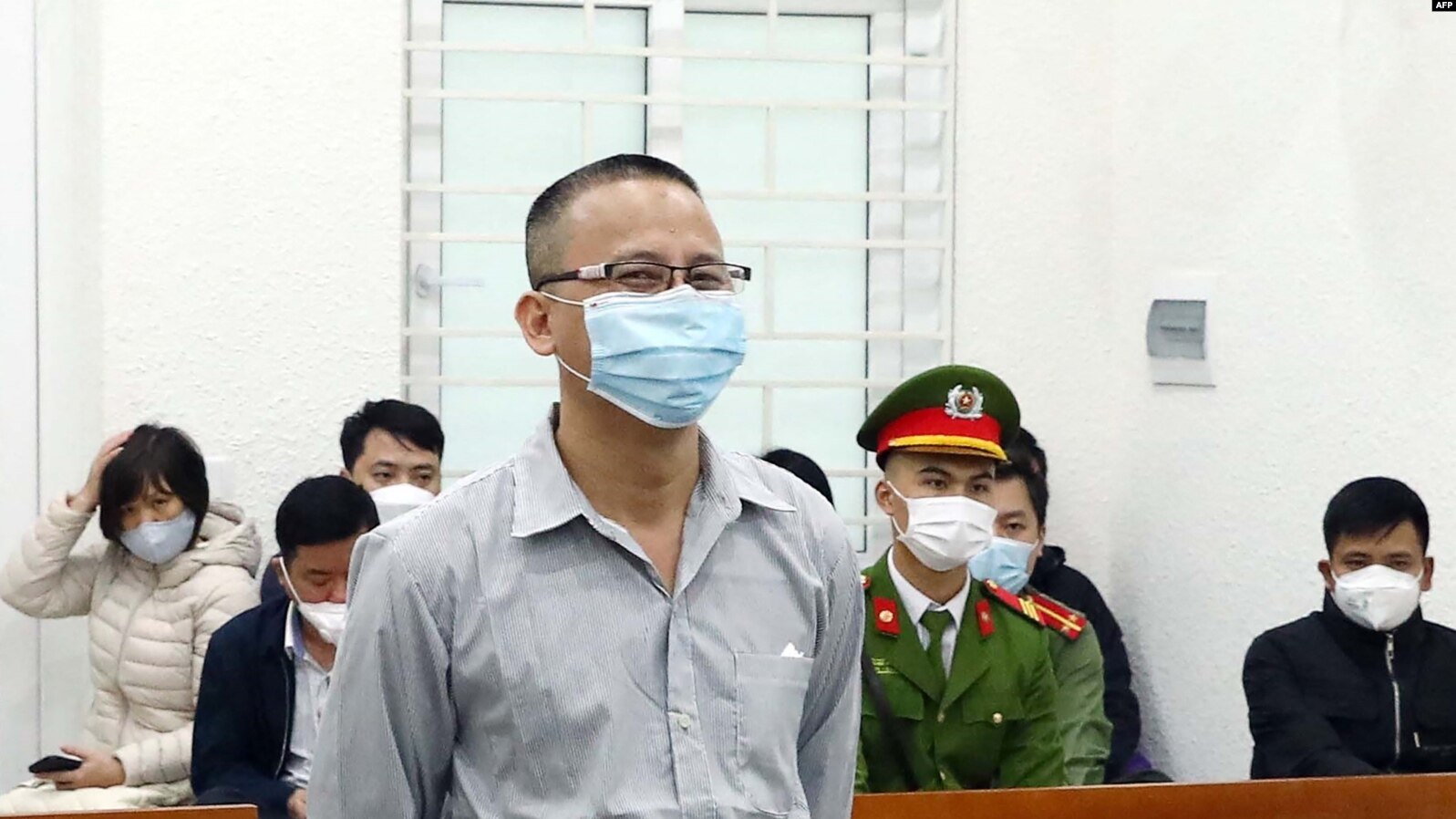 Le Van Dung at his first instance trial in March 2022, Source: AFP via Voice of America
Also on Tuesday, a Hanoi court upheld the five-year sentence for independent journalist Le Van Dung, aka Le Dung Vova, who was charged with "anti-state propaganda." Dang Dinh Manh, Dung's counsel, reported that the trial lasted less than two hours, was very "shallow," and that his arguments were cut off by the judge. Manh also said Dung did not expect a different outcome and appeared relaxed, "almost smiling throughout the hearing."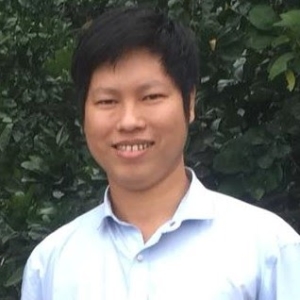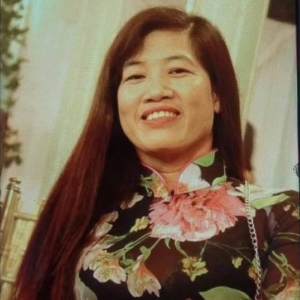 Trinh Ba Phuong and Nguyen Thi Tam
On Wednesday, an appeals court in Hanoi upheld the 10-year sentence for Trinh Ba Phuong and the six-year sentence for Nguyen Thi Tam. Both were activists helping villagers after the Dong Tam raid and were charged with spreading "anti-state propaganda." Phuong's wife, Thu Do, and his sister, Trinh Thi Thao, were not allowed inside the court. Thu Do reported that the two women were harassed by plainclothes security police outside the courthouse and that one of them slapped her in the face. The incident was not captured on video but Thu was able to take a picture of the assailant. Speaking to The 88 Project, Thu asked for help seeking legal recourse for the assault.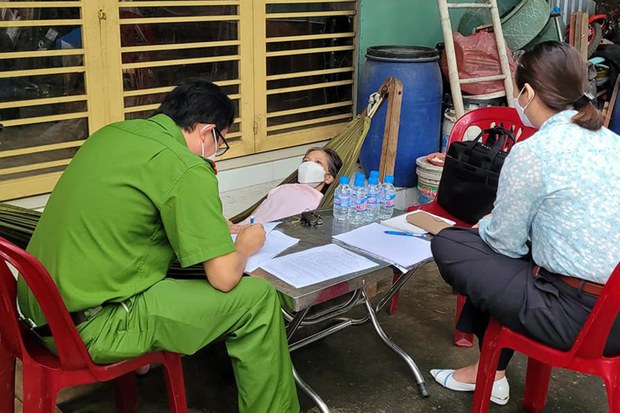 Le Thu Van being interviewed by the local authorities this week, Source: Trinh Vinh Phuc Facebook via Radio Free Asia
Lawyers for Le Thu Van, the 65-year-old woman being investigated in the Bong Lai Temple case, requested that the investigation be suspended because Van has final stage cancer and is simply too ill to be put on trial. Van is charged with "abusing democratic freedoms" in a controversial lawsuit involving multiple defendants, including the temple's 90-year-old master and several of his students who also have been similarly charged. The plaintiff, a state-sanctioned Buddhist monk named Thich Nhat Tu, accused the head monk of violating his dignity by calling him "dumb as a cow."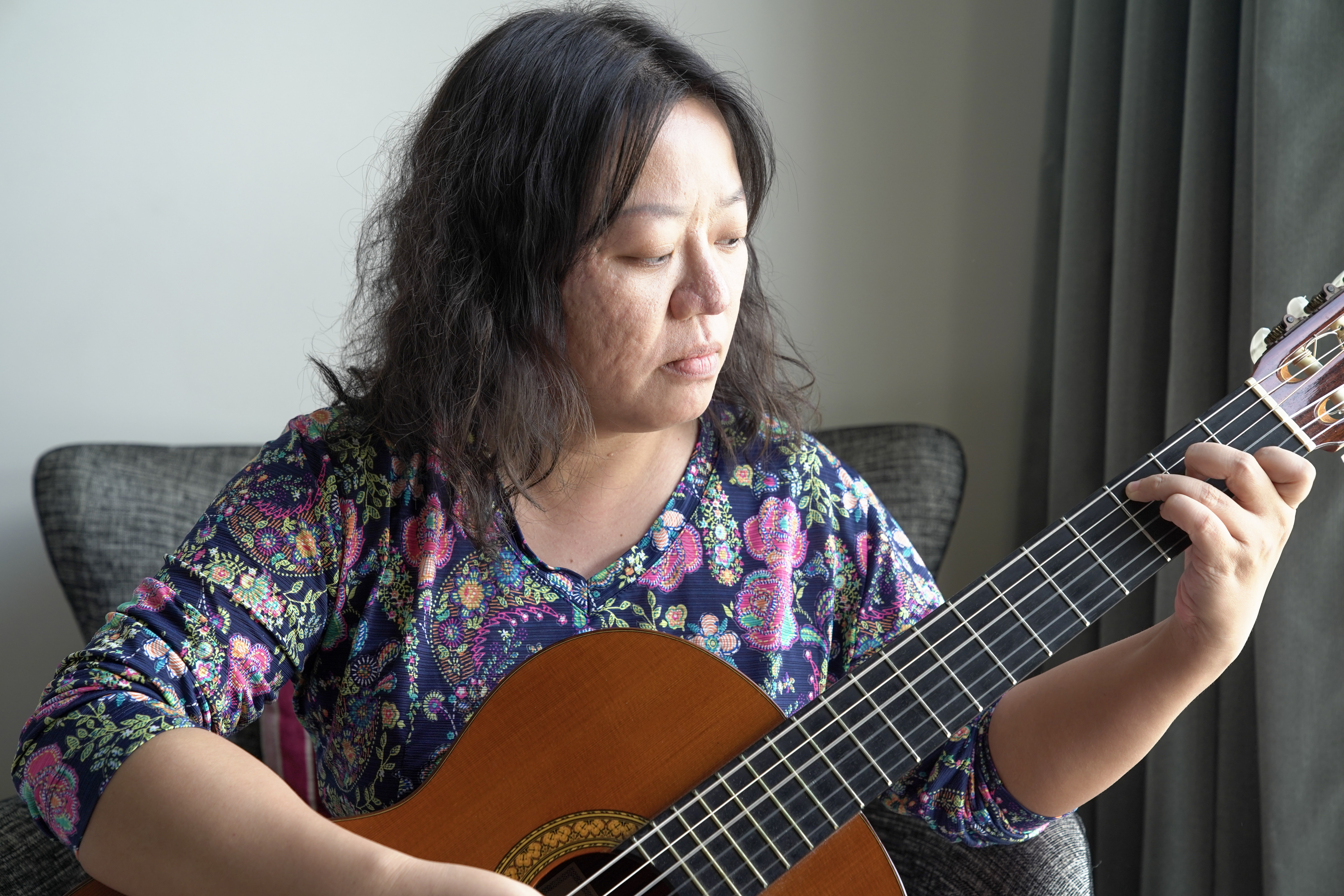 Pham Doan Trang
Pham Doan Trang's appeal trial will take place on August 25 and is supposed to be an open hearing. The 2022 Martin Ennals Award recipient was sentenced to nine years in prison for "anti-state propaganda." Her lawyer, who visited Trang this week, said that she is in poor health. Trang's mother, Bui Thi Thien Can, says she has not been allowed to send food to her daughter.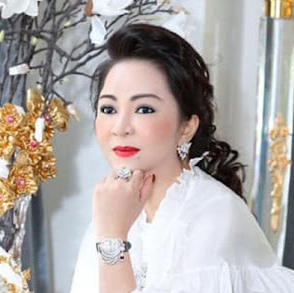 Nguyen Phuong Hang
The controversial online provocateur Nguyen Phuong Hang, arrested in March and charged with "abusing democratic freedoms," has had her pre-trial detention extended for two months. Investigators said extra time was needed due to the complexities of the case. Phuong Hang is accused of making false accusations, defamation, and propagating fake news.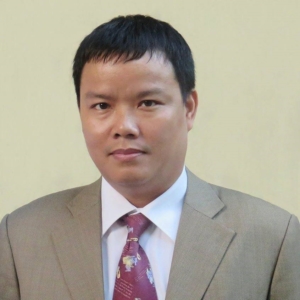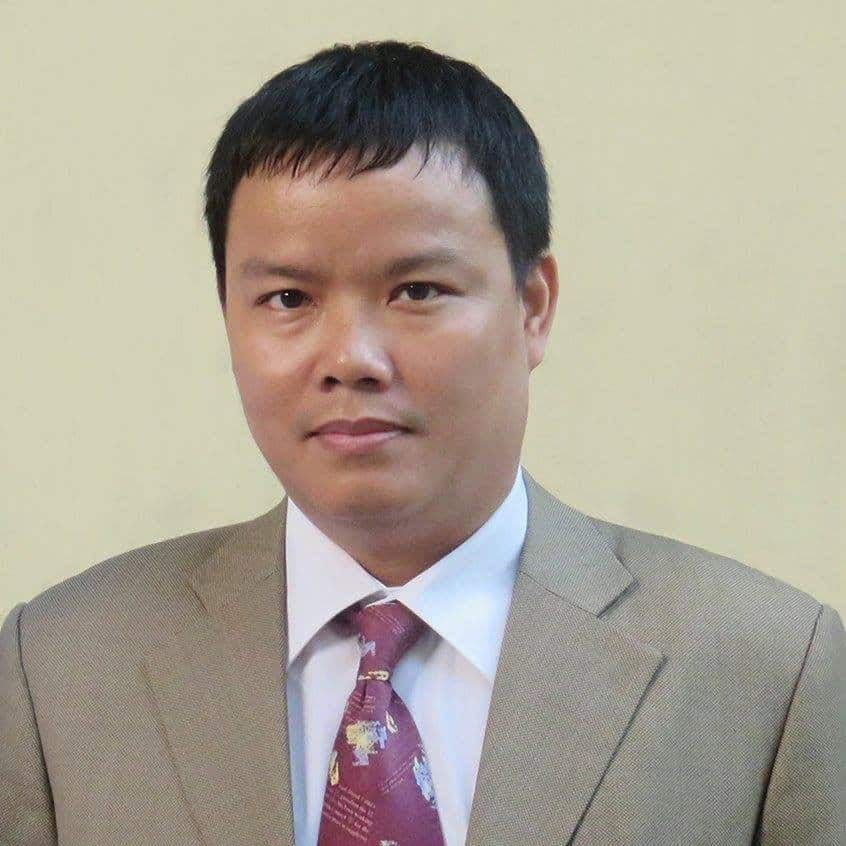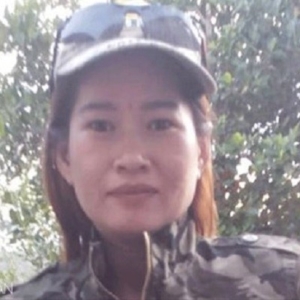 Le Anh Hung and Duong Thi Lanh
This week, we think of the birthdays and arrest anniversaries of the following political prisoners:
Journalist Le Anh Hung, birthday August 27, still in pre-trial detention on charges of "abusing democratic freedoms" four years after his arrest
Online activist Duong Thi Lanh, tried on August 23, 2019, and sentenced to eight years in prison for conducting "anti-state propaganda"
Activists at Risk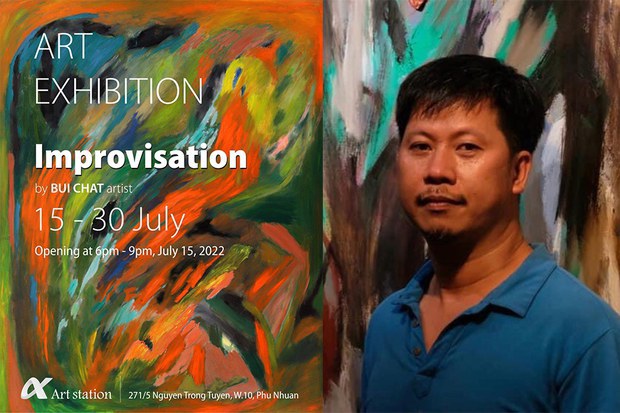 Exhibition poster, Source: Bui Quang Vien via RFA
Poet and artist Bui Quang Vien (pen name Bui Chat), recipient of the 2011 International Publishers Association Prix Voltaire, was fined 25 million dong (US $1,068) for having an art exhibit in HCMC last month without a permit. Chat was also ordered to "destroy" his 29 paintings "to remedy the situation." Read the artist's reaction here.
Internet freedom in Vietnam is poised to be further restricted as the government tightens rules that require technology firms such as Google and Meta to store users' data locally.
International Advocacy
The Committee to Protect Journalists (CPJ) is calling on the government of Vietnam to release Pham Doan Trang ahead of her appeal hearing on August 25. "The sooner Vietnam releases all of the journalists it wrongfully holds behind bars," says CPJ, "the sooner it will be taken seriously as a responsible global actor."
The International Federation for Human Rights (FIDH) urges international rights groups to oppose the arrest and conviction of environmental NGO leaders using vague "tax evasion" charges. The FIDH "strongly condemns the unfair convictions, ongoing arbitrary detention and judicial harassment of Dang Dinh Bach, Mai Phan Loi, Bach Hung Duong and Nguy Thi Khanh, as it seems to be only aimed at punishing them for their legitimate environmental and human rights activities."
Human Rights Watch welcomes the news that Vietnam has adopted the global LGBT health standard.
NEWS & ANALYSIS
New Law in Vietnam Brings Fines for Recording in Court Without Permission. Linh Dan, VOA; August 19, 2022: Under the regulation — known as the Ordinance on Sanctions of Administrative Violations for obstructing procedural activities —journalists who record video or audio of a trial without the consent of the presiding judge risk being fined up to 15 million Vietnamese dong ($640). The regulation, approved by Vietnam's National Assembly Standing Committee on Thursday, also makes it illegal for media to record participants in the procedural activities without their consent. The minimum fine for a violation is 7 million Vietnamese dong ($300). The amount is close to the average monthly salary in Vietnam, according to the data company Statista. When the law goes into effect September 1, journalists will need to seek permission to make recordings of all administrative, civil and criminal courts.
Hanoi brings back loudspeakers as old-school propaganda methods return to Vietnam. Andrew Nachemson, The Guardian; August 13, 2022: Human rights activist and Hanoi resident Nguyen Quang A said noise pollution in the city was already a "big problem" and reintroducing loudspeakers into the mix was likely to be "very annoying" and even "torturing". Another Hanoi resident, a local journalist, was even more blunt. "I'd say most people, myself included, think this is a stupid idea," he said, asking to remain anonymous. "The loudspeakers were an integral part of life during the war time, when it warned people of incoming bombers and gave updates on the frontline. Now it is at best a white noise machine, at worse a nuisance." … The other Hanoi resident similarly said he was "baffled" by the decision, pointing to a recent poll indicating 70% of the city population was against it. "I can only guess that maybe whoever is pushing for this policy also owns a loudspeaker company," he quipped.
Vietnam Eyes Purchase of Israeli Air-defense System. Yossi Melman, Haaretz; August 18, 2022: Businessman Samy Katsav, who owns Israel Weapon Industries, which was formerly the Magen division of Israel Military Industries, established a $100 million plant in Vietnam for the assembly of Tavor assault rifles. IMI Systems, formerly Israel Military Industries, has sold techniques for upgrading tanks as well as EXTRA artillery rockets with a range of 150 kilometers (93 miles) in a transaction worth about $70 million. The Israeli firm Cellebrite sold cellphone hacking tools to Vietnam's Public Security Ministry, which is known to persecute bloggers, journalists and ethnic and religious minorities in the country. The company Verint has been supplying surveillance and intelligence systems for more than 20 years to Vietnam's security forces, in sales worth about $30 million
Which Asian Countries Support China in the Taiwan Strait Crisis – and Which Don't? Shannon Tiezzi, The Diplomat; August 13, 2022: Four countries – India, New Zealand, Singapore, and Vietnam – positioned themselves closer to the United States, while not directly condemning China. These countries (category 4) mentioned the need to "de-escalate tensions" and "exercise restraint" – language used by Washington – without similar expressions of concern about sovereignty and territorial integrity. Singapore, for example, "emphasized the need to avoid miscalculation and accidents, which could lead to an escalatory spiral and destabilize the region." India, which delayed making any comment at all for 10 days after Pelosi arrived in Taiwan, finally remarked that "We urge the exercise of restraint, avoidance of unilateral actions to change status quo, de-escalation of tensions and efforts to maintain peace and stability in the region." In the Asia-Pacific region, just two countries – Australia and Japan – joined the United States and Taiwan in directly criticizing China for its military exercises near Taiwan.
TAKE ACTION
As noted in the FIDH report above: "Please write to the authorities of Vietnam, urging them to guarantee in all circumstances the physical integrity and psychological well-being of Dang Dinh Bach, Mai Phan Loi, Bach Hung Duong, Nguy Thi Khanh, and all other human rights defenders in Vietnam."
© 2022 The 88 Project
https://the88project.org/wp-content/uploads/2022/08/Exhibition-poster-Bui-Quang-Vien_Source-Bui-Quang-Vien-via-RFA.jpeg
413
620
kayleedolen
https://the88project.org/wp-content/uploads/2019/01/88project.png
kayleedolen
2022-08-22 14:46:51
2022-08-22 18:59:10
Vietnam Free Expression Newsletter No. 31/2022 – Week of August 15-21