Vietnam Free Expression Newsletter No. 21/2023 – Week of May 23-29
Greetings from The 88 Project. We bring you news, analysis, and actions regarding human rights and civil society in Vietnam during the week of May 23-29.
An "open trial," that was anything but, resulted in a multi-year sentence for a noodle seller. His family members were assaulted by the police. A mysterious death in police custody. Another Facebooker charged with spreading propaganda. A prisoner accuses his jailer of trying to poison him. Religious leaders ask the United States to sanction Vietnam for human rights violations.
Our report on The Vietnam Four continues to make the news as pressure increases against Vietnam ahead of a multi-billion dollar environmental funding plan. Project 88's Ben Swanton was interviewed as part of an article about Vietnam's crackdown on independent civil society amid the funding negotiations. Read the piece, or listen to the radio segment.

HUMAN RIGHTS & CIVIL SOCIETY
Political Prisoners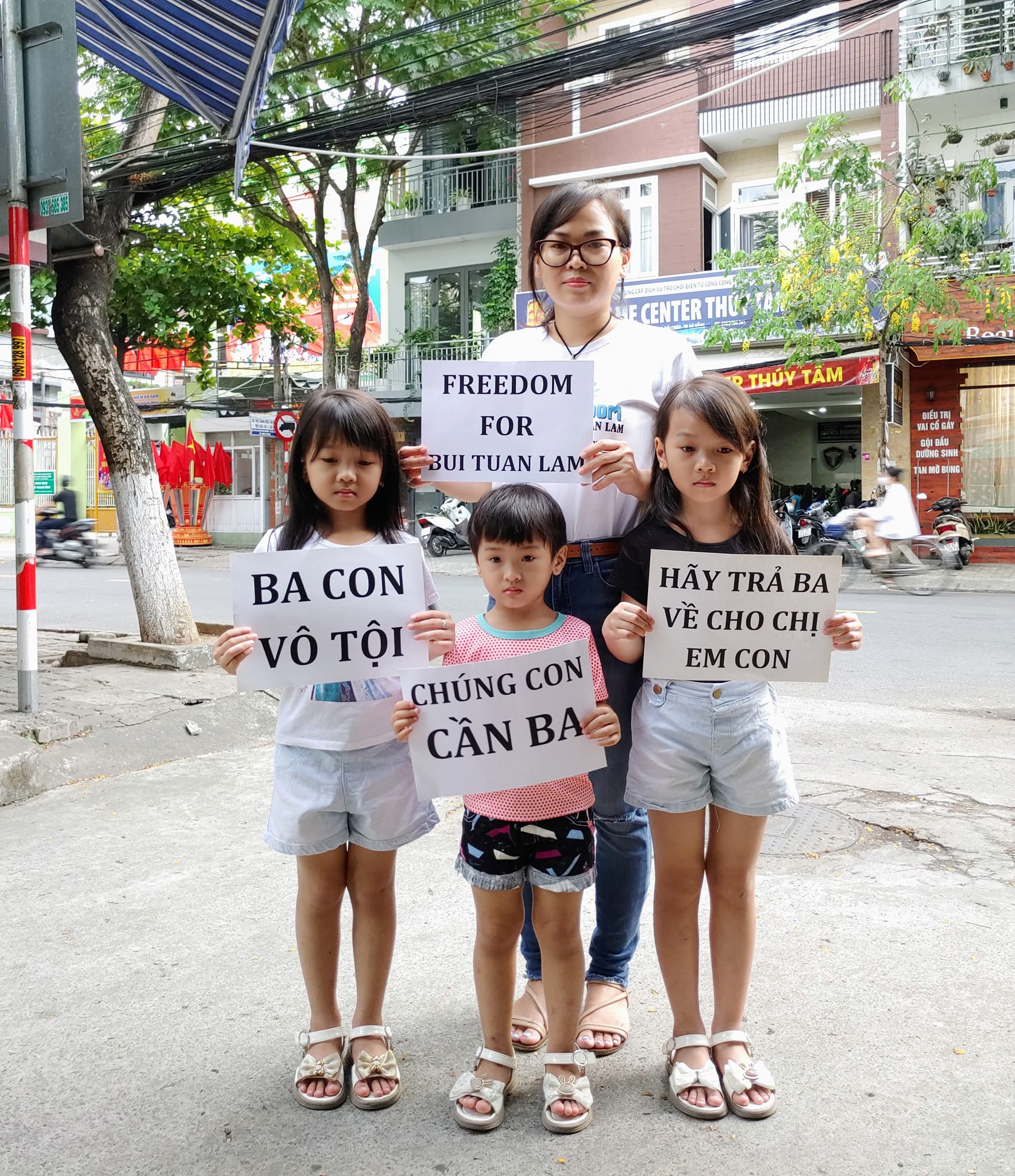 Bui Tuan Lam's wife and children hold signs saying: "Please free my dad for me and our sisters," Source: Le Thanh Lam Facebook
Bui Tuan Lam, aka Onion Bae the noodle seller, was sentenced to five and a half years in prison for spreading "anti-state propaganda" in a supposedly open trial that his parents and wife were prevented from attending. Lam's wife reported on her Facebook page that she was under surveillance for days beforehand and had to sneak out of the house at night, three days before the trial, in order to evade secret police.
Le Thanh Lam said after she had checked into a hotel, non-uniformed individuals repeatedly came to harass hotel staff and the manager. She had to go to another hotel to avoid trouble. When she finally made it to the courthouse with Lam's lawyers, the guards did not let her in. As she and Lam's parents waited outside, they were watched and filmed by plainclothes individuals.
After the trial finished around noon, Lam reported that a policeman named Dang Cong Cam (badge 350-259) attacked her. He and several others dragged her to the ground and then threw her into a police van. She also saw Lam's two brothers being beaten by the police. All three were taken to the Hoa Cuong Bac People's Committee Office, where she was body searched, verbally abused, and held for hours without any food.
The police took her phone and repeatedly tried to force her to unlock it with both fingerprint and facial recognition, but she refused to cooperate. They tried to get her to sign a police report but she refused to do so. She was not released until 6 p.m..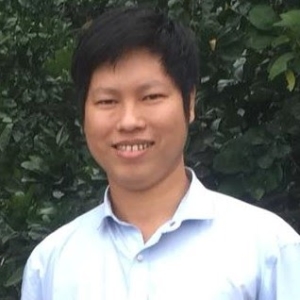 Imprisoned land rights activist Trinh Ba Phuong
In another display of intimidation, Thu Do, the wife of human rights defender Trinh Ba Phuong, said she was summoned to the police station in Ha Dong and questioned for over two hours. She was warned not to post anything online against the government or she might get arrested. Thu is the mother of two young children, the younger one was born shortly before his father was arrested and imprisoned in 2020.
On May 26, police from Binh Xuyen County in Vinh Phuc Province arrested Nguyen Manh Tien and charged him with "disturbing public order" according to Article 118 of the 2015 Criminal Code. They allege that Tien uses Facebook to post videos he took around courthouses in the area.

Political prisoner Nguyen Van Duc Do
Nguyen Van Duc Do, a political prisoner serving an 11-year sentence, has accused his jailers at Z30A Prison in Xuan Loc of trying to poison him with water contaminated with pesticide, which he bought at the prison canteen.
At Risk
A man suspected of stealing electrical wires died in police custody in Bu Dang County, Binh Phuoc Province. The 27-year-old suspect, known only as N.T.D. was arrested on May 25. He was later transferred to Bu Dang Hospital after police said he "showed signs of fatigue." The official autopsy report states that he died from "a pulmonary condition."
International Advocacy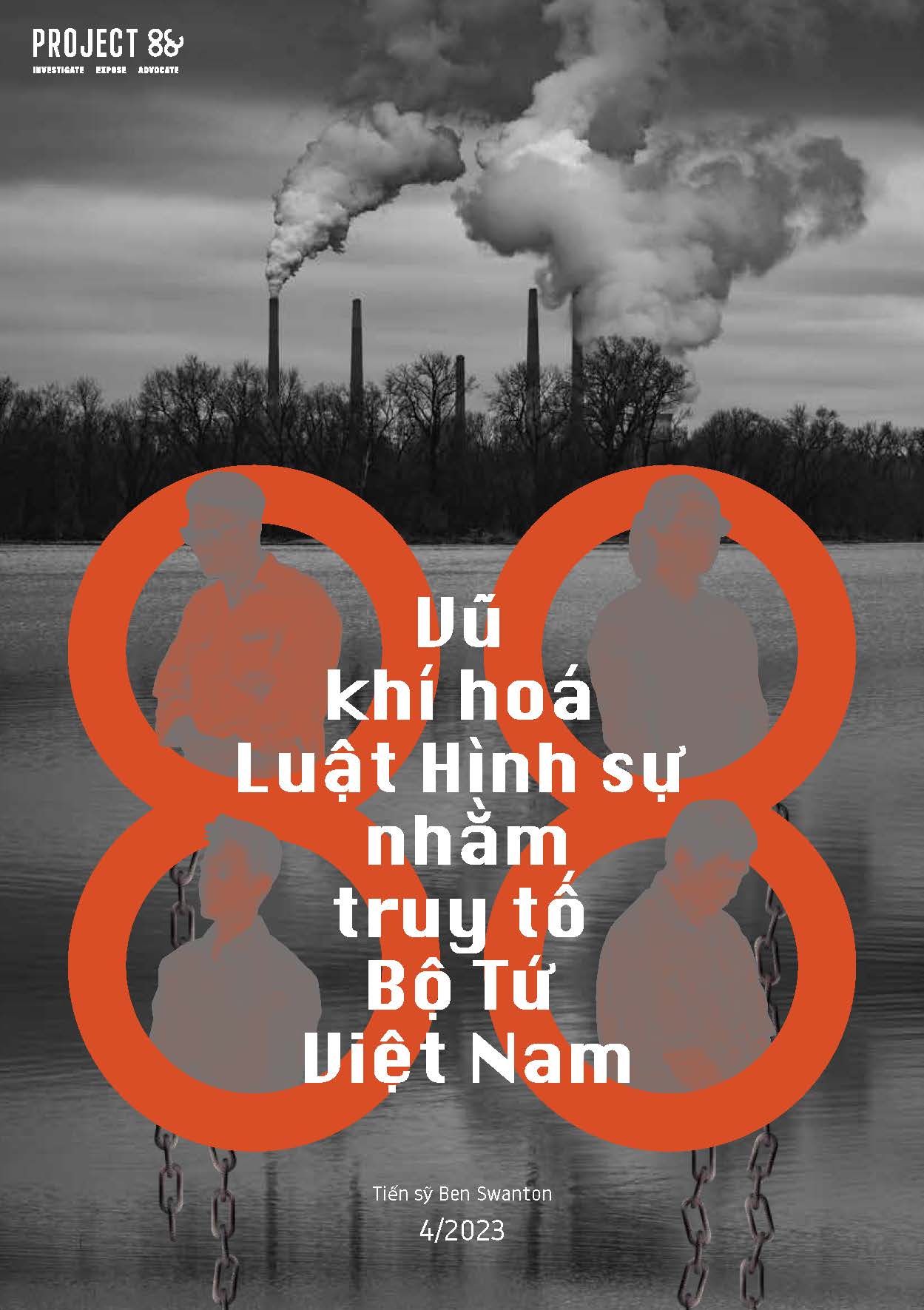 The cover of the Vietnamese version of "Weaponizing the law to prosecute the Vietnam Four"
The UN Working Group on Arbitrary Detention has demanded that Vietnam release environmental activist Dang Dinh Bach, calling his arrest and detention illegal. The BBC also interviewed Project 88's Ben Swanton, author of the report "Weaponizing the law to prosecute the Vietnam Four," analyzing Bach and three others' convictions for tax evasion, which was released last month (Vietnamese version of the report available here).
The 88 Project is calling on President Joe Biden to "condition a planned visit by General Secretary of the Communist Party of Vietnam Nguyen Phu Trong in Washington D.C. as early as July on the unconditional release from prison of climate activists."
NEWS & ANALYSIS
Vietnam's human rights record is being scrutinized ahead of $15 billion climate deal. Michael Copley, NPR; 2023.05.26: The money — at least $15.5 billion — was promised after climate activists in Vietnam pushed the government to commit to eliminating or offsetting the country's carbon dioxide emissions by midcentury. The United States and other backers of the funding plan, known as the Just Energy Transition Partnership (JETP), say that kind of advocacy is critical for making sure the benefits of the climate deal are widely shared in Vietnam. But environmental activists now have little room to operate in the country. Climate advocates whose campaigning paved the way for the JETP have been jailed on what critics say are trumped-up tax charges.
Listen to the accompanying radio piece for the above article, here.
Religious leaders ask US to sanction Vietnamese government officials. RFA; 2023.05.22: Representatives from the Interfaith Council of Vietnam met with American diplomats and an official from the U.S. Commission on International Religious Freedom commissioner at Giac Hoa Pagoda in Ho Chi Minh City on Thursday. Officials from Catholicism, Buddhism, Hoa Hao Buddhism, Caodaism and Protestantism urged the Biden administration to make use of a 2016 law, named after a Russian anti-corruption whistleblower, that allows the United States to freeze the assets of foreign government officials and ban them from entering the U.S.
Two draft laws, NA's draft supervisory plan for 2024 put on table. VNA; 2023.05.27: …on behalf of the Prime Minister, Minister of Public Security To Lam submitted a draft law on amendments and supplements to some articles of the Law on the People's Public Security Force. The draft law aims to institutionalize the Party's guidelines and policies, remove bottlenecks, and guarantee the legal system's consistency to meet the requirements for safeguarding national security and social order and safety. Minister To Lam also proposed a draft law amending and supplementing some articles of the Law on Exit and Entry of Vietnamese Citizens and the Law on Foreigners' Entry into, Exit from, Transit through and Residence in Vietnam.
Lessons in hedging from Southeast Asia. Mark Valencia, Asia Times; 2023.05.21: [Vietnam] has declared and maintained a "four-nos" policy: no military alliances, no siding with one country to counteract the other, no foreign military bases, and no force or threat of use of force in international relations. This has proved to be a foundation of its hedging and a shield from getting dragged into big-power military conflict. The political arena in Southeast Asia has become a test tube of experiences in hedging and will continue to provide many lessons to other countries in the region and beyond. If others learn from the experiences of the Philippines and Vietnam, they may yet be spared from involvement in a catastrophic big-power war from which they can only lose.
Social Media Law in Vietnam Seen as Damaging to Online Debate. Liam Scott, VOA; 2023.05.25: Vietnam has one of highest rates of online fraud in Asia, but digital rights and press freedom experts maintain that the measure has less to do with criminal activity and is designed more to limit criticism of the government. In a country with limited space for critical voices "online anonymity has been extremely effective in promoting freedom of expressions," said Michael Caster, who covers Asia for the digital rights group Article 19. But "real name registration schemes can be easily abused by the authorities and can become a tool of repression."
IN CASE YOU MISSED IT
A report by Human Rights Watch describes how Japan's "Hostage Justice" system deprives detainees of rights. It is surprisingly similar to Vietnam's justice system.
TAKE ACTION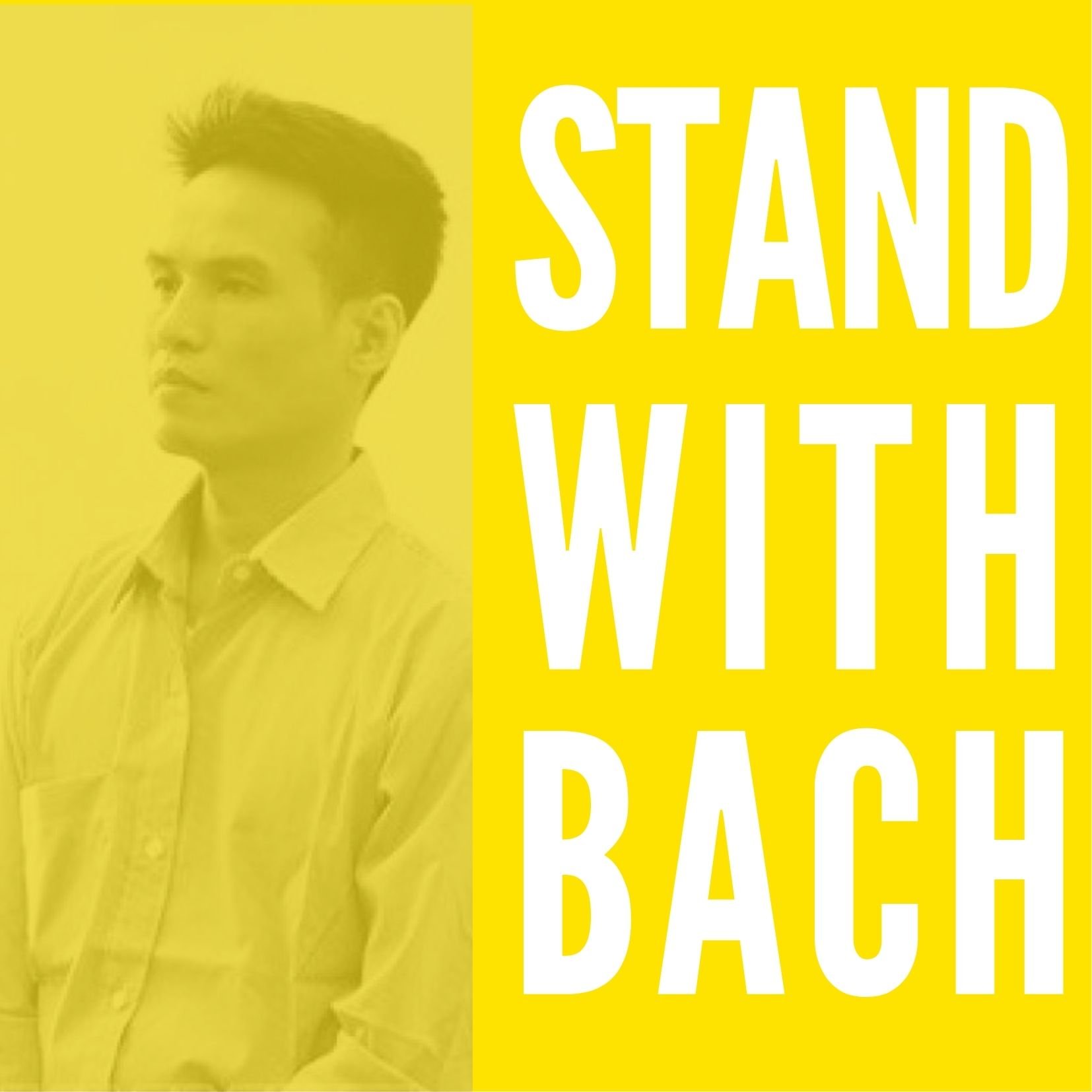 Stand with Dang Dinh Bach by joining the hunger strike to show solidarity with Bach as he fights for justice.
© 2023 The 88 Project
https://the88project.org/wp-content/uploads/2023/05/Bui-Tuan-Lam-family_Le-Thanh-Lam-Facebook.jpg
2048
1767
kayleedolen
https://the88project.org/wp-content/uploads/2019/01/88project.png
kayleedolen
2023-05-30 18:43:00
2023-05-30 18:43:00
Vietnam Free Expression Newsletter No. 21/2023 – Week of May 23-29