Covid Testing Gets Ugly: Civil Rights Breached During Pandemic
On September 28, 2021, during the pandemic, a group of uniformed police and non-uniformed men broke into a unit in the Ehome 4 apartment complex in Vinh Phu district, Binh Duong Province. Their mission: to test resident Hoang Thi Phuong-Lan for SARS-CoV-2 (Covid-19).
The widely criticized action, which came during the lockdown as clashes between the authorities and citizens became more frequent and oftentimes violent, has raised questions about civil rights in the pandemic era, and has caused at least one state-run newspaper to remove its report on the incident.
Video clips that were later posted on social media show a locksmith picking the lock of Phuong-Lan's apartment while a group of uniformed men stand around. Civil rights during the pandemic are widely ignored. Once the door is opened, they burst in, grab the woman and pull her outside with her arms bent behind her back. As she loudly protests, one can also hear a child screaming.
In one scene of the civil rights breach that has gone viral, the victim is held down on a chair out on the street by several men, her arms twisted. A uniformed man sticks what looks like a cotton swab up her nose, the testing routine we often see during the pandemic. Human right activists are criticising this particular event as a breach of her civil rights.
According to Le Trung Hieu, the manager at the apartment complex, there have been 24 positive cases found at the complex since the start of the pandemic, and 15 rounds of testing have been performed on the roughly 450 residents there. He did not say whether children were also tested.
Hieu said that Phuong-Lan had not participated in these community tests, and that one time the team had to come up to her apartment to administer the test. This time, however, management called the local authorities who then sent men to Phuong-Lan's unit to force their way in.
Phuong-Lan, on the other hand, told reporters that she did participate in the community testing the first time. But because there were so many people there, she was afraid that she might catch the virus. So she bought her own test kits and has been testing herself at home. She also said a test team did come to her apartment recently and tested her, and that the result was negative. According to Phuong-Lan, on September 28 she was in the middle of teaching a yoga class online when she heard people knocking on the door; she said she could not hear what they were saying. Before she was able to respond, the men broke in. She later posted a video on Facebook that she took as the men entered her apartment and, according to human right activists, breached her civil rights.
The party secretary for Thuan An City in Binh Duong Province, Huynh Thi Thanh-Phuong, said her office was told by Vinh Phu district authorities they were concerned that Phuong-Lan might be an F0 case (identified positive case) because she had not participated in the community testing for several days. That prompted them to come to her apartment. When she did not open the door, they ignored her civil rights and broke in.
Thanh-Phuong did not explain why or when the locksmith was hired. In a news article which has been removed from the site (but was screen-captured by readers and human right activists), the party secretary reportedly said that "while the whole political system is stretched to its limits fighting the pandemic, not every law can be adhered to as we try to prevent the spread of the disease." In other words, civil rights could be justifiably suspended in the name of public safety.
Tuoi Tre Online, one of the largest newspapers in Vietnam, ran a story titled "Authorities break into home to force testing: Human rights violated."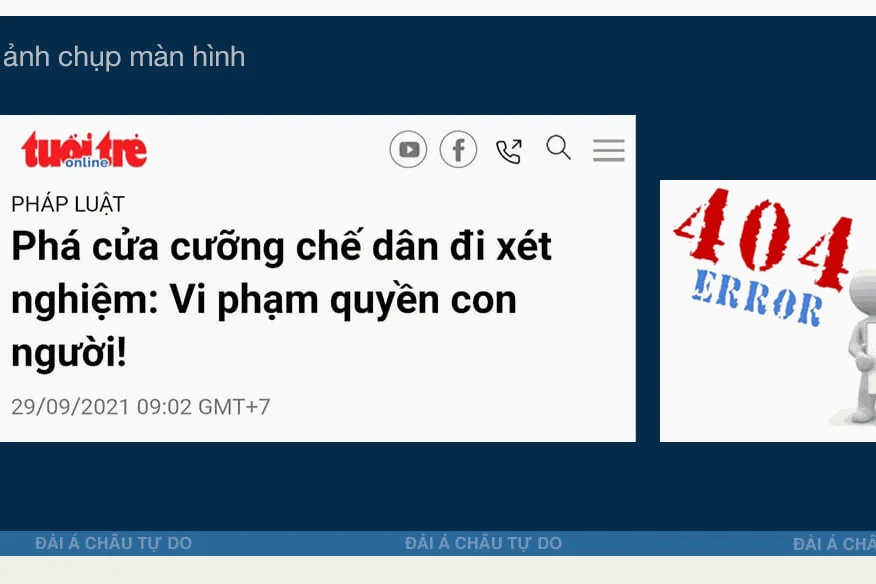 A screenshot of the now-deleted article on Tuoi Tre

In the article, several lawyers expressed dismay at the actions by the local police. Pham Hoai Nam, a member of the HCMC Lawyers Association, said current regulations (117/2020/ND-CP) allow authorities to require Covid testing, and those who don't comply can be fined up to US$150.
In cases where an individual obstinately refuses to be tested, the authorities can force the person to be tested during the pandemic, but only with the written approval of the chairperson of the People's Committee at that locality. Any resistance to such an order could then result in the individual being charged with "resisting officials carrying out government duties" based on the Criminal Code.
However, the individual in this case was never served any official notice requiring her to get tested. Forcibly removing her from her home, the lawyer argued, is a potential violation of the civil rights and the law guaranteeing personal safety and freedom of movement. Furthermore, the fact that a child was traumatized by this blatant act only increases the gravity of the case, said Nam.
An attorney from Hanoi, Hoang Van Huong, concurred that the clips showed a potentially illegal operation which seemed to have violated the person's civil rights. He said he was very shocked to hear the child's scream and to watch how Phuong-Lan was so rudely treated by the testing team. Not surprisingly, the Tuoi Tre Online article was quickly deleted soon after it ran — but not before some alert online viewers and human right activists had captured and saved it.
Vo Thanh Quan, party secretary for Vinh Phu District, who was in charge of the operation, has since visited Phuong-Lan and publicly apologized to her. She has indicated that his apologies were acknowledged but not accepted. She said the authorities have taken her ID card and are planning to give her a citation for resisting taking Covid tests. She told a reporter that she would discuss with her lawyer what to do next. On a positive note, the result of her Covid test turned out to be negative.
For its part, the government has not indicated whether Quan would be disciplined or charged for his unauthorized acts, or whether his apologies are enough to assuage a public that is increasingly angry, frustrated and stressed due to the COVID pandemic. It is more likely that the authorities will try to wait until the social media storm passes and everything goes back to business as usual.
However, the pandemic is creating new normals everywhere, including Vietnam. We are closely monitoring this developing case to see if there are any legal ramifications regarding the law and civil rights in the age of COVID-19.
Thumbnail image: Covid-related traffic jam in Hanoi on October 1, 2021, Source: Radio Free Asia
© 2021 The 88 Project
https://the88project.org/wp-content/uploads/2021/10/Covid-traffic-jam-10.1.21_Source-RFA.jpeg
413
620
kayleedolen
https://the88project.org/wp-content/uploads/2019/01/88project.png
kayleedolen
2021-10-04 00:30:38
2022-04-06 16:36:18
Covid Testing Gets Ugly: Civil Rights Breached During Pandemic