Vietnam Free Expression Newsletter No. 24/2020 – Week of June 8-14
Greetings from The 88 Project! We are bringing you news, analysis, and actions regarding human rights and civil society in Vietnam during the week of June 8-14. The Vietnamese government continued targeting the Independent Journalists Association of Vietnam after the arrest of key leaders in recent months, with the arrest of Le Huu Minh Tuan this week. Authorities have also arrested a Khmer Krom farmer after a May land dispute and are finalizing charges against 29 locals arrested in the raid on Dong Tam Commune in January 2020. In case you missed it, watch our interview with former political prisoner Tran Thi Nga, where she speaks about the effects of imprisonment on women and their children. And read our piece about the normalization of police state practices during the COVID19 pandemic. In the news and analysis section, read about the latest developments in the South China Sea and the EU-Vietnam Free Trade Agreement. Take action this week for imprisoned Vietnamese journalists with the Committee to Protect Journalists.
HUMAN RIGHTS & CIVIL SOCIETY
Political Prisoners
Le Tuan (right) with Bui Minh Quoc in 2017, Source: Facebook Pham Doan Trang
On the morning of June 12 2020, The Security Investigation Agency of Ho Chi Minh City arrested Le Huu Minh Tuan, a member of the Independent Journalists Association (IJAVN). Unlike Pham Chi Dung (b. 1966) and Nguyen Tuong Thuy (b. 1952), Tuan is a young activist. Born in Quang Nam province, he graduated from Da Nang University and is currently pursuing his second degree at the University of Law – Ha Noi City; he just turned 30 years old. After the arrest of Pham Chi Dung, the president of the association, Tuan was continuously harassed by the Public Security Bureau. Friends and family suggested that he temporarily withdraw from activism, but Tuan insisted that he did not do anything wrong and that he is ready to face the investigation agency. He is currently held in Chi Hoa Prison and is charged with "making, storing, distributing, or disseminating information and materials to oppose the State of the Socialist Republic of Vietnam," Article 117 of the 2015 Criminal Code.


Bui Viet Hieu
In a report released this week by Hanoi police investigators, authorities are formalizing charges of murder against 25 residents of Dong Tam Commune who were arrested after a violent early morning raid by local public security forces left three police officers and the leader of the village dead. The area is home to a longstanding land rights conflict, as it has been traditionally used for agriculture. Four others also face different charges. The report this week raises more questions in an already disputed case, such as "why DNA identifications were not made of the three police officers who died in the assault, reportedly by burning" and details of the case of Bui Viet Hieu, an elder activist who was shot and injured during the raid.
Huynh Dang Diep, Source: Khmer Kampuchea Krom Federation via Radio Free Asia
Authorities in Kien Giang Province arrested six family members for their participation in a land dispute in a Khmer Krom community in May. The Khmer Krom, an ethnic minority group, have long faced harassment and discrimination from the state, and land rights disputes are common in the country, as no private land rights exist. After interrogation about the incident, all but one family member was released from custody. Huynh Dang Diep remains detained.
A video screenshot of the conflict from a community member, Source: Radio Free Asia
On May 5, local authorities had clashed with 100 Khmer Krom farmers as police attempted to confiscate a piece of digging equipment used for planting. Police used tear gas and batons against farmers armed with just simple tools. The altercation left at least 10 farmers injured. The government claims the land is part of a natural conservation site, while the locals say that they have been farming there for decades.
On June 12, Nguyen Van Mieng, Nguyen Duc Quoc Vuong's attorney, went to Trai Mat prison, Lam Dong Province, to have his first meeting with Vuong at the request of his family. After the meeting, Mieng told Vuong's family that he is healthy, mentally stable, and very strong. Vuong told his lawyer that he won't plead guilty and will appeal his sentence despite whatever happens at his first instance trial. Popular Facebooker Vuong was arrested in September 2019 and is held in pre-trial detention on the charge of conducting "propaganda against the state" under Article 117 of the 2015 Criminal Code.

Tran Thi Nga and family's arrival to Atlanta, Georgia. Source: BPSOS
The 88 Project had the opportunity to interview former political prisoner Tran Thi Nga about her experience as a political prisoner and mother, the effects of her imprisonment on her family, and systemic issues for other imprisoned women and their children. Nga's youngest child was only four years old when he witnessed his mother being arrested by the police in their own home. When Nga's husband was detained for questioning, their six year-old was also detained and was even separated from his father. Watch the full interview, here.
This week, we remember the arrest and trial anniversaries of the following political prisoners:
Nguyen Dinh Thanh, medical professional, arrested June 8, 2018, and sentenced to seven years in prison for posting online and printing leaflets to protest the proposed law on Special Economic Zones
Nguyen Van Quang, arrested June 12, 2018 for encouraging people to protest, still in pre-trial detention
We remember the numerous people arrested on June 10 and 11, 2018 during and after massive nationwide protests swept Vietnam over proposed laws on cybersecurity and Special Economic Zones. Dozens were arrested or harassed. Two years later, 137 people remain in prison or at risk due to their participation in the protests. Read more about them in our database.
NEWS & ANALYSIS
Vietnam ratifies free trade deal with EU, Reuters, June 7, 2020: "Deputies in the National Assembly, which nearly always ratifies government proposals, voted by over 94% in favour of the European Union Vietnam Free Trade Agreement (EVFTA). The EVFTA, expected to take effect in July, is the European Union's second deal with a member of the Association of Southeast Asian nations (ASEAN) after Singapore, and one of few with a developing country."
China's Tightening Grasp in the South China Sea: A First-Hand Look, Zachary Williams, The Diplomat, June 10, 2020: "China has taken advantage of the COVID-19 pandemic, which has been dominating headlines around the world, to reinforce its grasp on the South China Sea. While Western media is now preoccupied by the U.S. protests, Beijing will likely continue to take advantage of the fact that the eyes of the world remain focused elsewhere. In the South China Sea, these past six months were marked by four distinct events. First, there was the Chinese Coast Guard's aggression in sinking a Vietnamese fishing vessel."
China Rams Vietnamese Fishing Vessel Near Paracel Islands, Drake Long, Radio Free Asia, June 12, 2020: "The boat's captain told Vietnamese authorities in central Quang Ngai province that a Chinese ship numbered 4006 chased and then rammed his boat, forcing all of its 16 crew to jump overboard. After the Chinese took some crew back to pump water out of their listing boat, the Chinese seized one ton of fish, a global positioning system, and other equipment worth in total 500 million Vietnamese dong ($21,000), Tuoi Tre reported."
How COVID-19 is Stifling Vietnam's Agenda to Vie with China over Disputed Sea, Ralph Jennings, Voice of America, June 8, 2020: "Lack of face-to-face meetings will sideline Vietnam's 'agenda' to ease the maritime dispute with China said Nguyen Thanh Trung, Center for International Studies director at the University of Social Sciences and Humanities in Ho Chi Minh City.  It would also spare China the sometimes  uncomfortable task of addressing a tough agenda.  Vietnam had hoped this year to strengthen relations with ASEAN's 'external partners' and expand the network, writes Frederick Kliem, a visiting fellow at the S. Rajaratnam School of International Studies at Nanyang Technological University in Singapore."
IN CASE YOU MISSED IT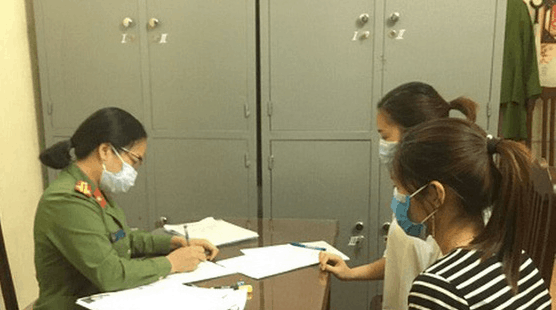 Facebook users being interrogated by local public security agents. Source: 
Tuoi Tre
Last week, The 88 Project published an article analyzing how Vietnamese authorities are utilizing the pandemic to normalize the practices of a police state. For instance, a doctor in Can Tho was fined for a short status he wrote in which he stated, "Can Tho (province) has its first case. The residents should enhance their immunity system by eating more vitamins and mineral-rich food." The majority of online expressions resulting in fines were neither dangerous to the public nor damaging to the national effort against COVID-19. But "perpetrators" were summoned, briefly detained, and interrogated by local public security forces as if they had committed serious crimes. By free-riding on public support for a "national unifying cause" of combating COVID-19, the authorities justify the excessive and arbitrary involvement of the security apparatus in public life.
TAKE ACTION
Take action for imprisoned journalists this week with the Committee to Protect Journalists and their #FreeThePress campaign, which urges global governments to immediately release jailed journalists in light of the COVID-19 crisis. There are at least eight jailed journalists behind bars in Vietnam currently (and several more bloggers); these journalists are Le Anh Hung, Pham Chi Dung, Ngo Van Dung, Truong Duy Nhat, Ho Duc Hoa, Nguyen Tuong Thuy, Truong Minh Duc, and now Le Huu Minh Tuan.
© 2020 The 88 Project
https://the88project.org/wp-content/uploads/2020/06/Le-Tuan-and-Bui-Minh-Quoc_Source-Fbk-Pham-Doan-Trang.jpg
600
960
kayleedolen
https://the88project.org/wp-content/uploads/2019/01/88project.png
kayleedolen
2020-06-15 12:30:06
2020-06-15 12:30:06
Vietnam Free Expression Newsletter No. 24/2020 – Week of June 8-14