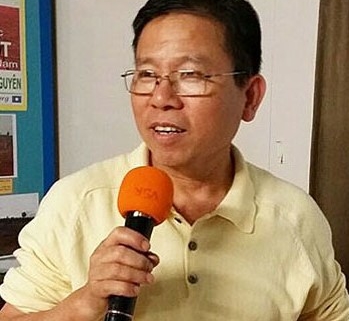 Vietnam Free Expression Newsletter No. 30/2019 – Week of July 22-28
Featured Image: Political prisoner Chau Van Kham, Source: Viet Tan.
Greetings from The 88 Project! We are bringing you news, analysis, and actions regarding human rights and civil society in Vietnam during the week of July 22-28. Australian national and Viet Tan member Chau Van Kham remains behind bars over six months after his arrest; authorities have extended his pre-trial investigation period until September. Activist Ha Hai Ninh was tried this week in Quang Nai province. And political prisoner Nguyen Nam Phong was released from prison. Nguyen Trung Truc is no longer on hunger strike. But fellow democracy activist Truong Minh Duc's wife still hasn't been able to visit him in prison; he was reported to be on hunger strike still in mid-July. Read testimony from Nguyen Thuy Hanh, who, along with several others, was attacked while attempting to visit Duc and other striking prisoners on July 12. Hanh and the others were physically attacked and their documents confiscated. In the news, read about Vietnam's new, internal social media network and imprisoned US citizen Michael Nguyen's wife's testimony in front of the US House of Representatives. In case you missed it, we've posted some tips and tricks to help you navigate our new Map of Human Rights Violations. Coming up this week, Ha Van Nam and six other toll station protesters will be tried for "disturbing public order" as part of a crackdown on Build-Operate-Transfer (BOT) protests. And please take action for Michael Nguyen by signing a petition for his release.
HUMAN RIGHTS & CIVIL SOCIETY
Prisoners of Conscience
On July 23, 2019, Australia's ABC News reported that the Vietnamese authorities have 
decided to extend the investigation period
 in the case of 
Chau Van Kham
 until September 2019. Kham, a member of the overseas democracy group Viet Tan, was arrested in January 2019 and charged with "overthrowing the People's Government" under Article 109 of the 2015 Criminal Code after travelling to Vietnam and meeting with a member of the Brotherhood for Democracy, 
Nguyen Van Vien
 (who was also arrested). Kham has 
not been allowed to meet his family
, friends, or lawyers. He has only met with a representative from the Australian Embassy. The Australian Vietnamese community has 
supported Kham
 and defended his peaceful activism.
On July 23, 2019, authorities in Quang Nai Province tried activist Ha Hai Ninh in a closed trial under Article 109 of the 2015 Criminal Code for "activities aimed at overthrowing the government." The trial was not reported on in state media, and news only surfaced when some of Ninh's friends were summoned to testify at the trial. Ninh's type of activism is largely unconfirmed at this point, but some reports say he is a 21-year-old and potentially a supporter of some civil society groups.
Nguyen Nam Phong
 was 
released from prison
 today, July 28. Friends and family who wanted to meet him at the prison gate couldn't see him because he had already left the prison when they arrived. Phong was the driver for Catholic priest Nguyen Dinh Thuc and environmental and labor activist 
Hoang Duc Binh
 when Binh was arrested in May 2017. When the police ordered Phong to open the car to let them to take Binh out, Phong refused. He was later arrested and sentenced to two years in prison. He was the main financial supporter of a family with three children. Phong and his wife's eldest daughter was 
diagnosed with cancer
 and 
passed away
 on June 15, 2019, while Phong was still in prison.
On July 26, 2019, political prisoner 
Nguyen Trung Truc
 made a 
phone call to his family 
to announce that he had stopped his hunger strike. He is now in poor health, and he is not allowed to watch television or go outside often. He also told his family that if they come visit him in the future and cannot see him, something bad must have happened to him. Truc is a member of the Brotherhood for Democracy who was arrested in August 2017 and sentenced to 12 years in prison.
Mrs. Nguyen Kim Thanh, wife of political prisoner 
Truong Minh Duc
, 
did not receive the monthly call
 from her husband. Prison No. 6, located in Nghe An province, only allows Truong Minh Duc to call home from the 20th to 25th of each month. Duc has been on hunger strike, along with several other prisoners, in recent weeks, protesting prison authorities who did not permit the prisoners to have fans during a recent heat wave. When Thanh tried to visit her husband on July 12, she was unable to, and several 
supporters of the striking prisoners were violently assaulted
 on the same day. Thanh was also attacked, and her phone crushed.
On July 23, 2019, Mrs. Cao Thi Xuan Phuong, 
Truong Duy Nhat
's wife, 
went to see her husband at T16 prison
 in Hanoi. Nhat's younger sister, Cuc, took a flight with her from Da Nang to Hanoi to visit as well. However, at the prison entrance, Cuc was stopped by the officers because the official invitation only named Phuong as a visitor. However, Phuong had 
signed a document
 at a previous visit requesting that Cuc be able to visit as well. During the meeting, Nhat told his wife about a change in his charge. He was earlier charged with "abusing position, authority to obtain public property," but now the investigation police department is charging him with "abusing position, authority while in office," due to their inability to charge him in an alleged case of land fraud. He denies all charges.
This week, we remember the trial and arrest anniversaries of the following activists:
Le Dinh Luong, environment and pro-democracy activist, arrested on July 24, 2017 and later sentenced to 20 years
Tran Thi Nga, land and labor rights activist, sentenced to nine years in prison on July 25, 2017

Defendants in the Court on July 23, 2018. Source: Infonet
Ten June 2018 protesters tried on July 23, 2018 in BInh Thuan province and sentenced to between two and 3.5 years in prison
Activists at Risk
Attorney Tran Vu Hai. Source: Facebook Tran Vu Hai
The Investigative Police Division of the Public Security Department of Khanh Hoa Province initially 
refused to complete the process of defense registration
 in the case of attorney Tran Vu Hai. Although some attorneys arrived at the department on July 22, 2019, as requested by the department, to complete the registration of defense, the receiving officer said they had "no working schedule with the attorneys." After a whole day of waiting, finally the attorneys were allowed to complete the registration to defend lawyer Tran Vu Hai and his wife. On July 2, the Division 
charged
 attorney Tran Vu Hai, a prominent lawyer in Vietnam, with "tax evasion."
 No arrest was made, but a search warrant was issued and police carried out a search of his office and took away a large amount of materials not related to the case. These materials included the dossiers of multiple important cases, such as the case of 
Truong Duy Nhat
, a well-known official-turned-dissident recently deported by Thai authorities back to Vietnam while seeking political asylum there and currently held in prison.
Nguyen Thuy Hanh after the attack. Source: 
Facebook Trinh Ba Phuong
Read testimony
 from 
Nguyen Thuy Hanh
 from the July 12, 2019 attack on a group of family members and supporters attempting to visit political prisoners on hunger strike at Prison No. 6 in Nghe An province. Hanh described physical attacks on all members of the group, as well as confiscation of important documents and verbal abuse. "Under the blazing sun, the thugs violently escorted the group, including elderly citizens, youth, and even children, all without hats, for a few kilometers," she said.  "No one was spared from their beatings. Everyone had been abused."
NEWS & ANALYSIS
Vietnam's 'homespun Facebook' swamped after launch
, Channel News Asia, July 24, 2019: "Gapo has been billed as a local version of Facebook, which is wildly popular in communist Vietnam with more than 53 million registered users in the country of 95 million. But the social media giant, along with Google, YouTube and other global tech firms, is facing stricter scrutiny after a draconian cybersecurity law was passed last year."
Wife of American imprisoned in Vietnam testifies in D.C., Roxana Kopetman, The OC Register, July 25, 2019: "Helen Nguyen told members of the U.S. House Foreign Affairs Subcommittee on Asia, along with several non-committee House members who represent parts of Southern California, that she and the couple's four daughters are suffering – and will continue to suffer – because Michael Nguyen was sentenced last month to spend 12 years in a Vietnamese prison. She also implored the lawmakers to do everything in their power to bring him home."
Vietnam FTA: EU is more pragmatic than principled, David Hutt, Asia Times, July 24, 2019: "Less justifiable, however, is why the EU would choose Vietnam as the country to conduct the bloc's 'most ambitious free trade deal ever concluded with a developing country,' as EU Trade Commissioner Cecilia Malmström put it. Vietnam is arguably the region's worst violator of human rights, and it unapologetically remains a one-party state dictated by an increasingly aggressive Communist Party. There has been strong opposition within the European Parliament (which could still scupper it) over the EU basically rewarding an undemocratic, authoritarian nation."
IN CASE YOU MISSED IT
Incident View of the Map of Human Rights Violations
COMING UP
Build-Operate-Transfer (BOT) protester 
Ha Van Nam
 and six other protesters will be 
tried on July 30
 in Bac Ninh province on charges of "disturbing public order" under Article 318 of the 2015 Criminal Code. They face between two and seven years in prison if convicted. Since 2018, Ha Van Nam, with his friends in the Facebook group "Friends on the Long Road," has 
protested against the toll stations
, which are allegedly placed in incorrect areas or have earned money past their allotted contract times.
TAKE ACTION
Take action for US citizen 
Michael Nguyen
, who was tried on June 24, 2019 and sentenced to 12 years in prison. Call on Vietnamese authorities to release him from detention by signing this 
petition on Change.org
.
© 2019 The 88 Project
https://the88project.org/wp-content/uploads/2019/02/chau-vam-kham_source-rfa-viet-tan_square.jpg
349
349
kayleedolen
https://the88project.org/wp-content/uploads/2019/01/88project.png
kayleedolen
2019-07-29 13:20:54
2019-07-29 13:20:54
Vietnam Free Expression Newsletter No. 30/2019 – Week of July 22-28