Vietnam Free Expression Newsletter No. 21/2020 – Week of May 18-24
Featured Image: Pham Chi Thanh, Source: his blog via Radio Free Asia
Greetings from The 88 Project! We bring you news, analysis, and actions regarding human rights and civil society in Vietnam during the week of May 18-24. The Ministry of Public Security this week arrested dissident writer Pham Chi Thanh under Article 117 for propaganda against the state, and two days later, they arrested prominent journalist Nguyen Tuong Thuy on the same charge. Thanh has written books critical of the Vietnamese government. Thuy is the vice president of the Independent Journalists Association of Vietnam. Phung Thuy, a book distributor for LPH, is in better condition after being beaten by the authorities earlier this month. Authorities also detained and interrogated well-known activist Nguyen Anh Tuan for several hours this week. Vietnam's National Assembly has officially intervened in the case of death row inmate Ho Duy Hai after weeks of intensified controversy surrounding his case. In the news and analysis section, read about the latest developments in the South China Sea and a recap on LGBTQ+ rights in Vietnam and elsewhere. Take action this week in support of the LPH by sharing Amnesty International's Urgent Action.
HUMAN RIGHTS & CIVIL SOCIETY
Political Prisoners
Pham Thanh, Source: Defend the Defenders
Well-known dissident journalist Pham Chi Thanh, 68, was arrested on May 21 at his home by the Ministry of Public Security (MPS); the MPS also confiscated some of his personal items, including two computers. Thanh was taken to Hoa Lo Detention Center. He is charged under Article 117 of the 2015 Criminal Code for allegedly conducting "propaganda against the state." Thanh is a former reporter for Voice of Vietnam radio and also a writer. He has written a number of books, such as "The Spirit of Socialism" and the "Thế thiên hành đạo," which covered the Communist authorities and its leaders and directly criticized the current general secretary of the Vietnamese Communist Party.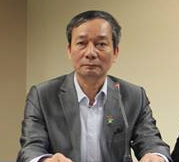 In addition, on the morning of  May 23, 2020, Nguyen Tuong Thuy was arrested and his apartment searched by the public security of Hanoi City. Thuy, 70, is a veteran but left the Veteran Associations of Vietnam. He is currently the vice president of the Independent Association of Journalists; Pham Chi Dung, its president, was arrested last year. Thuy is charged under Article 117 of the 2015 Criminal Code for alleged propaganda against the state. Thuy had been questioned many times about his connections to Dung, including in March 2020. He was taken from Hanoi to Ho Chi Minh City after his arrest.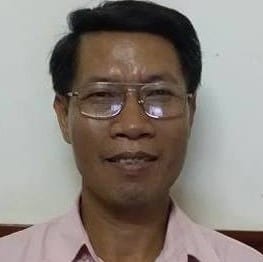 Veteran and political prisoner Le Thanh Tung's wife has reported that Tung and other prisoners are enduring 100-degree temperatures in their cells at Nam Ha Prison. Tung has also been denied medication and letters sent by his family. Authorities ignored a petition from prisoners to repair broken fans at the prison. The event is reminiscent of an event at Prison No. 6 in Nghe An Province in the summer of 2019 when a handful of political prisoners went on a hunger strike for over 40 days to protest extreme heat in their cells.
This week, we remember the arrest and trial anniversaries of the following political prisoners: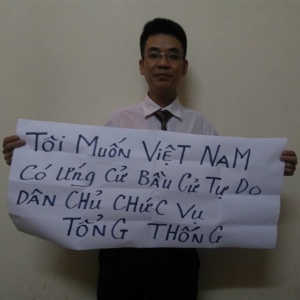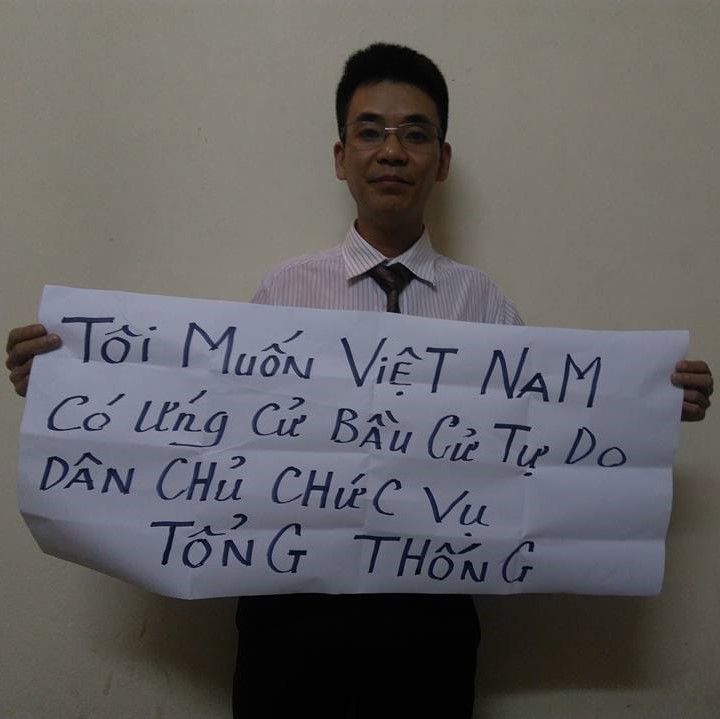 Nguyen Van Dien, birthday May 19, pro-democracy activist serving a six-and-a-half year prison sentence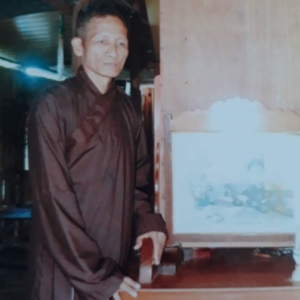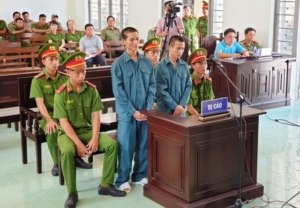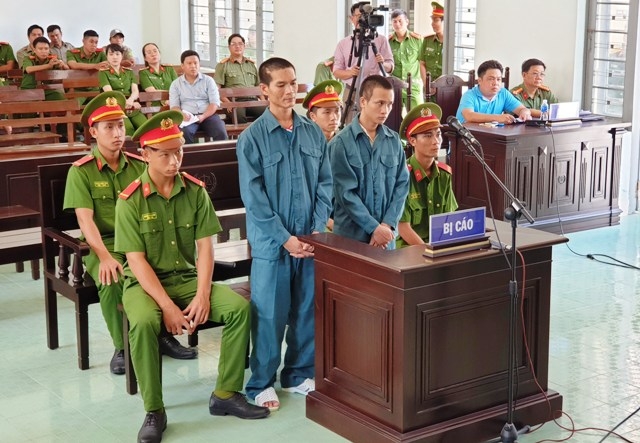 Dang Ngoc Tan and Pham Thanh at trial on May 21, 2019. Source: Nhan Dan
Pham Thanh and Dang Nogc Tan, June 2018 protesters, tried May 21, 2019, serving 15 years and six months and 24 years in prison, respectively, after being found guilty in multiple trials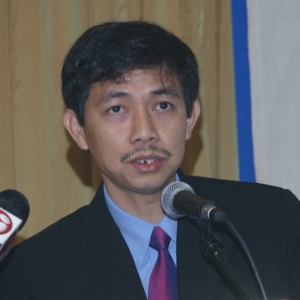 Tran Huynh Duy Thuc, blogger and entrepreneur, arrested May 24, 2009, and sentenced to 16 years in prison
Activists at Risk
Activist Nguyen Anh Tuan was detained by authorities on May 22 without an arrest warrant. He was interrogated for several hours and later released. Tuan is a well-known human rights, democracy, and land rights activist who has often been targeted by the authorities. In January, he was put under surveillance after the high-profile violent clash at Dong Tam Commune that resulted in the death of a local land rights leader.
Phung Thuy's health is improving after being harshly beaten by police. His daughter has been released from custody, however the authorities kept many of her personal belongings. In the afternoon of May 8, 2020, the authorities arrested Thuy, who delivers books for LPH. They interrogated and beat him while in custody. After Thuy suffered from low blood pressure, they allowed him to call his family to bring him food and medication. During this exchange, he was able to escape from their detention and go into hiding. His daughter, who went to visit him and bring medication, was detained by the police in a bid to force Thuy to surrender. In recent months, the authorities have launched a concerted crackdown on the LPH in a bid to crush reading of censored materials in the country; local authorities have detained and questioned authors, book distributors, and buyers, and have confiscated peoples' important personal documents.
The Death Penalty
Vietnam's National Assembly has announced that it will review Ho Duy Hai's death penalty case after a spate of publicity in recent weeks following the Supreme Court's denial of his appeal for his murder conviction. An Assembly committee will have special agencies investigate the case and provide recommendations. Two deputies in Vietnam's National Assembly had urged the assembly to review the case of Ho Duy Hai in light of the Supreme Court's decision. There are many outstanding questions in Hai's case, including the fact that no eye witnesses identified Hai and that no murder weapon was found nor any DNA evidence linking him to the murder. The public has long followed Hai's case and many have offered support in recent weeks for the government to intervene in the review process.
NEWS & ANALYSIS
Asean stays on the sidelines as South China Sea tensions mount, Nyshka Chandran, South China Morning Post, May 16, 2020: "Among Asean countries, Hanoi has been most vocal in its opposition to Beijing's claims and activities, followed by Manila. The remaining eight Asean members have remained largely reticent and when they have commented, remarks have focused on the importance of avoiding conflict and maintaining regional stability. Analysts believe that individual countries will not publicly quarrel with China for fear of affecting trade and investment ties, especially amid an economic downturn brought on by the coronavirus pandemic."
A Global Report Card on LGBTQ+ Rights for IDAHOBIT, Graeme Reid, Human Rights Watch, May 18, 2020: "In many parts of the world, LGBTQ+ people are shunned socially and marginalized economically. There is a strong correlation between abuse, discrimination and socio-economic status. The pandemic is likely to dramatically exacerbate this situation. When LGBTQ+ kids face bullying and discrimination in school, it can affect their performance and life chances, as evident in school climate studies in Japan, the Philippines, the U.S. and Vietnam."
Some thoughts on Vietnam's Covid-19 repression, David Hutt, Asia Times, May 22, 2020: "Third, while the government has performed comparatively well during this health crisis, and has won applause from the public, it will face an even more difficult challenge as the health crisis wanes and as more people come face to face with the economic crisis that will affect greater numbers of people. That said, let's return to the matter at hand. Throughout this crisis, and even despite the Communist government's more-than-usual transparency and openness about the problems faced, it hasn't stopped its policy of suppression."
Background Brief: Parsing Vietnam's Leadership Transition, Carlyle A. Thayer, May 22, 2020: "In eight months the VCP will hold its 13th National Congress in January 2021. This month the VCP Central Committee held its 12th plenum (11-14 May). This plenum focused mainly on editing and revising policy documents that spell out the criteria for leadership selection at the 13th congress. These documents will be reviewed by the Politburo and considered at the 13th plenum to be held later this year. This Background Brief speculates on who will occupy the 'four pillars' of national leadership in 2021 – party Secretary General, Prime Minister, state President, and Chair of the National Assembly."
TAKE ACTION
Call on Vietnam to stop its harassment of those involved with the independent LPH – people such as Phung Thuy, who was harshly beaten in early May for delivering sensitive books. Take action in support of the LPH by sharing Amnesty International's Urgent Action.
© 2020 The 88 Project
https://the88project.org/wp-content/uploads/2020/05/Pham-Chi-Thanh_Source-his-blog-via-RFA.jpg
350
622
kayleedolen
https://the88project.org/wp-content/uploads/2019/01/88project.png
kayleedolen
2020-05-25 16:42:37
2020-05-25 16:42:37
Vietnam Free Expression Newsletter No. 21/2020 – Week of May 18-24