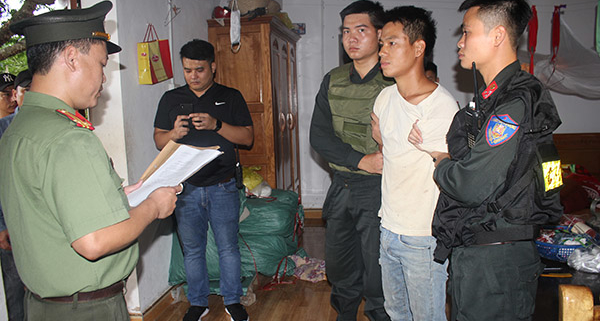 Vietnamese Authorities Arrest Six People in a Single Day During Already Tense Year for Journalists, Activists, and Online Commentators
Featured Image: Trinh Ba Tu's arrest, Source
On just a single day this month, the Vietnamese authorities arrested six people in the continuation of a crackdown on dissent that has escalated in recent months. At least eleven people have been arrested for their activism activities in total in June 2020. The majority of those arrested have been charged with Article 117 of the 2015 Criminal Code for "making, storing, distributing, or disseminating information and materials to oppose the State of the Socialist Republic of Vietnam." 
On June 24, authorities surrounded and stormed into Trinh Ba Phuong's home and arrested him and later his mother, Can Thi Theu (at a different residence). Theu is a former political prisoner (watch our interview with her about her activism, here) who has twice been jailed for her land rights activism, and Phuong is also a well-known activist who is very active in issues of land rights in his own community as well as advocating for the Dong Tam residents in the aftermath of the deadly police raid there in January 2019. Phuong's wife had given birth just a few days ago prior to his arrest. 
Police also searched a third member of the family's home– Trinh Ba Tu (Theu's son and Phuong's brother)– and arrested him. Tu is also engaged in land rights issues and commentary on the Dong Tam incident. All three members of the family have allegedly been charged under Article 117 but the government has only confirmed that Trinh Ba Tu is charged under Article 117. It is unclear where the three are being held. 
Police in Khanh Hoa province also arrested Facebooker Nguyen Thi Cam Thuy (b. 1976), a former teacher, on June 24 and charged her under Article 117. Further, police in Lam Dong arrested Vu Tien Chi on the same charge. Chi, a human rights activist, was harshly beaten in 2018 after visiting with a former political prisoner at their home. Lastly, also on June 24, police in Khanh Hoa province arrested Duong Noi land grab victim Nguyen Thi Tam, searched her house, and charged her under Article 117.
The six arrests on June 24 follow the June 12 arrest of prominent young activist Le Huu Minh Tuan, a member of the Independent Journalists Association (IJAVN). After the arrest of Pham Chi Dung, the president of the IJAVN, late last year, as well as the harassment against other members, Tuan was continuously targeted by the Public Security Bureau. Friends and family suggested that he temporarily withdraw from activism, but Tuan insisted that he did not do anything wrong and that he is ready to face the investigation agency. He too is charged under Article 117. 
One day after Tuan was arrested, police in Ho Chi Minh City arrested Huynh Anh Khoa and Nguyen Dang Thuong for their activities in an online discussion group. They have been charged with "abusing democratic freedoms" under Article 331 of the 2015 Criminal Code. Defend the Defenders reported that Khoa led a Facebook group called Economic-Political Discussion. — which was shut down after the arrests– with almost 50,000 users. 
Also this month, authorities in Kien Giang Province arrested six family members for their participation in a land dispute in a Khmer Krom community in May. The Khmer Krom, an ethnic minority group, have long faced harassment and discrimination from the state, and land rights disputes are common in the country, as no private land rights exist. While the other five people were released after interrogation, Huynh Dang Diep remains detained. On June 22, police from District 1 in Ho Chi Minh City arrested land petitioner Phan Thi Thanh Hong on charges of "causing public disorder" under Article 318 of the 2015 Criminal Code. 
And lastly, on June 23, the People's Court of Hoa Binh Province tried hairdresser and online commentator Nguyen Van Nghiem on the charge of Article 117 of the 2015 Criminal Code and sentenced him to six years in prison. Nghiem was arrested in late 2019 for his Facebook posts and live-streams dealing with issues such as sovereignty, anti-corruption, and human rights. Only his wife was allowed to attend the trial. 
It may be too early to determine the reasons for this crackdown, but many outside observers believe that it is related to the lack of international attention on Vietnam due to global concerns over the coronavirus and also a drive by Vietnamese politicians to consolidate political power ahead of the upcoming National Party Congress in January 2021. Thus, it is reasonable to believe that these types of arrests and trials will only continue as the year goes on. Vietnam arrested 41 individuals in 2019, tried 61, and perpetrated incidents of harassment against at least 84 activists. 
© 2020 The 88 Project
https://the88project.org/wp-content/uploads/2020/06/Trinh-Ba-Tu-Arrest_Source-Cong-an-nhan-dan-online.jpg
400
600
kayleedolen
https://the88project.org/wp-content/uploads/2019/01/88project.png
kayleedolen
2020-06-27 15:35:44
2020-06-27 15:39:11
Vietnamese Authorities Arrest Six People in a Single Day During Already Tense Year for Journalists, Activists, and Online Commentators