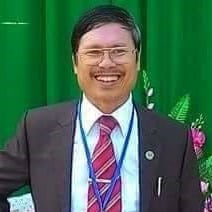 Vietnam Free Expression Newsletter No. 50/2019 – Week of December 9-15
Greetings from The 88 Project! We are bringing you news, analysis, and actions regarding human rights and civil society in Vietnam during the week of December 9-15. Retired teacher and pro-democracy activist Dao Quang Thuc died in prison this week of a brain hemorrhage and lung infection — he was only two years into a 13-year prison sentence for "subversion." The authorities are refusing to let Thuc's family bury his body in his hometown. In Loc Hung, where tensions have been growing since the January 2019 forced evictions, authorities this week destroyed the local nativity scene. And Vietnam has been listed again as one of the worst jailers of journalists. In some good news this week, activist Nguyen Thuy Hanh is the recipient of a human rights award for her work supporting political prisoners and their families with the 50k Fund. In the news, read about Vietnam's Internet control, Vietnam's role in the US-China trade war, and the Vietnamese regime's warnings against "self-evolution," as well as CIVICUS's report on the alarming number of activists imprisoned for "anti-state" Facebook posts over the last few months in the country. In case you missed it, check out the video highlights from our interview series with female activists — which we released in honor of Human Rights Day this week. And please take action in support of independent publishing in Vietnam by sharing Amnesty International and Human Rights Watch's joint statement on the harassment of the Liberal Publishing House.
HUMAN RIGHTS & CIVIL SOCIETY
Prisoners of Conscience
Retired teacher and pro-democracy activist 
Dao Quang Thuc
 passed away in prison this week, just two years into a 13-year prison sentence for "subversion." His 
official cause of death was
 a brain hemorrhage and lung infection. The family wishes to receive his body for a proper burial in their hometown, but the authorities have denied the request. Thuc was an elementary school teacher. He was arrested under Article 79 on October 5, 2017, in Hoa Binh province, on charges of subversion. He was known as an outspoken but peaceful and cheerful dissenter. He participated in a hunger strike with other prisoners earlier this year to protest the removal of fans during a serious heat wave. Thuc's death reminds the public of the fate of many other political prisoners including Truong Van Suong, Nguyen Van Trai, Huynh Anh Tri, Bui Dang Thuy, Dinh Dang Dinh, and most recently, 
Doan Dinh Nam
, who also suffered mysterious deaths in the regime's prisons.
This week, we remember the birthdays and arrest anniversaries of the following political prisoners:
Le Dinh Luong, Ho Dinh Cuong, and Le Thanh Tung
Activists at Risk
Pro-democracy group Viet Tan has awarded 
Nguyen Thuy Hanh
 the Le Dinh Luong Human Rights Award 
for her establishment of the 50k Fund
, which supports political prisoners and their families through monetary donations. It is unclear if Hanh will be able to accept her award in person in London, as travel restrictions are a common tactic used by the authorities to restrict activism efforts. Hanh is also involved in various other types of activism in Vietnam and was beaten in July while trying to visit political prisoners on hunger strike in Nghe An province.
Environmental Activism/Community at Risk
The builder's scaffolds were taken away. Source  Facebook Vuon Rau Loc Hung
On the morning of Sunday, December 8, 2019, a group of local public security officers arrived at Loc Hung vegetable garden to
 destroy a small constructed cave that displayed the nativity of Jesus Christ
. The authorities forcefully took scaffolds, destroyed the wooden structure, and injured many residents. The conflict ended around 4:00 pm on the same day, but three residents – Cao Thi Thu, Pham Trung Hieu, and Pham Duy Quang – were arrested and detained for over six hours by the public security of Ward 6, Tan Binh District, Ho Chi Minh City. Last week, residents also led a small-scale protest after authorities announced a plan for the development of the area and broadcasted messages with propaganda about the land plan. High-profile 
forced evictions
 in early 2019 left hundreds of Loc Hung residents – many of them political activists – homeless with neither compensation for the lost land nor the benefit of a resettlement program.
International Advocacy
Vietnam once again has been 
ranked as one of the worst global jailers of journalists
. The most recent report by the Committee to Protect Journalists lists twelve imprisoned journalists in Vietnam, second in Asia only to China. These twelve include 
Pham Chi Dung
, who was arrested in November after speaking out against the EU-Vietnam Free Trade Agreement. The 
agreement has come under further scrutiny
 this week as it was revealed that Member of European Parliament (MEP) Jan Zahradil, who is a major player in the negotiation of the agreement, may have a conflict of interest that was previously undisclosed.
NEWS & ANALYSIS
Minister of Propaganda Says Vietnam's Press Should Serve Party, Prevent "Self-Evolution,"
 Will Nguyen, The Vietnamese, December 9, 2019: "In particular, Thuong warned against signs of 'self-development' and 'self-evolution,' negative terms that refer to the shift towards liberal democratic values–values which are anathema to the ruling Communist Party. In this vein, Thuong took to admonishing journalists who lacked 'proper training' and were critical of society but not sufficiently critical of themselves. He also stressed the importance of proper training for leadership and suggested greater oversight of the Party committees and organizations involved in press organizations, particularly when it comes to adherence to Party regulations."
Vietnam struggles to stay a trade war winner, David Hutt, Asia Times, December 10, 2019: "While Trump is keen to trim the surplus, the State Department and Pentagon are apparently more focused on security matters, particularly vis-à-vis China. In recent years, Vietnam has grown into one of America's closest allies in Southeast Asia, with both sides sharing a common interest in checking China's expansionism in the South China Sea. US Secretary of Defense Mark Esper made his first visit to Vietnam in mid-November, just after Ross left the country, to reaffirm America's security ties with Hanoi. Esper announced that the US will transfer next year to Vietnam's navy a second Hamilton-class High Endurance Cutter, one of the largest in the US Coast Guard's fleet, a vessel that will bolster Hanoi's ability to patrol the South China Sea."
Vietnam's Internet Control: Following in China's Footsteps?
, Justin Sherman, The Diplomat, December 11, 2019: "In fact, some analysts have compared Vietnam's new law to China's internet governance regime, one that is marked by pervasive internet control, censorship, and surveillance. Freedom House 
labeled
 China the 'world's worst abuser of internet freedom' for the fourth year in a row. Vietnam isn't quite on the same level as China, but it appears that Vietnam's internet control is following in China's footsteps, despite some contention around other digital and geopolitical issues."
Alarming Number of Activists Being Jailed in Vietnam For "Anti-State" Facebook Posts, CIVICUS, December 13, 2019: "Over the last few months, activists, journalists and academics have been either arrested or jailed for their postings on Facebook critical of the regime. Many have faced politically motivated charges under Article 117 of the 2015 Penal Code for 'making, storing, spreading or propagating information, materials or items for the purpose of opposing the State of the Socialist Republic of Vietnam.' There is also concern about intimidation and harassment of a publishing house, the removal of anti-government postings by Facebook and the use of terrorism charges against political activists."
IN CASE YOU MISSED IT
Top row, from left: Pham Doan Trang, Ha Thuy Nguyen, Nguyen Thi Khiem Nhu
Second row: Nguyen Nguyen Binh, Chieu Anh Nguyen, Can Thi Theu
Bottom row: Dao Thu Hue, Cao Vinh Thinh
In case you missed it, December 10 was International Human Rights Day. We shared some highlights from our video interview series with Vietnamese female activists for the occasion. Check out the video compilation, 
here
! And, you can re-watch any of the full interviews by visiting the 
"Their Voices"
 section of our website or on our 
YouTube channel
.
TAKE ACTION
Amnesty International and Human Rights Watch 
released a joint statement
 in support of the Liberal Publishing House, an independent publisher that has been under pressure from authorities in recent months. The publishing house's staff, authors who publish with them, and book buyers themselves, have been subject to harassment from the authorities, including detention and interrogation. Please share the statement to call for an end to the harassment and protection of freedom of publication.
© 2019 The 88 Project
https://the88project.org/wp-content/uploads/2019/12/Dao-Quang-Thuc-1.jpg
212
212
kayleedolen
https://the88project.org/wp-content/uploads/2019/01/88project.png
kayleedolen
2019-12-16 14:32:22
2019-12-16 14:32:22
Vietnam Free Expression Newsletter No. 50/2019 – Week of December 9-15