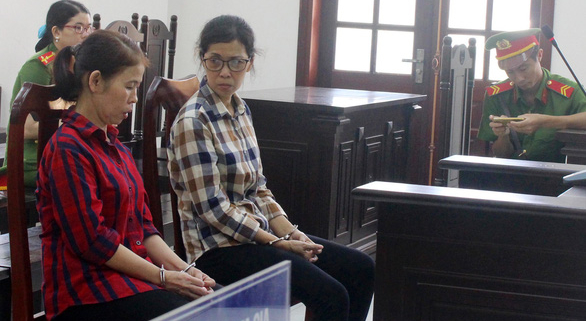 Vietnam Free Expression Newsletter No. 19/2019 – Week of May 6-12
Featured Image: Activists Vu Thi Dung and Nguyen Thi Ngoc Suong at trial this week in Dong Nai province, Source: Tuoi Tre Newspaper
Greetings from The 88 Project! We are bringing you news, analysis, and actions regarding human rights and civil society in Vietnam during the week of May 6-12. Two women were tried this week in Dong Nai province and sentenced to six and five years in prison. Imprisoned journalist Le Anh Hung was transferred back to a mental health hospital after an evaluation there in April. And political prisoner Huynh Duc Thanh Binh has still not been able to meet with his lawyer, ten months after his arrest. Several activists were harassed and arrested ahead of April 30. This week, we remember Nguyen Duy Son and Bui Hieu Vo on the anniversaries of their arrest and trial, respectively. We also bring you our full interview with dissident writer Pham Doan Trang, part of our new interview series with Vietnamese female activists. In the news, read about current US-Vietnamese relations and a follow-up in the kidnapping case of blogger Truong Duy Nhat from Thailand back to Vietnam. Please take action for Vi Tran, a partner of ours and founder of The Vietnamese news source, as she is suffering from health problems.
Please subscribe to the newsletter!
We also encourage you to check out our re-designed website and enhanced features if you haven't already!
HUMAN RIGHTS & CIVIL SOCIETY
Prisoners of Conscience
Source: Tuoi Tre Newspaper
On May 10, 2019, the People's Court of Dong Nai province held the first instance trial of Vu Thi Dung (54, living in Tan Phu District) and Nguyen Thi Ngoc Suong (52, living in Dinh Quan District) and sentenced them to six and five years in prison respectively. They were accused of "making, storing, spreading information, materials, items for the purpose of opposing the State of Socialist Republic of Vietnam," under Article 117 of the 2015 Penal Code. The two were accused of activities including reading anti-state content and inciting people to protest; they were tried without lawyers.


Political prisoner Le Anh Hung has again been sent to Central Mental Hospital No. 1 in Hanoi after being evaluated there in April. The reason for the most recent transfer is unknown. There are reports that he is being forcibly medicated. Hung is a journalist who was arrested in July 2018 and is awaiting trial under charges of "abusing democratic freedoms" under Article 331 of the 2015 Criminal Code.

Huynh Duc Thanh Binh, Huynh Duc Thinh, and Michael Nguyen
Authorities are refusing to allow student Huynh Duc Thanh Binh a visit with his lawyer, Nguyen Van Mieng, for alleged "national security reasons." Binh has been detained without trial for over ten months. Mieng stated that since the initial investigation period has ended, under Vietnamese law, authorities must allow Mieng to meet with his client. Binh's mother was able to visit him recently and reported he is in good health, but she was unable to obtain information on his case. Binh was arrested on July 7, 2018 in the same case as his father, former political prisoner Huynh Duc Thinh, US citizen Michael Nguyen, and Tran Long Phi.
Anniversaries of arrests and trials this week include:

Nguyen Duy Son, a former university employee arrested on May 9, 2018 (still in pre-trial detention) and charged with "abusing democratic freedoms" for his online postings, which authorities claim "distort, defame, and discredit leaders of the Party, State, and leaders of Thanh Hoa province."

Bui Hieu Vo, a blogger tried on May 9, 2018 and sentenced to four years in prison under Article 88 of the 1999 Criminal Code ("propaganda against the state") for Facebook posts deemed to have "distorted the political situation" and "incited public disorder."
Activists at Risk
Dissident writer Pham Doan Trang has a message for all women. "Our fight is not only against dictatorship, it's also a fight to free ourselves, from our own ideological constraints". We were honored to speak with her as our first interviewee in our video series with female activists in Vietnam. Watch the full video, here.

Former political prisoner Do Van Thai, Source: Facebook Do Van Thai
Like the crackdown on Vietnam's National Day, September 2, the authorities intensified harassment against activists prior to and after April 30. Facebooker Hoang Ngoc Quyen and former political prisoner Do Van Thai were early victims of this crackdown. Some other Facebookers arrested on the occasion of April 30 were Ngai Nam Tuoc (1978, real name Nguyen Dinh Khue), Las Plagas (1985, real name unknown), and Vy Bui (1983). Read more, here.
NEWS & ANALYSIS
To bait the EVFTA: Vietnam amends its Labor Code, translated on Defend the Defenders (from Viet Nam Thời báo), May 5, 2019: "[S]ince the end of 2018, there has been no progress in the amended Labor Code to match Vietnam's commitments to EU-Vietnam Free Trade Agreement's requirements."
How China sees Vietnam's tilt toward America, Asia Times, May 8, 2019: "China, Vietnam's largest trading partner and communist cousin, has long held sway in economics and politics, while Russia remains Vietnam's main military supplier. But in recent years relations with America have soared with rising trade, closer diplomacy and Washington's tacit vow to protect Vietnam's interests in the South China Sea vis-à-vis China's expansionism in the contested maritime area. That all raises questions about how China views Vietnam's closer relations with the US and what it might do in response."
Thailand Claims no Knowledge of Dissidents' Forced Return from Vietnam, Radio Free Asia, May 10, 2019: "Thai authorities on Friday denied knowledge about the possible extradition from Vietnam of three critics of Thailand's monarchy and military junta, in response to claims from human rights groups that the men were being held in Bangkok…The three had been arrested in Hanoi for illegal entry and using fake travel documents as they tried to flee persecution from Thai authorities… Thai authorities previously accused the three of violating the kingdom's strict Lese-Majeste law that criminalizes royal defamation and carries a prison sentence of three to 15 years if convicted."
US – Vietnam human rights dialogue 2019 will not be zero?, translated on Defend the Defenders (from Việt Nam Thời báo), May 11, 2019: "Vietnam's one-party authoritarian regime will host the bilateral human rights dialogue between Vietnam and the United States government scheduled in May 2019… Two years ago after U.S.-Vietnam Human Rights Dialogue 2017, Acting Assistant Secretary of State Virginia Bennett met up some prominent dissidents in Saigon at the premise of Consul General Mary Tarnowka… Bennett received false promises from Director General of the Department of International Organizations in the Vietnamese Ministry of Foreign Affairs, Pham Hai Anh, who repeated annually the same false commitments. And since then there were few achievements in Vietnam's poor human rights records."
IN CASE YOU MISSED IT
After months of hard work, we are excited to release our new website. The new website features additional tools and more information on activists at risk and political prisoners in Vietnam: An expanded Database of Persecuted Activists in Vietnam; an interactive Map of Human Rights Violations Incidents; and a News portal featuring latest news, analysis, newsletters, and translated materials from the ground. The Their Voices page features video interviews with activists in Vietnam, and the Take Action page compiles advocacy and assistance actions you can take to support the activists and their families. Read more about the new website and its features, here.
TAKE ACTION
Please consider contributing to the GoFundMe for Vi Tran. She recently suffered a brain aneurysm and has undergone several surgeries in Taiwan. Vi is the founder and principal author of The Vietnamese, an important news source focusing on human rights in Vietnam. The 88 Project often relies on the reporting of The Vietnamese in its own research.
© 2019 The 88 Project
https://the88project.org/wp-content/uploads/2019/05/Vu-Thi-Dung-and-Nguyen-Thi-Ngoc-Suong-at-trial-Source-Tuoi-Tre-190510.jpg
391
586
kayleedolen
https://the88project.org/wp-content/uploads/2019/01/88project.png
kayleedolen
2019-05-13 09:00:48
2019-05-13 13:40:26
Vietnam Free Expression Newsletter No. 19/2019 – Week of May 6-12