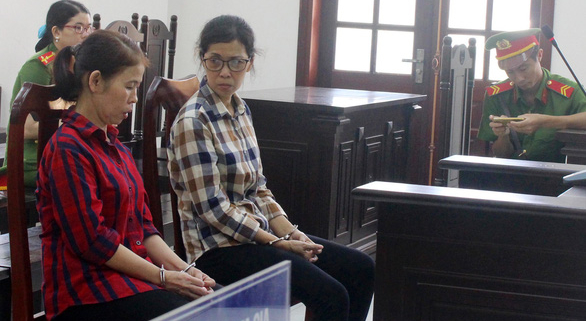 Two Female Activists Sentenced for Anti-State Propaganda Without Defense Counsel in Dong Nai Province
On May 10, 2019, the People's Court of Dong Nai province held the first instance trial against Vu Thi Dung (54, living in Tan Phu District) and Nguyen Thi Ngoc Suong (52, living in Dinh Quan District) and sentenced them to six and five years in prison respectively. They were accused of "making, storing, spreading information, materials, items for the purpose of opposing the State of Socialist Republic of Vietnam," under Article 117 of the 2015 Penal Code.
According to the indictment, Dung and Suong have used many Facebook accounts to read and listen to videos with "against the state" content between August and October, 2018. On October 13, 2018, they allegedly incited a demonstration against China and the bills on Special Economics Zones and Cybersecurity. In addition, Dung allegedly created leaflets with anti-state content, and asked Suong to join her in distributing them in the area of Dinh Quan Town, Dinh Quan District. Both were arrested during that time.
However, according to activist Tran Thu Nguyet, one of these women's families told her that on that day that she (one of two women) was arrested when selling bread in the market. The security forces brought her back to her house for searching the house and checking her phone. Although Nguyet recommended some lawyers to the families, the two women were tried without defense counsel. And their families, after sharing the information with Nguyet at the beginning, have since then stayed silent, most likely under the pressure from the authorities.
© 2019 The 88 Project
Sources: 
Tuoi Tre Newspaper, Hai bị cáo rải truyền đơn chống phá Nhà nước lãnh án tù, May 10, 2019
https://the88project.org/wp-content/uploads/2019/05/Vu-Thi-Dung-and-Nguyen-Thi-Ngoc-Suong-at-trial-Source-Tuoi-Tre-190510.jpg
391
586
Huong Nguyen
https://the88project.org/wp-content/uploads/2019/01/88project.png
Huong Nguyen
2019-05-11 02:55:32
2019-05-11 02:55:32
Two Female Activists Sentenced for Anti-State Propaganda Without Defense Counsel in Dong Nai Province