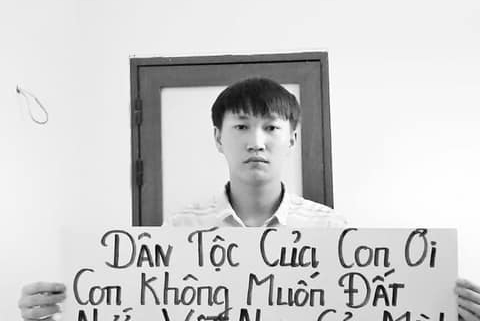 Fugitive-for-Freedom-of-Expression Arrested by Public Security of Ha Tinh Province
On November 19, 2019, young activist Phan Cong Hai was arrested in Ha Tinh province, after being wanted for six months by Nghe An provincial authorities for "producing, storing and disseminating information to oppose the people's regime" (Article 117, 2015 Criminal Code). The official "criminal conduct" for which he was wanted, according to the state's media, was "defaming the image of President Ho Chi Minh." The authorities also mentioned that Hai's Facebook posts contain reactionary elements, intentionally libeling and distorting historical facts, questioning the leadership role of the Communist Party in Vietnam, and affecting national security.
At 23 years-old, Phan Cong Hai has been managing several famous social media accounts named "Người Việt Xấu Xí", "Blogger Người yêu nước"… On his personal Facebook page, Hai writes many posts to express his concerns about the Vietnamese regime. The posts denounce human rights violations, poor economic management, and environmental pollution occurring in Vietnam. He was also outspoken on the East Sea conflicts between Vietnam and China.
Hai arrest was unknown to the public until an ultra-communist Facebook group called "Trung Đoàn 47" published a video of Ha Tinh public security interrogated him. No official state-owned media has reported about his arrest yet. His family has confirmed the arrest with The 88 Project. 
The arrest surprised people who know Hai. He was seeking refuge in Thailand for a while, but somehow the news emerged about his arrest in Vietnam. His family shared with The 88 Project that his mother is going to have surgery soon, and that is likely the reason for his return to Vietnam. It is also possible that the authorities have used or will use his mother's health situation to coerce him into confession. 
© 2019 The 88 Project
https://the88project.org/wp-content/uploads/2019/11/Phan-Cong-Hai-Picture-1-Source-Vo-Hong-Ly-190603.jpg
960
480
Huong Nguyen
https://the88project.org/wp-content/uploads/2019/01/88project.png
Huong Nguyen
2019-11-22 16:57:52
2019-11-22 16:57:52
Fugitive-for-Freedom-of-Expression Arrested by Public Security of Ha Tinh Province