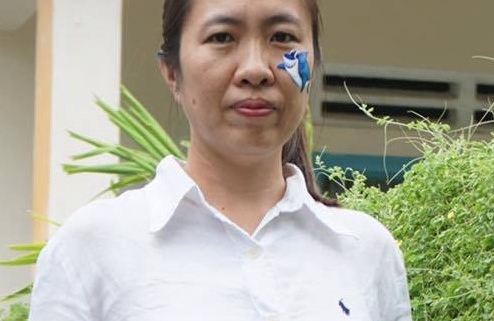 Update on Nguyen Ngoc Nhu Quynh, February 12, 2018
The 88 Project, February 12, 2018: On February 12, 2018, three days before the traditional New Year, Nguyen Ngoc Nhu Quynh's mother came to visit her in Khanh Hoa province prison, only to learn that her daughter had already been transferred to Prison No. 5 in Thanh Hoa province, more than a thousand kilometers away from her hometown. There was no prior written notice, not even a word in person when Quynh's mother visited her just a week ago on February 5.
Quynh, arrested in October 2016 and sentenced to 10 years in prison in June 2017 under Article 88 of the 1999 Criminal Code, is the single mother of two young children. Her own mother is now the main care-taker of Quynh's children and grandmother. The authorities know that by sending her from the South to the North, it will be very difficult to her family to see her, and that is probably their intention: to isolate Quynh from her own family, and thus, from the outside world. It is expensive, time-consuming, and tedious for visitors from the South to get there. They must fly to Hanoi and then take a long ride. The journey itself takes up a whole day each way, for only a brief visit of an hour, or, sometimes, 15 minutes.
Prison No. 5 in Thanh Hoa province is notorious for its harsh environment, especially for prisoners from the South who are not familiar with cold winters. Yet Quynh has been suffering from poor health, with curled up fingers and toes and difficulty sleeping at night from cramps due to the cold weather.  She also had an allergic reaction to prison medication, while the medication from her mother was denied by the prison authorities.
The 88 Project considers this transfer of Nguyen Ngoc Nhu Quynh to a remote prison a cruel treatment that intends to make Quynh suffer more emotionally and physically, by isolating her from her elderly mother and young children, and by putting her under harsh environmental conditions despite her existing poor health.
We call upon the international community to continue to demand to the Vietnamese government to free Nguyen Ngoc Nhu Quynh and all political prisoners immediately and unconditionally. At the very least, while Vietnam continues to deny the existence of political prisoners, the government must treat those who are detained under national security provisions in a humane and decent manner.
© 2018 The 88 Project
https://the88project.org/wp-content/uploads/2018/02/nguyen-ngoc-nhu-quynh-2.jpg
494
494
Huong Nguyen
https://the88project.org/wp-content/uploads/2019/01/88project.png
Huong Nguyen
2018-02-12 13:38:57
2019-04-30 15:56:30
Update on Nguyen Ngoc Nhu Quynh, February 12, 2018