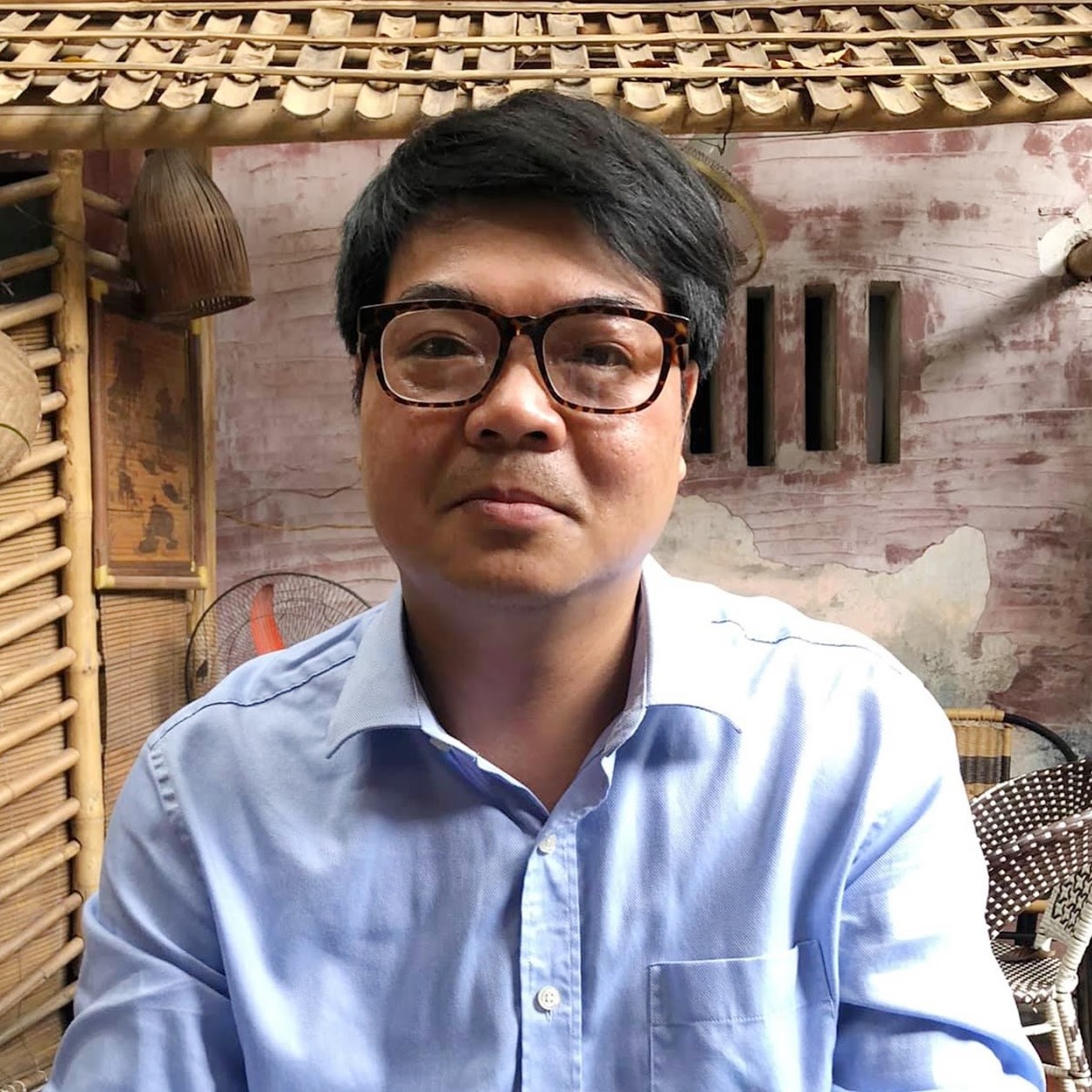 Vietnam 2021 Legislative Elections: Abuse Of Power Against Independent Candidates
Almost two months after Le Trong Hung's arrest, his wife, Do Le Na, who is blind, struggles with day-to-day tasks and to provide care for their two young children. Hung, 42, was arrested on March 27 for simply running for the National Assembly elections as an independent candidate.
Do Le Na and her children. Source.
Hung's application to run in the election as a self-nominated candidate. Source.
Hung first confirmed his independent run on March 14 via his Facebook account, with a photograph of his application. However, it took only two weeks after announcing his candidacy before the Public Security of Hanoi detained him. Several hours before he was arrested, Hung posted one update on Facebook, informing the public that he was with his children as many public security agents were following them.
Hung is not the only one who suffers from state abuse of power.
The crackdown on independent candidates started with a harassment incident targeting Le Van Dung, a.k.a Dung Vova, an outspoken activist living in Hanoi. Dung Vova announced in the middle of January that he was going to apply to run as a self-nominated candidate for the election, and the local authorities immediately responded.
On January 21, 2021, Hanoi Public Security officers surrounded the family's home and forced Dung's wife to open the door. They planned to arrest Dung, but it seems that Dung was aware that this would happen and so had stayed somewhere else.
Fortunately, Dung is still safe at the time of this writing. However, his application for candidacy in the election was rejected, as expected.
The next victim of this crackdown was Tran Quoc Khanh. Known for his live streaming on Facebook and commenting about the policies and the political system of contemporary Vietnam, Khanh became a target of the Ninh Binh Security Investigating Agency shortly after his announcement that he planned to run for a seat in the National Assembly on March 6, 2021.
Public Security also intensified a crackdown in the south.
From April 7 to April 10, the Binh Thuan provincial authorities harassed seven people in connection with their announcement that they would run in the election: Nguyen Van Son Trung, Nguyen Quoc Huy (aka Dong Chuong Tu), Luong Quang Bao, Tran Duc Tin, Nguyen Tuyet Na, Vo Van Tung, and Ha Huynh. According to our sources, three of them – Nguyen Tuyet Na, Vo Van Tung, and Ha Huynh —were able to avoid arrest by hiding before the police went to their houses.
Nguyen Van Son Trung was a political prisoner in 2000. After being released, Trung continued to actively fight against the many injustices in the country, such as in the Formosa toxic spill incident. He has been frequently detained and beaten by Binh Thuan police. Trung was released on April 14, after five days in police detention.
Poet Nguyen Quoc Huy, on the other hand, has no record of formal activism. However, police treatment of Huy has not been better or more transparent than that of known activists. He was detained for four straight days. Luong Quang Bao and Tran Duc Tin were detained respectively from April 9 to April 10 and from April 10 to April 12.
In Ho Chi Minh City, a former public security officer named Le Chi Thanh also applied to run as an independent candidate. Thanh was dismissed in 2020 for exposing corruption and misconduct of the leadership of Thu Duc Prison, Ho Chi Minh City. In a video uploaded on March 9, 2021, Thanh said that he had successfully submitted his application. However, only a month later, Thanh was swiftly arrested for resisting and obstructing an officer's duties at a traffic stop. While there are likely more arrests that will be discovered, the arresting of activists for unrelated crimes has been a familiar tactic of the regime, such as in the case of attorney Tran Vu Hai. The may be a connection between the arrest and his intention to run for the National Assembly.
Many independent candidates have also  withdrawn their applications for unknown reasons. For example, 14 self-nominated candidates in Hanoi withdrew their applications as of April 13. One trusted source revealed that he and another independent candidate had been pressured by public security to withdraw from the election.
Up until now, after hundreds of self-nominated candidates around the country have expressed their intention to run for the National Assembly, only nine of them were able to make it to the election. However, a closer look at the "independent candidates" shows that these candidates are actually connected with the Party in one way or another.
The above cases are just a snapshot of the overall political situation in the country.
This is not the first time that the Vietnamese government has shown its anti-democratic attitude by harassing activists trying to run for the National Assembly. But this is the first time independent candidates have been  subjected to arrests and detentions shortly after announcing their candidacy.
In the 2016 elections, candidates like Dang Bich Phuong were subjected to unreasonable and lengthy processes just to get their resumés approved by the local public security officers. Famous activist Nguyen Quang A, former attorney Vo An Don, and singer Mai Khoi, on the other hand, successfully went through the registration process, only to find themselves rejected in the "struggle sessions," officially known as pre-election negotiations, which are prepared by the Fatherland Front, a branch of the ruling Communist Party.
Pre-election negotiations (hiệp thương) are a form of primary election utilized to make sure that even the composition of local candidates is in accordance with the Party's plan. In 2016, these negotiations rejected the application of all of the independent candidates with justifications given such as taking issue with their "morals," "involvement in local affairs," that is, when a candidate had not been active and helpful in local affairs, and "law-abiding history," that is, when a candidate had participated in public protests. People with a history of participating in demonstrations were fiercely attacked in the negotiations.
However, while the above-mentioned discrimination was implicit and behind closeds door, the administration in 2016 at least tried not to blatantly crack down on and use criminal charges against citizens for exercising their basic political rights. However, the current administration has no respect for its own rhetoric.
Considering the consolidation of the conservative wing of the Communist Party in the 13th National Congress, and how the new leadership is treating the independent candidates for the National Assembly election, one can only predict that the fight for democratization and civil society in Vietnam for the next few years is going to be a tough one.
© 2021 The 88 Project
https://the88project.org/wp-content/uploads/2021/05/Le-Trong-Hung_Source-Nguoi-Viet_square.jpg
1254
1254
Huong Nguyen
https://the88project.org/wp-content/uploads/2019/01/88project.png
Huong Nguyen
2021-05-21 15:25:57
2022-06-12 13:11:10
Vietnam 2021 Legislative Elections: Abuse Of Power Against Independent Candidates