Do Nguyen Mai Khoi
Current Status: At risk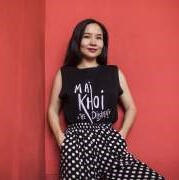 Other Names: Đỗ Nguyễn Mai Khôi, Mai Khoi
Date of Birth: November 12, 1983
Gender: F
Ethnicity: Kinh
Occupation: Musician
Areas of Activism:
Digital rights
Democracy
Freedom of expression
Human rights
March 2022:
Read an interview with exiled award-winning activist and singer-songwriter Mai Khoi on International Women's Day.
February 2022:
Do Nguyen Mai Khoi was named Laureate for Freedom of Speech Award 2022 by the Roosevelt Four Freedoms Award.
September 2021:
On September 20, 2021, artist/activist Mai Khoi performed a jazz show called "Bad Activist" in Pittsburgh, Pennsylvania, where she's currently an Artist Protection Fund Fellow at City of Asylum and the University of Pittsburgh. According to the program, the show "charts the extraordinary trajectory of Mai Khoi's life—from renowned Vietnamese pop star to dissident activist, fighting for artistic freedom in Vietnam and pitting herself against the strong arm of the communist government."
Details - Background, History of Activism.
Mai Khoi is the lead singer of Mai Khoi and The Dissidents, described by PEN America as "a group that could best be described as free jazz meets ethnic music."
Influenced strongly by her father, Mai Khoi started playing music at the age of 12 in Nha Trang province. In early December 2004, she released her first album with the musical style of renaissance and then became famous for her unique music, which was concerned more with expressing artistic emotion than obtaining fame or sticking to the status quo. Throughout her singing career, she has gained achievements, such as the Song and Album of the Year Award in 2010, but she also created controversy because of her social and political commentary and style. "To Vietnamese, I want them to understand what freedom of expression really means. If they don't agree about anything, let them come out in the streets with banners in their hands. To the international community, I want to encourage all people around the world, especially international media to pay attention to the human rights situation in Vietnam right now." -- Mai Khoi, 2017
January 2021:
Vietnam's Lady Gaga, Mai Khoi, settled into her 'Bad Activist' role as a Scholar at Risk at the University of Pittsburgh, where she's been since November of 2020. Read all about the singer-songwriter and freedom fighter here.
February 2021:
Mai Khoi is a fellow in residence at University of Pittsburgh as part of the Artist Protection Fund. Mai Khoi became an activist several years ago to protest the censorship of artists. At Pitt, she has been working on a performance piece called "Bad Activist". She has plans to take this show on the road once the pandemic ends.
With her increasing popularity, Mai Khoi became the only celebrity in Vietnam talking about sexuality, LGBT rights and violence against women. Over time, her musical style shifted from that of pop hits to dissident folk songs. As a result of peacefully exercising her right to publicly express her opinion, she has been evicted from her home without being allowed to collect her possessions, stalked, harassed and arbitrarily detained. Her concerts have also been raided by security forces.

Mai Khoi usually uses her music to express her thoughts on social grievances and the desire for freedom for the Vietnamese. She also fights for an uncensored art environment, where artists are able to compose freely and pioneer for musical innovation; for example, combining traditional Vietnamese instruments with Western music or inviting ethnic minority musicians to be part of a pan-Southeast Asian orchestra.
In 2016, Mai Khoi applied to run as a National Assembly member with the three main focus areas of domestic violence, gender inequality, and creating a fresh and liberal art environment. She also ran on a platform of pro-democracy. Her nomination stirred controversy about youth political involvement and resulted in her roundtable meeting with Former US President Barack Obama, in which they discussed Vietnam's human rights issues. Though she was unfairly rejected from running in the elections in rigged vetting process, she continued establishing herself as a dissident musician.
During the APEC Summit in November 2017, she protested US President Donald Trump by holding up the sign "Piss on you Trump" as his motorcade passed. Mai Khoi's protest was a reaction to Trump's racism and sexism, as well as his failure to recognise civil society and discuss human rights when he visited Vietnam. Mai Khoi was evicted from her apartment two times, once following her anti-Trump protest. Several months later, Vietnam officially responded to the UN's concerns regarding the behavior of the government towards her. In the response, the government denied evicting Mai Khoi for political reasons, as well as denied that they have prohibited her musical performances.
Mai Khoi was also detained by authorities for eight hours in March 2018 after arriving home from a European tour publicizing her new album, "Dissent." See the Incidents section of this profile for more details. Here, she discusses the impact of the album. "Dissent is just as important musically [as it is politically], because this is a new direction," she said in a recent interview.
On May 30, 2018, Mai Khoi received the Vaclav Havel International Prize for Creative Dissent by the Human Rights Foundation, based in New York, in the Oslo Freedom Forum. Amnesty International recognized Mai Khoi as one of "12 inspiring human rights activists to follow in 2018." She was also PEN America's January 2018 Featured Case, and IFEX also released an interactive feature, "10 acts of artistic rebellion," which highlighted Mai Khoi and the stories and works of artists worldwide who have recently faced imprisonment, harassment, or other risks for their activism. Khoi is currently the subject of a feature-length documentary that is planned to air on Netflix in 2019. In October 2018, she called on Facebook to ensure protection of freedom of expression as it works out new cybersecurity policies with the Vietnamese government and continues to expand its business there.
March 27, 2018: detained for eight hours after European tour
Detention
March 27-28, 2018
Public security
Noi Bai International airport, Ha Noi (
map
)
freedom from arbitrary arrest or detention
liberty and security of the person
freedom of expression
freedom of movement
In the beginning of March 2018, Mai Khoi was invited to the Czech Republic to be a judge for One World Film Festival, which is the largest human rights documentary film festival in the world. Mai Khoi performed two songs, "Xin ong" (Please, sir) and "Em la cua anh roi" (I am yours now) at the opening day of the festival on March 5, also the day they awarded the Homo Homini Human Rights Award to Vietnamese journalist Pham Doan Trang.
Mai Khoi's European tour was in honor of her releasing her 8th album, "Bat Dong" or "Dissent," which includes her song "Please, sir." This song is about her requests to Communist Party leaders to allow Vietnamese people the freedom to sing, publish, share, and travel.
Mai Khoi was detained at the airport in Hanoi after landing back in Vietnam. She was later released on March 28, and she wrote on Facebook that she had been asked many private question such as: where did she go, who did she meet, what did she do or say, etc. She was not allowed to use her phone while being detained by security police, and her person and individual belongings, even her diary, were searched. She also had to sign a form that wrote the official reports on her detention before her release.
Her new album "Dissent" was considered as the main reason for her detention on March 27.
Profile last updated: 2022-09-12 17:39:59