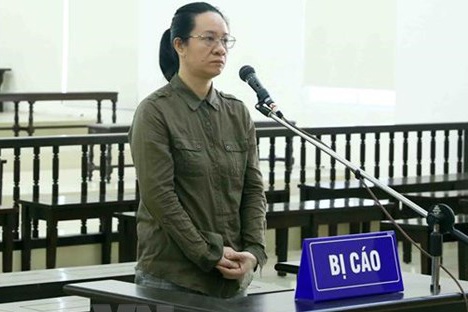 Environmental Leader Nguy Thi Khanh Receives Slight Reduction of Sentence in Political "Tax Evasion" Case
Above: Nguy Thi Khanh at her appellate trial in Hanoi on November 21, 2022, Source: VNA via Zing News
Award-winning environmentalist Nguy Thi Khanh will have her prison sentence reduced by three months.
On November 21, Khanh's sentence was reduced from 24 months to 21 months by an appellate court in Hanoi.
Khanh, one of Vietnam's most prominent environmental experts, was sentenced to two years in prison in June on "tax evasion" charges. Khanh is the first Vietnamese person to receive the prestigious Goldman Environmental Prize, in 2018, which came with a $200,000 prize. The tax evasion charge stems from the fact that Khanh failed to pay about $18,000 in taxes (10% of the prize). Khanh has said she was unaware of the tax obligation on the prize money. The reduction in her sentence was reportedly attributed to her admission of failure to pay the tax and her many contributions to society.
There is evidence to suggest that Khanh's arrest and prosecution are politically-motivated. An outspoken critic of the use of coal, Khanh joined three other anti-coal environmental activists– Mai Phan Loi, Dang Dinh Bach, and Bach Hung Duong— who were convicted earlier this year on similar charges and handed multi-year sentences.
Vietnam's tax laws for registered NGOs are confusing and cumbersome. Further, Khanh, like her counterparts, faced criminal, not civil proceedings, which have been supervised by state security. Khanh also did not receive notice of need for repayment prior to her arrest. The cases raise flags of a widening crackdown on civil society groups that contradicts Vietnam's public rhetoric on the importance of fighting climate change.
Vietnam's jailing of climate leaders seems to have been at least partly the reason why international donors recently awarded Indonesia, instead of Vietnam, with billions of dollars to fight climate change. If Vietnam is serious about its commitments to an energy transition, it cannot continue to hold its most valuable environmental voices behind bars nor force NGOs to navigate perplexing tax laws. We call on Vietnam to clarify its tax laws and to release Khanh, Duong, Loi, and Bach immediately. We will continue to closely monitor these cases until their release.
© 2022 The 88 Project
https://the88project.org/wp-content/uploads/2022/11/Nguy-Thi-Khanh-appeal-hearing_Source-VNA-via-Zing-News.jpg
312
468
kayleedolen
https://the88project.org/wp-content/uploads/2019/01/88project.png
kayleedolen
2022-11-21 19:33:26
2022-11-21 19:33:26
Environmental Leader Nguy Thi Khanh Receives Slight Reduction of Sentence in Political "Tax Evasion" Case