Vietnam Free Expression Newsletter No. 21/2021 – Week of May 24-30
Greetings from The 88 Project! We bring you news, analysis, and actions regarding human rights and civil society in Vietnam during the week of May 24-30, 2021. Election enforcers harassed the wife of a jailed independent candidate. A political prisoner was mysteriously injured in his cell. An independent blogger escaped arrest by not being at home when police showed up at his house. A former reporter for Voice of Vietnam detained since last May was finally allowed to see a lawyer. Democracy author Pham Doan Trang celebrated her birthday behind bars. The US Secretary of State spoke with his Vietnamese counterpart while the Chinese Defense Minister visited Vietnam as the battle for alliances heats up in the Indo-Pacific region. After initially successfully controlling COVID-19, cases in Vietnam are now rising, jeopardizing economic growth. Last but not least, don't miss the highly intriguing interviews with English subtitles at the end.
HUMAN RIGHTS & CIVIL SOCIETY
Political Prisoners
Do Na Le, the visually-impaired wife of Le Trong Hung, was given a citation for not going to the polls in the recent National Assembly election. Her husband is in pretrial-detention for running as an independent candidate; he was charged with "abusing democracy." Na said that she was harassed for days by election enforcers who called, sent messages, and then finally showed up at her house with the citation, which she could not read due to her condition. They demanded that she cast her ballot.
Journalist Pham Chi Thanh, aka Pham Thanh, was finally allowed to see a lawyer for the first time since his arrest in May 2020. According to attorney Ha Huy Son, the 69-year-old was in good health. But his family said he had earlier fallen and hit his head on the cement floor, which required stitches. Thanh is a retired reporter and editor for the state-controlled Voice of Vietnam Radio. He has written many books and articles critical of the Communist leadership, and is being charged with "anti-state propaganda." If convicted, he could face up to 20 years in prison.
Hanoi police on May 26 tried to arrest independent journalist Le Dung Vova at his home for alleged "anti-state propaganda" but Dung was not at home at the time and as of now is still at large. Dung's wife, Bui Thi Hue, said the police came to their house, read the warrant and, not having found Dung there, confiscated a laptop and two mobile devices. On May 25, Dung posted on Facebook saying he'd received several "invitations" to go to the police station for interrogation, but he'd refused to do so.
This week we remember the birthdays, arrests, and trial anniversaries of the following political prisoners:
International Advocacy
Former Political Prisoner Ho Van Hai was allowed to come to the US even though technically still has two years of probation left. Hai was arrested in 2016 and spent four years in prison for "anti-state propaganda." Through an undisclosed agreement with the United States, the Vietnam government allowed Hai to leave the country. It is not known what the conditions were for his release. He arrived in Dallas-Fort Worth, Texas on May 10, 2021.
NEWS & ANALYSIS
Secretary of State Antony J. Blinken spoke with Vietnamese Foreign Minister Bui Thanh Son, US State Department, May 27, 2021: "Secretary Blinken and Foreign Minister Son celebrated the strength of the U.S.-Vietnam Comprehensive Partnership and reaffirmed our shared commitment to protecting and preserving the rules-based order in the South China Sea.  The Secretary and the Foreign Minister also discussed ongoing concerns regarding the military coup in Burma and commitments to addressing climate change and tackling COVID-19.  Secretary Blinken emphasized U.S. commitment to ASEAN centrality, the Mekong-U.S. Partnership, and support of a strong, prosperous, and independent Vietnam that respects human rights and the rule of law."
Chinese President Xi Jinping calls for greater cooperation with Vietnam after leadership overhaul, Sarah Zheng, South China Morning Post, May 25, 2021: "Late last month, Chinese Defence Minister Wei Fenghe became the first senior Chinese official to visit the Southeast Asian nation following the leadership change. The two sides vowed to work more closely to manage their territorial disputes in the South China Sea, an issue that has long weighed on the relationship between the two countries. Beijing's recent attempts to improve relations with Hanoi come as Washington tries to deepen its own relations with the country, resulting in an invitation for Vietnam to join meetings with the Quad – an Indo-Pacific strategic grouping formed by the US, Australia, India and Japan."
The Gulf Between Chinese and Vietnamese Alliance Policies, Ngo Di Lan, The Diplomat, May 27, 2021: "Hanoi, on the other hand, is wary of military alliances because historical experience has taught Vietnamese leaders that an alliance may exacerbate a worsening security situation rather than deterring potential threats. After all, war with China broke out in 1979, shortly after Vietnam and the Soviet Union signed their mutual defense treaty. Furthermore, as China had shown during the Vietnam War,  great power allies readily sell out their smaller partners when the strategic situation changes. It is therefore in the interest of every small state to maintain an independent foreign policy whenever possible."
Freedom Of Speech In Vietnam: Where Government Is The Boss, Hoai Huong, The Vietnamese, May 25, 2021: "The VCP always regurgitates the idea that the people are masters of Vietnam. But in reality, the Party and the government behave like they are the bosses of the people. At a moment's notice, they are ready to punish a particular civilian if he/she criticizes them. Here, the VCP shows its true colors; party leaders are the true masters of the land and not a government whose primary responsibility is to serve the people."
Vietnam coronavirus outbreak threatens to disrupt tech supply chain, Phuong Nguyen/James Pearson, Reuters, May 28, 2021: "A rapidly spreading COVID-19 outbreak has left factories operating below capacity in Vietnam's industrial northern provinces, where suppliers for Apple, Samsung and other global tech firms are located, industry sources said. After successfully containing the new coronavirus for most of last year, Vietnam is now battling an outbreak that is spreading more quickly. More than 3,000 people have been infected in 30 of its 63 cities and provinces since late April. The capital Hanoi, and the southern business hub of Ho Chi Minh City, have shut restaurants and banned public gatherings."
IN CASE YOU MISSED IT
Friends and colleagues of Pham Doan Trang have created a webpage for her birthday which you can visit here.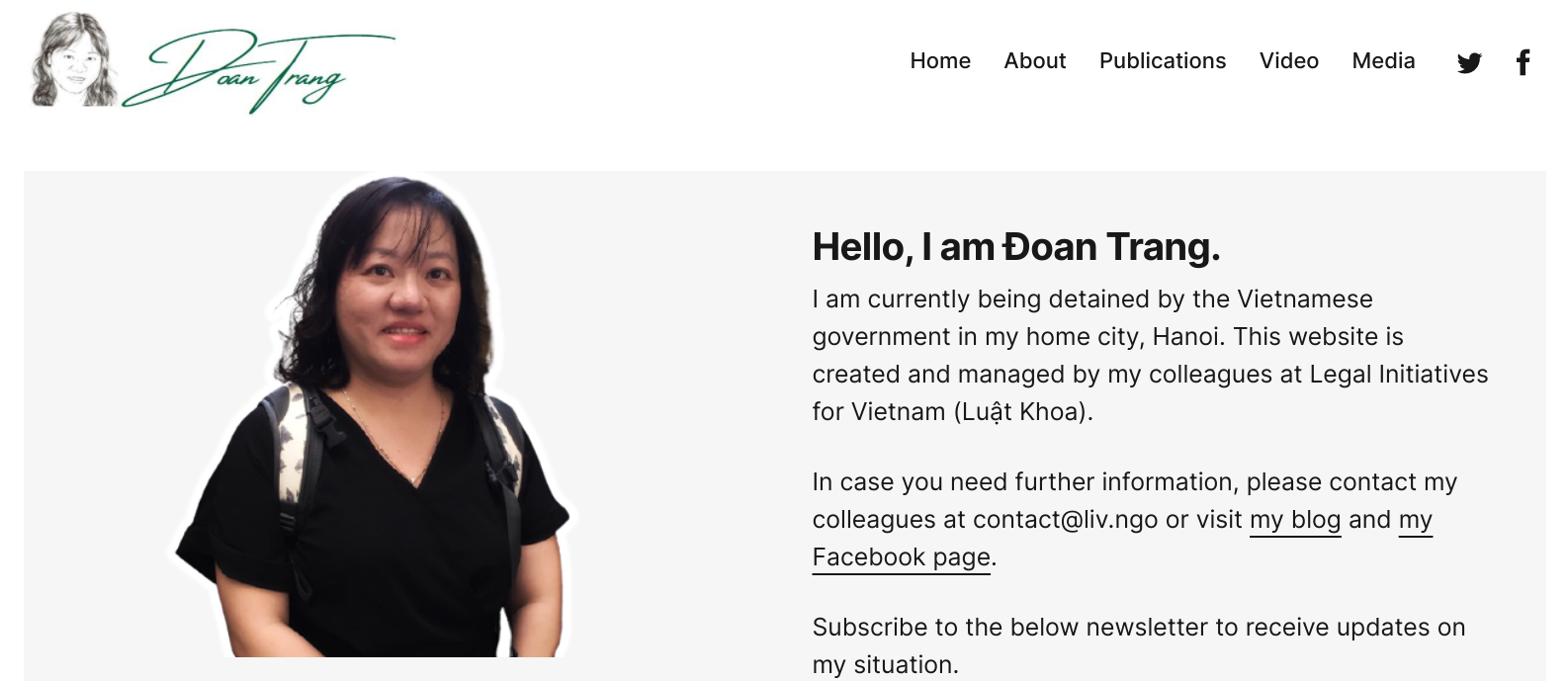 TAKE ACTION
https://the88project.org/wp-content/uploads/2020/05/Pham-Chi-Thanh_Source-his-blog-via-RFA.jpg
350
622
comms
https://the88project.org/wp-content/uploads/2019/01/88project.png
comms
2021-05-31 08:42:56
2021-05-31 08:42:56
Vietnam Free Expression Newsletter No. 21/2021 – Week of May 24-30