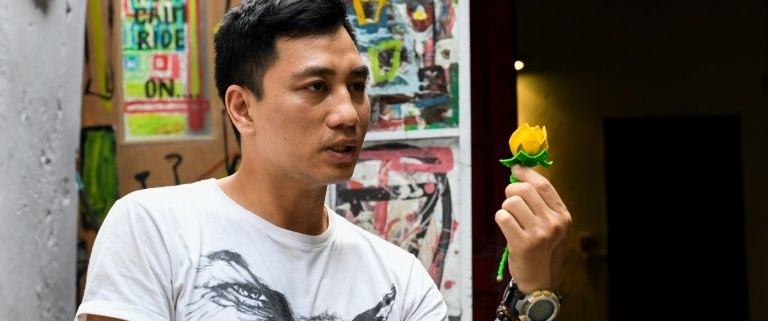 Vietnam Free Expression Newsletter No. 43/2019 – Week of October 21-27
Featured Image: Nguyen Thinh, Source: AFP Photo/NHAC NGUYEN
Greetings from The 88 Project! We are bringing you news, analysis, and actions regarding human rights and civil society in Vietnam during the week of October 21-27. Nguyen Ngoc Anh will face an appeal trial on November 7, and his wife was called in for police questioning this week. Hoa Hao Buddhist Nguyen Hoang Nam stopped his hunger strike after six days. Jailed pro-democracy activist Nguyen Van Tuc is still suffering from multiple health ailments. And it's now confirmed that Facebooker Nguyen Duc Quoc Vuong, who was arrested suddenly on September 23, is detained in Trai Mat prison in Lam Dong province. Filmmaker Thinh Nguyen was detained and questioned this week; though released, he still faces high risk of re-arrest. The US rejected Ha Van Thanh's request for asylum after his role in the 2016 Formosa protests. In the news, read about disturbing trends in the trafficking of Vietnamese migrants to the UK, new EU-Vietnam defense ties, and the latest developments in the East Sea maritime sovereignty dispute. In case you missed it, we released our full interview with activist and teacher Dao Thu Hue. Watch it here! And please take action for Nguyen Thinh by sharing the news about his detention and calling on the international community to speak out on his behalf.
HUMAN RIGHTS & CIVIL SOCIETY
Prisoners of Conscience
Political prisoner 
Nguyen Ngoc Anh
's appeal 
trial will be held
 on November 7, 2019. Lawyer Dang Dinh Manh just received the announcement from the People's Supreme Court of Ho Chi Minh City on October 22, 2019. Nguyen Ngoc Anh was charged under 
Article 117
 of the 2015 Penal Code for "making, storing, spreading information, materials, items for the purpose of opposing the State of Socialist Republic of Vietnam" and sentenced to six years in prison. He has been facing serious mistreatment in prison, including death threats, possibly at the command of prison authorities. His wife is also being targeted by the authorities. On October 23, 2019, Nguyen Thi Chau had a 
meeting with Ben Tre province police
, as requested by the police department. She refused to give the police more than one hour of her time unless they paid her money to cover the time she might lose. 
The police were concerned
 about her activities with the Wives of Political Prisoners Group. They warned her not to provoke the government by wearing a Hoang Sa – Truong Sa T-shirt or answering interviews from Radio Free Asia. However, Chau was very firm about exercising her freedoms, and she insisted on doing whatever legal activities she could to help secure her husband's release from prison.
On October 25, 2019, political prisoner 
Nguyen Hoang Nam
 stopped his 
hunger strike after six days
. He went on a hunger strike to protest against being transferred to a new cell with prisoners convicted of drug charges. After six days, the prison managers moved him back to his old cell, so he stopped his hunger strike. Nam is a Hoa Hao Buddhist serving a four-year prison sentence.

On October 20, 2019, Bui Thi Re, political prisoner Nguyen Van Tuc's wife, went to visit Tuc in Prison 6, Nghe An province. According to Re, Tuc was very weak, and he still has to take medicine because of his cardiovascular disease. His high blood pressure and hemorrhoids are also problematic. Tuc has been suffering from health issues for many months and is only about two years into his 13-year sentence. Tuc is a member of Brotherhood for Democracy.

On October 22, 2019, political prisoner Nguyen Duc Quoc Vuong's family finally had a visit record book provided by Trai Mat prison, Lam Dong province. Nguyen Quoc Duc Vuong, or Facebooker Vuong Nguyen, was suddenly arrested on September 23, 2019. At 11:00 AM, hundreds of public security officers raided Vuong's house in Lac Lam Commune, Don Duong District, Lam Dong Province and took him away in handcuffs in front of his father and siblings. The public security also confiscated Vuong's cell phone and laptop before leaving. Vuong is detained under investigation for "making, storing, spreading, or propagating information, materials, items for the purpose of opposing the State of Socialist Republic of Vietnam," under Article 117 of the 2015 Criminal Code.
This week, we remember the trial anniversaries and birthdays of the following political prisoners:
Phan Kim Khanh, student activist and blogger, sentenced to six years in prison on October 25, 2017: Read our translations of some of his recent letters from prison, here.
Le Trong Cu, birthday October 20, An Dan Dai Dao Buddhist arrested in the "Council for the Laws and Public Affairs of Bia Son" affair and sentenced to 12 years in prison
Activists at Risk
Thinh Nguyen, an independent artist and film-maker, was 
detained without a warrant on October 25
 after police searched his house. He was released the same day but is still facing a high risk of re-arrest. Police confiscated many of his electronics and other materials. Thinh produces video interviews on politically contentious issues and is a member of the Green Trees environmental
group. Several of its members have been harassed and questioned in recent months.
The US has rejected 
Ha Van Thanh
's application for asylum and 
deported him back to Vietnam
. Thanh feared arrest for his role in protests following the 2016 Formosa environmental disaster. Many others affiliated with the protests have been harassed or jailed. Despite presenting documents from the Vietnamese authorities requesting him for questioning on the protests and having evidence he'd been beaten by the Vietnamese authorities, Thanh's asylum request was denied. Thanh left Vietnam in May 2018 and journeyed through several countries before reaching the US.
On October 15, activist Vu Huy Hoang was 
detained and questioned by police
 while trying to deliver books from unsanctioned publisher Liberal Publishing House. He reports that he was beaten while detained. He was returned home later in the evening after ten hours of questioning but was placed under surveillance. He managed to escape the surveillance and has now gone into hiding.
International Advocacy
Local Catholic leader Father Dang Huu Nam, community members, and relatives of political prisoners 
met with a US diplomat in Nghe An province this week
. They pressed the US to take action against Vietnam for its religious persecution and to call for the release of political prisoners. Father Dang Huu Nam was one of the community leaders involved in post-Formosa actions after the 2016 toxic waste spill affected many residents in Nghe An and other areas.
NEWS & ANALYSIS
The Significance of the New EU-Vietnam Participation Framework Agreement
, Prashanth Parameswaran, The Diplomat, October 22, 2019: "Strategically, for the EU, the agreement provides yet another concrete example of its increasing role as a security player in the region. The agreement gives the EU its first FPA partner in Southeast Asia and its fourth in the Asia-Pacific region (after Australia, New Zealand, and South Korea). For Vietnam, it reinforces Hanoi's approach of strengthening ties with a range of major powers including the EU, despite challenges that EU-Vietnam ties continue to face on issues such as human rights."
South China Sea: The Disputes and Southeast Asia's Culture of International Law, Pham Ngoc Minh Trang, The Diplomat, October 22, 2019: "Those countries also have a convenient tool to solve their regional disagreements: ASEAN. Indeed, the friendly and partnership environment of a myriad ASEAN meetings could be better for negotiation between relevant disputed states. Besides, according to article 23 of the ASEAN Charter, member states can request the chairman or the secretary-general of ASEAN provide good offices, conciliation and mediation. Therefore, it is tenable to argue that ASEAN countries should settle disputes among themselves in the South China Sea first, especially delimiting their maritime borders. This practice will help them to build up more weight on the negotiation table with Beijing."
Boom or bust: Hanoi pollution crises expose growth risks
, Channel News Asia, October 23, 2019: "A major mercury leak, tap water contamination, and "alarming" levels of haze – several pollution crises in Hanoi have sparked public fury and accusations that communist Vietnam is putting the economy ahead of the environment […] The water crisis – and the government's slow response to it – sparked a flurry of online protest from locals, many still relying on bottled water more than 10 days after the oil dump."
Chinese ship leaves Vietnam's waters after disputed South China Sea surveys, Khanh Vu, Reuters, October 24, 2019: "The Chinese vessel, the Haiyang Dizhi 8, was speeding away from Vietnam's exclusive economic zone towards China on Thursday under the escort of at least two Chinese ships, according to data from Marine Traffic, a website that tracks vessels. China claims almost all the energy-rich waters of the South China Sea but neighbors Brunei, Malaysia, the Philippines, Taiwan and Vietnam also have claims. Tension between Hanoi and Beijing escalated when China sent the vessel to conduct seismic surveys in waters off Vietnam in early July. The foreign ministry in Hanoi has repeatedly accused the vessel and its escorts of violating Vietnam's sovereignty and has demanded China remove its ships from the area."
Lorry deaths: Migrants are promised the earth but the reality is grim, Richard Ford and Adam Sage, London Times, October 25, 2019: "In the nine years to 2018, the latest period for which figures are available, 3,187 Vietnamese adults and children were referred to the UK authorities as potential victims of human trafficking. Last year 484 of the 702 referred were for labour exploitation, 92 for sexual exploitation, 22 for domestic servitude, one for organ harvesting and 103 for unknown exploitation. Half of those referred were children. Gangs promise the migrants a job in a 'medicinal herbs plantation' and a salary of up to up to £36,000 a year, Ms Tan's report said. When they get to Britain, they discover that the plantation is in fact a cannabis farm. Some are unaware that the activity is illegal."
IN CASE YOU MISSED IT
"If I see something that's wrong, I have to point it out." It takes strength and courage to be an activist in Vietnam. Teacher 
Dao Thu Hue
 is one of the women we spoke to about the lifestyle of a female activist – 
watch the full interview
 now!
TAKE ACTION

Nguyen Thinh, Source: AFP Photo/NHAC NGUYEN
Take action for artist and filmmaker Nguyen Thinh after his detention this week to protect him from further harassment or re-arrest. Please share 
this article about his detention
, and call upon the international community and concerned individuals and organizations to speak out about his arbitrary detention to let the Vietnamese government know that they can no longer take such unlawful actions without domestic and international attention and condemnation.
© 2019 The 88 Project
https://the88project.org/wp-content/uploads/2019/10/Nguyen-Thinh_AFP.jpg
512
768
kayleedolen
https://the88project.org/wp-content/uploads/2019/01/88project.png
kayleedolen
2019-10-28 13:30:47
2019-10-28 04:05:29
Vietnam Free Expression Newsletter No. 43/2019 – Week of October 21-27