Vietnam Free Expression Newsletter No. 9/2023 – Week of February 8 – March 5
Greetings from The 88 Project. We bring you news, analysis, and actions regarding human rights and civil society in Vietnam during the week of Feb 26 – Mar 5. Vietnam's National Assembly unanimously rubber stamped the appointment of a new president, ushering in an era of more of the same, according to analysts. A recently released political prisoner recalls the harrowing experiences he faced in prison. A female prisoner is suffering from uterine fibroids. The line between civil and criminal courts continues to get blurred as more individuals get caught up in a celebrity's Article 331 case. Meanwhile the deputy prime minister goes on the offense, addressing the UN Human Rights Commission, reassuring the Commission that Vietnam values and adheres to UN-recognized human rights conventions and norms. The anti-corruption campaign brings unexpected negative consequences as projects get delayed or remain unapproved by fearful officials.

HUMAN RIGHTS & CIVIL SOCIETY
Political Prisoners

Nguyen Van Dien (left) with blogging partner Vu Quang Thuan
Political prisoner Nguyen Van Dien, sentenced to six and a half years for spreading "anti-state propaganda" according to Article 88, was released six months early on Feb. 22. Dien told RFA he believes his release was because he decided to confess. Dien said he suffered extremely harsh treatment in Thanh Hoa Prison No. 5, including being kept in a windowless cell and experiencing long periods of solitary confinement for staging hunger strikes to protest the conditions. Dien was part of a group that ran a YouTube channel reporting on human rights violations, illegal land grabs by the state, corrupt officials, etc. Several others from Dien's group have also been convicted according to Article 117. Dien will remain on probation for four years. We are working to further investigate these claims of prison conditions at Prison No. 5 and will update readers as we receive new information.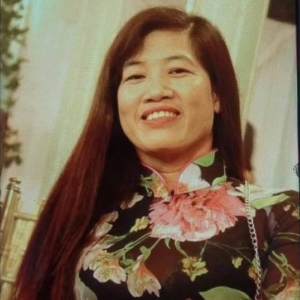 Nguyen Thi Tam
Land rights activist, Nguyen Thi Tam, who is serving a six-year sentence in Gia Lai province, is in ill health. Her daughter, Nguyen Thi Mai, told Project 88 that a hospital doctor had diagnosed her with uterine fibroids. Due to severe blood loss, Tam was transported to a local emergency room on Feb. 28– unaccompanied by medical staff– where the physician gave her the same diagnosis. However, she was not allowed to remain there for further evaluation or treatment and was sent back to prison the same day.
At a press conference on March 3, General To An Xo, political commissioner for the Ministry of Public Security, said the recent spate of arrests related to Nguyen Phuong Hang's case is a reminder that "even though citizens are free to propagate information, such information must be based on official sources and adhere to moral and cultural standards, not encouraging hate or violence and not violating the law." Last week, one journalist and two lawyers were arrested after they were countersued by Phuong Hang and charged with "abusing democratic freedoms." Curiously, when journalist Han Ni was sued by Phuong Hang in February last year, the police refused to take up the case, calling the matter a civil dispute that didn't belong in the criminal court system. It's not clear what has changed since that time.
International Advocacy
Civil groups urged the European Parliament to step up pressure on Vietnam to improve its dismal human and labor rights records during a review of the implementation of the European Union-Vietnam Free Trade Agreement.
The U.S. Commission on International Religious Freedom (USCIRF) will hold a talk titled "Conversation: Rising Authoritarianism in ASEAN Member States" on Wednesday, March 8, 2023 at 10 a.m. Washington time. Register here.
NEWS & ANALYSIS
Vietnam parliament elects new president Vo Van Thuong. Al Jazeera; Mar 2, 2023: Vietnam's National Assembly has confirmed Vo Van Thuong as the country's new president, in a reshuffle of the country's top leadership amid a sweeping anti-corruption campaign. In an extraordinary session on Thursday, legislators confirmed Thuong, 52, as president after the ruling Communist Party nominated him on Wednesday as the sole candidate. . . . A total of 487 out of 488 deputies present at the National Assembly voted for Thuong, the state-run Viet Nam News reported.
What recent changes at the top mean for Vietnam. Le Hong Hiep, The Interpreter; Feb 27, 2023: In terms of foreign policy, the departure of Western-trained deputy prime ministers Minh and Dam should not be interpreted as Vietnam moving closer to China. Rather, Vietnam has no choice but to continue its foreign policy of "diversification and multilateralisation", striving to maintain a delicate balance between China and the United States and its allies. This is not only to help Vietnam avoid being entangled in the intensifying US–China strategic rivalry, but also because both the United States and China, as Vietnam's largest export and import market respectively, are equally important economic partners that play vital roles in helping the CPV fulfill its primary domestic mission of providing economic growth.
What's Behind Vietnam's Expanding Anti-Corruption Fight. Philip J. Heijmans and John Boudreau, Bloomberg; Mar 3, 2023: Anti-corruption steering committees have been formed and operate in every city and province, while a national steering committee is developing an anti-corruption strategy through 2030. Party chief Trong, in a November speech, again urged officials to be persistent, determined, and to act faster in the fight against corruption. Prime Minister Chinh in October called for the anti-graft campaign to be more drastic and effective. However, there has been an unintended consequence. Bureaucrats are shying away from approving investment projects, particularly in the real estate and infrastructure sectors, for fear they could be the next to get implicated.
Vietnamese Skeptical of Government's Crackdown on Scandals. VOA News; Mar 3, 2023: "Vietnam has so many problems right now, not to mention tensions out there at the sea. People need to have a comfortable life. When people are poor, the country can't be strong. We're behind others on many things. The people are being intimidated, and we dare not speak up. If we speak up, we'll get arrested. So nobody dares speak," [Nam] said. . . . "As far as I'm concerned, people have not been happy with our leaders, the recent prime ministers, presidents … their actions just don't match their words," war veteran Tran Thanh said.
Deputy PM addresses 52nd session of UN Human Rights Council. Vietnamnet; Feb 27, 2003: Deputy Prime Minister Tran Luu Quang attended the opening ceremony and delivered remarks at a high-level discussion of the 52nd regular session of the UN Human Rights Council (UNHRC) in Geneva, Switzerland, on February 27. In his speech, Deputy PM Quang said the Universal Declaration of Human Rights (UDHR) and the Vienna Declaration and Programme of Action (VDPA) on human rights are solid frameworks for the international community to jointly enhance awareness and action to promote and protect human rights, and that many important achievements have been obtained over decades. However, those achievements are facing increasingly fierce challenges such as wars, conflicts, violence, poverty, inequality and injustice, natural disasters, epidemics, climate change, environmental degradation, food security and water security-related risks, and consequences of the COVID-19 pandemic, he pointed out.
IN CASE YOU MISSED IT
A draft national action plan on Responsible Business Practices – including provisions for environmental protection, labor, and human rights according to international trade agreements – was published on the website of the Ministry of Justice and addressed to the Prime Minister. It requests that the plan be approved without further changes. One of the primary building blocks for the plan is "the Party's directive for free-market economic development with socialism as orientation." Comments from the public are due on March 10.
© 2023 The 88 Project
https://the88project.org/wp-content/uploads/2021/03/Nguyen-Thi-Tam_Source-her-Facebook.jpg
538
538
kayleedolen
https://the88project.org/wp-content/uploads/2019/01/88project.png
kayleedolen
2023-03-07 21:33:07
2023-03-07 21:33:07
Vietnam Free Expression Newsletter No. 9/2023 – Week of February 8 – March 5