Vietnam Free Expression Newsletter No. 37/2022 – Week of September 26-October 2
Greetings from The 88 Project. Yet another Facebook user was arrested for their posts.  Political prisoners are deliberately sent to prisons far away from their homes, making life miserable for their families. Police forcibly took hair and saliva samples of members of a religious group in Long An Province. A prominent lawyer and his family were prevented from emigrating after they'd already checked in their bags at the airport. A famous Vietnamese-American singer had her mic cutoff, figuratively and literally, shortly before her appearance at the Hanoi Opera House. Vietnam has launched a charm offensive to lobby for a seat on the Human Rights Council. The international community continues to highlight Vietnam's violations of citizens' rights. The World Bank predicts Vietnam will grow faster as China's economy continues to decelerate; this could give the Party more clout to ignore human rights provisions in trade deals with the West. Four traffic cops in southern Vietnam were caught on camera brutalizing two teenagers for alleged traffic violations, causing a swift uproar online.
HUMAN RIGHTS & CIVIL SOCIETY
Political Prisoners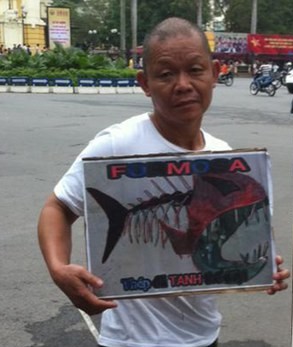 Nguyen Minh Son at a 2016 protest, Source: Son Nguyen via Radio Free Asia
Nguyen Minh Son, 61, a Facebooker who participated in many street protests in the past, was arrested in Hanoi and charged with spreading anti-state propaganda. According to Hanoi police, a video he posted last December violated the law. However, the content of the video is not known since it's been removed from his Facebook account.
About 50 police from Long An Province entered Bong Lai Temple on September 24 and forced its residents to give them hair and saliva samples against their will. Dang Dinh Manh, a lawyer who was called by temple members to the scene, was prevented from reaching the site. Manh said the police had set up three separate checkpoints on the road leading to the temple. He believes the samples might be used for DNA testing to find possible blood relations between members. He also noted that the police did not leave any documents or warrants with the residents.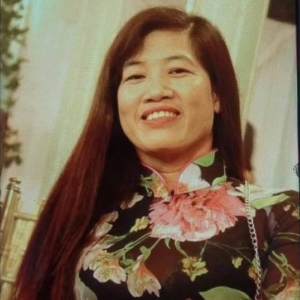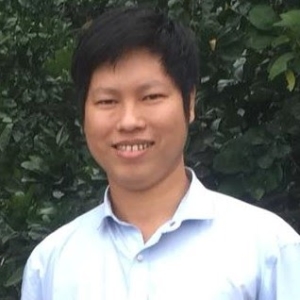 Nguyen Thi Tam and Trinh Ba Phuong
The family of Nguyen Thi Tam reported that she was sent to Gia Trung Prison, 1,200 km from her home in Hanoi, on September 21. This will make it more difficult and costly for them to visit her. Arrested in June 2020, Tam was convicted in December 2021 of violating Article 117 (anti-state propaganda) and was sentenced to six years in prison for helping Dong Tam villagers after their commune was attacked by police in January 2020.
On the same day, Trinh Ba Phuong, another person charged with violating  Article 117 in connection with the Dong Tam case, was sent to An Diem Prison in Quang Nam Province, 800 km from his home in Hoa Binh Province. Phuong's wife, Thu Do, told RFA that it took her family 29 hours and millions of Dong to visit Phuong last week. They believe this is another form of punishment against not only political prisoners but also their families.
At Risk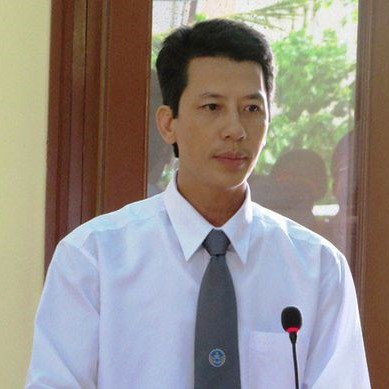 Vo An Don
Prominent human rights lawyer Vo An Don and his family were stopped from boarding a flight to the United States just as they were about to board their flight to emigrate to the United States seeking political asylum. Don had been barred from practicing law for the past five years after he successfully defended families of victims who died in police custody. Don said he would now sue the government for violating his freedom of movement; his biggest concern now is whether his children will be allowed to return to school.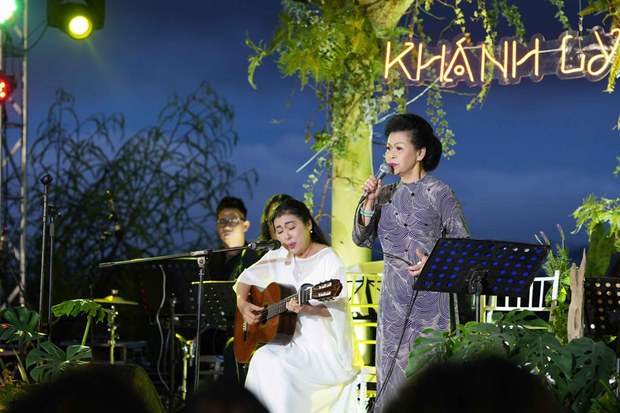 Khanh Ly performing in Da Lat in June 2022, Source: Viettel Media via RFA Vietnamese
Well-known Vietnamese-American singer Khanh Ly, an icon in South Vietnam during the war, had her farewell tour in Vietnam abruptly canceled by the authorities in Hai Phong and Hanoi. The venues where she was to play her last two shows were suddenly closed for "electrical repairs." Our own investigation found that news articles about the tour and cancellations were removed from state-run media despite glowing reviews of her previous shows.
The People's Court of Quang Nam Province has rejected the lawsuit of Father Dinh Huu Thoai, assistant pastor of the Tien Phuoc Parish in Quang Nam Province. Father Thoai sued the provincial government in March 2020 for fining him after he posted a comment about the government's handling of COVID-19. The court concluded that the suit was meritless because Thoai's post contained "misinformation that caused confusion and anxiety amongst the people and parishioners."
International Advocacy
The government of Vietnam has proposed a new project which is aimed at communicating about what it calls "the rights of human beings," as opposed to simply human rights. The project has three main goals: educate the public about the rights of humans; publicize the government's achievements; counter alleged misinformation about human rights practices in Vietnam. The project will be administered by the Ministry of Public Security.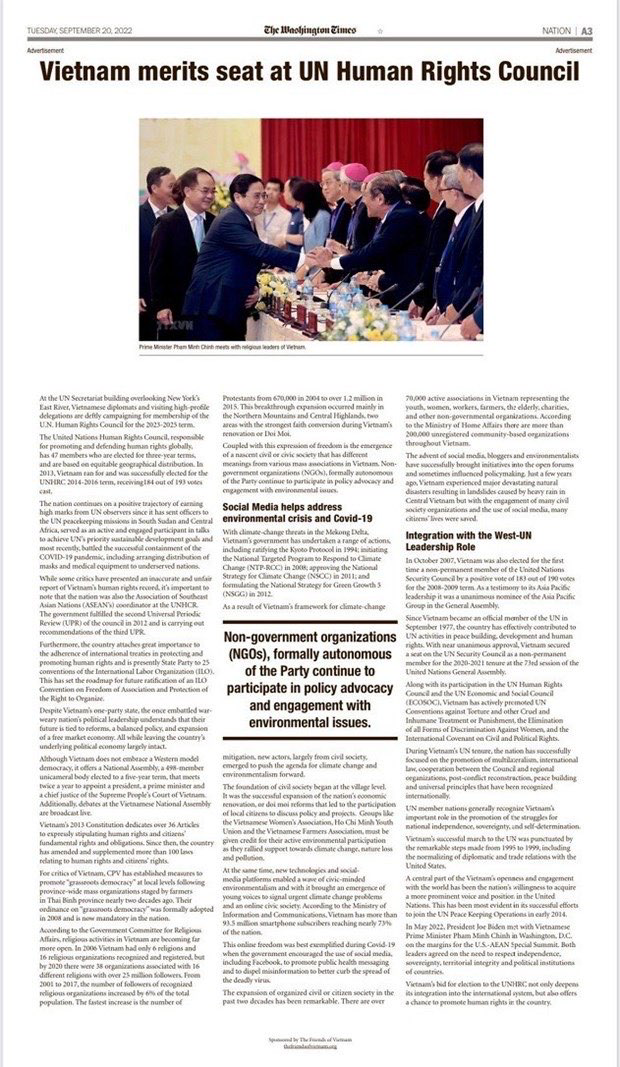 The advertisement in favor of Vietnam's ascension to the Human Rights Council
Part of an opinion piece by James Borton in favor of Vietnam's ascension to the Human Rights Council was used (without proper accreditation) in an advertisement in the Washington Times on September 20. The ad was paid for by an entity called "Friends of Vietnam," whose origins are unclear. In a news item posted online ten days later, state-run Vietnam Plus describes it thus: "The Washington Times has published an article in which it supports Vietnam's candidacy for the United Nations Human Rights Council.
The EU Domestic Advisory Group (DAG) has issued a formal statement to the EU-Vietnam FTA regarding Vietnam's compliance, part of which reads: "The harassment of human rights defenders, civil society leaders and journalists based on the arbitrary use of the overly-broad wording of the Penal Code and the Tax Law, has already been denounced by the EU, as well as by UN human rights monitoring mechanisms, including by the UN Human Rights Council (HRC) and the Working Group on Arbitrary Detention (WGAD). The EU DAG insists that EU officials and representatives should be allowed to visit prisoners and observe trials (emphasis ours), by submitting specific requests to the Vietnam authorities.,"
Attorney Ngo Ngoc Trai sent a petition to Vietnam's top leaders requesting that the practice of shackling prisoners be stopped in order to bring Vietnamese law in line with international laws against cruel treatment. The petition has been signed by over 30 lawyers.
An early version of the UNHCR's report on the Rights of the Child for Vietnam has been posted. It contains specific recommendations regarding civil society and free speech, including urging Vietnam to: "(a) Ensure that civil society organizations and human rights defenders, including child human rights defenders, are able to promote children's rights and exercise their right to freedom of expression and opinion without being subjected to harassment; … (c) Promptly and thoroughly investigate all allegations of intimidation and threats directed at human rights defenders, including child human rights defenders, and their families, and ensure that they have adequate access to justice and are protected from harassment, intimidation, retaliation and violence."
NEWS & ANALYSIS
Four cops suspended for beating up two boys in southern Vietnam. VN Express; September 28, 2022: Four policemen captured on CCTV camera in the southern Soc Trang Province brutally beating up two boys with batons and helmets have been suspended. The five-minute video, which went viral on social media Wednesday, is said to show a yard in the southern province's Vinh Chau Town where the incident happened Sunday. Two police officers are seen chasing after two boys riding a motorbike. The police get off their bike and start raining blows on the men, who do not seem to resist or fight back.
Vietnam Becomes Asia's Economic Leader as China's Growth Decelerates. Sebastian Strangio, The Diplomat; September 28, 2022: Vietnam is projected to become the fastest growing economy in Asia this year, amid a regional downturn led overwhelmingly by China's sharp economic deceleration, according to the World Bank. In its most recent economic outlook report for East Asia and the Pacific, published yesterday, the World Bank forecast these regions to grow by 3.2 percent in 2022, down from 7.2 percent in 2021, before accelerating to 4.6 percent in 2023.
Vietnam to restrict which social media accounts can post news. Rita Liao, Tech Crunch; September 28, 2022: Vietnam's restriction on social media news dissemination is reminiscent of a recent move by China to crack down on unauthorized news publishers. Last year, Beijing said social media accounts posting news must hold the relevant media licenses. Press accreditation in China is almost exclusively reserved for state-owned outlets, meaning the millions of content creators would have to shun all things newsworthy. Indeed, some have likened Vietnam's grip over the internet to China's censorship model.
IN CASE YOU MISSED IT
Jessica Nguyen, The 88 Project's Advocacy Officer, attended the UN Responsible Business and Human Rights Forum in late September. She shared her experience with us: "I think that the forum successfully enabled a safe space for civil society organization representatives and defenders to exchange lessons learned, ideas, and insights for a better implementation of the UN Guiding Principles on Business and Human Rights (UNGP) with each other, as well as with the UN Working Group on Business and Human Rights, and with other UN agencies. Importantly, the platform helped CSOs and defenders have a better understanding of the different engagement opportunities with the UN Working Group and other relevant UN agencies, such as submitting individual cases to special procedures, providing information and analysis on specific human rights concerns, and providing support for special procedures' country visits.
TAKE ACTION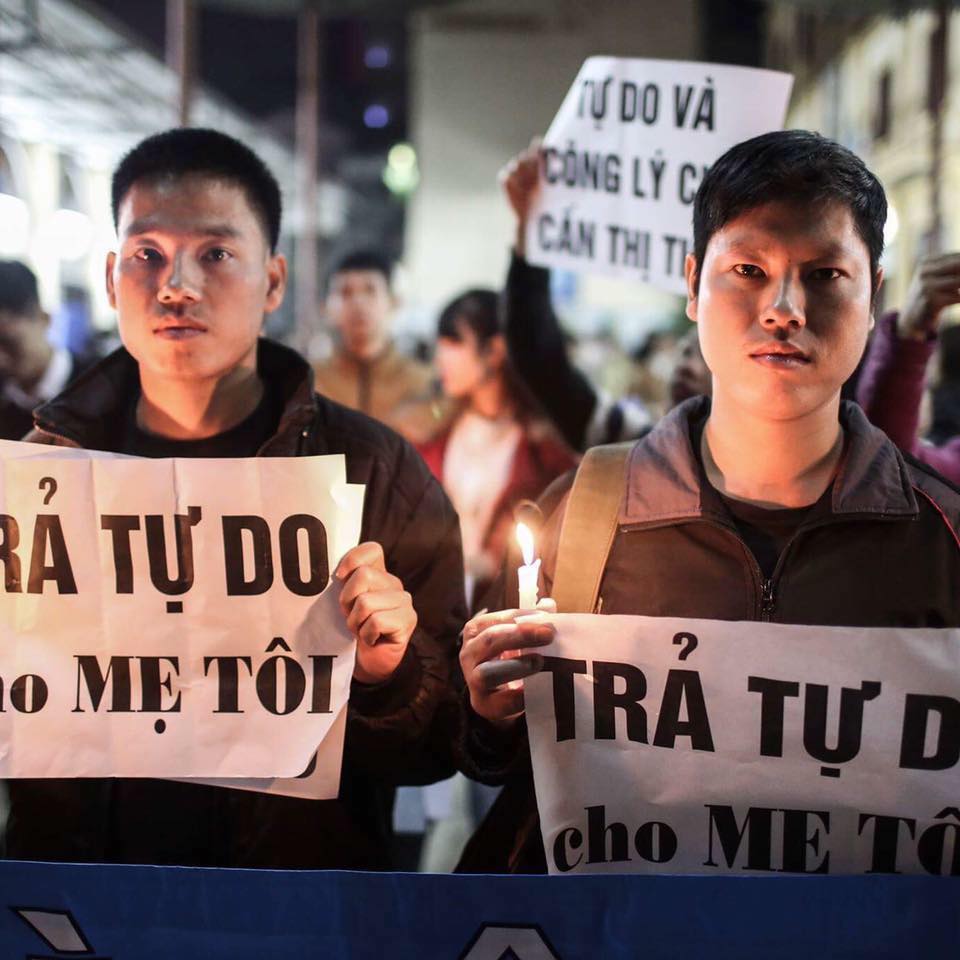 Imprisoned land rights activists and brothers Trinh Ba Tu (left) and Trinh Ba Phuong
Take action by sharing Amnesty International's call for investigation into the serious allegation that prison officials at Nghe An's Prison No. 6. tortured imprisoned land rights activist Trinh Ba Tu. "Being beaten, placed in solitary confinement and shackled for days on end amounts to torture or other ill-treatment. Authorities in Viet Nam must urgently investigate these allegations and any perpetrators must be held accountable," said Ming Yu Hah, Amnesty International's Deputy Regional Director for Campaigns.
© 2022 The 88 Project
https://the88project.org/wp-content/uploads/2022/10/Nguyen-Minh-Son-2016-protest_RFA-via-Son-Nguyen_square.jpeg
347
293
kayleedolen
https://the88project.org/wp-content/uploads/2019/01/88project.png
kayleedolen
2022-10-03 21:55:39
2022-10-04 16:31:58
Vietnam Free Expression Newsletter No. 37/2022 – Week of September 26-October 2