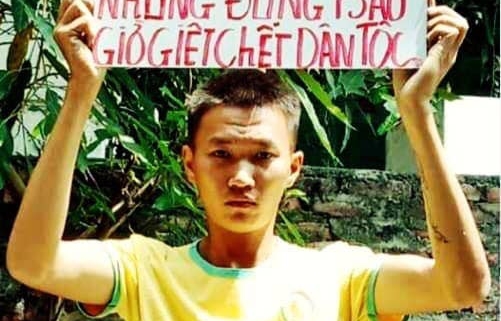 Vietnam Free Expression Newsletter No. 47/2019 – Week of November 18-24
Featured Image: Young activist Phan Cong Hai, Source: Vo Hong Ly
Greetings from The 88 Project! We are bringing you news, analysis, and actions regarding human rights and civil society in Vietnam during the week of November 18-24. On November 21, dissident journalist Pham Chi Dung was arrested and charged with conducting propaganda against the state. Just two days prior, authorities arrested young activist Phan Cong Hai, who had been wanted for six months, on the same charge. And coming up this week, blogger Pham Van Diep will face trial under the exact same charge for his writings and participation in peaceful protests. Ha Van Thanh, an environmental activist who was deported back to Vietnam after the US rejected his asylum claim, is now behind bars in Vietnam and may be in a precarious situation. Also this week, a Catholic priest was barred from leaving Vietnam to attend a mass by the Pope in Japan. In news and analysis, read about the latest in US-Vietnam naval relations and opinions on the proposed EU-Vietnam Free Trade Agreement and the arrest of Pham Chi Dung. In case you missed it, we released our full-length interview with female environmental activist Cao Vinh Thinh. Please take action for Pham Chi Dung by sharing the Committee to Protect Journalists' statement calling for his immediate release.
HUMAN RIGHTS & CIVIL SOCIETY
Political Prisoners
Prominent dissident journalist 
Pham Chi Dung
 was 
arrested by the public security of Ho Chi Minh City
 on November 21. He is charged under Article 117 of the 2015 Criminal Code for alleged propaganda against the state. While 
state media
 asserts that he has participated in "very dangerous and serious conduct that negatively affects national social stability, public order of Ho Chi Minh City," they can only point out one fact to support that accusation: that he established and organized a "civil society organization." In December 2013, Dung 
resigned from the Communist Party
 after being a member for 20 years. In 2014, he established and became the chairman of 
the Independent Journalists Association of Vietnam
, an organization of independent reporters who advocate for freedom of the press, freedom of expression, and democracy. Dung has long been a prolific writer, having contributed work to well-known international outlets like the BBC and Voice of America, as well as popular blogs. He also has a PhD in economics and often pens commentary on social and economics issues in Vietnam; just before his arrest, 
he had written on Vietnam and the proposed EU-Vietnam Free Trade Agreement
, which he urged EU officials not to ratify given Vietnam's current human rights situation.
Authorities also arrested
 young activist 
Phan Cong Hai
 in Ha Tinh province on November 19, after being 
wanted for six months by Nghe An provincial authorities
 for "producing, storing and disseminating information to oppose the people's regime," per Article 117 of the 2015 Criminal Code. Authorities allege he "defamed" the image of Ho Chi Minh and also that the contents of his Facebook account–where Hai posts commentary on issues such as human rights, corruption, and the environment–are harmful to national security. No official state-owned media has reported about his arrest yet. The 88 Project has confirmed the arrest with his family. The arrest 
surprised
 people who know Hai. He was seeking refuge in Thailand for a while, but somehow the news emerged about his arrest in Vietnam. His family shared with The 88 Project that his mother is going to have surgery soon, and that is likely the reason for his return to Vietnam.
Blogger 
Pham Van Diep
 will face trial on November 26, 2019 in Thanh Hoa province under Article 117 of the 2015 Criminal Code for alleged propaganda against the state. Diep, who lived in Russia until 2016, has long been a commentator on Vietnamese social and political issues, a supporter of political prisoners, and a protester in public demonstrations. For these peaceful activities, he has been targeted by authorities in recent years with detentions and travel restrictions, and most recently, arrest and prosecution. Human Rights Watch has called for 
Diep's immediate release
.
Ha Van Thanh
, an environmental activist who was involved in protests after the 2016 Formosa environmental disaster, has been 
detained and possibly subjected to physical violence in prison in Nghe Anh province
, according to his family. Thanh was deported back to Vietnam in October after a months-long journey to the US, where his case for asylum was rejected. His family was not immediately notified of his re-arrival Vietnam and later found out that he had been arrested. According to Radio Free Asia, Thanh's wife was threatened not to share any documents regarding her husband's case and not to communicate with Catholic priest Nguyen Dinh Thuc about the case either. His wife also reported that she saw Thanh confess to human trafficking in a video of a police interrogation, but that the video seemed off. Forced, filmed confessions are not an abnormal occurrence in the one-party state, raising questions about the credibility of the alleged taped confession.
This week, we remember the birthday and arrest anniversaries of the following political prisoners:
Huynh Thuc Vy, co-founder of Vietnamese Women for Human Rights, birthday November 20, sentenced to almost three years in prison, which she will have to serve once her youngest child turns three years old
A Quyn, Montagnard Christian activist, arrested November 18, 2013, and sentenced to nine years in prison
Tu Thien Luong, Nguyen Thai Binh, and Phan Thanh Y
Activists at Risk
Authorities 
banned Catholic priest Nguyen Dinh Thu
c from leaving the country this week to attend a special mass by the Pope in Japan. He was stopped at the airport in Hanoi and denied the right to travel due to "national security" concerns, according to a letter seen by AFP. Thuc had advocated for those affected by the 2016 Formosa environmental disaster, which left many coastal fishermen without livelihoods.
Vietnamese activists sent an open letter to the government this week pressing it to cease harassment against activists who wear "No-U" t-shirts. The "No-U" shirts protest China's maritime claims in the South China Sea; police often harass, question, or even detain activists seen wearing the shirts in public.
NEWS & ANALYSIS
Persecuted Vietnamese Catholics 'honoured' to glimpse Pope Francis in Thailand
, Channel News Asia, November 19, 2019: "The US State Department lists Vietnam as a 'country of particular concern' on its religious freedom index, accusing the government of targeting people because of their beliefs or religious freedom advocacy. Some prominent activists are Catholic – a denomination comprising 7 per cent of the population – and the communist government has long had an uneasy relationship with organised religion. Today all religions in Buddhist-majority Vietnam are controlled by the state and any practitioners operating without official registration could face jail time. Vietnam broke off official ties with the Vatican in 1975, but relations have eased in recent years. It is not clear if the Pope will address Vietnam's Catholics this week, though his trip is raising hopes he could speak about the plight of refugees as he has since the migrant crisis of 2015."
U.S. to provide ship to Vietnam to boost South China Sea patrols, Phil Stewart and James Pearson, Reuters, November 20, 2019: "The United States announced on Wednesday it will provide Vietnam with another coast guard cutter for its growing fleet of ships, boosting Hanoi's ability to patrol the South China Sea amid tensions with China. U.S. Defense Secretary Mark Esper disclosed the decision during an address in Vietnam, which has emerged as the most vocal opponent in Asia of China's territorial claims in the South China Sea. In his speech, Esper took aim at China, which he accused of 'bullying' neighbors, like Vietnam."
How Can The EU Parliament Convince Us That Vietnam Will Improve Its Human Rights Record When Dissidents Continue To Get Jailed For Exercising Their Rights?, Quynh-Vi Tran, The Vietnamese, November 21, 2019: "Vietnam ascended to the ICCPR in 1982, but with regard to complying with the international covenant on human rights, it didn't actually provide any opportunities for people to learn and exercise their rights. More than that, the government did not allow the Vietnamese people to use the ICCPR in courts to defend themselves when such rights were being violated. The point is that more than three decades after Vietnam joined the ICCPR, the human rights situation in Vietnam remains hopeless and people's rights are being violated on a daily basis. How can we believe that the EV-FTA will improve such a situation when the ICCPR has so far failed so miserably?"
Vietnam's assault on a journalist, David Hutt, Asia Times, November 22, 2019: "Perhaps it is the finest honor for a journalist working in a dictatorship to be called a threat to the state, but [Pham Chi] Dung's articles are neither insurrectionary nor unpatriotic. His view, as he told me years ago, was that the Communist Party needed to be held to account. 'The party is at a dead end. It is nowadays on the side of rich people; there's no longer any socialism and inequality is rising,' he told me."
IN CASE YOU MISSED IT
"There are 97 million people living and working in Vietnam, and all these people are supposed to have rights. Like the right to form associations, or the right to free speech. In reality we don't have any of these." We spoke to activist 
Cao Vinh Thinh
 about her thoughts on the activist movement in Vietnam today and what it's like to be female activist and mother. 
Watch the full interview, here.
© 2019 The 88 Project
https://the88project.org/wp-content/uploads/2019/11/Phan-Cong-Hai-Picture-2-Source-Vo-Hong-Ly-190603.jpg
746
501
kayleedolen
https://the88project.org/wp-content/uploads/2019/01/88project.png
kayleedolen
2019-11-25 14:17:02
2019-11-25 14:17:02
Vietnam Free Expression Newsletter No. 47/2019 – Week of November 18-24