Update on Imprisoned Members of An Dan Dai Dao Buddhist Sect: Lack of Medical Treatment Results in Death and Prolonged Suffering in Detention
Featured Image: Phan Van Thu (left) and his followers in the closed trial. Source.
On October 5 2019, political prisoner Doan Dinh Nam was reported dead at Vung Tau Provincial Hospital. He has been held at Xuyen Moc prison camp since 2012 and was only recently moved to the hospital in Vung Tau for renal failure treatment. 
What makes the case outrageous is that Doan Dinh Nam's situation has long been known to the public security authorities. According to Nam's family, they notified the directly responsible officials about Nam's illness. In May 2019, when his health condition started to worsen, the family applied for a sentence enforcement postponement to bring him to a hospital for prompt and proper treatment. The request was denied. 
In August and September, when the family found out that the symptoms reached the severe stage, with visible and serious changes to his body, they tried to apply again, but the authorities still cruelly rejected the request. His death is the direct result of the public security's decisions, and therefore, a grave violation of the obligations of Vietnam under the International Convention on Civil and Political Rights (ICCPR) and United Nations Convention Against Torture (CAT).  
Specifically, by repeatedly rejecting Nam's family's appeal for his treatment, the public security forces denied Nam his right to access health care and to obtain treatment for his pain,  intentionally inflicting and prolonging his suffering. These elements, as observed by UN Special Rapporteurs and many UN reports, constitute the act of torture and inhumane treatment. 
It is also noteworthy that the authorities did not allow Nam's family to bring his body back home for a proper burial in accordance with Vietnamese tradition. Nam was cremated at the hospital instead. 
Revisiting the "Cong An Bia Son" Affair
Doan Dinh Nam is one of 22 jailed members of An Dan Dai Dao (ADDD), a religious sect of Buddhism founded in 1969 and that operated legally under the Republic of Vietnam but quickly was outlawed and persecuted after the Communist government takeover in 1975. At its peak, ADDD had a network of 14 temples and thousands of followers. Most of the properties have now been expropriated, while followers were forced into hiding. 
The leaders of ADDD have long been treated as criminals. According to ADDD, Mr. Phan Van Thu, — its religious leader — was accused by the authorities of working for the CIA and intending to "rebel" against the regime. He spent most of his time after April 30, 1975, in detention centers, forced labour camps, re-education camps, and finally prison for 10 years. In 1984, he escaped from the Economics Zone Mai Lien (which, in fact, was just another variation of a re-education camp used to detain members of "reactionary classes," such as businessmen and intellectuals) with some of his followers and lived in hiding for another 10 years. 
The Vietnamese economic and political reforms in the 1990s made many people feel optimistic about the possibilities of the future. Phan Van Thu and ADDD followers, similarly, believed that the modernization and the openness of the new Vietnam could potentially lead to the recognition of their religion. Hence, in 2003, they decided to go back to their homeland in Phu Yen to re-establish the roots of ADDD. The intention was to build a eco-tourism park named Da Bia, but it would also be a pilgrimage and religious destination for followers of ADDD. They were not involved in any political activities. 
However, in 2012, 22 leaders of the ADDD were arrested at Da Bia, and all their properties were seized. On February 4, 2012, the People's Procuracy of Phu Yen issued the decision to prosecute the ADDD members for abusing the right to freedom of expression to harm the state's interests under Article 258 of the 1999 Criminal Code. After just one month, the Procuracy changed their position to prosecute the case under Article 79, accusing the ADDD members of plotting to overthrow the people's government. The accusations are inconsistent and appear to be pretextual. 
The particular conduct of ADDD that would constitute a revolt against the government was unclear. In a series of "investigative articles" published by the Public Security of Da Nang newspaper, a rare official publication concerning the case of Cong an Bia Son, they did not specify how ADDD could harm national security, but only tried to antagonize Phan Van Thu and his followers by emphasizing his past and the fact that the ADDD members were trying to preach their beliefs and practice their religious doctrine.  
Nevertheless, in a closed trial in 2013, Phan Van Thu was given a life sentence, and 21 other leaders were sentenced to a collective total of 299 years in prison and 105 years of house arrest.  These were and still are the highest sentences ever imposed in a political case in Vietnam. 
Many locals believed that the arrest and detentions of members of ADDD was just an excuse for the authorities to expropriate the properties they had built at the eco-tourism park.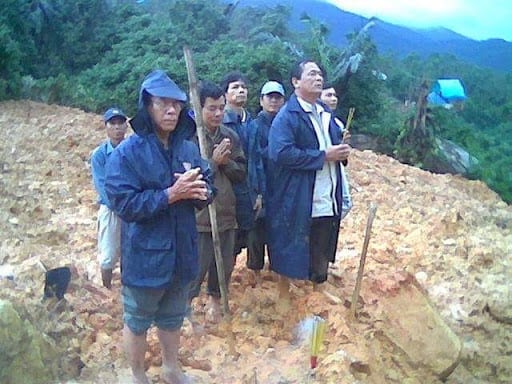 Nam (left in the frontline) and the ADDD members.
"ADDDs do not exist in the eye of the authorities"
This is not the first time that the health condition of ADDD members was raised by their family members and activists. In the UPR 2014 cycle, the submission of Christian Solidarity Worldwide warned about the condition of Ms. Do Thi Hong who was sentenced to 13 years in prison and five years of house arrest. In mid-2019, Ms. Vo Thi Thanh Thuy, wife of Phan Van Thu, told Radio of Free Asia that Mr. Thu is also in very poor health, with severe heart problems, but several attempts to get him better treatment were rejected. Mr. Tran Phi Dung, in July 2019, participated in a month-long hunger strike against harsh prison conditions in Prison Camp No. 6 in Nghe An province, stemming from the prison authorities' refusal to provide fans during an extreme heat wave.
Recently, we were able to contact Ms. Ngoc Dien, a member of the Buddhist sect and daughter-in-law of Phan Van Thu. She mentioned that not only was Doan Dinh Nam's body cremated in the hospital without the consent of his family, but the public security also forced the family to pay 18 million VND for the procedure. At his funeral, three undercover public security officers presented themselves and intervened if anyone intended to record a video, take a picture, or even talk to each other.
According to Ngoc Dien, many other jailed members of ADDD are suffering from serious health deterioration, especially since 16 of the 21 are over 50 years old. Mr. Le Xuan Phuc had to request to be temporarily treated at a hospital since the prison clinic is very poorly-equipped. Mr. Vo Tiet's wife is seriously ill, while he is also struggling in the prison conditions. 
Concerning the case of Phan Van Thu, there was an official inspection into his well-being which concluded that his is a Type 4 health condition — a very bad stage, as in Vietnam, a typical health report will rate a person's health from 1 to 5 with 1 being the best health condition. Phan Van Thu suffers from diabetes, arthritis, hypertension, and heart failure. However, despite the efforts of his family to request his release or the temporary postponement of the sentence to get him better treatment, the authorities rejected them all. 
Ms. Dien noted that while ADDD is indeed a religious institution with thousands of followers, the authorities repeatedly deny their right to freedom of religion, even in subtle ways such as forcing Mr. Thu to record that he has no religion in his personal report. Ms. Dien appeals for the help and support of the international community and human rights organizations to prevent the further health deterioration of imprisoned members of ADDD. 
© 2019 The 88 Project
https://the88project.org/wp-content/uploads/2019/11/Phan-Van-Thu-and-his-followers-in-the-closed-trial.jpg
638
960
kayleedolen
https://the88project.org/wp-content/uploads/2019/01/88project.png
kayleedolen
2019-11-13 14:30:18
2019-11-13 14:30:18
Update on Imprisoned Members of An Dan Dai Dao Buddhist Sect: Lack of Medical Treatment Results in Death and Prolonged Suffering in Detention