Vietnam Free Expression Newsletter No. 29/2023 – Week of August 1-7
Greetings from The 88 Project. We bring you news, analysis, and actions regarding human rights and civil society in Vietnam during the week of August 1-7.
The life of a death row inmate whose family says he was wrongfully convicted hangs in the balance as his father gives an emotional interview with Project 88. A judge was arrested for alleged wrongdoings; three Montagnards were arrested for passing out UN declarations; a former political prisoner was re-arrested for Facebook postings. More evidence of police abuse while the government proposes that only authenticated users may use social media. Analyses on the Montagnards situation and the Sino-US balancing act by Vietnam.
HUMAN RIGHTS & CIVIL SOCIETY
Political Prisoners
Vo Dinh Som, a judge from Gia Lai province, was arrested for "interference with judicial activities" in a case over which he was presiding. State media did not provide further details. Som has been transferred to Hanoi for processing.
Three Khmer Kroms were arrested in Tra Vinh province. To Hoang Chuong, Dang Minh Quang and Thach Cuong are accused of violating Article 331, "abusing democratic freedoms." They were passing out copies of the UN Declaration on the Rights of Indigenous Peoples. Last June, RFA reported that Chuong was beaten by police while visiting a friend. State media said investigators found 11 articles and seven videos posted on social media by the men containing "falsehoods that discredit the government." In nearby Soc Trang province, police arrested two Khmer Krom activists and surrounded the homes of two others, according to RFA.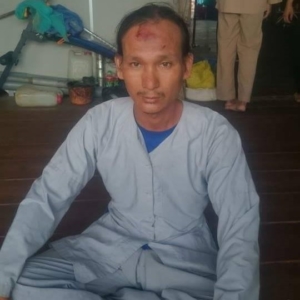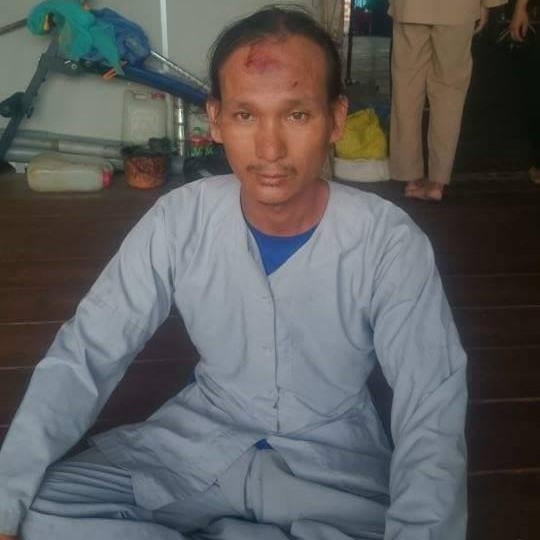 Nguyen Hoang Nam
A former political prisoner and member of the Hoa Hao Buddhist Church in An Giang province was re-arrested two years after his release. Nguyen Hoang Nam is accused of making postings on social media that "undermine national and religious unity." A church leader said Nam's video clips only show him and his family doing charity work, cooking meals for poor people etc. Sometimes he would repost articles by others that investigators claim are critical of the government. In 2017, Nam was arrested while on his way to another church member's home for a religious service. He was charged with "disturbing public order" and sentenced to four years in prison.
Facebooker Le Cong Dieu alleges he was physically abused by HCMC Police after he ignored three "invitations" for questioning from them. On July 31, four policemen entered Dieu's home without a warrant and took him to the station where he was questioned about Facebook posts which they said discredited the Party and the State. Dieu's family said he came home with visible bruises on his face. A doctor's examination later supposedly revealed multiple internal injuries, including a fractured rib. While we cannot independently corroborate his account at this time, we note that physical violence has been employed in many cases of harassment and detention in Vietnam.
At Risk
A man from Quang Ngai province, identified only as L.T.S., was  fined VND 7.5 million (USD $315) for comments he made on Facebook that were deemed to "offend and discredit the honor of the People's police force," according to state media.
Death Penalty


Nguyen Truong Chinh, father of death row inmate Nguyen Van Chuong
The father of death row inmate Nguyen Van Chuong said the family received a letter informing them that the execution will be carried out at an unspecified date. However, Chinh said he would continue to appeal for his son's life because he believes Chuong is innocent. Chuong's case has aroused intense attention from Vietnamese social media, with many people calling on the president to issue a halt to the execution and order a retrial.
Meanwhile, Nguyen Van Doan, Chuong's younger brother and a key witness at the trial, has just died from cancer. Doan himself was imprisoned for two years as part of the case. Doan alleged that he was brutally beaten by the police to force a false confession which was used to convict Chuong.
Watch an interview with Nguyen Truong Chinh, father of Nguyen Van Chuong, done by Project 88.
For more information on Nguyen Van Chuong's complex case, please read A Wrongful Conviction in Vietnam's Criminal Justice System.
International Advocacy
Project 88 joined 13 other international human rights organizations in an open letter calling on Vietnamese President Võ Văn Thưởng to "immediately notify Mr. Nguyễn Văn Chưởng's family about his current status; immediately grant him a permanent reprieve from execution; and release him or grant him a new trial in line with fair trial standards under international law."
The Vietnamese government has responded to the Joint Allegation Letter regarding the arrests of three Montagnards. The response can be read here.
NEWS
Social network users proposed to follow authentication process. Saigon Giai Phong; August 2, 2023: The Information and Communications Ministry is collecting ideas on the draft decree to replace Decree No.72/2013/ND-CP about the management, provision and use of Internet services and online information as well as Decree No.27/2018/ND-CP. The draft decree, supposed to be present to the Government this third quarter, adds provisions that only identified social network accounts can post, comment, and livestream content.
US should extend EV tax benefits to Vietnam, says business lobby. Reuters; August 4, 2023: Rules included in the U.S. Inflation Reduction Act (IRA) aimed at reducing U.S. dependence on Chinese EV battery supply chains currently only benefit countries that have free trade agreements with Washington – a list that excludes Vietnam. Vietnamese automaker VinFast last week began construction on a $4 billion plant to produce EVs in North Carolina for the U.S. market, but could struggle to compete without the tax break, said Ted Osius, a former U.S. ambassador to Vietnam who heads the U.S.-ASEAN Business Council, a lobby group.
Vietnam's EV ownership will see 'strong growth' in 2023. CNBC; August 6, 2023: Vietnam's EV adoption is expected to increase to 13.6% in 2023, from 2.9% a year ago, said BMI Research in a new report. While EVs only accounted for a small share of the passenger car market in Vietnam, the research company expects a strong growth in 2023. The growth will stem from increased deliveries of VinFast vehicles as the local EV maker steps up on production throughout 2023, as well as the increased supply of affordable China-made EVs.
In Vietnam, 'flexers' tout US degrees, status, wealth as the economy soars. Others barely sleep. Lam Nguyen, South China Morning Post; August 6, 2023: Flexing – slang in Vietnam for bragging – is on the rise, as the economy booms and many young people earn good qualifications and big bucks. But not everyone is part of the success story, with inequality rising and plenty of people struggling to keep up, let alone soar.
ANALYSIS
Instability occurs because the indigenous communities in the region do not receive enough economic benefits. The Impact of Unequal Economic Benefits on Kinh and Montagnard Communities in the Central Highlands. Nguyen Tan Trung, The Vietnamese; August 4, 2023.
A strategic partnership with the United States would lead to higher expectations regarding human rights, which Hanoi might find threatening to its regime's survival. Where is Vietnam on the Sino-U.S. Spectrum? Bich Tran, CSIS; July 19, 2023.
© 2023 The 88 Project
https://the88project.org/wp-content/uploads/2023/08/NVC-Video-Screenshot.png
618
976
kayleedolen
https://the88project.org/wp-content/uploads/2019/01/88project.png
kayleedolen
2023-08-09 23:21:48
2023-08-09 23:21:48
Vietnam Free Expression Newsletter No. 29/2023 – Week of August 1-7