Vietnam Free Expression Newsletter No. 30/2023 – Week of August 8-14
Greetings from The 88 Project.  We bring you news, analysis, and actions regarding human rights and civil society in Vietnam during the week of August 8-14.
The case of death row inmate Nguyen Van Chuong is garnering international attention, including from the UN and the EU. It appears the planned execution has been halted, for now. President Joe Biden plans to visit Vietnam in a few weeks.

HUMAN RIGHTS & CIVIL SOCIETY
Special Report: Case of Nguyen Van Chuong
On August 9, the parents of death row inmate Nguyen Van Chuong and dozens of supporters went to a government office in Hanoi to ask the Vietnamese president to stay Chuong's execution. It was reported that everyone was detained, put on a bus and taken away, presumably to a police station.
On Aug. 14 Chuong's father posted on his Facebook page that the family was able to visit Chuong in prison. Chuong is reported to be in worse shape mentally compared to the last monthly visit on July 14. Chuong told his family, without revealing the source, that he'd learned about the notice the government sent them earlier explaining the procedures for picking up his remains after the execution is carried out.
Project 88 has learned that some witnesses said Chuong was in his hometown of Hai Duong at the time of the murders. One of two people who went looking for evidence, Nguyen Van Doan, Chuong's younger brother, was himself arrested and accused of "giving refuge to criminals." He was convicted and sentenced to two years in prison.
Several witnesses in Chuong's case said they were physically abused while in police custody. Chuong himself alleged that he was forced to make a false confession. Most disturbingly, it has been alleged that the charges against all the defendants in the case came from coerced "confessions" without any real evidence. Meanwhile, state media has been virtually silent on the case, except for Dan Viet online.
For a recap of the allegations of misconduct in Chuong's prosection:
Innocent Victim of Police Brutality: Nguyen Trong Doan's Coerced Confession in the Nguyen Van Chuong Case. The Vietnamese; August 8, 2023: What was the evidence, and who were the witnesses that Doan allegedly concealed? It was all connected to Doan's efforts to bring forward alibi witnesses to defend Chuong. The authorities ignored his pleas to look into the testimonies of these witnesses. Instead, they arrested and tortured Doan, forcing him to confess that he "concealed evidence" in the case and then charging him with a crime.
Political Prisoners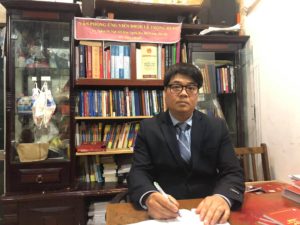 Le Trong Hung
In other news, Le Trong Hung's wife, Do Le Na, posted on Facebook that she and their two children were able to visit Hung for the first time in three months. The trip was difficult due to the long distance – Hung had been transferred to Nghe An Prison No.6 – and the cost of traveling there. Nonetheless, Na said Hung appeared to be in good health and sent his thanks and regards to his supporters. Details about Hung's case can be read here.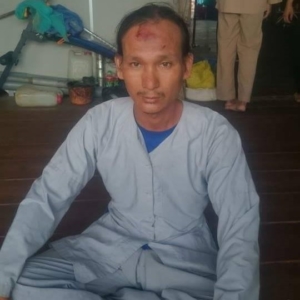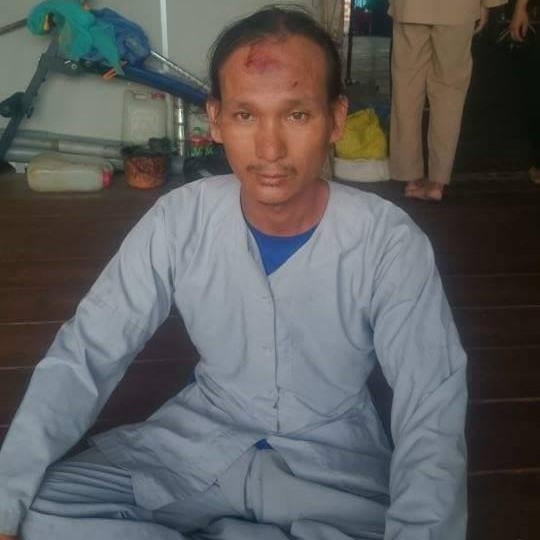 Nguyen Hoang Nam
Project 88 has learned from a source familiar with the matter that Nguyen Hoang Nam, who was re-arrested in late July after previously serving four years in prison, is being held incommunicado. His wife, Yen Trinh, is not able to send him supplies either.
Phan Tat Thanh's father, Phan Tat Chi, told Project 88 that the Ho Chi Minh City (HCMC) police summoned Thanh's mother and brother, Phan Tat Cong, and asked them to persuade Thanh to admit guilt in order to receive clemency. The father also said that when he went to Chi Hoa Prison to visit his son, he was told Thanh had been transferred to a different prison on Phan Dang Luu Street. It is very common for prisoners in Vietnam to be moved without letting their families know. Thanh was arrested in July for activities related to his Facebook page "Patriotic Diary."
Two elderly women from Ha Tinh Province were sentenced to 15 months in prison for "abusing democratic freedoms" by posting commentaries on Facebook that prosecutors say "distort the truth and discredit the government." State media reported that Hoang Thi Son (65) and Thai Thi Be (67) made the offending remarks because they "did not agree with how the state responded to their written requests" without offering any other details. The women were said to have "pleaded guilty in order to receive a lighter sentence."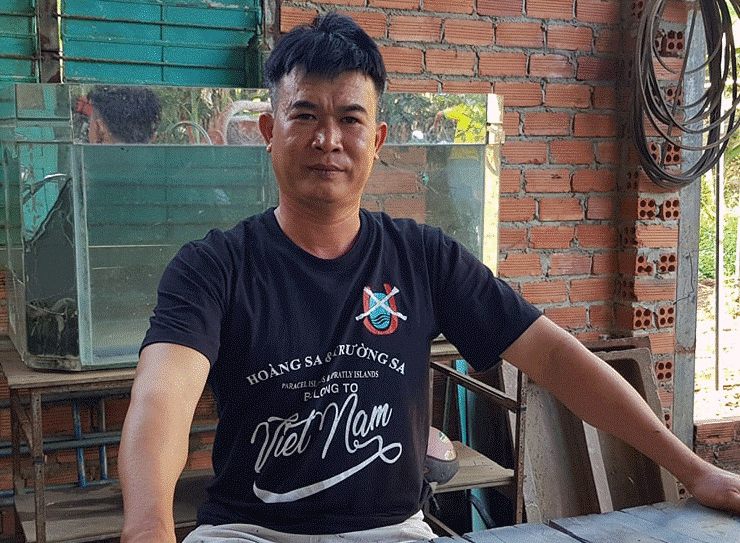 Hoang Van Vuong
Hoang Van Vuong, who was arrested by Dong Nai provincial police in January and held incommunicado, was put on trial in April without a lawyer and sentenced to five years in prison. Vuong's family was not notified and only learned about it from Vuong when they were allowed to see him for the first time in May. Vuong was charged with "abusing democratic freedoms," but it's not clear what he was accused of doing since the trial took place in secret.
International Advocacy
The UN Human Rights Office on the imminent execution of Nguyen Van Chuong in Viet Nam: "The use of confessions extracted under torture that results in a death sentence violates both the absolute prohibition of torture as well as fair trial guarantees, rendering the sentence arbitrary and a violation of the right to life, as set out in Article 6 of the International Covenant on Civil and Political Rights, to which Viet Nam is a state party."
The EU Delegation to Vietnam and the diplomatic missions of Canada, the Kingdom of Norway and the United Kingdom call on the Vietnamese authorities to halt the execution of Nguyen Van Chuong (decision No. 02/2023/QD-CA): "We strongly oppose the use of capital punishment at all times and in all circumstances, which is a cruel, inhuman and degrading punishment and can never be justified, and advocate for Vietnam to adopt a moratorium on all executions."
NEWS
Berlin warns Hanoi not to abduct a Vietnamese businesswoman who fled to Germany. RFA; August 8, 2023: Nhan, who fled to Germany to avoid Vietnamese authorities, had been accused of masterminding bid-rigging to win 16 contracts to supply medical equipment to several Vietnamese hospitals. In January, the court found her guilty and sentenced her to 30 years in prison. Berlin has refused an extradition request for Nhan.
Vietnam says there are no Montagnards in its Central Highlands. RFA Vietnamese; 2023.08.09: Almost one year after the Vietnamese government received a United Nations communication regarding rights violations toward an ethnic minority group from the Central Highlands, Hanoi issued a letter of reply saying the ethnic group does not exist. …The Montagnards are a broad grouping of 30 different Central Highlands tribes who have clashed, sometimes violently, with the Vietnamese government over a variety of issues, including land rights and religious freedom.
Biden unlikely to attend ASEAN summits in September on trip to Asia. Reuters; August 9, 2023: Biden is due to attend a Sept. 9-10 G20 summit in India and said on Tuesday he plans to visit an important emerging Southeast Asian partner Vietnam "shortly" to upgrade ties, but his presence at the Sept. 4-7 summits of the 10-nation Association of Southeast Asian Nations (ASEAN) is in significant doubt.
ANALYSIS
Despite staunch opposition, Vietnam is rushing to perfect its legal framework on cyber security. Vietnam's Cybersecurity Law: A Timeline. Dat Le, The Vietnamese; August 10, 2023.
Politicians and national factions in the region are using platforms like Facebook, Twitter, and TikTok to reach out to voters, spread their message, and mobilize support. In the contemporary digital era, several steps can be done to ensure that the use of social media has positive impacts. Social Media and the Fight for Political Influence in Southeast Asia. Fitriani and Muhammad Habib, The Diplomat; August 20, 2023.
In Vietnamese
Luat Khoa (Legal) Magazine fills in some details about the case of death row inmate Nguyen Van Chuong with its own interview with Chuong's brother as well as a letter from Chuong himself written in 2010. In the letter, Chuong categorically denies the accusation that he used drugs, saying "I've never done drugs, check my blood tests!"
IN CASE YOU MISSED IT
While on death row, Nguyen Van Chuong managed to create three beautiful deer from plastic bags, with the letters O.A.N. hidden in them, which in Vietnamese means "not guilty" or "wrongfully convicted." See his incredible work here.
© 2023 The 88 Project
https://the88project.org/wp-content/uploads/2018/02/nguyen-hoang-nam.jpg
540
540
kayleedolen
https://the88project.org/wp-content/uploads/2019/01/88project.png
kayleedolen
2023-08-16 00:24:33
2023-08-16 00:24:33
Vietnam Free Expression Newsletter No. 30/2023 – Week of August 8-14