Hoang Van Vuong
Current Status: Sentenced to prison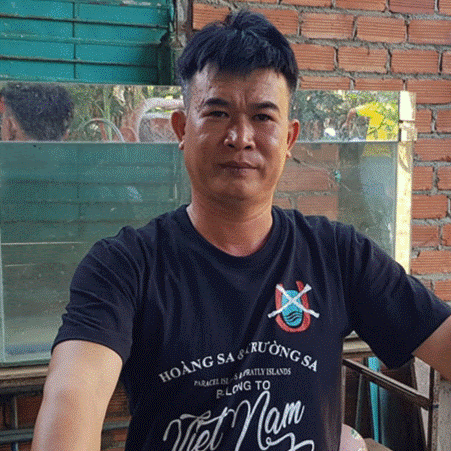 Other Names: Hoàng Văn Vượng
Date of Birth: 1978
Gender: M
Ethnicity: Kinh
Last Known Prison: Prison No. B5, Dong Nai province
Areas of Activism:
Anti-corruption
Environment
Highlighted Human Rights Concerns:
Denial of Legal Representation
Denial of Family Visit/Punitive Prison Transfer
August 2023:
Hoang Van Vuong, who was arrested by Dong Nai provincial police in January and held incommunicado, was put on trial in April without a lawyer and sentenced to five years in prison. Vuong's family was not notified and only learned about it from Vuong when they were allowed to see him for the first time in May. Vuong was charged with "abusing democratic freedoms," but it's not clear what he was accused of doing since the trial took place in secret.
Details - Background, History of Activism.
Vuong previously worked for a sewage and water treatment company.
Photo source: Radio Free Asia
He is not known to have a formal history of activism, though our research shows he has been making online commentaries and protesting since at least 2011.

There are some claims that Vuong has been active in supporting the families of political prisoners.
Arrested January 3, 2023. Sentenced to 5 years in prison under Art. 331 (2015 Code). Expected Release is January 3, 2028.
January 3, 2023
Gia Kiem commune, Thong Nhat district (
map
)
April 18, 2023
5 years in prison
January 3, 2028
freedom from arbitrary arrest or detention
liberty and security of the person
freedom of expression
fair trial
Vuong was arrested after being invited to his former workplace to allegedly receive a gift. His residence was also searched and electronics confiscated on the same day.

The arrest came after he had made two posts on his Facebook that seemed to criticize his former employer.
A source close to the family confirmed the arrest to The 88 Project and also told us that Vuong had recently also posted a Facebook post critical of the Communist Party.
Vuong's wife has been able to send him supplies but not visit him.
Vietnam arrests activist who criticized employer on Facebook, RFA, January 4, 2023
Đồng Nai: Nhà hoạt động Hoàng Văn Vượng bị bắt giữ, chưa rõ cáo buộc, RFA Vietnamese, January 4, 2023
Nhà hoạt động Hoàng Văn Vương bị tuyên 5 năm tù, gia đình không hay biết, RFA Vietnamese, August 7, 2023
Profile last updated: 2023-08-16 01:53:58