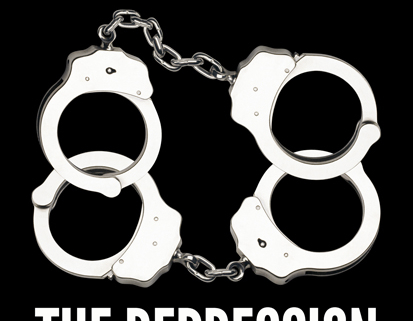 The Repression of Cyber Dissidents – video release on You Tube!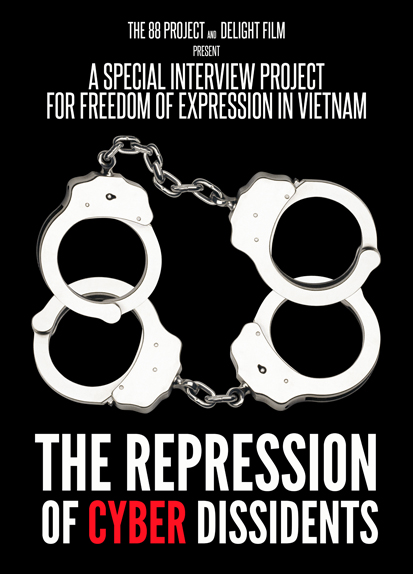 In todays world, millions of people use the Internet to search for information, to work, or to communicate with their families and friends. Thanks to the evolution of technology, it has become possible to connect with everyone in any place on the globe.
As an independent filmmaker, I always appreciated new possibilities for creating, sharing and presenting work to the audience by using social media and networking. I have to admit, recently I've become a real digital enthusiast.
I was very upset when a few months ago I heard about Vietnamese journalists and artists jailed for posting articles on their blogs, writing songs, or simply expressing their points of view through art. I couldn't understand why some governments make a crime out of free speech. Freedom of expression is a fundamental human right guaranteed by the Universal Declaration of Human Rights.
On 18 February, we're going to release a short video promoting The 88 Project – our special online initiative for freedom of expression in Vietnam. My desire is that the film will create a little bit of political awareness amongst people who live in free countries.
Additionally, this year, together with Huong Nguyen and Kaylee Dolen, we will be interviewing activists, journalists, artists, and people aware of human rights from different parts of the world. It will give everyone a chance to hear some interesting stories and opinions, and to share them virally through the web.
I really believe that the project will help people to get motivated and take action to spread the message about the situation in Vietnam. I think when we hear stories of others overcoming obstacles, it simply inspires us. During hard times, we really need to be motivated and have hope, but the world will change only if we find courage to stand up and speak up.
***
Trong thế giới ngày nay, hàng triệu người sử dụng Internet để tìm kiếm thông tin, để làm việc, hoặc để kết nối với gia đình và bạn bè của họ. Nhờ sự phát triển của công nghệ thông tin, việc kết nối đã trở nên dễ dàng hơn ở bất kỳ nơi đâu trên thế giới.
Là một nhà làm phim độc lập, tôi luôn đánh giá cao những khả năng mới để sáng tạo, chia sẻ và trình bày những đoạn phim đến với người xem bằng cách sử dụng truyền thông và mang lưới xã hội. Tôi phải thừa nhận rằng trong thời gian gần đây tôi đã thực sự trở thành một người đam mê công nghệ kỹ thuật số.
Một vài tháng trước đây tôi đã rất buồn khi nghe nói về các nhà báo và các nghệ sĩ Việt Nam bị bỏ tù vì đăng những bài viết, các ca khúc hoặc đơn giản chỉ thể hiện quan điểm của họ một cách nghệ thuật lên các trang blog. Tôi không thể hiểu lý do vì sao một số chính phủ lại hình sự hóa việc tự do bày tỏ chính kiến. Tự do ngôn luận là một quyền cơ bản của con người được đảm bảo bởi Tuyên ngôn Quốc tế Nhân quyền.
Vào ngày 18 tháng Hai tới đây, chúng tôi sẽ cho ra mắt một đoạn video ngắn cổ vũ cho The 88 Project (Dự án 88) – một sáng kiến ​​trực tuyến đặc biệt ủng hộ tự do ngôn luận tại Việt Nam. Mong muốn của tôi là các đoạn video ngắn này sẽ giúp những người sinh sống ở các nước tự do nhận thức được phần nào về sự hạn chế các quyền chính trị căn bản tại Việt Nam.
Ngoài ra, cùng với Hường Nguyễn và Kaylee Dolen, trong năm nay chúng tôi sẽ tiếp tục phỏng vấn những nhà hoạt động, các nhà báo, nghệ sĩ, và người dân về suy nghĩ của họ về nhân quyền từ nhiều nơi trên thế giới. Việc này sẽ giúp cho tất cả mọi người cùng có cơ hội để nghe một số câu chuyện cũng như các ý kiến thú vị, và chia sẻ chúng sâu rộng thông qua các trang mạng Internet.
Tôi thực sự tin rằng dự án sẽ giúp thúc đẩy mọi người cùng hành động và truyền bá thông điệp sâu rộng về tình hình tại Việt Nam. Tôi nghĩ rằng khi chúng ta nghe các câu chuyện của những người đã vượt qua được những trở ngại, nó sẽ truyền cảm hứng cho chúng ta. Trong những lúc khó khăn, chúng ta thực sự cần sự động viên và nuôi hy vọng, nhưng thế giới chỉ thay đổi khi chúng ta can đảm đứng lên và nói ra chính kiến của mình.
https://the88project.org/wp-content/uploads/2013/02/88_project_poster-1.jpg
574
413
kayleedolen
https://the88project.org/wp-content/uploads/2019/01/88project.png
kayleedolen
2013-02-14 09:35:43
2019-05-03 16:39:47
The Repression of Cyber Dissidents – video release on You Tube!