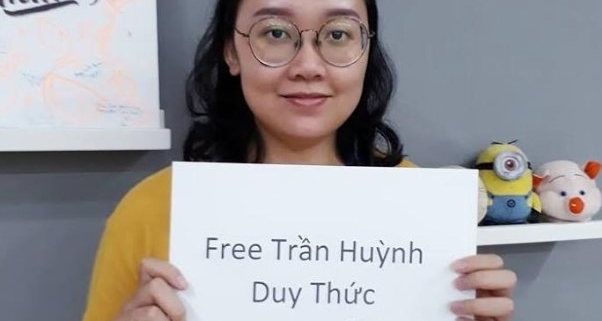 Open Letter on the Recent Psychological Tortures on Tran Huynh Duy Thuc in Vietnam
This letter (below) was written by Tran Huynh Duy Thuc's daughter in light of a possible attempted poisoning against him in prison on November 20 and overall worsened prison conditions. Thuc is one of Vietnam's most well-known political prisoners and one of the leaders of the democratic movement. The founder of an Internet service provider company, he was arrested in 2009 and prosecuted under Article 79 of the 1999 Criminal Code for his social, political, and economic writings. He was later sentenced to 16 years in prison. He refuses to be exiled in exchange for freedom, vowing instead to appeal his sentence by using new provisions in Vietnam's revised 2015 Criminal Code. Please share the letter and urge Vietnam to improve Thuc's immediate conditions and to release him from prison.
***
Nov 29, 2018
Dear Project 88,
My name is Tran Le Bao Tram, daughter of the Vietnamese prisoner of conscience, Tran Huynh Duy Thuc. My dad was arrested in 2009 and falsely convicted based on Article 79 of Vietnam's Penal Code "attempting to overthrow the People's administration". He was sentenced to 16 years in prison and since then has been serving for more than 9 years. Two years ago my dad was transferred to Prison No. 6 in Nghe An province, which is around 3000km away from his family. Since then he has faced many threats and mistreatments, and the long distance is a major obstacle that stop our family from helping him. Due to recent grave events, I'm writing to call for your help to preserve his health and safety.
On Saturday Nov 24, 2018, my aunt and uncle came to visit my dad on the monthly visit and learnt that my dad is increasing facing threats from the prison officers. On Tuesday Nov 20, 2018, my dad woke up like usual at 5.15am feeling extremely dizzy with high blood pressure at 150/110 (measured using his personal blood pressure monitor) and covered in sweat. When he drank some water, he immediately vomited and found a bit of blood mixed in the vomit. While resting, my dad vomited again and that time some bile was mixed in the content. The prison medic came to check up on him and gave him 2 pills for "cerebral blood deficiency", which he took and vomited out again.
Although after that day, his blood pressure and health have recovered to normal, my dad worries and suspects that the food provided may be tampered with and unsafe to consume so he has been eating only instant noodles ever since. However, in response to his action, the prison officers stop providing him with hot boiled water like before. Besides, according to my dad, the prison officers are considering "prohibiting him from using hot boiled water, reading light, and personal blood pressure and blood sugar monitors". Our family believes that these are the new forms of mistreatment on my dad, after increasingly curbing his rights to send letters to family or authority, and receive letters from home. When inquired by my dad about the law in which the officers based their actions on, the officers simply said "they are only carrying out the orders from the top, and there is no need to reference the law". Due to this, he and our family do not know to whom we can report the mistreatments.
Our family is extremely worried about his health and safety since we believe these new forms of mistreatment are used to coerce my dad to admit guilty in exchange for an early parole. For the past 9 years, my dad steadfastly believes that fighting for freedom of speech is not a crime. My dad has never inflicted violence or threats against the government.  He has announced for many times that he is innocent and will never admit guilty. Hot boiled water, reading light and health monitors are crucial to preserve his health in the prison. Hot boiled water is more sanitized and can be used to cook instant food, while reading light prevents eye diseases caused by the poor lighting condition in the prison cell. My dad also has high blood pressure and high blood sugar diseases so the personal monitors help him check his health when needed.
My dad does not admit guilty to get an early parole because he wants his case to be reviewed under the new Penal Code law, which dictates that the actions for which he was convicted are no longer crimes to overthrow the People's administration. Therefore, if he is acquitted under the new law, his case can become precedent to the release of other Vietnamese prisoners of conscience.
In this letter, I would like to point out that Vietnam has signed the UN's Convention Against Torture and Other Cruel, Inhuman or Degrading Treatment or Punishment in 2013 and ratified it in 2015. By ratifying the convention, it is bound to perform its duties to prevent the use of tortures as stated in Article 1 and Article 2 of the Convention. Our family speculates that the measures of mistreatment being employed by the prison officers at Prison No. 6 cannot be considered lawful sanctions because they are inflicting mental suffering on my dad for the purpose of confession. This goes against what Vietnam commits to uphold.
In a recent state conference to review the State Report to the UN's Committee Against Torture (CAT) on Vietnam's implementation of the Convention on Oct 12, 2018, Vietnam's authority reinstated its commitment to the Convention by pledging to take effective legislative, administrative, judicial and other measures in accordance to the Convention to prevent the use of torture, and working with leading states on torture prevention to devise new effective measures. Nonetheless, in contrast to Vietnam's report, the use of mental tortures on my dad in Prison No. 6 goes against what Vietnam has pledged to do.
Therefore, I'm writing to call for your immediate help to preserve my dad's health and safety, and to hold Vietnam accountable for its commitment to the Convention. This is not only for my dad but also for other prisoners of conscience in Vietnam, on whom the same measures of torture can be used. He is not only fighting for his freedom but also freedom of others.
Thank you for your continuous support for my dad and other Vietnamese prisoners of conscience. I hope that you will receive this letter well and I look forward to hearing from you soon.
Sincerely,
Tram Tran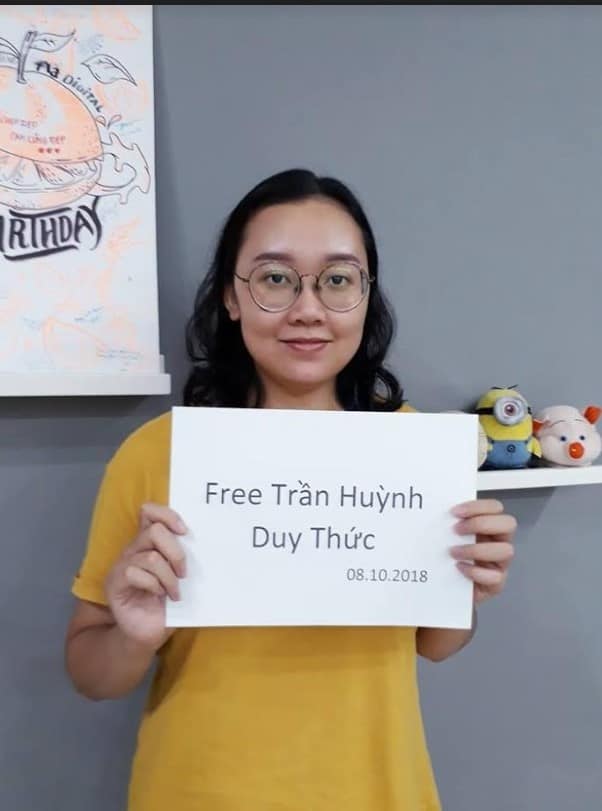 https://the88project.org/wp-content/uploads/2018/12/tram-tran_letter-on-tran-huynh-duy-thuc_11-29-183.jpg
811
602
kayleedolen
https://the88project.org/wp-content/uploads/2019/01/88project.png
kayleedolen
2018-12-05 19:55:41
2019-04-30 08:24:38
Open Letter on the Recent Psychological Tortures on Tran Huynh Duy Thuc in Vietnam