Vietnam Free Expression Newsletter No. 41/2022 – Week of October 24-30
Greetings from The 88 Project. We bring you news, analysis, and actions regarding human rights and civil society in Vietnam during the week of October 24-30. Diplomats will meet in Hanoi on November 2 for the 26th U.S.-Vietnam Human Rights Dialogue. An independent journalist has been given a harsh sentence while yet another popular Facebooker faces jail time – both for spreading "anti-state propaganda." There is a new draft law on telecom regulations. A suspect has died at a police station. DNA test results have been received in the Bong Lai Temple case and appeal trials are next. The Ministry of Public Security is concerned by the rise of alleged fake news. The LGBTQ community in Vietnam is said to have better rights protection than environmental activists. General Secretary Nguyen Phu Trong will go to Beijing.
HUMAN RIGHTS & CIVIL SOCIETY
Political Prisoners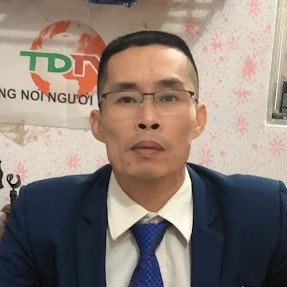 Le Manh Ha
On October 25, a court in Tuyen Quang Province sentenced independent journalist Le Manh Ha to eight years in prison plus five years of probation for "anti-state propaganda." Ha was accused of producing 21 video clips on his YouTube channel and posting 13 articles on his Facebook page about land grabs and corruption. He was arrested in January. The trial lasted just two days. Unlike many other trials of this type, Ha's wife was allowed inside the courtroom while others were allowed to watch the proceedings via CCTV in a nearby room. Ha was represented by four lawyers who later told reporters that the prosecution failed to show that Ha had violated Article 117.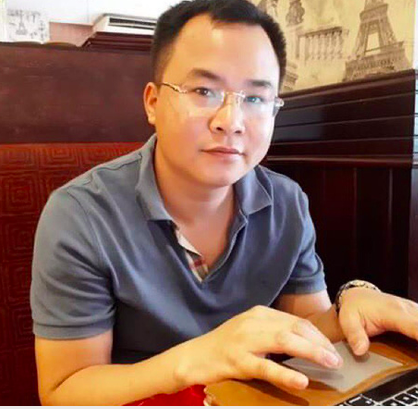 Dang Nhu Quynh
On October 27, a Hanoi court sentenced Dang Nhu Quynh, a 42-year-old Facebooker with over 300,000 followers, to two years in prison for "abusing democratic freedoms." Prosecutors said that on April 2 Quynh posted information about Do Anh Dung, chairman of the joint stock company Tan Hoang Minh, claiming that Dung was being criminally investigated. However, it was not until April 5 that Dung's investigation was revealed by police. The state further alleged that Quynh later posted unsubstantiated news about an investigation against Nguyen Van Tuan, chairman of joint stock companies Gelex and Viglacera, causing the share prices for these companies to drop precipitously, and leading to a loss in capitalization of 11,000 billion dong (US $500 million). Quynh was ultimately not charged for his posts about Do Anh Dung since the latter was under investigation anyway. However, according to prosecutors, Quynh allegedly admitted in court that his posts on Nguyen Van Tuan were just speculation on his part and done only to gain likes.
Long An provincial police said they have received DNA test results for 28 individuals from Bong Lai Temple, six of whom have been convicted of "abusing democratic freedoms" and who are awaiting their appeal trials. According to VietnamNet, in order to "protect the human rights of members of the temple, some of whom are children," the police have only informed those directly affected of their findings. Lawyer Dang Dinh Manh claims that the DNA samples were taken illegally without consent, especially from the children. The appeal hearings are scheduled for November 2. The six defendants are in pretrial detention except for 90-year-old headmaster Le Tung Van, who's out on bail due to frail health.
At Risk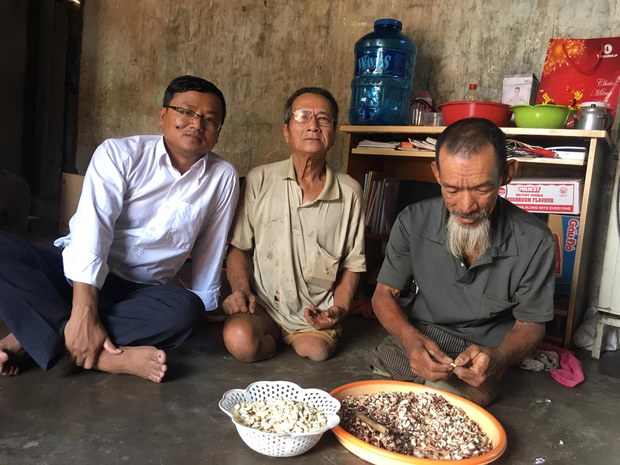 Father Truong Hoang Vu (left) with two veterans, Source: Facebook Vũ Hoàng Trương via RFA
The government has prohibited another priest who's been helping disabled South Vietnam's veterans from leaving the country. Father Truong Hoang Vu is the sixth priest in the last five years who has been banned from traveling abroad. Restricting freedom of movement of law-abiding citizens is both illegal and contrary to international conventions on human rights.
Dao Ba Phi, 38, was found dead in his jail cell on October 18, two days after he was taken by police from his home in Phu Yen Province for questioning about an alleged theft. The police told the family that Phi had hung himself, that the autopsy showed he'd "died from asphyxiation," and that Phi had been buried. Phi's family told RFA that their request to see his body was denied. On October 19, the family gathered in front of the detention center in their funeral garb demanding answers. The event was live streamed over Facebook; however, the police later threatened to charge anyone who shared the video.
International Advocacy
The US and Vietnam will hold their 26th bilateral Human Rights Dialogue in Hanoi on November 2. The US delegation is expected to meet with both government officials and civil society representatives. The visit will focus on "a wide range of human and labor rights-related issues, including freedoms of expression and association; freedom of religion or belief; rule of law and legal reform; and the rights of members of marginalized populations…" The State Department emphasized that human rights are "key to our ongoing engagement with Vietnam under the U.S.-Vietnam Comprehensive Partnership." The US delegation will be led by Senior Bureau Official for Democracy, Human Rights, and Labor Erin Barclay and the Vietnamese delegation by Assistant Foreign Minister Do Hung Viet.
Shawn Crispin, senior Southeast Asia representative for the Committee to Protect Journalists, has issued a statement regarding the conviction of Le Manh Ha: "Vietnamese authorities must free journalist Le Manh Ha, who was wrongly convicted and harshly sentenced to eight years in prison for merely doing his job as a journalist. … Vietnam must stop equating independent journalism with criminal behavior and release all the journalists it wrongfully holds behind bars."
Vu Minh Tri, a former officer of the General Department of Military Intelligence, told RFA: "People like Le Manh Ha, Nguyen Lan Thang…. were the sparks that started the big sparks in the struggle for freedom and human rights that could burn down the totalitarian dictatorship, so it's not surprising that they were condemned so severely."
Internet Freedom
Vietnam's new Draft Telecoms Law Regulating OTT Communication and Cloud Services has been released. Notable obligations include "protecting user information, taking down illegal content, and notifying local state agencies upon detection of illegal activities such as service abuse."
NEWS & ANALYSIS
'Fake news' harms the work of Vietnam's Ministry of Public Security. The Bharat Express News; October 21, 2022: Ministry spokesman Lieutenant General To An Xo told the Vietnam News Agency on Monday that "evil elements" had abused his agency in the past to generate fake news and spread lies about the companies involved. An example of fake news was a story that the ministry planned to investigate and prosecute cases involving some of the largest Vietnamese companies and economic enterprises, which turned out to be completely untrue.
Why LGBT Rights Trump Environmentalism in Vietnam. Mai Truong, The Diplomat; October 27, 2022: Being strategic in choosing which rights to protect (and which to ignore) ensures that key interest groups are not adversely affected, while sending the message that the VCP cares about citizens' rights. This logic may explain why regime leaders have taken a significant step toward recognizing LGBT rights while, at the same time, increasing their repression of environmental activists.
Nguyen Phu Trong's Trip Highlights Special Relationship Between China and Vietnam. Nian Peng, The Diplomat; October 29, 2022: Both China and Vietnam see themselves as facing increasing ideological infiltration from the United States; the CCP and VCP alike feel threatened by the core values of the West, such as democratic elections and freedom of speech.
© 2022 The 88 Project
https://the88project.org/wp-content/uploads/2022/10/Father-Truong-Hoang-Vu-and-two-veterans_Facebook-Vu-Hoang-Truong-via-RFA.jpeg
465
620
kayleedolen
https://the88project.org/wp-content/uploads/2019/01/88project.png
kayleedolen
2022-10-31 20:49:07
2022-10-31 20:49:07
Vietnam Free Expression Newsletter No. 41/2022 – Week of October 24-30