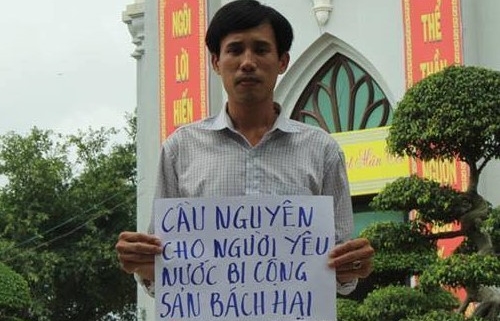 Environmental Activist Hoang Duc Binh Completes Second Year in Prison, Subjected to Harsh Treatment
May 15 marks two years since environmental and labor rights activist Hoang Duc Binh was arrested in a violent spectacle in Nghe An province. Since his arrest, he has faced extremely difficult prison conditions due to his activism, as well as numerous health issues.
Binh was inspired to get involved in activism after seeing the situation of others in his community. In the video above, he elaborates on how and why he became an activist. At first, he was scared to speak up. However, he soon became a voice for many. "The more I raised my voice, the clearer it became," he says in the video. "If what I say is righteous, it's them who have to feel nervous."
Please share this video to share Binh's voice and highlight his case on the anniversary of his arrest.
Binh is affiliated with No-U Saigon, a football club that protests China's sovereignty claims in contested waters, and is the vice president of the Viet Labour Movement. He was targeted by authorities for his environmental reporting and for assisting those affected by the Formosa toxic waste spill, which began in 2016.
He was arrested on May 15, 2017 while escorting a priest. He was violently removed from the car they were travelling in, arrested, and sentenced in February 2018 to 14 years in prison on charges of "resisting persons in the performance of their official duties," under Article 330 of the 2015 Criminal Code, and "abusing democratic freedoms to infringe upon the interests of the State," under Article 331. The driver of the car on the day of his arrest, Nguyen Nam Phong, was sentenced to two years in prison.
Binh's appeal of his sentence was denied, and while being imprisoned, he has suffered beatings at the hands of other prisoners, ear pain as a result of the assault during his arrest, back pain, rashes, diminished eyesight from a lack of light, improper nutrition, and a sudden transfer to a prison farther away from his home. He also went on hunger strike in 2018.
In February 2019, in an official document sent to the family, prison officials deemed Hoang Duc Binh to be serving his 14-year imprisonment "badly." Binh is subject to worse treatment in prison due to this. And at a visit in late January, a prison guard reportedly tore up a paper flower that Binh had made as a gift for his family, and he also alleged that the prison had not allowed him to send any letters home.
Read more about Hoang Duc Binh's background and health in his profile in our database.
https://the88project.org/wp-content/uploads/2019/05/Hoang-Duc-Binh-protest.jpg
332
500
kayleedolen
https://the88project.org/wp-content/uploads/2019/01/88project.png
kayleedolen
2019-05-15 03:50:05
2019-05-15 03:57:18
Environmental Activist Hoang Duc Binh Completes Second Year in Prison, Subjected to Harsh Treatment