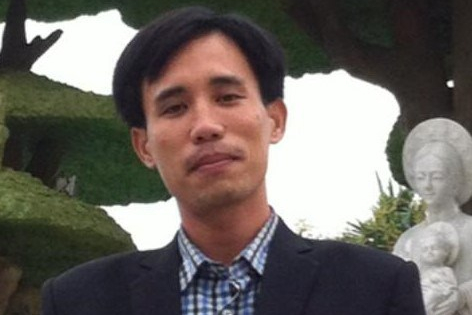 Political Prisoner Hoang Duc Binh Facing Extremely Difficult Prison Conditions
The 88 Project, July 14, 2018: After a recent visit with imprisoned environmental activist Hoang Duc Binh, his brother reported back on Binh's extremely difficult conditions in prison.
Hoang Duc Binh is currently housed in a cell with death row prisoners who assault and threaten him.  Binh is forced to use his meager 48.00 VND (2 USD) daily to buy food for all prisoners in his cell. His nutrition has been very poor, eating only rice with some fish sauce or soy sauce for long periods of time. These physical conditions have caused his health to decline immensely.
In protest of his mistreatment, Binh had recently undertaken a hunger strike. In response, prison officials told him they would remedy his situation if he wrote them a thank you letter, which he did. However, authorities have not assisted Binh in his desperate situation, and instead, they posted the letter on social media to discredit him.
Binh's family hopes that the international community can pressure the prison authorities to cease their ill treatment of Binh and fix his living situation. Please share this information to bring attention to Binh's case.
Hoang Duc Binh is the vice president of the independent Viet Labour Movement and a member of "No-U Saigon," a soccer group that protests China's sweeping claims on the South China Sea. He is also a well-known blogger who covered news on the environmental disaster caused by Formosa. He actively worked with the Catholic community in Nghe An province to help them obtain compensations for the damages caused by the Formosa environmental disaster.
Binh was arrested on May 15, 2017, in Nghe An province. He was sentenced to 14 years in prison in February 2018 under Articles 330 and 331 of the 2015 Criminal Code.
Binh is now in An Diem prison, Quang Nam province, in central Vietnam, over 500 km from his home province of Nghe An.
https://the88project.org/wp-content/uploads/2018/07/hoang-duc-binh-e1531620353254.jpg
315
472
kayleedolen
https://the88project.org/wp-content/uploads/2019/01/88project.png
kayleedolen
2018-07-14 21:10:33
2019-04-30 16:00:58
Political Prisoner Hoang Duc Binh Facing Extremely Difficult Prison Conditions