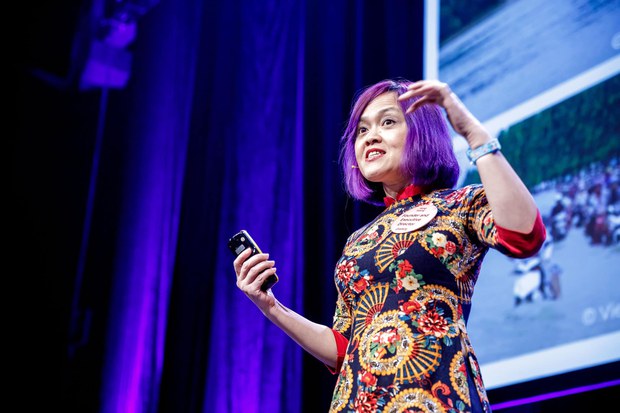 Breaking: 65 International Organizations Call on Former President Obama to Press for Release of Jailed Climate Activist and Obama Foundation Scholar Hoang Thi Minh Hong
Featured Image: Hoang Thi Minh Hong, Source: CHANGE via RFA
July 20, 2023, Bangkok —
Project 88 joins 64 other international human rights, free expression, and environmental organizations in issuing an open letter calling on former U.S. President Barack Obama to pressure Vietnam to release a leading climate activist who was recently jailed on charges of tax evasion. Hoang Thi Minh Hong, part of the inaugural Obama Foundation Scholars cohort, was arrested in Vietnam on June 1 and is currently being held incommunicado from her family and lawyer.
Hong is the fifth NGO leader to be arrested on tax evasion charges in Vietnam since 2021. Her arrest comes after she was forced to close her organization, the Center of Hands-on Action and Networking for Growth and Environment (CHANGE), in late 2022. Our report, Weaponizing the Law to Prosecute the Vietnam Four, documents clear evidence that these prosecutions for tax evasion are politically-motivated.
"Hoang's arrest is 'a huge slap in the face for the international community," Project 88 Co-Director recently told NPR.
At this point, we can expect a long period of pre-trial detention (up to a year), an indictment, and a trial that results in a prison sentence. Hong is facing between two and seven years behind bars in a prison system notorious for torture, willful neglect, and the death penalty. If convicted, Project 88 estimates Hong will receive a prison sentence of more than four years.
The coalition asks Obama to make a public statement advocating for Hong's release, in line with statements made by the U.S. State Department and the United Nations. Read the full letter, here.
https://the88project.org/wp-content/uploads/2023/06/Hoang-Thi-Minh-Hong_CHANGE-via-RFA.jpeg
413
620
kayleedolen
https://the88project.org/wp-content/uploads/2019/01/88project.png
kayleedolen
2023-06-20 02:06:59
2023-06-20 02:06:59
Breaking: 65 International Organizations Call on Former President Obama to Press for Release of Jailed Climate Activist and Obama Foundation Scholar Hoang Thi Minh Hong