Vietnam Free Expression Newsletter No. 1/2023 – Weeks of December 19-January 8
Greetings from The 88 Project. Happy New Year! We bring you news, analysis, and actions regarding human rights and civil society in Vietnam during the weeks of December 19-31 and January 1-8. Read on for a snapshot of key arrests and harassment against activists in 2022.
The year ended with yet another prominent NGO leader convicted on tax-related charges. Two more Facebookers have been arrested. Non-state approved Christian adherents continue to be harassed by security police. One Lutheran pastor died in prison. The oldest convicted political prisoner in Vietnam's history hopes to avoid serving time. The infamous "Prisoner of the Century" has died. Fear and self-censorship grip mainstream and foreign media in Vietnam. Two top-level government officials accused of large-scale pandemic-related corruption are dismissed. The Ministry of Information tries to reassure the world that there is plenty of religious freedom in Vietnam.
Year in Review
The year 2022 was another dismal one for activists, political prisoners, and their communities in Vietnam. The 88 Project documented at least 28 new arrests during the year (some information still pending). Preliminary data suggests that Article 331 of the 2015 Criminal Code, "abusing democratic freedoms," continues to be the most common criminal charge weaponized against political prisoners.
However, arrests are only one metric to demonstrate the authorities' contempt for dissent. As of January 9, 2023, there are at least 210 activists in prison in Vietnam. Thirty-six of them are still awaiting trial, with the majority held in incommunicado detention and some having been held without trial for a year or longer. A startling five NGO workers were targeted on tax evasion charges last year. And dozens of people faced harassment such as travel restrictions, administrative fines, and temporary detention.
A full report on the data and developments of 2022 is forthcoming this spring. We will also publish periodic updates as they are available.
HUMAN RIGHTS & CIVIL SOCIETY
Political Prisoners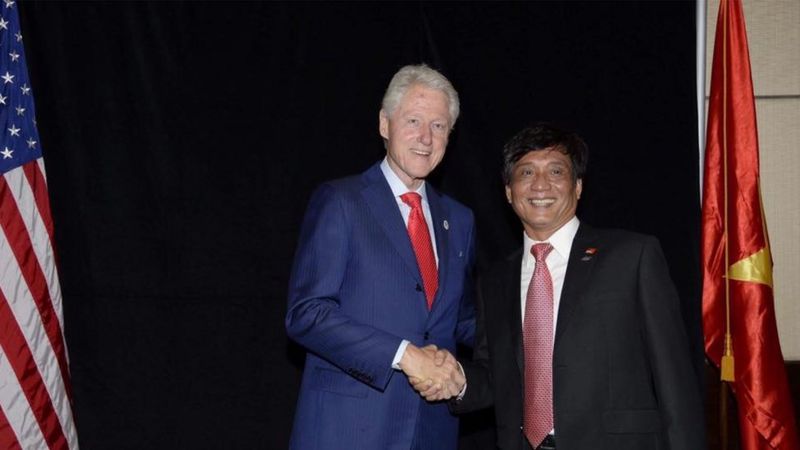 Hoang Ngoc Giao with former US President Clinton in Hanoi in 2015, Source: BBC Vietnamese
Hoang Ngoc Giao, director of the Research Institute for Policy, Law and Development (PLD), has been charged with tax evasion by Hanoi police. A prominent legal expert who had advised the government on improving the country's legal framework, Giao is the fifth NGO leader to be targeted by the regime in the past year on tax charges. It was only last October that Giao was elected chairman of the Vietnam-China International Trade Arbitration Center. In early 2020, he advocated for an investigation of the police raid on Dong Tam village that left several people dead.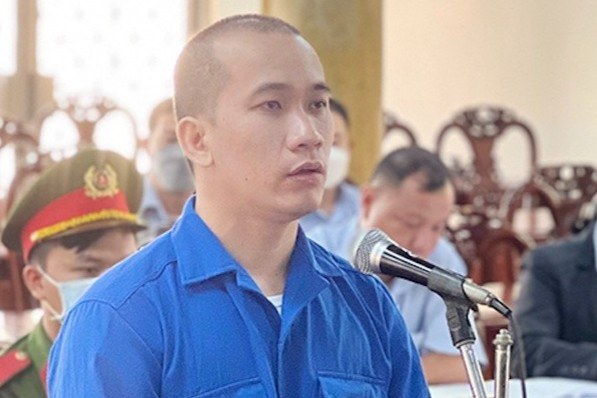 Nguyen Nhu Puong at trial, Source: Zing News via RFA Vietnamese
A court in An Giang Province has sentenced activist Nguyen Nhu Phuong to five years in prison plus three years of probation for spreading "anti-state propaganda," in accordance with Article 117. A member of the No-U group, Phuong participated in many protests in years past such as against the Formosa environmental disaster and the Cybersecurity Law.  During the pandemic, Phuong reposted a video purported to be of an An Giang provincial chief refusing to order the police to prevent people in the city from escaping to the countryside. Prosecutors argued at the trial that the video was fake and damaged the reputation of the Party. In a rare sign of openness, Phuong's mother and wife were allowed into the courtroom. Born in 1991, Phuong went to Japan to study in 2014. He set up an import business after returning to Vietnam. He's currently under investigation for a separate drug charge.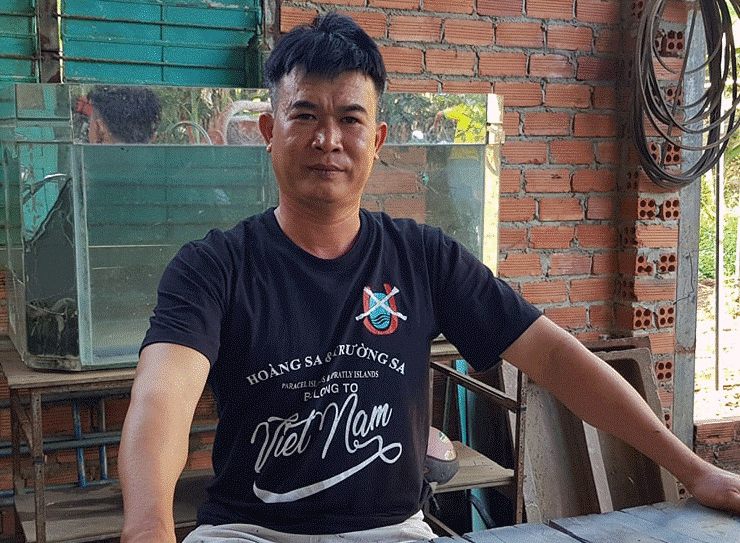 Hoang Van Vuong, Source: Hoang Van Vuong Facebook via RFA
Facebooker Hoang Van Vuong, 44, was arrested in Dong Nai Province for allegedly criticizing the water authorities. A relatively unknown but outspoken critic of injustice, Vuong began voicing his opinions in 2011 and was detained briefly in 2012. According to RFA, Vuong was called into his former workplace to pick up a gift whereupon he was promptly detained by waiting public security. It is not known what the charges are against Vuong.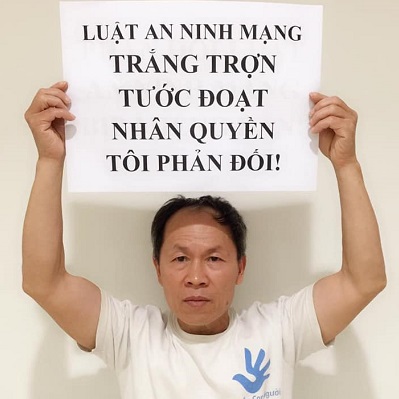 Truong Van Dung
Hanoi Public Security said they have completed their investigation of 64-year-old blogger Truong Van Dung who was arrested seven months ago and charged with carrying out "anti-state propaganda" under Article 88 of the 1999 Criminal Code. Dung's family reported that Dung is having many health issues, but they have not yet been allowed to visit him, even though the investigation phase is over. However, Dung's lawyer Dang Dinh Manh has been able to see him and said his trial would probably take place after the Lunar New Year.

Le Tung Van
Le Tung Van, convicted leader of the Bong Lai Temple, has petitioned the Long An high court to exempt him from serving his five-year sentence due to his age and fragile health. Van filed the petition on December 20, one day after a judge ordered that he must report to prison within seven days or be detained by the police. By law the court must respond within seven days. At the time of writing, it is not clear if Le Tung Van has been given a waiver. The 90-year-old monk is the oldest convicted political prisoner in Vietnam.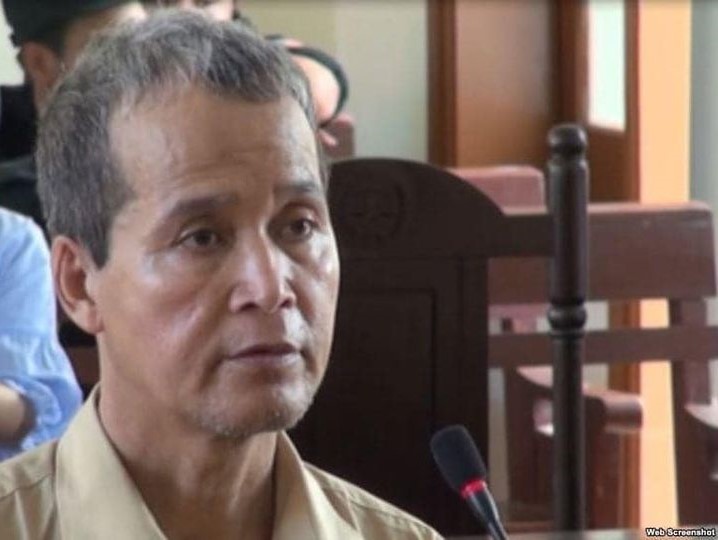 Dinh Diem at trial, Source: Paul Loc Facebook
Lutheran pastor Dinh Diem, 60, died in Nghe An's Prison No. 6 on January 5, 2023. A member of the Hre ethnic minority, Diem was arrested in 2018 in Quang Ngai Province and sentenced to 16 years for alleged "conspiracy to overthrow the government." Diem's wife, Dinh Thi Xa, had been raising concerns for her husband's ill health due to alleged torture. The cause of Diem's death remains unknown.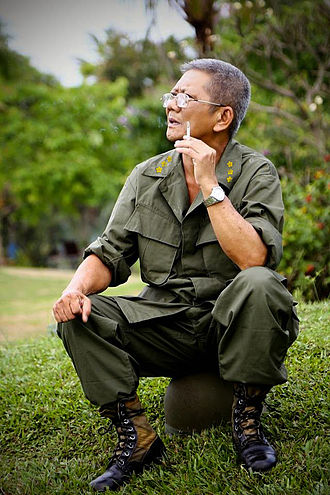 Nguyen Huu Cau
Nguyen Huu Cau, nicknamed "the Prisoner of the Century," has passed away at the age of 75. Cau was incarcerated in a Communist re-education camp for five years after the war ended. Then in 1983, he was given a death sentence in a political trial for having accused a high-ranking provincial chief of sexually assaulting a minor. At trial, his sentence was commuted to life imprisonment due to the lack of witnesses. After spending 32 years in prison, Cau was released in 2014 under pressure from the international community. By then he had become nearly blind and afflicted with multiple ailments.
At Risk
Two Montagnard Christians,  – Y An Hdrue, 52, and Y Pok Eban, 37, – were detained by Dak Lak provincial police while on their way to attend mass on Christmas Eve. Y An Hdrue is a former political prisoner who advocated for religious freedom and land rights and who was sentenced to four years in prison. The two men were stopped allegedly for not having a proper driver's license and held from 9am to 7pm while their phones were searched by police. According to RFA: "Y An Hdrue admitted to storing information about human rights violations in Vietnam on his phone. The police then returned their papers and ordered them to drive home, keeping their phones."
In "Explaining the Extreme Paranoia of the Communist Party of Vietnam," author Bill Hayton describes how foreign journalists critical of the Party can be subjected to censorship even when writing for publications outside of Vietnam. His own article (original, here), was removed from the website of and rewritten by a UAE think tank after a Vietnamese diplomat intervened.
International Advocacy
To mark the 75th anniversary of the Universal Declaration of Human Rights, UN High Commissioner for Human Rights Volker Türk is calling for the release of all those arbitrarily detained.
A group of UN Special Rapporteurs and the UN Working Group on Arbitrary Detention have advised Vietnam's government of their concern for 18 verified cases of citizens jailed for exercising their freedom of expression.
The 88 Project joins other organizations to call on Thailand's government to protect online democracy and freedom of speech.
NEWS & ANALYSIS
Climate of fear engulfs Vietnam's mainstream media. East Asia Forum; December 31, 2022: All press agencies in Vietnam, including those run by private tech companies, must be placed under the remit of the party-state. Being subject to market pressures while also at the behest of Vietnamese propaganda officials, there are no signs that those tech companies will venture into editorial independence.
Vietnam removes two deputy PMs amid anti-corruption drive. Khanh Vu, Reuters; January 3, 2023: Vietnam's National Assembly, the country's lawmaking body, on Thursday voted to dismiss two deputy prime ministers from their posts, a government statement said, in what analysts suspect is a new escalation in an anti-corruption crackdown. There was no explanation of parliament's decision to remove Pham Binh Minh and Vu Duc Dam, but the move comes at a time when the communist-ruled country is intensifying its fight against graft, despite concerns the campaign is paralysing routine transactions as officials fear being entangled in probes.
Rising online crackdowns across Asia target citizens, Big Tech. Sen Nguyen, Reuters; December 28, 2022; "In some countries, it's about limiting the voice of political dissidents, activists and others critical of the government," said Damar Juniarto, executive director of digital rights group Southeast Asia Freedom of Expression Network (SafeNet). "But governments also want to control Big Tech firms – they see them as being too powerful, too influential," he told the Thomson Reuters Foundation.
IN CASE YOU MISSED IT
The Ministry of Information tries to reassure the world that there is plenty of religious freedom in Vietnam.
Vietnam making efforts to enforce international conventions on human rights. Vietnam Plus; December 28, 2022: According to the Government Committee for Religious Affairs, five religious dignitaries are deputies of the 15th National Assembly, 88 religious dignitaries and 35 religious followers are incumbent deputies of provincial People's Councils, 225 dignitaries, monks and nuns and 246 followers are deputies at district People's Councils. This has affirmed the great contributions of religions organisations to the nation and the building of a state of the people, for the people and by the people.
© 2023 The 88 Project
https://the88project.org/wp-content/uploads/2023/01/Hoang-Ngoc-Giao-and-former-US-Pres-Clinton-in-Hanoi-2015_Source-BBC-Vietnamese.jpg
450
800
kayleedolen
https://the88project.org/wp-content/uploads/2019/01/88project.png
kayleedolen
2023-01-09 22:09:35
2023-01-09 22:09:35
Vietnam Free Expression Newsletter No. 1/2023 – Weeks of December 19-January 8