Can Thi Theu
Current Status: Sentenced to prison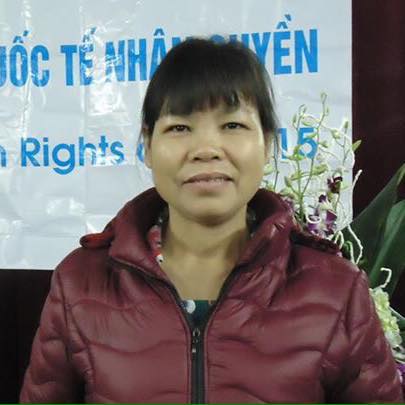 Other Names: Cấn Thị Thêu
Date of Birth: August 14, 1962
Gender: F
Ethnicity: Kinh
Last Known Prison: Prison No. 5, Thanh Hoa province
Areas of Activism:
Communities At Risk:
Highlighted Human Rights Concerns:
Solitary Confinement
Former Political Prisoner
Denial of Legal Representation
Denial of Adequate Medical Treatment or Supplies
Prolonged Incommunicado Detention
Harsh Physical and Administrative Conditions
Denial of Family Visit/Punitive Prison Transfer
BBC Vietnamese recently interviewed Trinh Thi Thao (Theu's daughter), and Do Thi Thu (Theu's daughter-in-law -- Trinh Ba Phuong's wife). The video interview can be seen here (in Vietnamese only).
February 2022:
The family of mother and son Can Thi Theu and Trinh Ba Tu still have not been allowed to see or call them, even after their trials in May when they were convicted and sentenced to eight years in prison each for conducting "anti-State propaganda." It is alleged that the reason is because of their refusal to take "re-education" courses.
On February 22, Can Thi Theu was moved to Camp 5 in Thanh Hoa Province, and her son Trinh Ba Tu, was moved to Camp 6 in Nghe An Province, hundreds of kilometers away. This will make it even harder for the family to visit them. It's not clear why they were transferred.
Details - Background, History of Activism, Family Situation.
Arrested April 25, 2014. Sentenced to 1 year 3 months in prison under Art. 104 (1999 Code), Art. 257 (1999 Code). Released July 27, 2015.
Arrested June 11, 2016. Sentenced to 1 year 8 months in prison under Art. 245 (1999 Code). Released February 10, 2018.
September 19, 2018: watched by local commune officials
July 12, 2019: beaten by thugs when visiting prison No. 6
March 5, 2020: harassed at family home regarding household registration process
Arrested June 24, 2020. Sentenced to 8 years in prison and 3 years probation under Art. 117 (2015 Code). Expected Release is June 24, 2028.
Profile last updated: 2023-05-06 19:12:30