Nguyen Thuy Hanh
Current Status: Pre-trial detention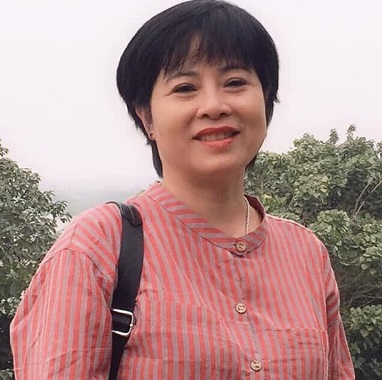 Other Names: Nguyễn Thúy Hạnh (Liberty)
Date of Birth: May 25, 1963
Gender: F
Religion: Buddhist
Last Known Prison: Central Mental Hospital, Hanoi
Areas of Activism:
Democracy
Environment
Human rights
Land rights
Sovereignty
Known Affiliations:
Highlighted Human Rights Concerns:
Denial of Adequate Medical Treatment or Supplies
Prolonged Incommunicado Detention
Denial of Family Visit/Punitive Prison Transfer
Infliction of Physical and Psychological Pain
March 2023:
Nguyen Thuy Hanh's health has taken a turn for the worse, according to her husband, Huynh Ngoc Chenh. Chenh told Project 88 that Hanh, who is still being held in a psychiatric treatment facility, has lost her appetite, has not been eating well, and her mental health has declined. Doctors have tried different medications but none seems to help.
Details - Background, History of Activism, Contact Information.
January 19, 2019: harassed after honoring soldiers who died in the Hoang Sa battle in 1974
Physical assault in a public space
January 19, 2019
Public security
Le Thai To King Monument, No 16, Le Thai To Street, Hoan Kiem District, Ha Noi (
map
)
liberty and security of the person
freedom of peaceful assembly
On January 19, 2019, Nguyen Thuy Hanh, Truong Van Dung, and Nguyen Van Phuong went to Ly Thai To Statue to honor soldiers of the former South Vietnam (Republic of Vietnam) who died in the Hoang Sa battle on January 19, 1974. When they were on the way back from the trip, the public security of Hoan Kiem District blocked them and beat Truong Dung. They only stopped beating him when Hanh shouted loudly. Finally, the police of Thanh Xuan District escorted all of them to Hanh's house in Hanoi.
July 12, 2019: beaten by thugs when visiting prison No. 6
Property confiscation
Physical assault in a public space
July 12, 2019
Individuals
Hanh Lam ward, Thanh Chuong district, Nghe An province (
map
)
liberty and security of the person
freedom of peaceful assembly
equal protection of the law
freedom from discrimination
On July 12, 2019, Nguyen Thuy Hanh and 19 family members and supporters of political prisoners were physically attacked by thugs who they believed to be plain-clothes prison officers and public security officers. Activist Trinh Ba Phuong, son of former political prisoner Can Thi Theu, told VOA Vietnamese that the group was on its way to Prison No. 6 with some posters solely to visit and support prisoners such as Truong Minh Duc, who were on hunger strike at the time. When the visitors group tried to approach Camp 6 by car, a truck seemed to purposely park to block the road, so they decided to walk the rest of the way. This is where the attack took place. Activists Trinh Ba Khiem, Nguyen Thuy Hanh and Huynh Ngoc Chenh were not only physically assaulted, but their belongings, including money, phones, and personal documents were taken by the attackers.
After the attack, the group was forced to go back to the main road and was escorted to Vinh city, unable to complete the visit.
January, 2020: surveiled in the aftermath of the Dong Tam raid
Surveillance
Travel restriction
January, 2020
Public security
freedom of peaceful assembly
freedom of movement
On January 9, 2020, a massive police force stormed into Dong Tam commune and violently assaulted and detained citizens, as well as killed community leader Le Dinh Kinh. The area is home to a longstanding land conflict. In the aftermath of the raid, authorities targeted local activists who reported on the incident and advocated for affected locals.
Hanh and her husband Huynn Ngoc Chenh have been under surveillance and were also prohibited from leaving their home to attend Le Dinh Kinh's funeral.
January 20, 2020: detained and questioned about charitable donations for victim of police brutality
Police interrogation
Detention
January 20, 2020
Public security
freedom from arbitrary arrest or detention
liberty and security of the person
freedom of expression
Following the raid in Dong Tam village on January 9, around 700 people in Vietnam have sent "condolence money" to the bank account of activist Nguyen Thuy Hanh so that she could send it to the family of Le Dinh Kinh, a local leader who was killed in the raid. It is a tradition after the death of a loved one to send the family a small amount of money to show support. However, Vietcombank, the largest commercial bank in Vietnam, had frozen Hanh's account, saying that the authorities ordered them to do so since the money collection was alleged to be in violation of the law on financing terrorism. On January 20, when Hanh was on her way back home after meeting with the representative of Vietcombank, she was detained by the forces of the Ministry of Public Security and temporarily held at the office of the Security Investigating Agency. They interrogated her for several hours about any connection she had to Le Dinh Kinh or those who donated to his family before releasing her at 6:00 pm on the same day. They asked her to sign a document before release, but she refused.
December 2, 2020: summoned and harassed by public security forces
Police summons
December 02-31, 2020
Public security
Hanh's private home (
map
)
On December 2, 2020, the Public security of Ha Noi City sent a summons to Nguyen Thuy Hanh requesting her presence at their office. The problem was, however, such a letter provided no legal justification or reason for summoning Hanh. They simply told her that the invitation was from the Cyber Security and High-tech Crime Prevention Department under the Ministry of Public Security, even when Hanh pressed for further information. These types of vague and suspicious summons are unlawful under Vietnamese laws.
It is a classic tactic of the security force to lure the activists to meet them "voluntarily," then deny any responsibility when facing accusations. The local authorities have repeatedly harassed and "invited" Hanh to work with them. It is reported that they asked for her presence again on December 31, 2020.
Arrested April 7, 2021. Charged under Art. 117 (2015 Code).
April 7, 2021
Hanoi city public security, Hanoi
freedom from arbitrary arrest or detention
liberty and security of the person
freedom of expression
freedom of association
FIDH
Amnesty International
Defend the Defenders
Profile last updated: 2023-03-15 18:57:20