Le Dinh Kinh
Current Status: Deceased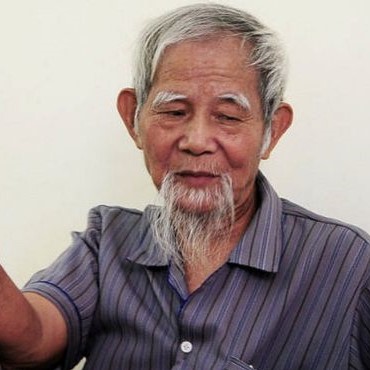 Other Names: Lê Đình Kình
Date of Birth: 1936
Gender: M
Ethnicity: Kinh
Occupation: Retired
Areas of Activism:
Anti-corruption
Land rights
Communities At Risk:
Highlighted Human Rights Concerns:
April 2021:
Twelve of the Dong Tam Commune prisoners have been moved to separate prisons far from their homes. It is not known why the authorities split up the group and sent them to such faraway places.
March 2021:
The Dong Tam appeals trial has concluded. All sentences remain the same. Le Dinh Cong, 57, and Le Dinh Chuc, 41, sons of Le Dinh Kinh, who was shot point blank by police, are facing the death penalty on "murder" charges that were never proven in the lower court. Bui Viet Hieu, 78, is facing 16 years, also for "murder." Le Dinh Doanh, 33, son of Le Dinh Cong, is facing a life sentence for "murder." Nguyen Quoc Tien, 41, will serve 13 years for "murder." Bui Thi Noi, 63, Kinh's foster daughter, will serve six years for "obstruction." Hoang Minh Thanh, chief of Procuracy in Hanoi, was assigned to oversee this trial only four days earlier. He "persuaded" Cong to change his plea from not guilty to "asking for leniency" from the court.
Ngo Ngoc Trai, one of fourteen lawyers working on the Dong Tam case, listed thirteen critical issues in the prosecution's case that have been either ignored or not satisfactorily answered. Most important of these is the attack plan, codenamed 419A, which the defense team requested be exhibited as evidence, but which was struck down. Another question centers on eyewitness Du Thi Thanh, Kinh's wife, who saw her husband shot and killed, but who was not allowed to testify. Even though his USB drive was confiscated, lawyer Tuan Ngo managed to write down the court proceedings by hand — all 58 pages can be seen here.
February 2021:
The appeals trial for six defendants in the Dong Tam Commune incident has been set for March 8-10, 2021. Le Dinh Cong and Le Dinh Chuc, sons of Le Dinh Kinh, have appealed their death sentences, while Le Dinh Doanh appealed his life sentence. Bui Viet Hieu and Nguyen Quoc Tien appealed their 16-year and 13-year sentences, respectively. The only woman on trial, Bui Thi Noi, appealed her six-year sentence. Some of the lawyers have been notified about the trial and were able to visit their clients, while others were not. It is not clear why some lawyers were not permitted to meet their clients
January 2021:
Dong Tam villagers commemorated the one-year anniversary of the attack on their commune by visiting the grave of village elder Le Dinh Kinh. Dozens of plainclothes policemen watched and took photos but otherwise did not interfere. Kinh's son Le Dinh Cong is suffering from a skin disease in prison, according to his daughter, but is not receiving proper treatment. The court has not set a date for those who appealed their sentences.
***
Read Pham Doan Trang and Will Nguyen's in-depth report on the Dong Tam conflict and aftermath, here.
Details - Background, History of Activism, Family Situation.
Le Dinh Kinh lived and worked in Dong Tam Commune, Hanoi. He had been a senior member of the Communist Party for 47 years. He held several leading public offices in the local government, including the chairperson of the commune's People's Committee, the secretary of the commune Party branch, and leader of local public security force.
In 2014, when the authorities decided to give Dong Senh, a traditionally cultivated land belonging to Dong Tam residents, to Viettel for alleged commercial development, Le Dinh Kinh became the leader of the local movement to fight against this decision.
After that, Le Dinh Kinh was subjected to serious mistreatment and harassment. In 2017, he was kidnapped by the local public security force, and during this time, public security agents also broke his leg.
With the strong support of his family and the local population, Kinh was able to continue to resist the authorities.
Thôn Hoành hồ hởi đón cụ Lê Đình Kình trở về, Kiem Sat Online, May 2, 2017
Vụ Đồng Tâm: Ông Lê Đình Kình nói về thông tin nhận bồi dưỡng cả trăm triệu, Dân Việt, July 5, 2019
Âm mưu nào đằng sau vụ bôi nhọ ông Lê Đình Kình?, Voice of America, September 18, 2019
Vietnamese Activist's Bank Account Frozen After Collecting Donations for Dong Tam, The Union Journal, January 22, 2020
Dong Tam Trials and Tribulations– Proceedings Against 29 Villagers Come to a Controversial End, The 88 Project, September 20, 2020
Report on Dong Tam, Pham Doan Trang and Will Nguyen
The Dong Tam Trial: Vietnam's Violations of International Commitments Continue, The 88 Project, October 22, 2020
January 9, 2020: arbitrarily killed in police raid
Extrajudicial Killing
Killed by police
January 9, 2020
Public security
His house in Hoanh Village, Dong Tam Commune (
map
)
life
not be subjected to torture and degrading treatment
respect of privacy, family, home, and correspondence
The 88 Project
Vietnamese civil society groups
VOICE
US lawmakers
Independent Journalists Association of Vietnam
Defend the Defenders
Dong Tam is a rural commune belonging to My Duc District, Hanoi City, now also named after the long-standing land conflict between the residents of Hoanh Village and the government concerning the legal status of the traditionally agricultural land called Dong Senh. The conflict started in 2014, when the government tried to ban residents from entering and cultivating in Dong Senh. The hostility continued for several years and quickly attracted national attention when the leader of the village, Le Dinh Kinh, was allegedly kidnapped by public security forces, resulting in a serious leg injury in 2017. Subsequently, the villagers took dozens of public security officers hostage when they were surrounding Hoanh Village. Things only deescalated after Le Dinh Kinh was released. The 2020 deadly incident was unexpected by many observers.
While the authorities accused Le Dinh Kinh of orchestrating an attack against the public security force, at 3:00 am on January 9, 2020, some 3,000 police officers descended on Dong Tam village and attacked Kinh's house with ammunition and without any warrant. Kinh was asleep and was with his wife and other members of the family. Du Thi Thanh's testimony asserts that he did not participate in any previous attack and was still alive when they forcefully took him away. During his funeral, the public security also barred many people from all over the country from visiting and heavily controlled the private event.
June 2020:
In a report released by Hanoi police investigators, authorities were formalizing charges of murder against 25 residents of Dong Tam Commune who were arrested after a violent early morning raid by local public security forces left three police officers and Kinh dead. Four others also face different charges. The report raised more questions in an already disputed case, such as "why DNA identifications were not made of the three police officers who died in the assault, reportedly by burning" and details of the case of Bui Viet Hieu, an elder activist who was shot and injured during the raid.
September 2020:
On September 7, 29 defendants from Dong Tam faced trial in Hanoi on charges of murder and resisting officials resulting from a violent, early-morning police raid in Dong Tam Commune in January 2020. The raid left a local land rights leader, Le Dinh Kinh, and three police officers dead. On September 14, after a trial that was cut short and was also riddled with procedural irregularities, two defendants-- both sons of Kinh-- were sentenced to death and one person to life in prison. Others received sentences ranging from suspended sentences to 16 years in prison. Several defendants alleged that they were tortured while awaiting trial.

On the fourth day, after the prosecution wrapped up, defense lawyers did not get a chance to cross examine and argue their case against the Procuracy as allowed by the law. Their request to see records of the disputed land claims and how Kinh died was refused; so was the request to review "Plan 419A", the pre-approved plan of attack against Dong Tam, because it was deemed a "national top secret." Subpoenas for key government witnesses were also denied. The lawyer for the three police officers killed argued "it is not necessary" to try to reconstruct the events that led to his clients' deaths by burning, even though this was the key event that caused several defendants to be charged with murder. After the trial, lawyers for the defendants were harassed, and supporters were subjected to attacks by pro-government online users. Lawyers for the defendants have until September 30 to appeal. Read our full analysis of the trial and sentencing, here.
The 88 Project and seven Vietnamese human rights organizations sent a joint letter to EU Members of Parliament calling for action to postpone the ratification of the EVFTA until Vietnam showed genuine improvement of human rights conditions.
Fifteen US representatives wrote a letter to Secretary of State Mike Pompeo expressing their concerns about the Dong Tam land dispute and the trial of 29 villagers. The letter points out irregularities during the trial and calls the resulting sentences inhumane, with the intent to destroy whole generations. It urges the United States to include this incident in future bilateral talks with Vietnam and to demand a full investigation on what actually took place.
Dong Tam village: Anger in Vietnam over deadly 'land grab' raid, The BBC, January 16, 2020
Vietnam's battalions of 'cyber-armies' silencing online dissent, Aljazeera, January 17, 2020
Lê Đình Kình's Wife – Dư Thị Thành's Testimony of the Police Attack in Dong Tam on January 9, 2020, The 88 Project, January 22, 2020
At Vietnam's 'Dong Tam Massacre', activists claim government attacked its own citizens, South China Morning Post, January 15, 2020
Eight Organizations' Joint Letter to EU Members of Parliament in Light of Recent Brutality in Dong Tam Village, The 88 Project, January 24, 2020
Trinh Ba Phuong's Statement and Du Thi Thanh's Letter on the Events at Dong Tam on January 9, 2020, The 88 Project, February 8, 2020
Dong Tam Trials and Tribulations– Proceedings Against 29 Villagers Come to a Controversial End, The 88 Project, September 20, 2020
Profile last updated: 2021-05-03 04:12:16