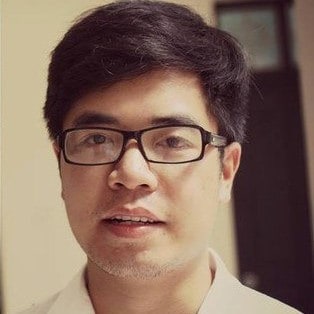 Vietnam Free Expression Newsletter No. 7/2019 – Week of February 11-17
Greetings from The 88 Project! We are bringing you news, analysis, and actions regarding human rights and civil society in Vietnam during the week of February 11-17. Blogger and democracy advocate Phan Kim Khanh will submit a complaint to the court since they still have not taken up an appeal of his case. Tran Hoang Phuc is worried the soup in prison is poisoned, and Huynh Truong Ca was pressured to incriminate friends during police questioning. Female activist and Hien Phap member Doan Thi Hong is still in police custody five months after her arrest, despite having a 30-month-old toddler. This week, we remember the 22 members of An Dan Dai Dao Buddhist sect, arrested in February 2012, who were later sentenced to between 10 years and life in prison for operating a religious ecotourism company. Truong Duy Nhat's wife has appealed to the Vietnamese government and to international media for assistance in locating him after the blogger and former political prisoner disappeared in Thailand, where he was attempting to seek asylum, over three weeks ago. Meanwhile, police in Vietnam continue to question Facebook users, especially for content related to protests. And Facebooker Huynh Thi To Nga (a.k.a Dieu Hang or Selena Zen) is still missing after she was allegedly abducted from the hospital she works at on January 28. A month after the evictions, authorities claim that they have reached settlements with many of the families affected by the Loc Hung land confiscations, but some remain skeptical. In news and analysis, read commentary on Truong Duy Nhat's disappearance — and the fear that he was abducted by security agents — and on the state of press freedom globally. In case you missed it, nine MEPs sent a letter to Vietnam's President urging the release of imprisoned environmental and labor rights advocate Hoang Duc Binh. Take action for Binh, who has been facing health problems while imprisoned.
Please subscribe to the newsletter!
HUMAN RIGHTS & CIVIL SOCIETY
Prisoners of Conscience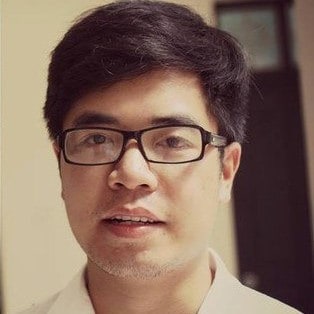 Imprisoned student activist Phan Kim Khanh will submit a formal complaint after the People's Court of Thai Nguyen did not review his petition for an appeal. His family never received any documents acknowledging the appeal that Khanh had submitted. In October 2017, Khanh was sentenced to six years in prison after a four-hour trial for blogging and running YouTube channels with content deemed to be "anti-state."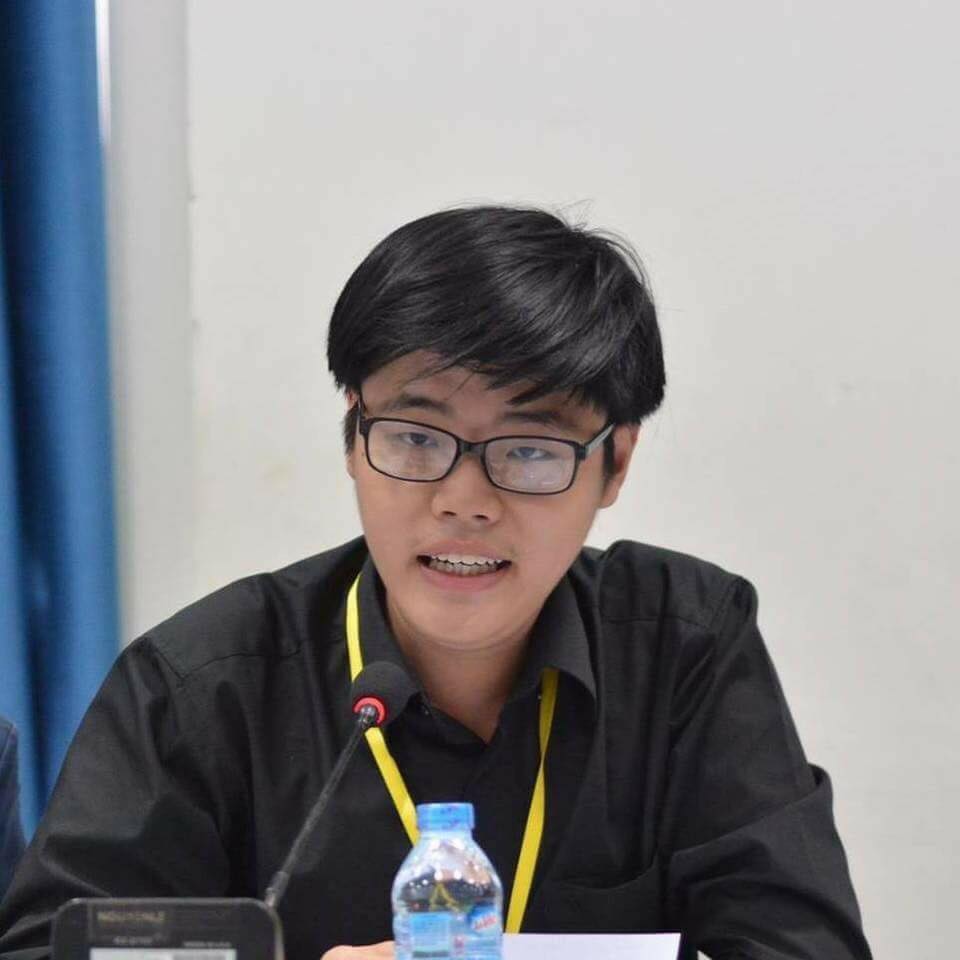 Tran Hoang Phuc is worried that soup provided in prison may be poisoned and is only eating food provided by his family, according to his mother. Phuc was able to receive medication from his family for his hepatitis C in January. Phuc is serving a six-year sentence for helping fellow activists store and posts video clips about human rights and democracy.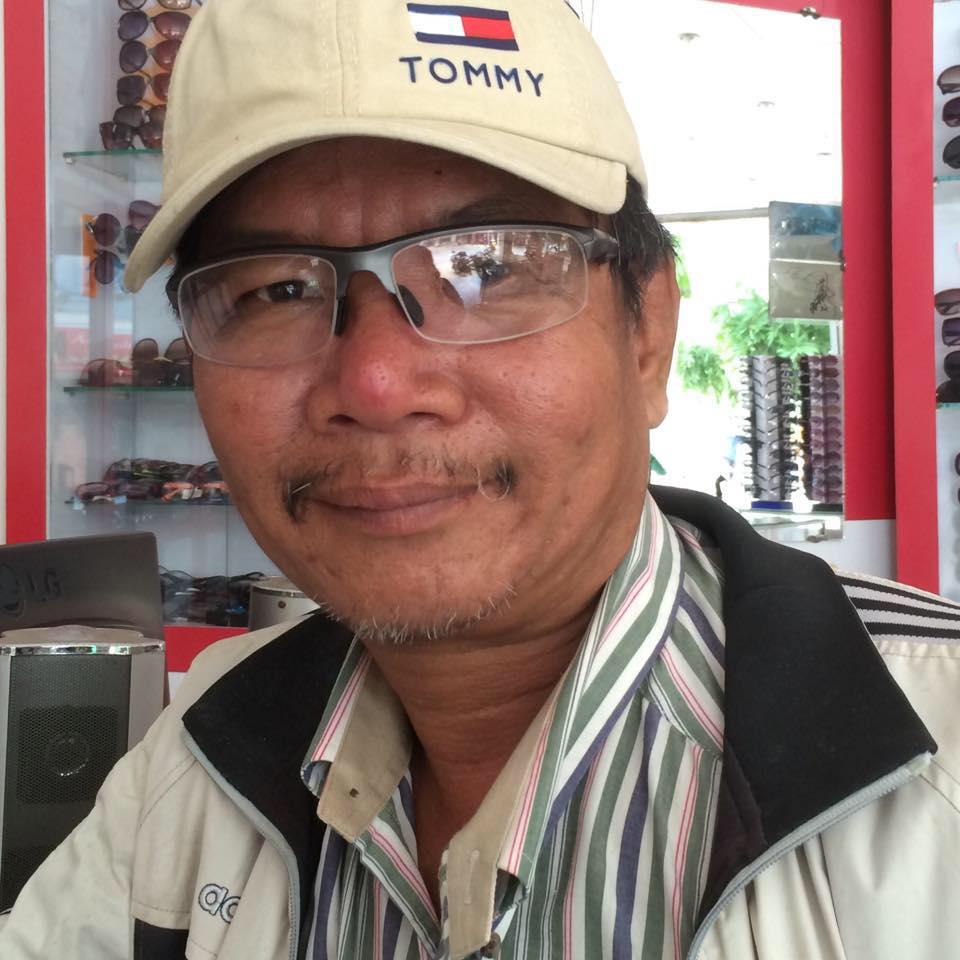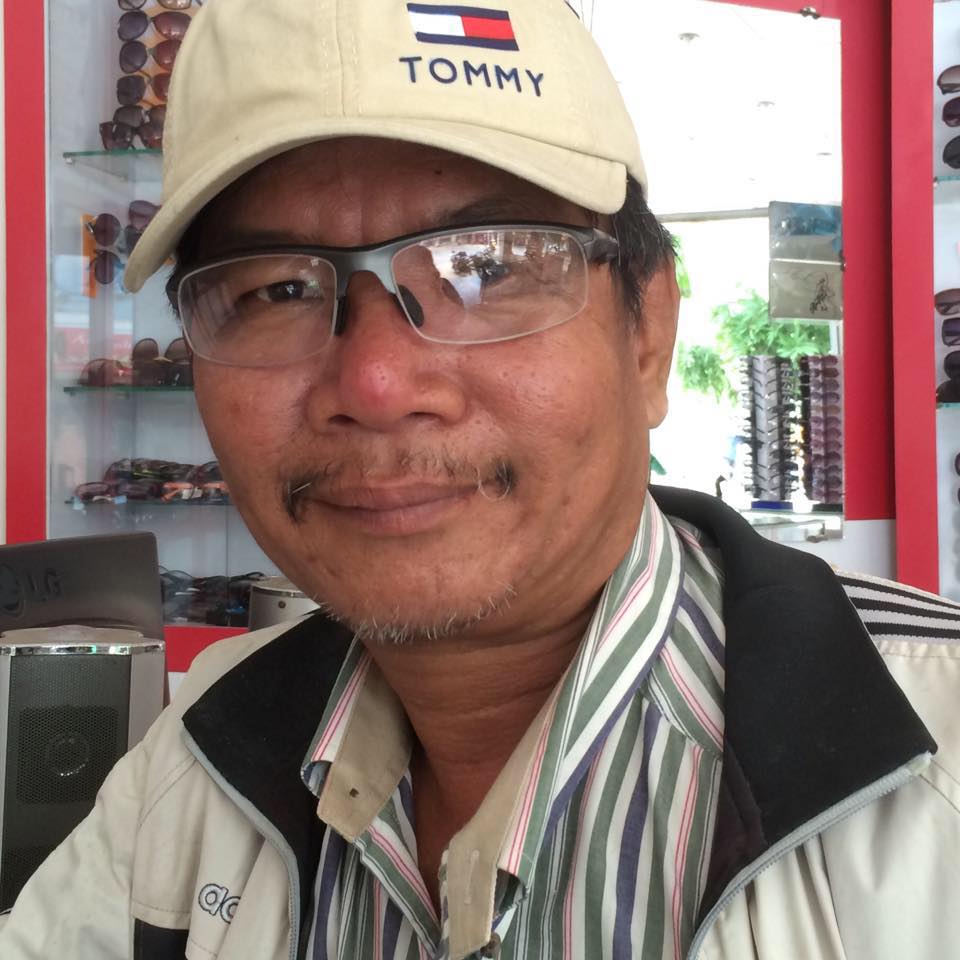 Huynh Truong Ca has revealed that police tried to get him to incriminate other activists during questioning in prison. He was pressured to talk about friends in Ho Chi Minh City but refused to do so. Prison authorities have put him in a cell with aggressive prisoners who have reportedly assaulted him. Ca has diabetes, high blood pressure, and kidney stones, which are a concern for his long sentence. Ca, an active Facebooker, is the co-founder of the Hien Phap group that promotes constitutional rights. He was arrested in September 2018 and later sentence to five years and six months in prison.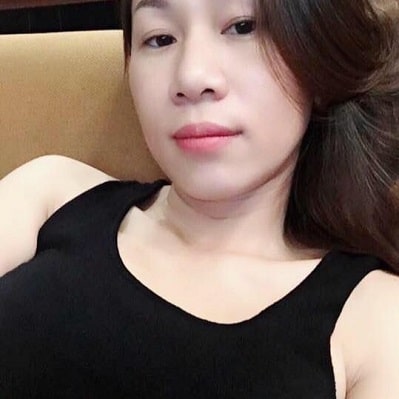 The family of Doan Thi Hong, who was detained for protesting in the nationwide June 2018 demonstrations, is seeking information on her case. Even though she has a child younger than three, which means she should legally not be held in detention, she has been in custody for over five months, since September 2018. The reason for her arrest was most likely due to her intention, along with Hien Phap's (a constitutional rights group) members, to call for a peaceful demonstration on September 4.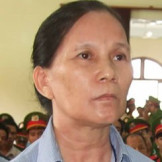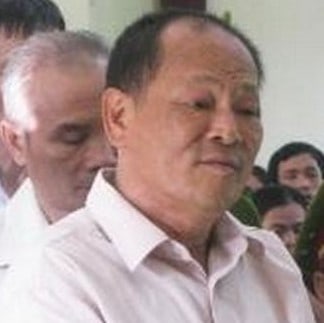 Top row: Do Thi Hong, the only woman sentenced from the An Dan Dai Dao group (sentenced to 13 years); Le Duy Loc (17 years). Bottom row: Vuong Tan Son (17 years); Phan Van Thu, the founder (life in prison) 
This week, we remember the 22 members of An Dan Dai Dao Buddhist sect arrested seven years ago. Arrested over the course of many days in February 2012, they later received sentences ranging from a minimum of 10 years to life in prison (for the founder). The utopian group ran an eco-tourist company in Phu Yen Province, inspired by their religious principles. They organized conferences and produced leaflets to disseminate their beliefs. Those affiliated with the group maintained that the activities of the group were purely religious and that the authorities interpreted their religious teaching in political terms.
Activists at Risk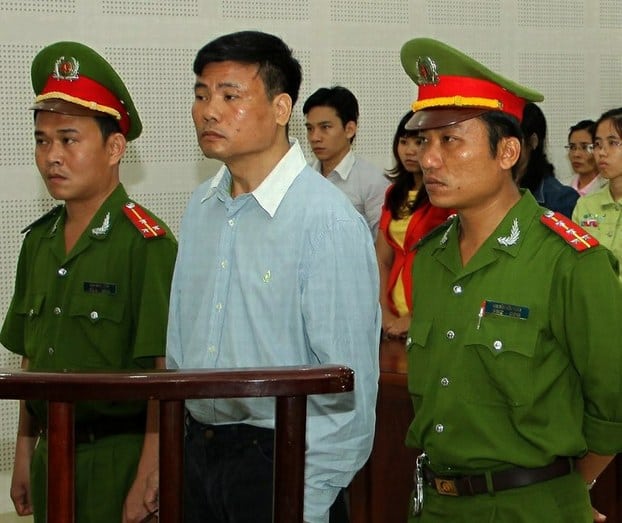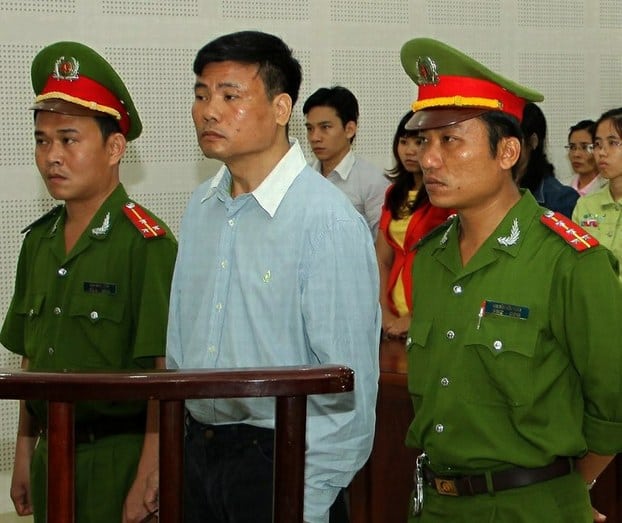 Truong Duy Nhat at his 2014 trial. Source: AFP Photo/Vietnam News Agency
Truong Duy Nhat's wife, Cao Thi Xuan Phuong, has 
appealed to the Vietnamese government and international community for help
 in finding her husband — a Radio Free Asia contributor and former political prisoner — who has been 
missing since late January
 when he disappeared from Thailand, where he was attempting to seek asylum. In a letter posted to Facebook, she reiterated concerns echoed by others that Nhat has been kidnapped by Vietnamese agents and taken back to the country. The family has hired a lawyer to coordinate with government officials in Nhat's case.
Facebooker Huynh Thi To Nga (a.k.a. Dieu Hang or Selena Zen) is still missing after she was last seen around 3 pm on Monday, January 28, 2019. She was allegedly kidnapped by plainclothes agents from the hospital where she works. She is the owner of two Facebook accounts. A sharp commentator on Vietnamese politics, she frequently shares her views online that are critical of the regime. She is a single mother of two children.
Ben Tre Province police questioned Facebooker Phan Chi Toan (Facebook name Phan Rio) on February 13, 2019 for alleged subversion. They claim he joined Facebook groups critical of the government and posted commentary to incite protests and "propaganda" against the state. He was not formally charged, but the investigation is expected to continue. District police in Ben Tre Province also fined Facebooker Dang Tri Thuc for posting live-stream videos calling for protests. He accepted the allegations and was fined $650.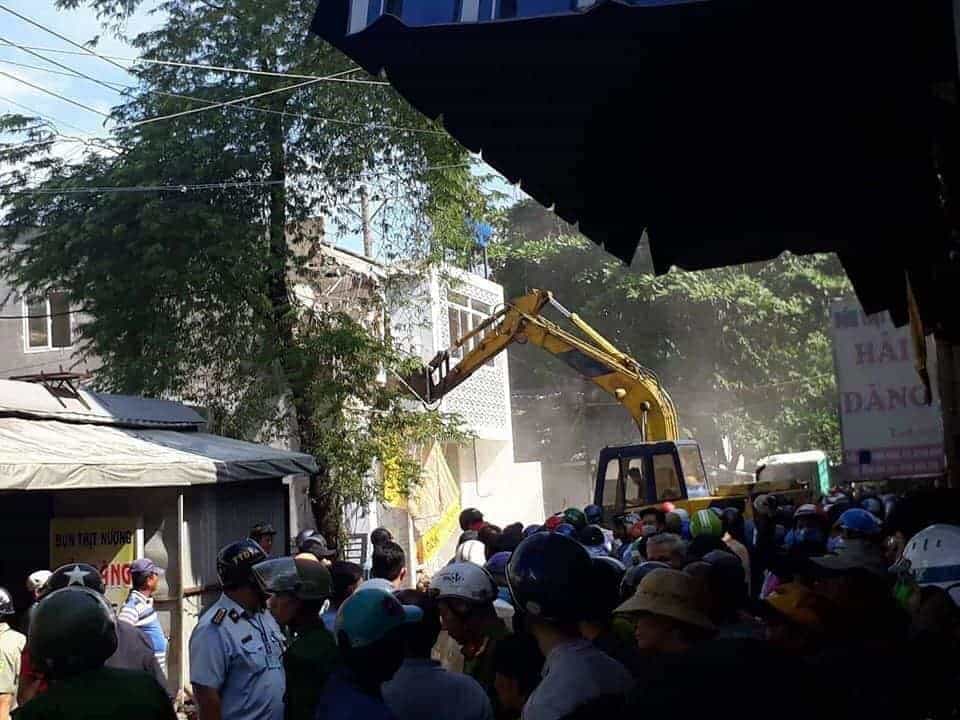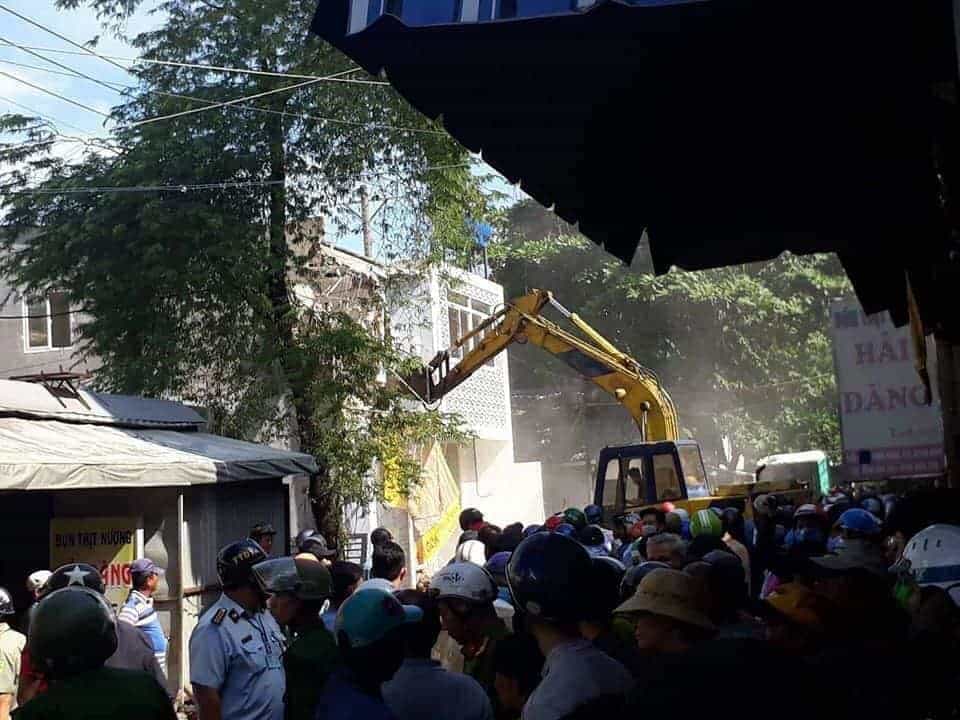 Loc Hung land grab on January 4, 2019. Source: Facebook Pham Doan Trang
Authorities have reported that a majority of the families affected by the Loc Hung land evictions in January have 
reached settlements with the government
 for compensation. However, a representative of some of the families contests that the government has over-stated the amount of settlements reached. The 
forced evictions in the Loc Hung neighborhood of Ho Chi Minh City
 on January 4 and 8 left over 100 homes destroyed and dozens — including many dissidents and disabled veterans of the former Republic of Vietnam — homeless.
Several activists were detained and many others put under surveillance this week throughout Vietnam with the aim to prevent activists from gathering to commemorate the 40th anniversary of the Vietnam-China Border War of 1979. Agents were deployed to some activists' homes to keep them from leaving, while other activists were taken into custody and later released. In Ho Chi Minh City, garbage trucks blocked a local memorial to fallen soldiers. Barring activists from commemorating anniversaries has been common in Vietnam in recent years.
NEWS & ANALYSIS
Robbery Unwittingly Exposes Potential Corruption In Vietnam
: "Instead, people started to demand answers on the validity of the very existence of the toll booth. 
According
 to the Facebook page of journalist Ngo Nguyet Huu, the information on how long this particular BOT could continue to collect toll fees seemed to be missing. Quick math on the average amount of money the BOT booth could generate daily raised more concerns over the potential sum that could have been taken illegally from the commuters if it indeed, did not have the authority to collect. Some people had pointed out that the BOT booth in question has been operating long enough for it to recover the costs of construction and make enough money in return, casting more doubts on the legality of its existence."
A dissident blogger went missing in Thailand. Vietnam is the prime suspect: "Truong Duy Nhat had been writing regularly for the U.S. government-supported broadcaster Radio Free Asia since his release from prison in 2015. Last month, according to associates, he grew concerned that he was being targeted for arrest by the government of Nguyen Xuan Phuc, possibly because he was believed to have obtained damaging information about the prime minister. He traveled to Bangkok and on Jan. 25 requested asylum at the office of the U.N. High Commissioner for Refugees. The next day, he was seized by several men at a shopping mall. His whereabouts remain unknown, but Radio Free Asia officials and human rights groups believe he may have been abducted by Vietnamese agents and returned to that country. If the reports are true, the damage won't be only to Mr. Nhat. Bangkok has been a harbor for dissident journalists from other Southeast Asian nations, including Vietnam. Mr. Nhat's disappearance suggests that none of them is safe. More broadly, if nations fail to protect refugees and other exiles inside their borders, the world will become increasingly lawless and unstable."
The State Of Freedom Of Press Around The World:
"CORNISH: Are you seeing that in other countries? I know people talk about Iran or Thailand or Vietnam. Are we seeing the same kind of activity in governments against journalists?
EWEN: Absolutely. And Vietnam is a really good example. There's a very hard line cybercrime legislation that was just adopted to make an already very censored country even more censored. Currently, there's 27 citizen journalists and one professional journalist behind bars in that country. You mentioned Thailand – a very well-known Vietnamese blogger actually disappeared one day after he visited the U.N. local office for High Commissioner for Refugees seeking refugee status. He contributed to many news outlets, including Radio Free Asia. And it's our fear that he may have been abducted by Vietnamese authorities."
IN CASE YOU MISSED IT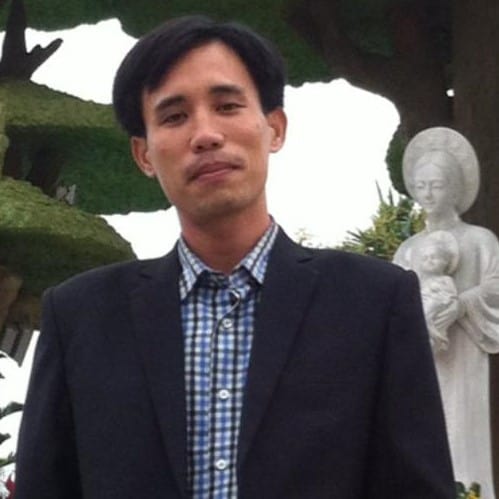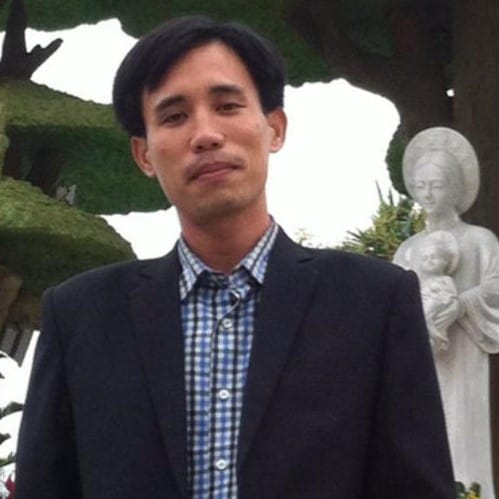 Nine members of the European Parliament sent a letter to Vietnam's President urging the release of environmental and labor rights advocate Hoang Duc Binh, who is serving a 14-year prison sentence for his involvement organizing community members after the massive Formosa toxic waste spill in 2016. The letter reiterated messages from previous months that Vietnam must respect human rights as a condition for the EU moving forward with ratification of the proposed EU-Vietnam Free Trade Agreement. The agreement is in its final stages, however its ratification has allegedly been delayed for "technical reasons."
TAKE ACTION
Please take Amnesty International's Urgent Action for Hoang Duc Binh, a labor and environmental activist who was sentenced to fourteen years in prison on February 6, 2018. His appeal of his sentence was denied on April 24, 2018, and he was transferred to a new prison, far away from his family, without notice. Binh is suffering from poor health in prison.
© 2019 The 88 Project
https://the88project.org/wp-content/uploads/2018/10/pham-kim-khanh_square.jpg
314
314
kayleedolen
https://the88project.org/wp-content/uploads/2019/01/88project.png
kayleedolen
2019-02-18 08:19:19
2019-04-30 07:45:54
Vietnam Free Expression Newsletter No. 7/2019 – Week of February 11-17