Vietnam Free Expression Newsletter No. 43/2018 – Week of October 29-November 4
Featured Image: Dr. Ho Van Hai. Artwork created by Liset Celie Illustrations for The 88 Project.
Greetings from The 88 Project! We are bringing you news, analysis, and actions regarding human rights and civil society in Vietnam during the week of October 29-November 4. Thirty more people were convicted and sentenced to prison terms for participation in June 2018 in protests over draft legislation. Police have also intimidated a woman gathering funds on behalf of convicted protesters and their families. Four months since he was detained, little information exists on the status of US citizen Michael Nguyen's case. Nguyen Ngoc Nhu Quynh's daughter wrote a letter to US First Lady Melania Trump and others thanking them for pressing for her mother's release from prison. This week, we remember doctor Ho Van Hai, sentenced to four years in prison for his online and environmental activism, as well as Y Yem Hwing, a Christian leader serving an eight-year sentence for his religious work. After she was detained in August for allegedly defacing the Vietnamese flag, co-founder of Vietnamese Women for Human Rights, Huynh Thuc Vy, will be prosecuted under Article 276 of the 2015 Criminal Code, facing up to three years in prison. Another activist, Dang Thanh, was fined by two separate police agencies after being beaten and held for two days for questioning over leaflets he created, also for the June 2018 nationwide protests. Read the most recent report on Vietnam from Freedom House's Freedom on the Net 2018 report, which classifies Vietnam as "Not Free." In news and analysis, you can also read about Vietnam's new method of scanning online content for "wrong" information and the cybersecurity law that will take effect in January 2019. Coming up on November 9, fifteen out of twenty protesters arrested in June 2018 and tried in July will appeal their sentences. Thanks to all those who have donated to our crowdfunding campaign to support female activists and political prisoners. Our online campaign is closed, but you can always donate via our website. Please also take action with Amnesty International for Tran Thi Nga, an imprisoned female labor rights activist.
And please subscribe to the newsletter!
HUMAN RIGHTS & CIVIL SOCIETY
Prisoners of Conscience
On October 31, The People's Court of Phan Thiet held the 
first instance court hearing against 30 people
in Binh Thuan province. According to the indictment, these people were charged with "disturbing the public order" in front of the headquarters of People Committee's of Binh Thuan Province. Defendants were sentenced from two years to three years and six months in prison. Nguyen Quoc Hue was given the highest sentence. So far, there have been nearly 100 protesters jailed from participating in the nationwide demonstrations on June 10, 2018 over draft laws on Cybersecurity and Special Economic Zones.
Facebooker Nguyen Thuy Hạnh posted on October 30 that police confiscated money from a fund raised for the families of convicted protesters in Phan Ri town, Binh Thuan province. She told Radio Free Asia that she gave a friend 24 million VND and asked her to send it to eight families in Phan Ri. Police followed, then arrested them, and confiscated their money. She added that this fund used to help nearly 30 families. However, police came to their house and threatened them against continuing to gather funds for the affected families.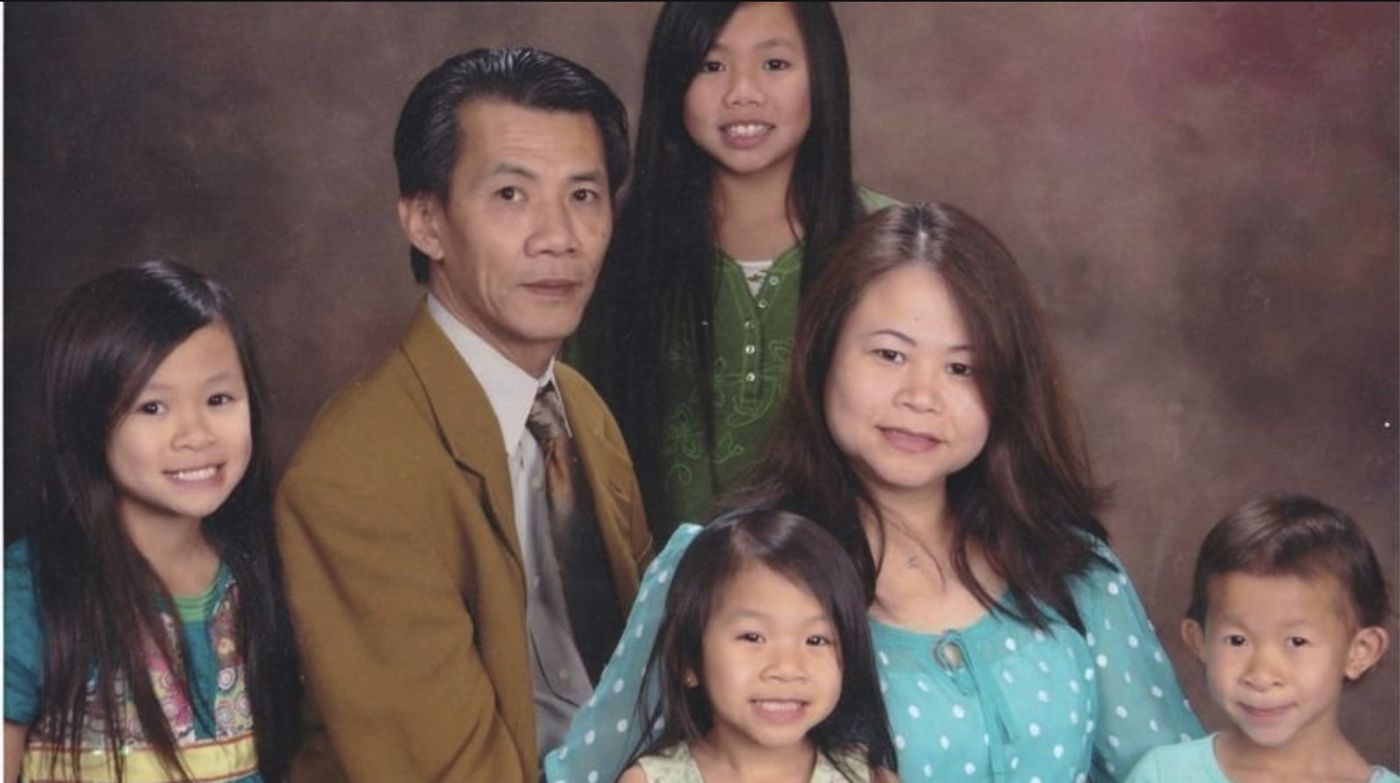 Michael Nguyen and family, Source: Mark Roberts via 
Los Angeles Times
It's been four months since US citizen 
Michael Nguyen
 was detained in Vietnam; still, 
no formal charges have been announced
 against him. He is not permitted visits form lawyers nor family. Little information has been available about his case; even US Representative Mimi Walters has not been able to obtain information about his status. The US Embassy confirmed in early August that US citizen Michael Nguyen was
 detained in Vietnam
 on July 7 after traveling there for a vacation and to visit family. He is being held in Ho Chi Minh City allegedly under investigation for "activity against the peoples' government." His family has maintained that he is 
not involved in any activism
 efforts, and supporters have called for Nguyen's release in a 
petition on Change.org
.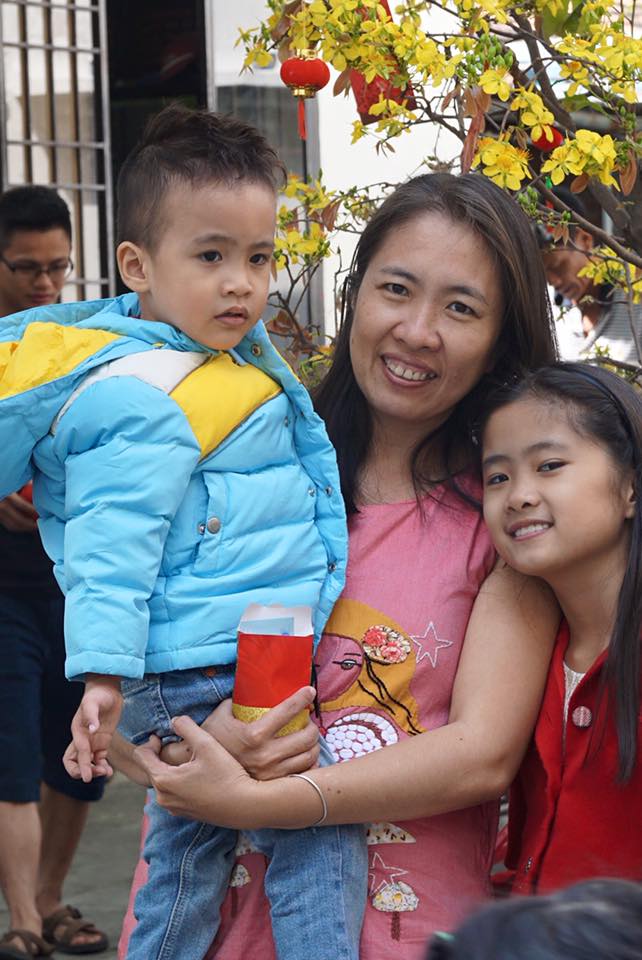 Nguyen Ngoc Nhu Quynh and her children, January 2016. Source: Nguyen Ngoc Nhu Quynh Facebook
Nguyen Ngoc Nhu Quynh
's, a.k.a Me Nam or Mother Mushroom, daughter wrote a
 thank you later to US First Lady Melanie Trump
. In her letter, she gave thanks to Melania and people around the world for assisting in her mother's release from prison. She expressed happiness that after a long period of time, she can hug her mother, and that this year, she can celebrate her birthday with her mother and brother.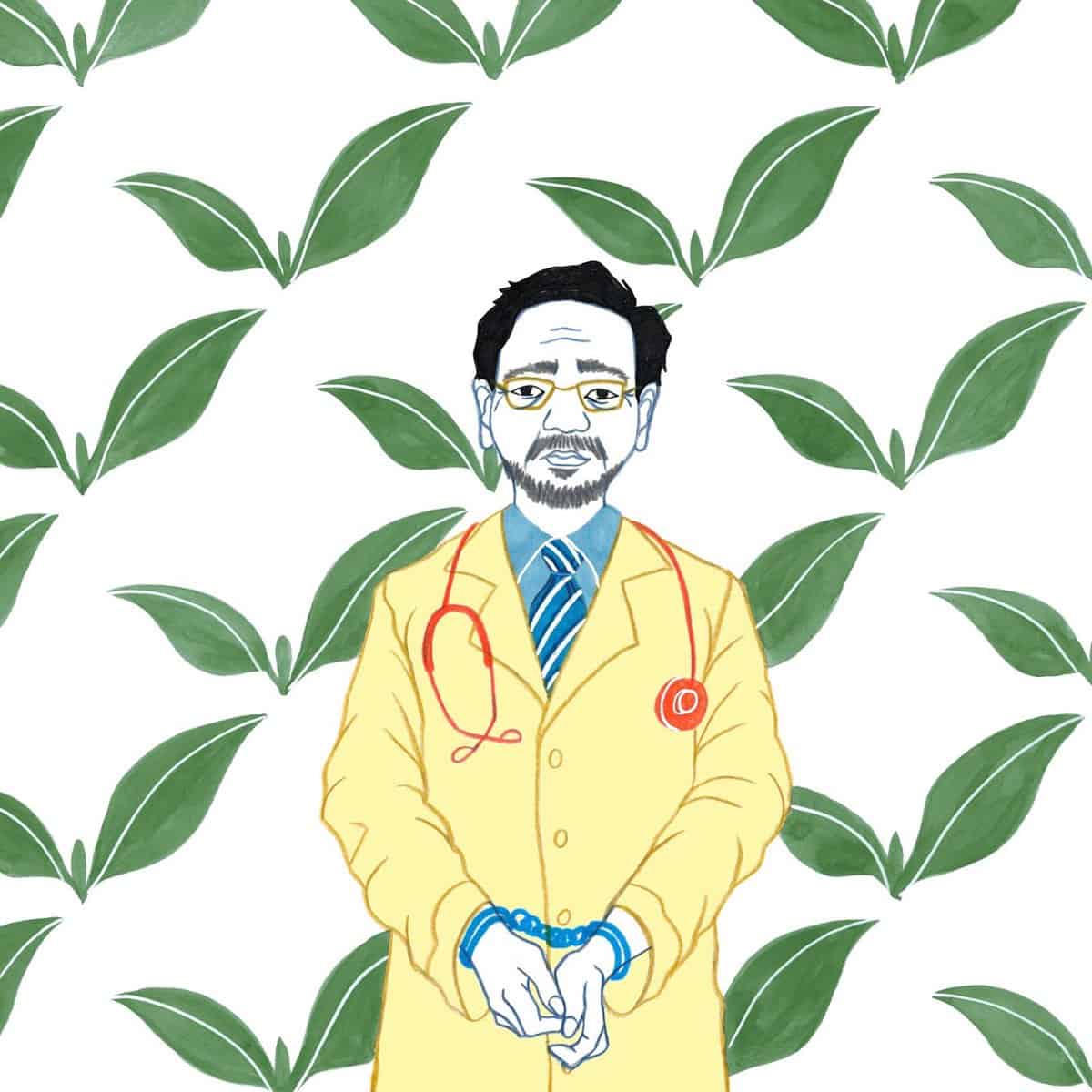 Dr. Ho Van Hai. Artwork created by Liset Celie Illustrations for The 88 Project.
This week, we remember doctor 
Ho Van Hai
, who was arrested on November 2, 2016 and later sentenced to four years in prison in a secretive trial. He was tried under Article 88 for posting online content and rallying support for an election boycott and protests against the Formosa company following the 2016 environmental disaster. Founder of the Go West Foundation, he peacefully promoted education and environmental protection.
We also remember Christian activist Y Yem Hwing, a chief deacon of a church in Dak Lak province. He was arrested on October 29, 2012 and sentenced to eight years in prison.
Activists at Risk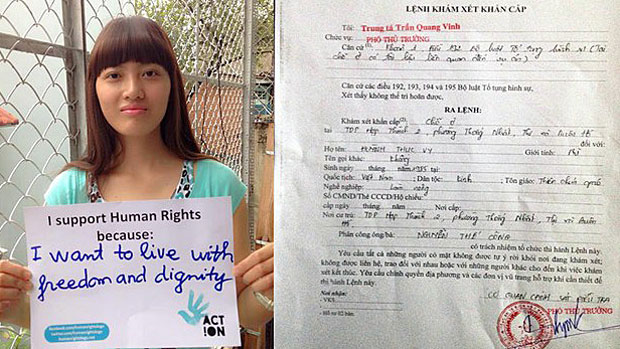 Huynh Thuc Vy and a search warrant, Source: Facebook / Huynh Thuc Vy,
Radio Free Asia
On November 2, Huynh Thuc Vy came to the headquarters of the Procuracy of Buon Ho District to 
receive the indictment against her for "offending the national flag
" under Article 276 of the 2015 Criminal Code. She had been detained for a day in August 2018 for defacing the Vietnamese flag and was placed under a travel ban. Her case will be sent to the court to make a decision within 30 days in regards to holding a trial against her. She faces a maximum sentence of three years, but if convicted, 
she would likely not have to serve her sentence right away
, as she has a child under three-years-old. At the time of writing, Vy and her husband's Facebook accounts were blocked for three days. Vy has long been an advocate for the rights of others, including ethnic minority populations in Dak Lak province, and is a blogger and co-founder of Vietnamese Women for Human Rights. Her father was a political prisoner, jailed for ten years.
Dang Thanh was fined 7.500.000 VND ($320) for "writing, distributing, circulating 1.598 leaflets with distorting, fabricating, and slandering contents." Police of Binh Chanh District, Ho Chi Minh City fined him 2.500.000 VND for providing, transmitting, storing, and using information to "threaten, harass, distort, slander, offend, etc," and the Investigation agency of Tra Vinh Province fined him a separate 5.000.000 VND. From October 26 and 27, police had detained and questioned him about the leaflets, which he had created ahead of national protests in June. During this time, Thanh was beaten again and forced to take off his clothes. Thanh finally arrived home at noon on October 29.
International Advocacy
Freedom House has again classified 
Vietnam as "Not Free"
 in its annual Freedom on the Net report, with a score of 76/100. According to the report, some key events that happened between June 2017 and May 2018 included Facebook and Google removing "anti-state" content at the request of authorities, the government starting a new online military group, Force 47, to actively patrol and even change content, and bloggers and online activists being arrested for their Internet postings and sentenced to severe prison sentences. The score was 
unchanged from 2017
.
NEWS & ANALYSIS
Vietnam rolls out web monitor to control 'false information'
: "Dissidents say the cyber-soldiers flood their Facebook pages with pro-government commentary. The latest system includes software that can allegedly read 100 million items online daily 'for analysis, evaluation and categorisation,' said information minister Nguyen Manh Hung, according to the government's website. 'It is necessary to legally punish those who publish wrong information on social media… we cannot leave this front unmanned,' he said. He did not provide details on how the virtual unit functions, or how the so-called dubbed the National Centre on Supervising Information can scan such a large chunk of data."
Vietnam cyber law will guard against fake news, terrorism: security ministry: "The ministry said there had been no effective way to control things such as fake news and slander which caused 'unfortunate consequences'. It also said unidentified 'enemy' and 'reactionary' forces were using cyber space to call for protests and incite riots and terrorism. Despite sweeping economic reforms and increasing openness to social change, Vietnam's Communist Party retains tight media censorship and does not tolerate dissent. Officials from private companies have privately expressed concern that the law will make it easier for authorities to seize customer data and expose local employees to arrest."
Vietnam could give tech companies one year to obey cyberlaw: "According to a draft decree on how the law may be implemented, published by the Ministry of Public Security on Friday (Nov 3), companies offering internet services in Vietnam may be given 12 months to comply. 'Enterprises … must archive data (and) set up branches or representative offices in Vietnam,' the decree said. It did not outline the punishment for failing to comply, but any country in breach of the law could be barred from offering its services in Vietnam."
How Vietnam's New Leader Could Strengthen Ties to China: "This outside investment is at risk, however, as a new cybersecurity law next year will tighten control of tech companies, requiring firms like Facebook and Google to store customers' personal data locally, sparking privacy concerns. It mirrors a law already introduced in China, showing that Vietnamese policymakers are often happy to follow Beijing's authoritarian path. Trong in particular values better ties with China. He has sent young cadres to China for exchange programs, and has emulated Xi by pursuing a sweeping anti-corruption campaign, which has netted top figures from business, the military and within the Communist Party. Vietnam's human-rights record also echoes China's approach to dissent. According to Human Rights Watch, Vietnam was jailing at least 119 prisoners of conscience as of January."
COMING UP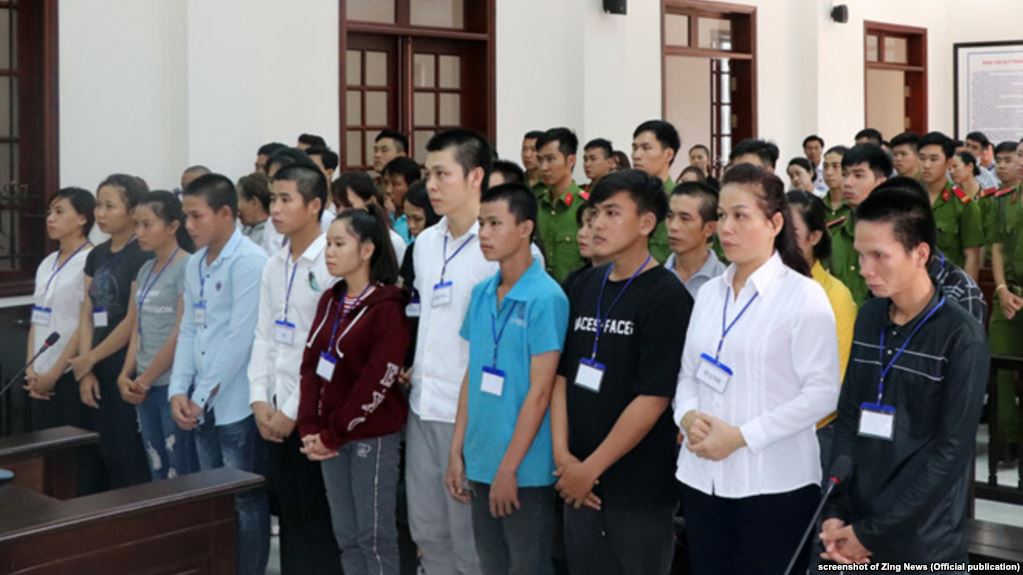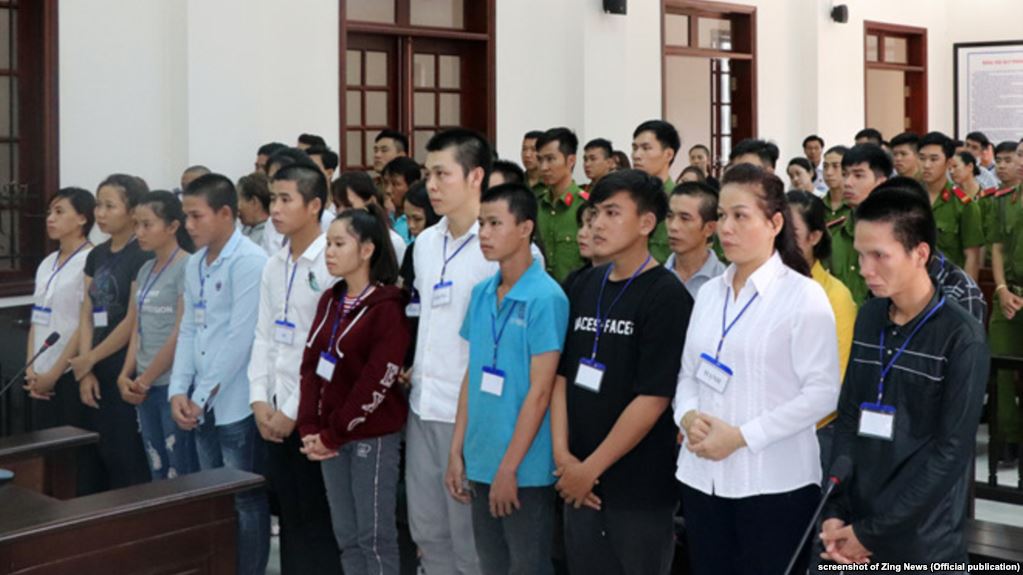 The trial of 20 protesters in Bien Hoa City on July 30, 2018. Source: VOA Vietnamese
Fifteen protesters detained in national demonstrations in June and sentenced to prison terms in July will appeal their sentences. The hearing is set for November 9, 2018 in The People's Court of Bien Hoa City. Twenty protesters were tried on July 30, 2018 for "disturbing public order." In a one-day trial, judge Nguyen Quoc Thai sentenced 15 of them to sentences ranging from eight to 18 months in prison, and he gave five of them suspended sentences ranging from 12 months to 14 months.
TAKE ACTION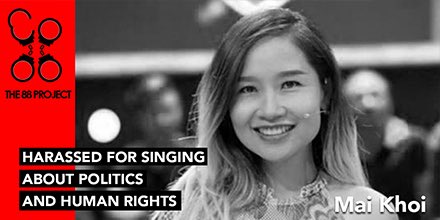 Thanks to all who donated to our crowdfunding campaign to support female activists and political prisoners. Would you still like to help? You can donate online on our website anytime!
Please also take action with Amnesty International for Tran Thi Nga, an imprisoned female labor rights activist who has been denied visits from her family and whose situation in prison remains unsafe.
© 2018 The 88 Project
https://the88project.org/wp-content/uploads/2018/11/ho-van-hai-potrait-campaign.jpg
1200
1200
kayleedolen
https://the88project.org/wp-content/uploads/2019/01/88project.png
kayleedolen
2018-11-05 08:15:41
2019-04-30 07:53:23
Vietnam Free Expression Newsletter No. 43/2018 – Week of October 29-November 4