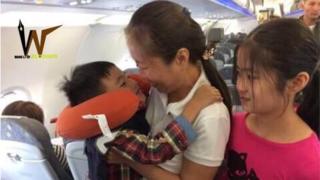 Vietnam Free Expression Newsletter No. 41/2018 – Week of October 15-21
Mother Mushroom and her children on the plane after her sudden release from prison on October 17. Source: Vietnam Bloggers Network 
Greetings from The 88 Project! We are bringing you news, analysis, and actions regarding human rights and civil society in Vietnam during the week of October 15-21. After two years in prison for her social and environmental activism, blogger Nguyen Ngoc Nhu Quynh (Mother Mushroom) is free and in the United States with her family. Read about her release, her time in prison, and her thank you to her supporters. Unfortunately, the same day, medical worker Nguyen Dinh Thanh was sentenced to seven years in prison for printing leaflets to protest a proposed law in Vietnam. Also on October 17, three protesters were sentenced to between two and three years in prison for participating in a demonstration. And the following day, a court upheld veteran and environmental activist Le Dinh Luong's 20-year prison sentence. Read about political prisoners Tran Huynh Duy Thuc and Nguyen Van Tuc's conditions in prison from recent family visits, as well as a recommended prosecution against female blogger Huynh Thuc Vy and a violent dispersal of a protest in Yen Bai province. We also highlight a fact sheet about the proposed EU-Vietnam Free Trade Agreement and a case of potential police brutality. In the news, read about the upcoming ratification of the Pacific trade agreement and the U.S.'s request to free more dissidents in Vietnam. Take action to support the remaining female political prisoners and activists, and consider making a donation to our crowdfunding campaign before it ends!
And please subscribe to the newsletter!
HUMAN RIGHTS & CIVIL SOCIETY
Prisoners of Conscience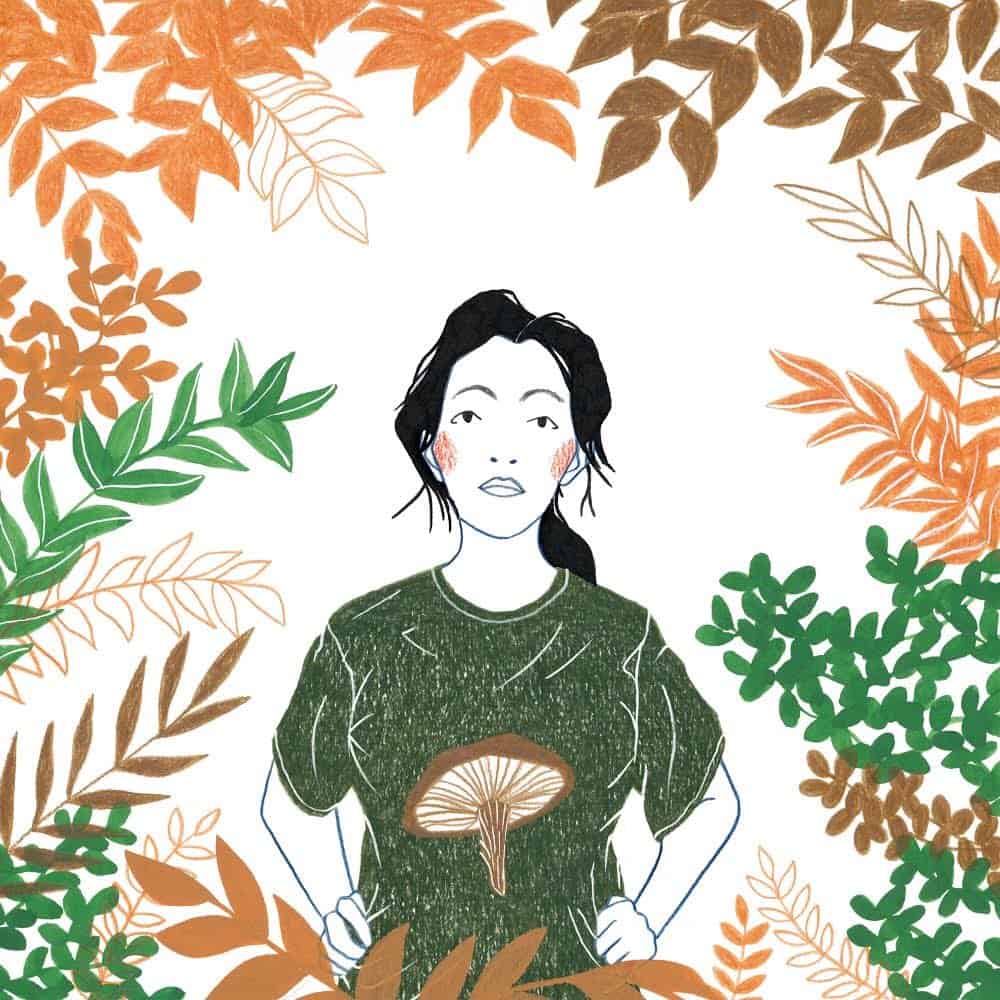 After over two years in prison in Vietnam, well-known blogger 
Nguyen Ngoc Nhu Quynh
, also known as Me Nam or Mother Mushroom, was suddenly 
released from prison
 on October 17 and sent immediately into exile in the United States. She was accompanied by her mother and two young children. Her release came as US Defense Secretary Mattis was in Vietnam for a short visit. It was later 
confirmed that she arrived safely
 in the US, where she's vowed to continue her work.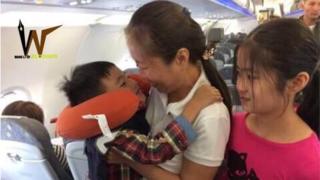 Mother Mushroom and her children on the plane. Source: Vietnam Bloggers Network 
Quynh gave an 
interview
 in which she described harsh prison conditions that she faced, including a lack of privacy for female prisoners and multiple hunger strikes, the longest being 16 days. While she believes her release coincided with Mattis's visit to Vietnam, she denied the claim that Vietnam is softening its stance on political prisoners. Release in exchange for exile in a common tactic used by the Vietnamese government, such as in the cases of human rights lawyer 
Nguyen Van Dai
 and blogger 
Dieu Cay
.
In her 
letter written on October 19
, Quynh gave thanks to those who were concerned about her and helped her to obtain this freedom. She acknowledged the heavy sentences handed to dissidents, including 
Tran Thi Nga
, and looked back at the pictures of the police searching and confiscating her banners from Formosa protests. She called for people to continue fighting freedom in Vietnam.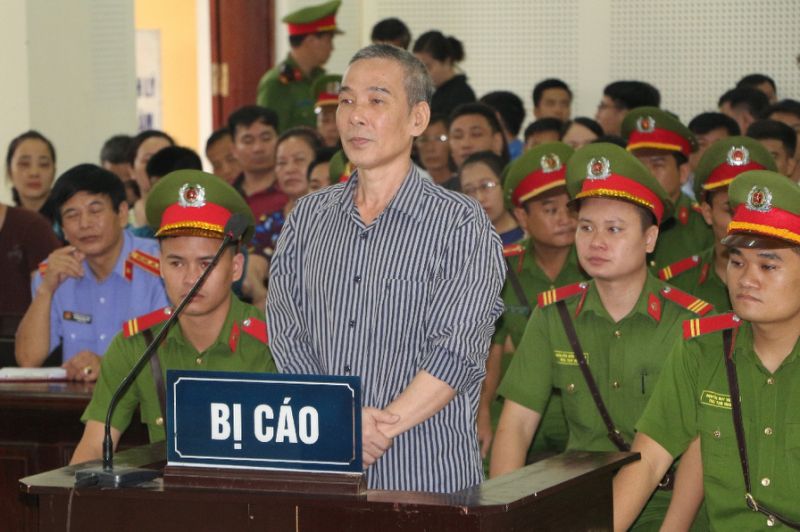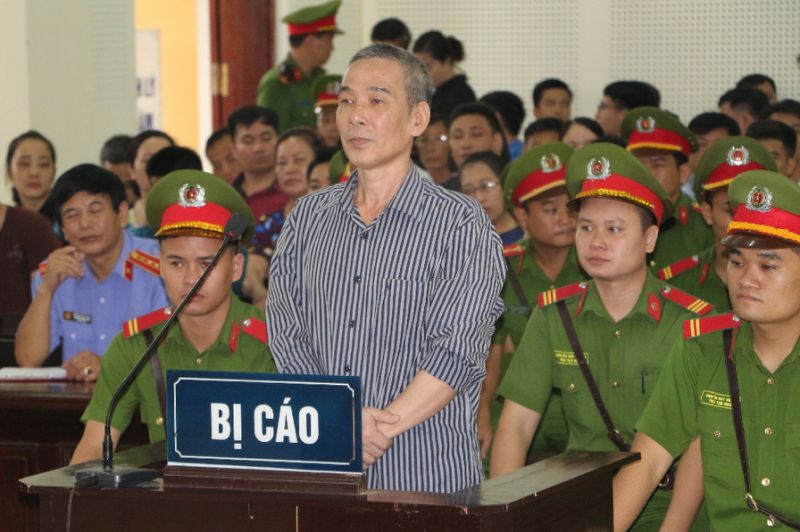 Le Dinh Luong on at his first instance trial on August 16, 2018, Source: AFP Photo/Vietnam News Agency
On October 18, environmental activist 
Le Dinh Luong
's 20-year sentence was 
upheld on appeal
. He reportedly told the court: "My deeds will be judged by history. I will be happy to be in prison if the nation grows up in freedom and democracy." He was sentenced to 20 years in prison in August for his human rights and democracy advocacy. Human Rights Watch 
called for his release
 ahead of the appeal trial, stating: "This is an opportunity for the court to right this wrong, distinguish between criticism of the government and actual threats to national security, and defend everyone's right to free expression."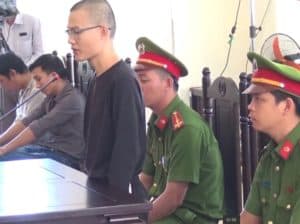 Nguyen Dinh Thanh at his trial on October 17, Source: Defend the Defenders
On October 17, The People's Court of Binh Duong province held the first instance court against Nguyen Dinh Thanh (born 1991, from Binh Duong province) and 
sentenced him to seven years in prison
 for "making, storing, spreading information, materials, items for the purpose of opposing the State of Socialist Republic of Vietnam" under Article 117 of the 2015 Penal Code. Thanh created and printed more than 3,300 leaflets, containing pictures and articles, for use to protest the draft law on Special Economic Zones. On June 8, he was arrested by the Investigation Agency of Binh Duong province while copying those documents. Authorities alleged he also posted anti-state content on his Facebook account.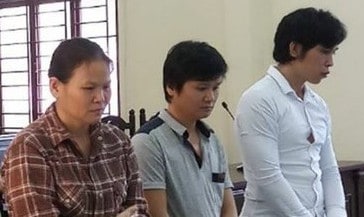 Three Pouyuen workers at trial. Source: RFA
On October 17, The People's Court of Binh Tan Ward, Ho Chi Minh City 
held the first instance court 
against Le Trong Nghia (born 1987, from Long An), Pham Thi Thu Thuy (born 1974, from Tien Giang) and Vo Van Tru (born 1982, from Long An). They all were charged with "Disturbing public order" under Article 318 of the 2015 Penal Code. According to the indictment, on the morning of June 11, the police force of Binh Tan Ward, in cooperation with some other agencies, was mobilized to ensure public order at the main gate of the Pouyuen Company, where a demonstration against the draft laws on Cybersecurity and Special Economic Zone was occurring. Nghia, Thuy, and Tru joined the demonstration. They allegedly threw stones and bricks at security forces. The court sentenced Nghia to 2 years and 3 months; Thuy to 2 years and 6 months, and Tru 3 years and 3 months in jail.
Tran Huynh Duy Thuc
's family 
met him on October 12
. He said that he had gained weight and his health is good. This meeting was more comfortable because police did not interrupt them when they talked about outside information, especially on EU-Vietnam Free Trade Agreement hearing that Dr. Nguyen Quang A had just attended in Belgium. One day after this meeting, Thuc made a 5-minute phone call to his family. This is abnormal because he is normally only allowed to call during the end of the month. He still wants Vietnam to sign the trade agreement with the EU to prove that respecting the law is Vietnam's trademark. He said thanks to all who are concerned about him and to all those who have supported him, as well as called on people to continue supporting him and other political prisoners in their fight for freedom.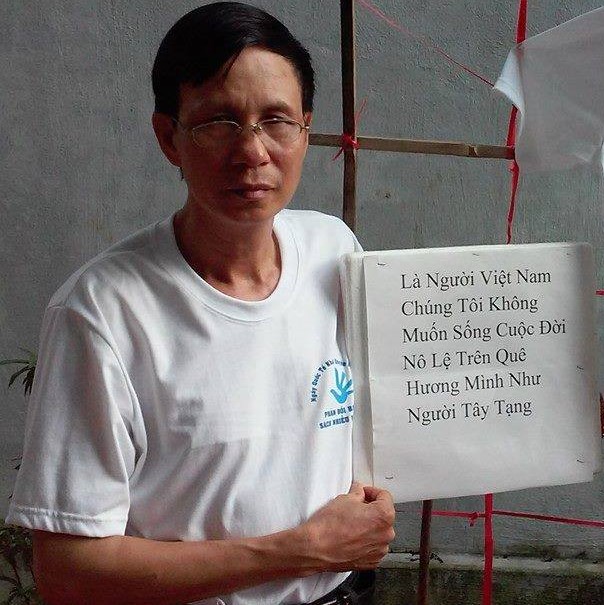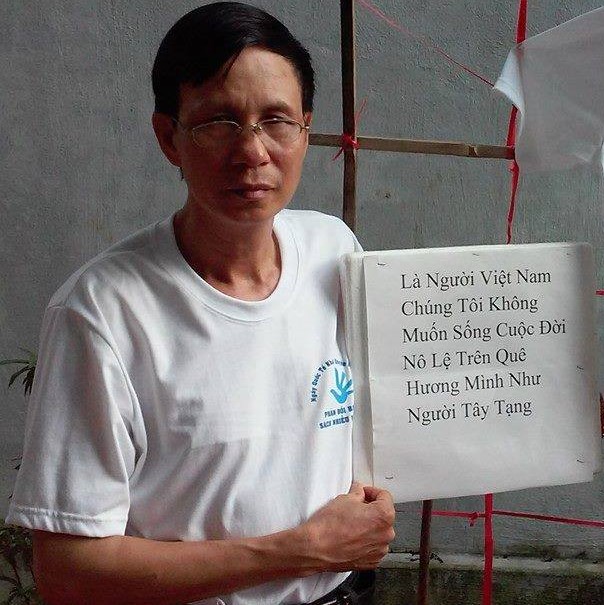 Nguyen Van Tuc
's wife, Bui Thi Re,
 visited him on October 18
. He was said to be in bad health. His cardiovascular disease made him faint three times in one day, each time for 15 minutes, and he is still suffering from hemorrhoids. Moreover, he cannot see clearly because of his corneal inflammation. Tuc has requested to check his health but has not received a reply from prison authorities.
Activists at Risk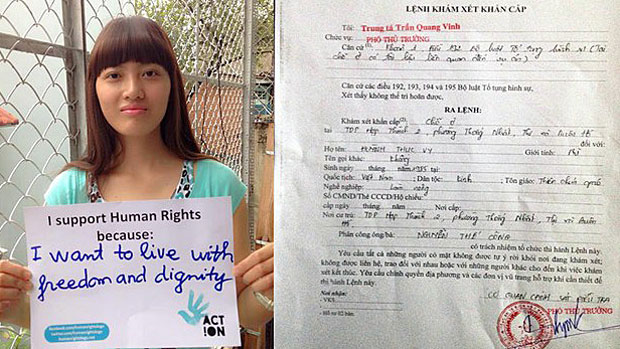 Featured image: Huynh Thuc Vy and a search warrant. Source: Facebook / Huynh Thuc Vy,
Radio Free Asia
On October 16, female activist and blogger Huynh Thuc Vy had a working session 
with Buon Ho police.
They gave back some of her confiscated items from her August detention, including her camera, iPad, printer, books, and a traditional outfit. Her laptop, two smart phones and three yellow-flag jackets were not returned. In addition, police said they were asking the Procuracy for prosecution against her for "offending the National Flag" under the Article 276 of the 1999 Penal Code. The charge carries up to three years in prison. Co-founder of Vietnamese Women for Human Rights, Vy, 
was detained for 15 hours
 in August. Vy has long been an advocate for women's rights and minority rights in Vietnam. Her father was a political prisoner, imprisoned for 10 years.
Environmental Activism/Community at Risk
Private security guards 
attacked ethnic minority protesters
 at a quarry in Yen Bai province, according to new information given to Amnesty International. They had gathered to protest pollution of their food and water from the quarry's processing. They were physically attacked by the security guards, with several people injured, and police on site did nothing to intervene. Afterwards, participants were intimidated into not sharing information about the incident.
The European Commission has released a 
statement
 concerning provisions of the proposed EU-Vietnam Free Trade Agreement. The release includes sections on social and environmental, as well as human rights, protections. The agreement faces opposition from many labor, democracy, and other civil society groups.
Police Brutality 
On October 13, police in Ninh Hoa town, Khanh Hoa province
 arrested Huynh Thi Nhung
 and brought her to the police headquarters to get her statement at 6:00 pm. The reason given for the arrest was to verify some signs of violating laws regarding a sensitive business matter. All of this was done without police presenting any formal documents. At 8:00 am the next day, police summoned her husband, Nguyen Trong Chinh, and informed him that Nhung committed suicide by puncturing her neck with scissors. However, her suicide seemed unreasonable since her attitude and disposition before the arrest were completely normal. On October 17, her husband sent a petition to the Khanh Hoa province police, requesting them to prosecute the police of Ninh Hoa commune regarding his wife's case. In addition, a lawyer's office also 
sent
 an urgent petition to the The Supreme People's Procuracy to ask for an investigation Nhung's death in police detention.
NEWS & ANALYSIS
Free More Dissidents, U.S. Asks Vietnam, After 'Mother Mushroom' Is Released
: "She was arrested in October in 2016 and subsequently sentenced to 10 years in prison for defaming the Vietnam's communist government. At one point, Ms. Quynh's 11-year-old daughter wrote to first lady Melania Trump to help secure her mother's release ahead of President Trump's visit to Vietnam for an economic summit last year. It is unclear whether Ms. Quynh's release was linked to Mr. Mattis's visit, during which he toured a site contaminated by the Agent Orange dioxin during the Vietnam War. The U.S. will fund a cleanup effort, beginning next year, which is designed to improve relations between the two wartime foes and counter China's growing influence in the region."
Vietnam to ratify Pacific trade pact next month: "Trump has singled out Vietnam for its gaping trade gap with the United States and urged Hanoi to buy more American goods, including military equipment. But trade troubles have not appeared to dent relations between the close military and political allies as they seek to counterbalance China's rising influence in Asia. Vietnam is a hub for cheap manufactured goods from Adidas shoes, Intel processors and Samsung phones, and one of the region's fastest growing economies that has largely been buoyed by globalisation and open trade. A long-delayed free trade agreement between Vietnam and the European Union inched closer to finalisation this week after the European Commission submitted the deal for final approval from the EU's 28 members and the European Parliament."
TAKE ACTION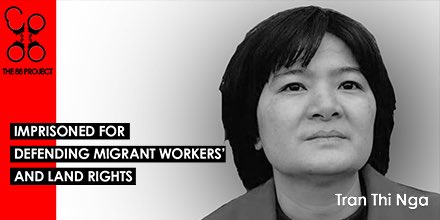 After this week's much-welcomed release of Nguyen Ngoc Nhu Quynh (Mother Mushroom) from prison in Vietnam, we remember the female prisoners who remain imprisoned. Please take action with Amnesty International for Tran Thi Nga, an imprisoned female labor rights activist. And please consider a donation to our crowdfunding campaign! With the funds, we will create an interview series with the female activists, sharing details about their backgrounds, personal lives, and motivations for becoming human rights advocates.
© 2018 The 88 Project
https://the88project.org/wp-content/uploads/2018/10/mother-mushroom-release.jpg
180
320
kayleedolen
https://the88project.org/wp-content/uploads/2019/01/88project.png
kayleedolen
2018-10-22 08:40:23
2019-04-30 07:53:37
Vietnam Free Expression Newsletter No. 41/2018 – Week of October 15-21